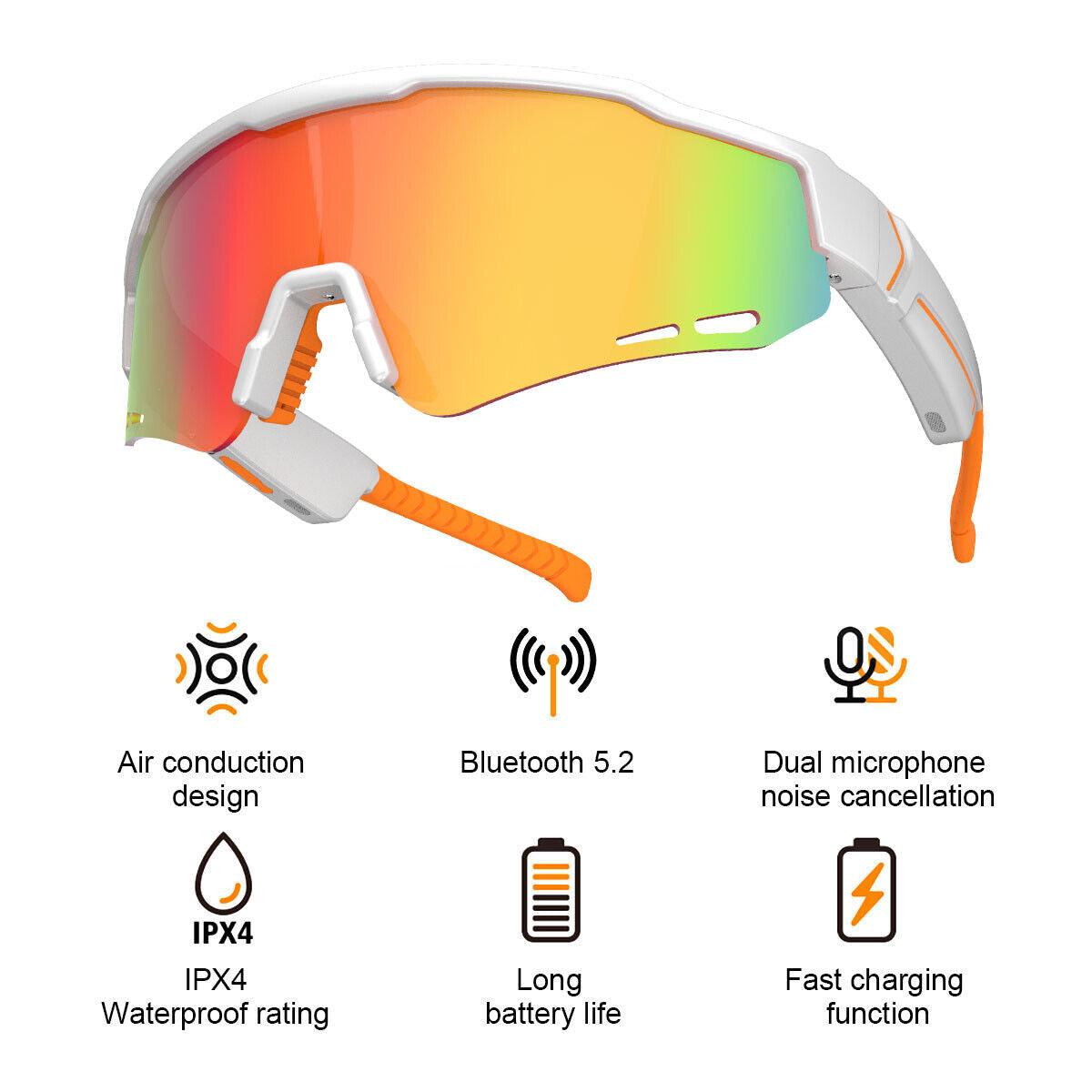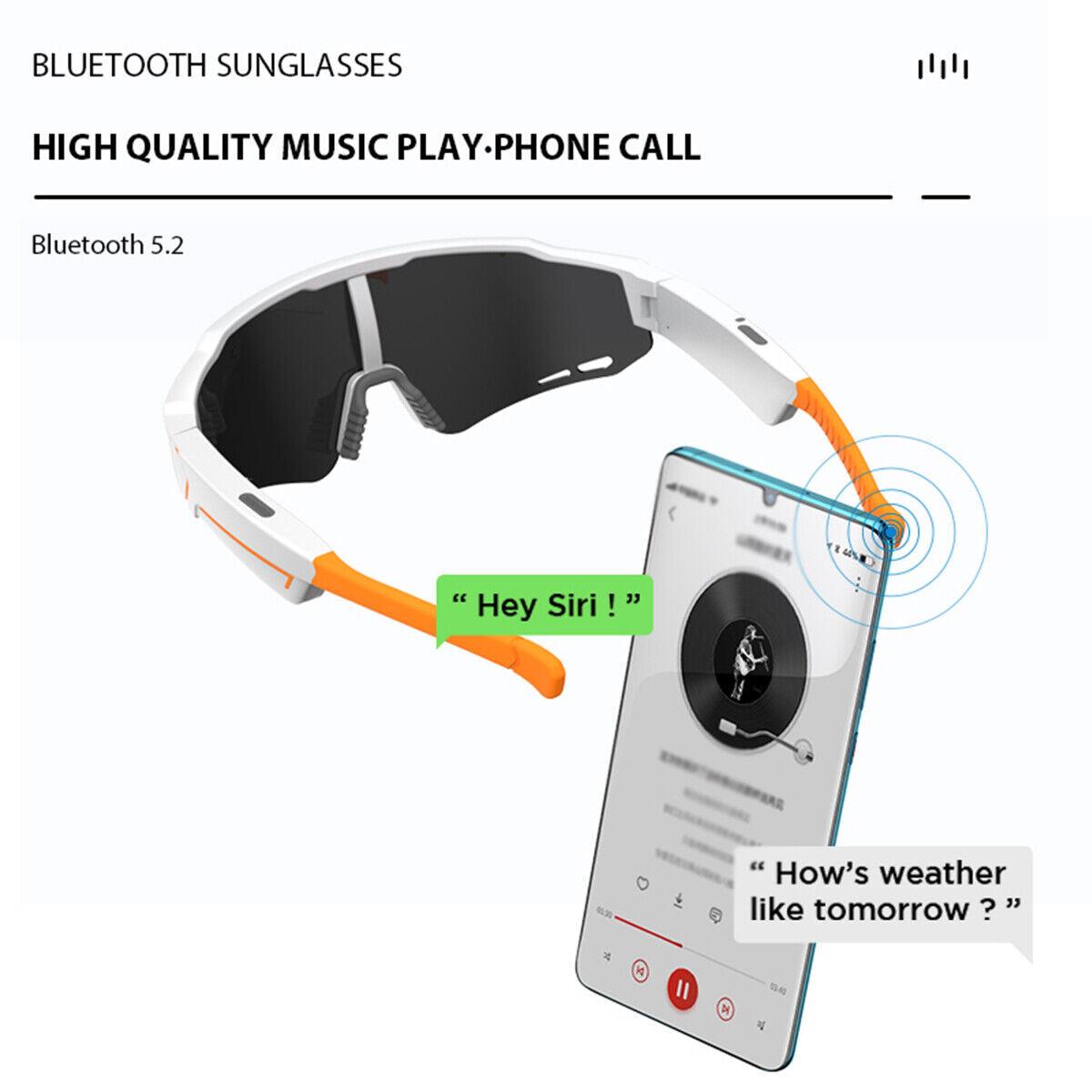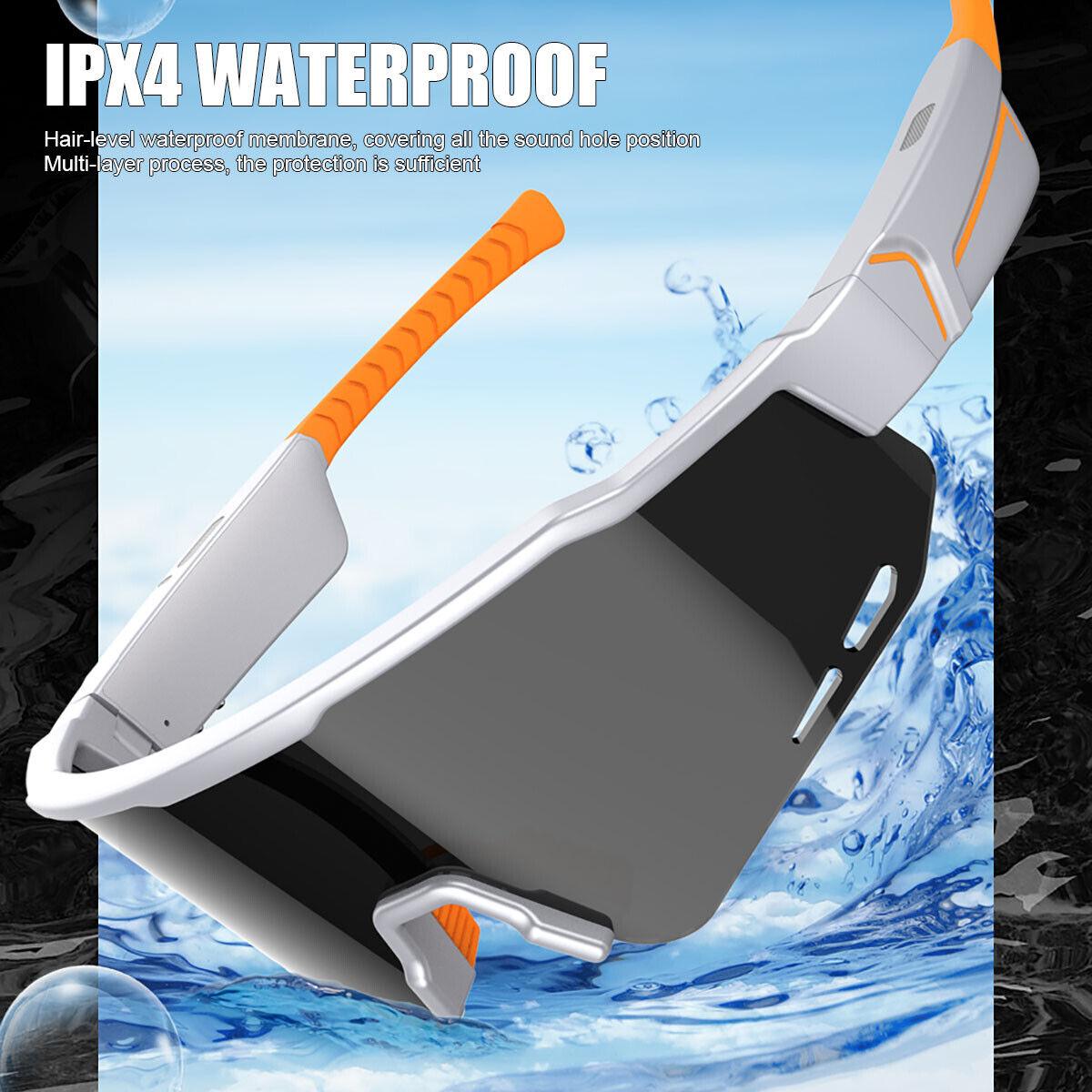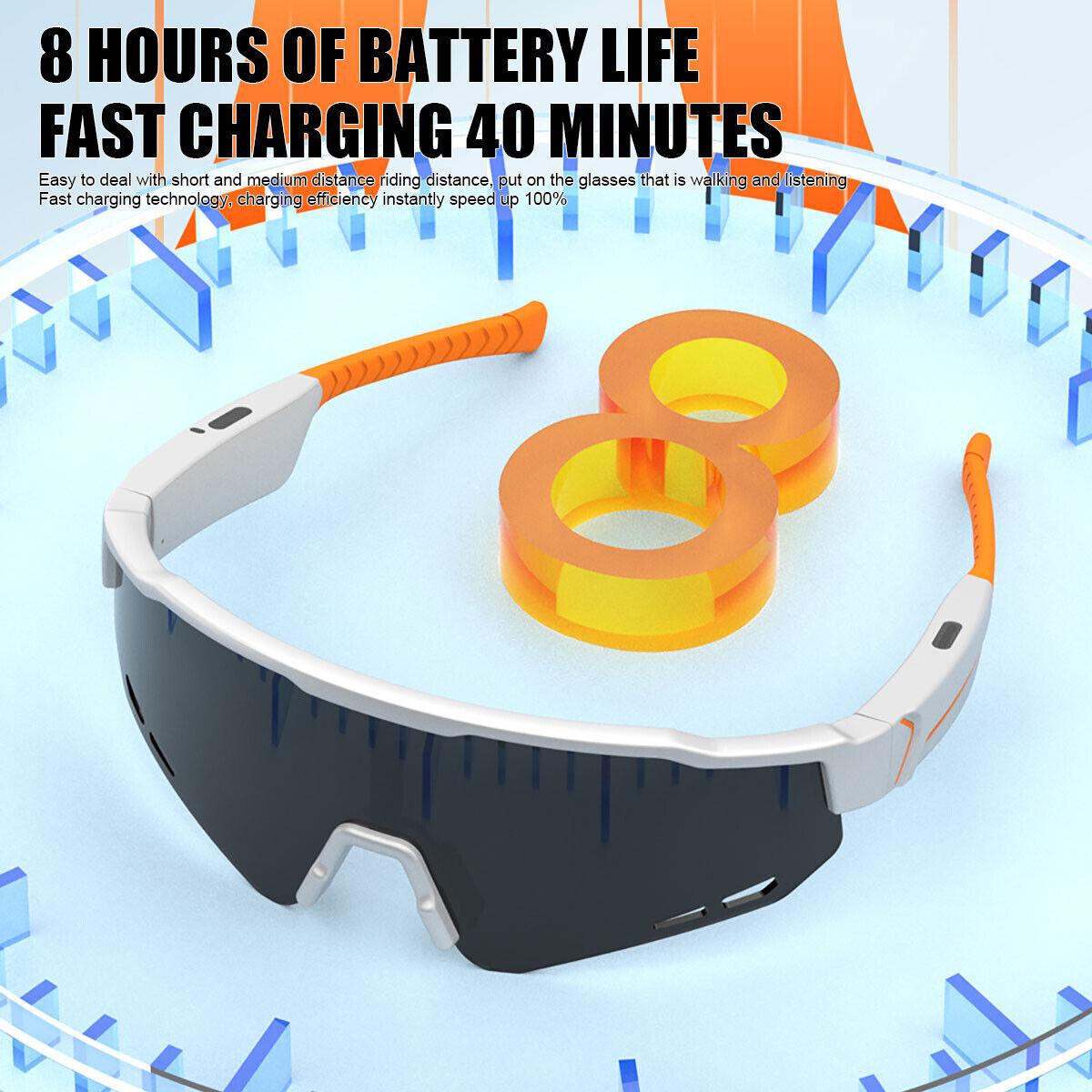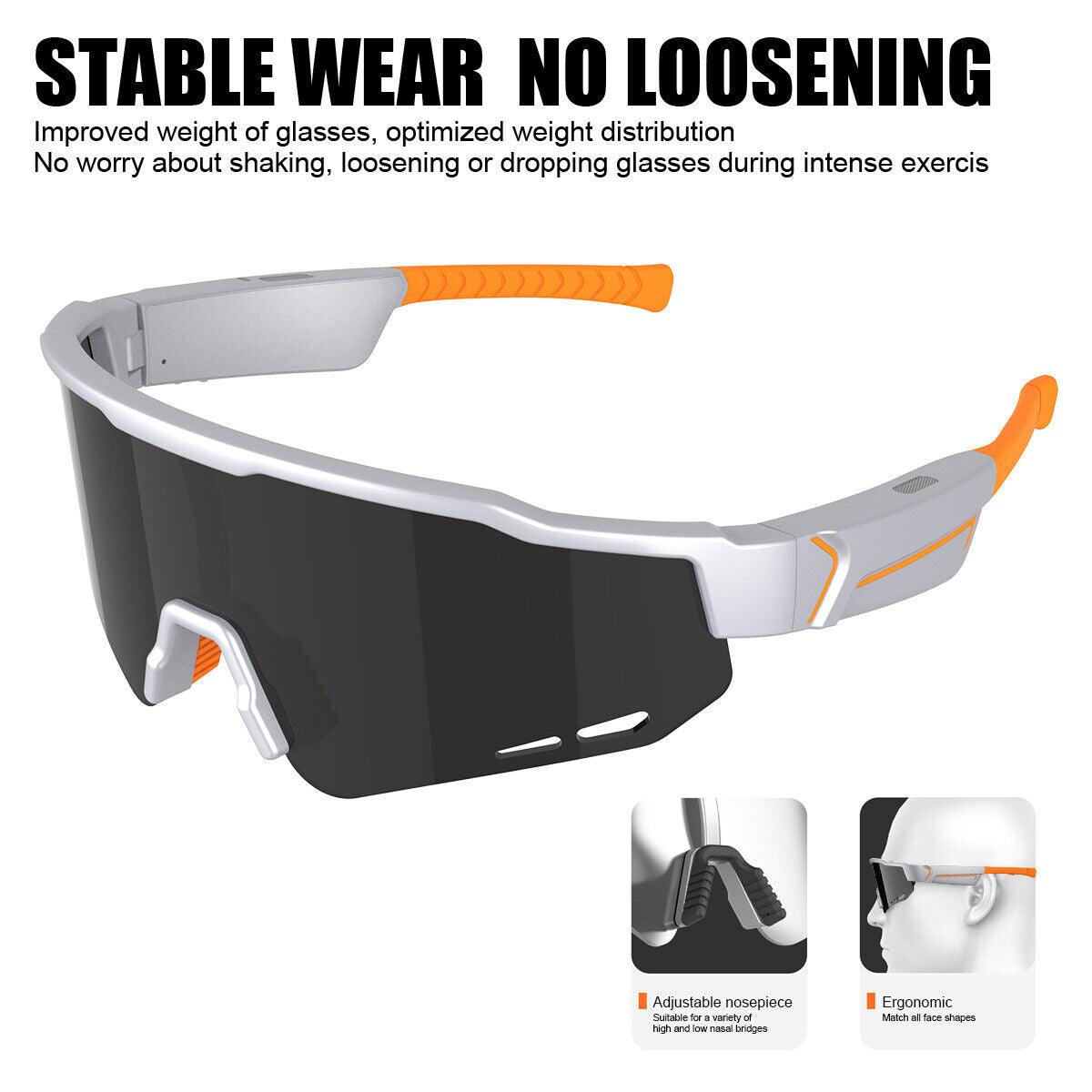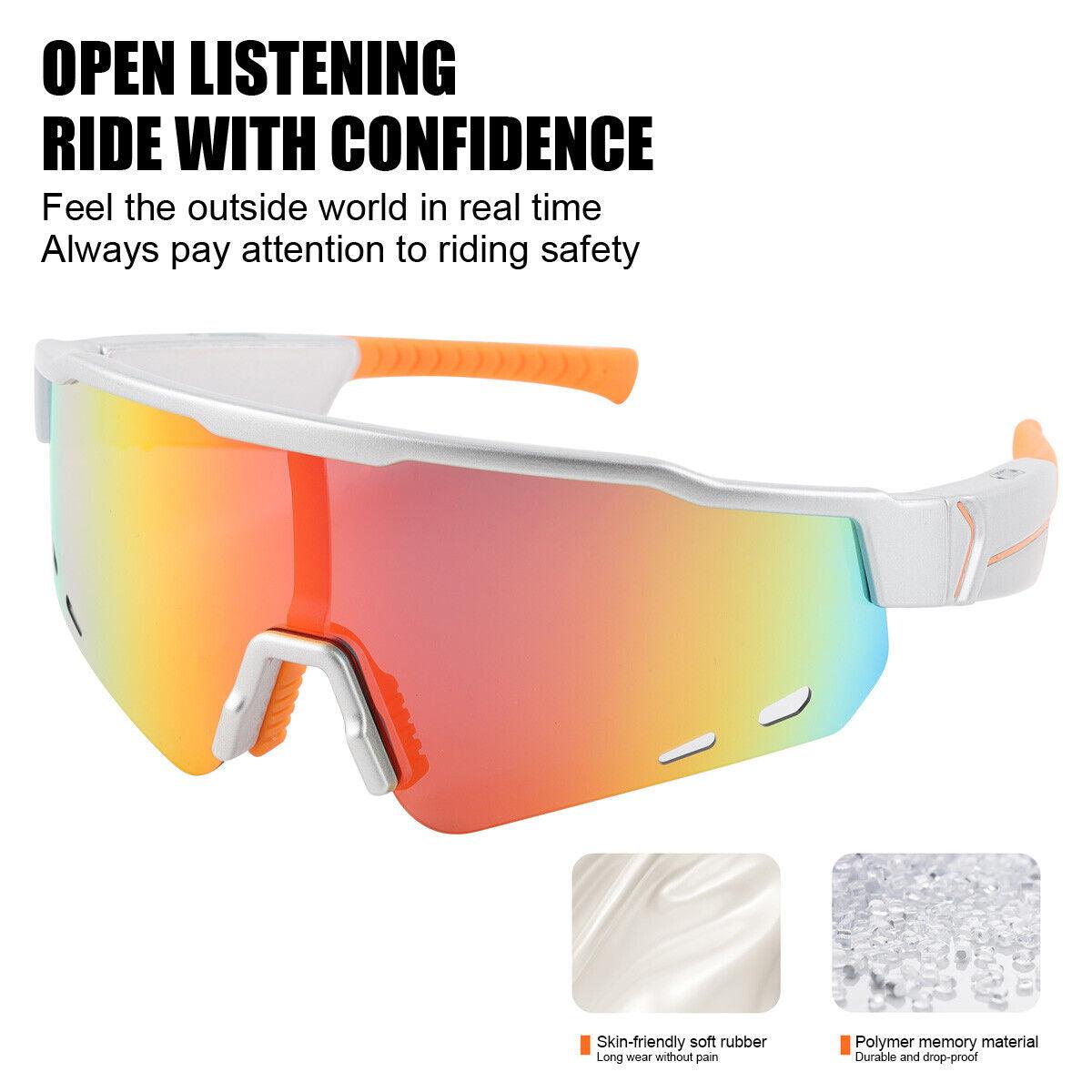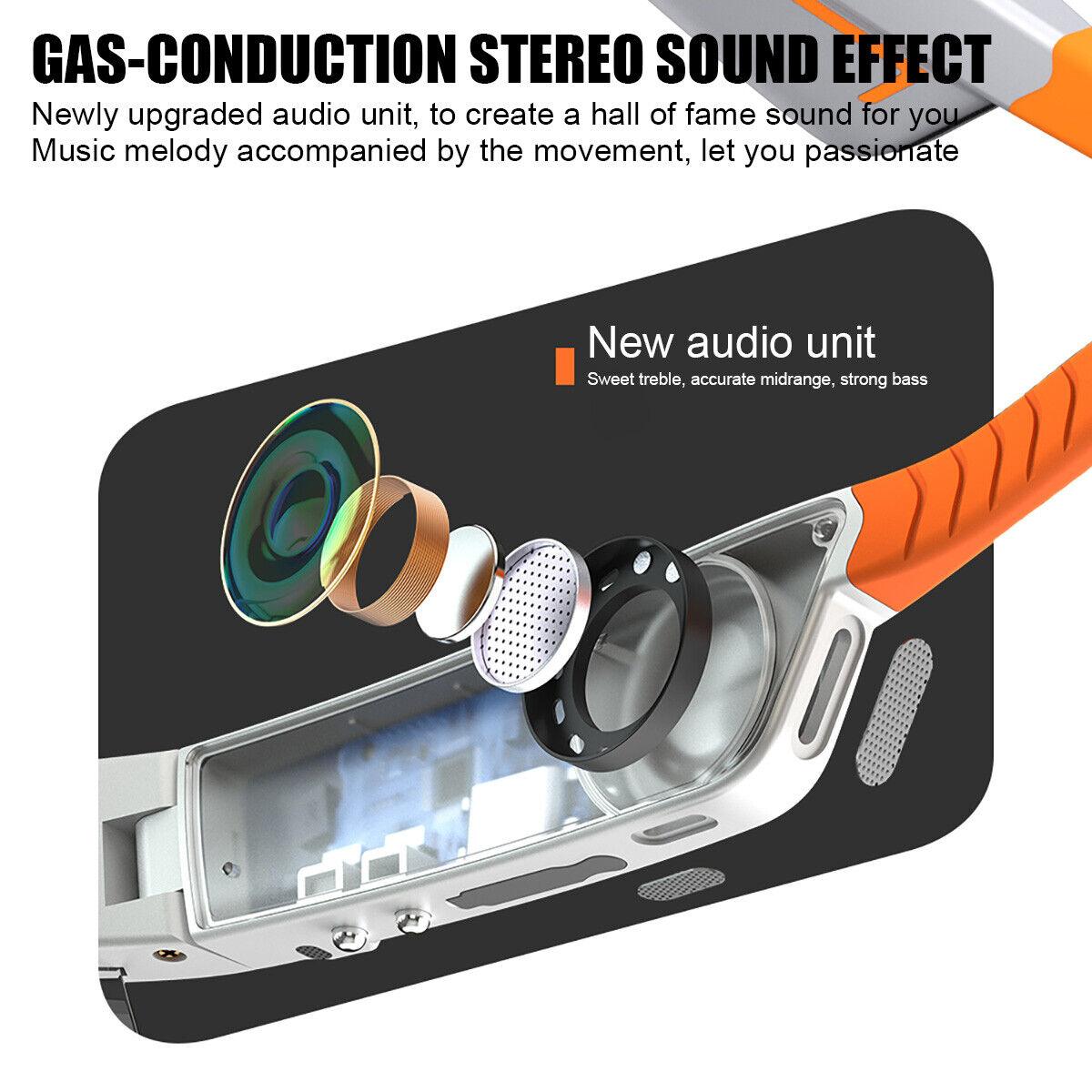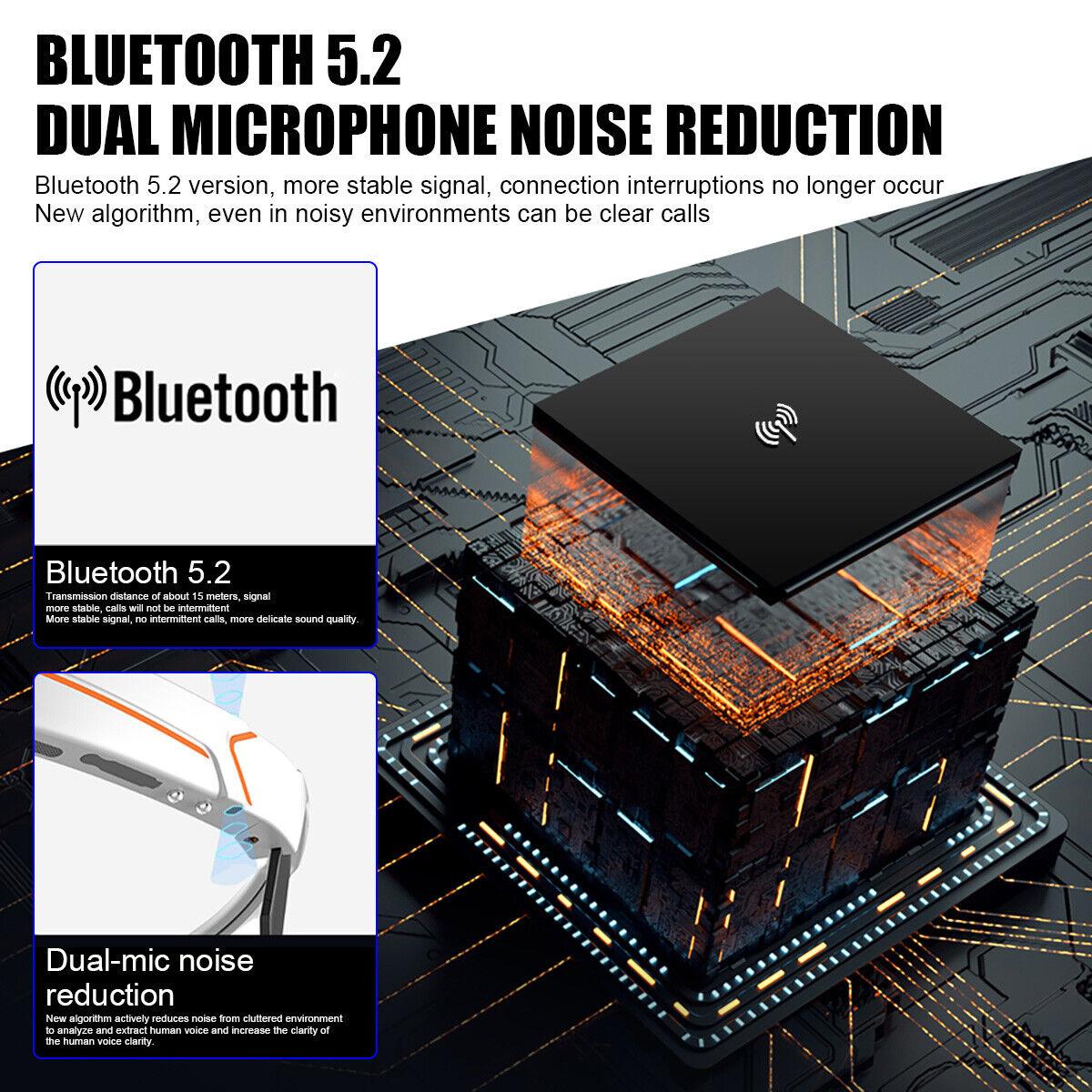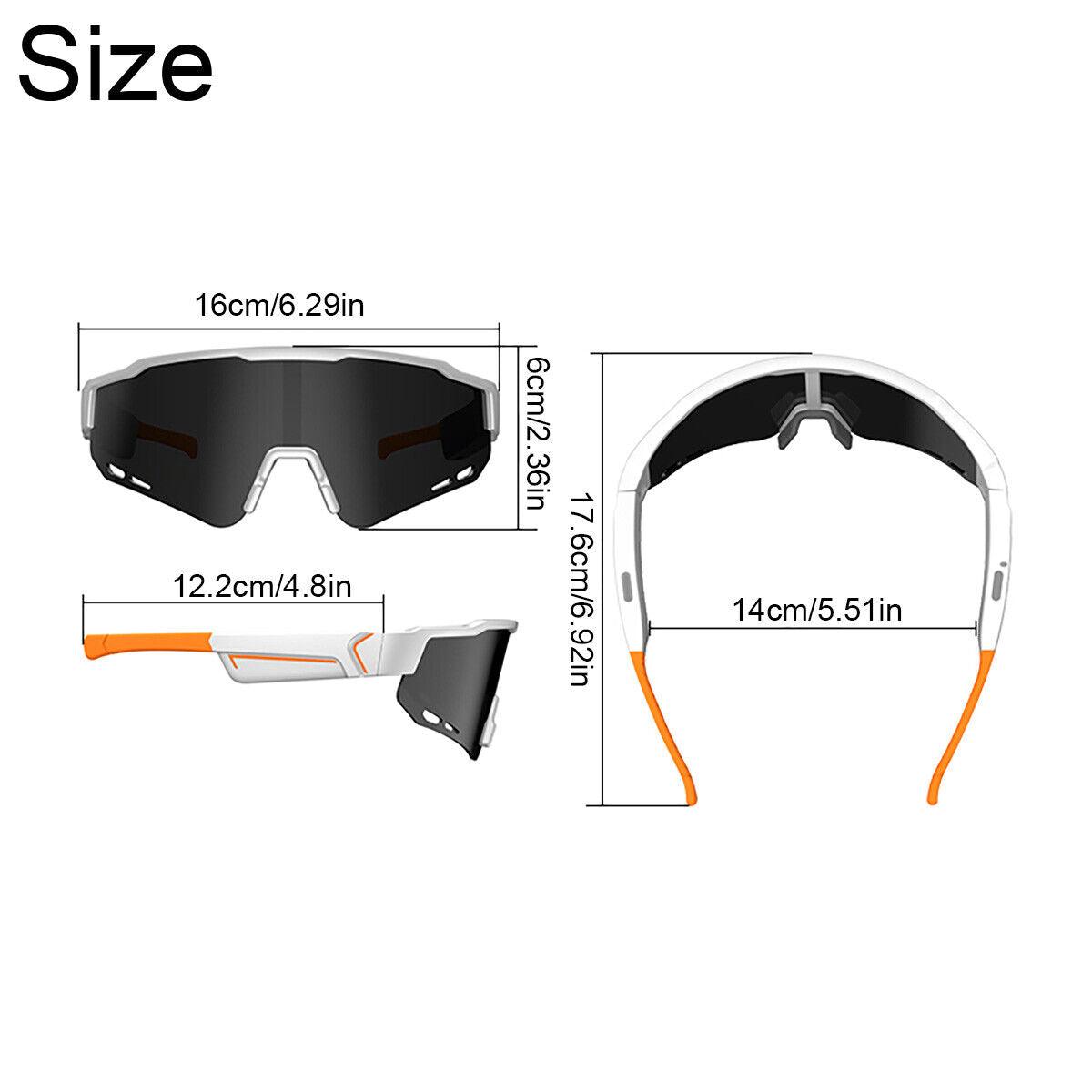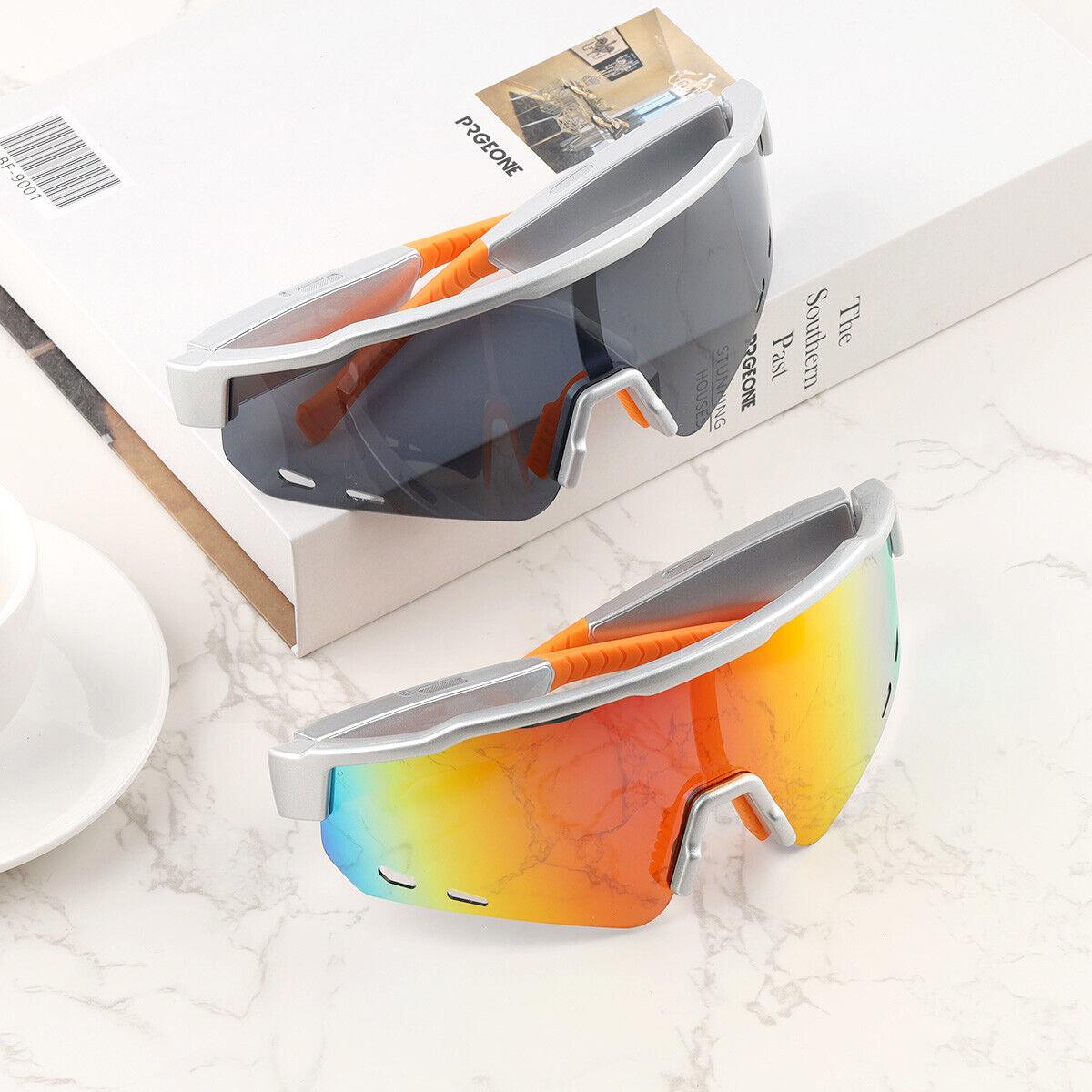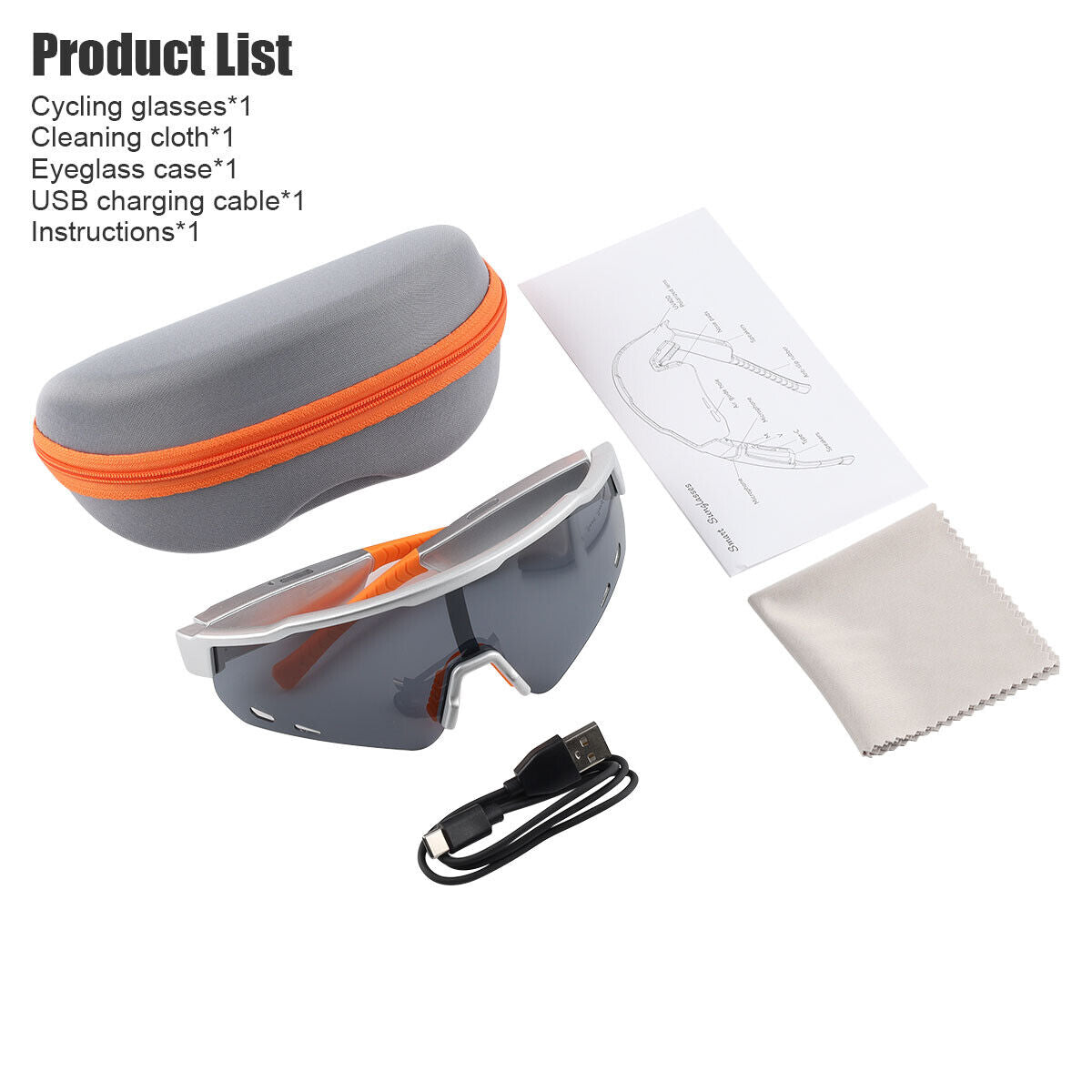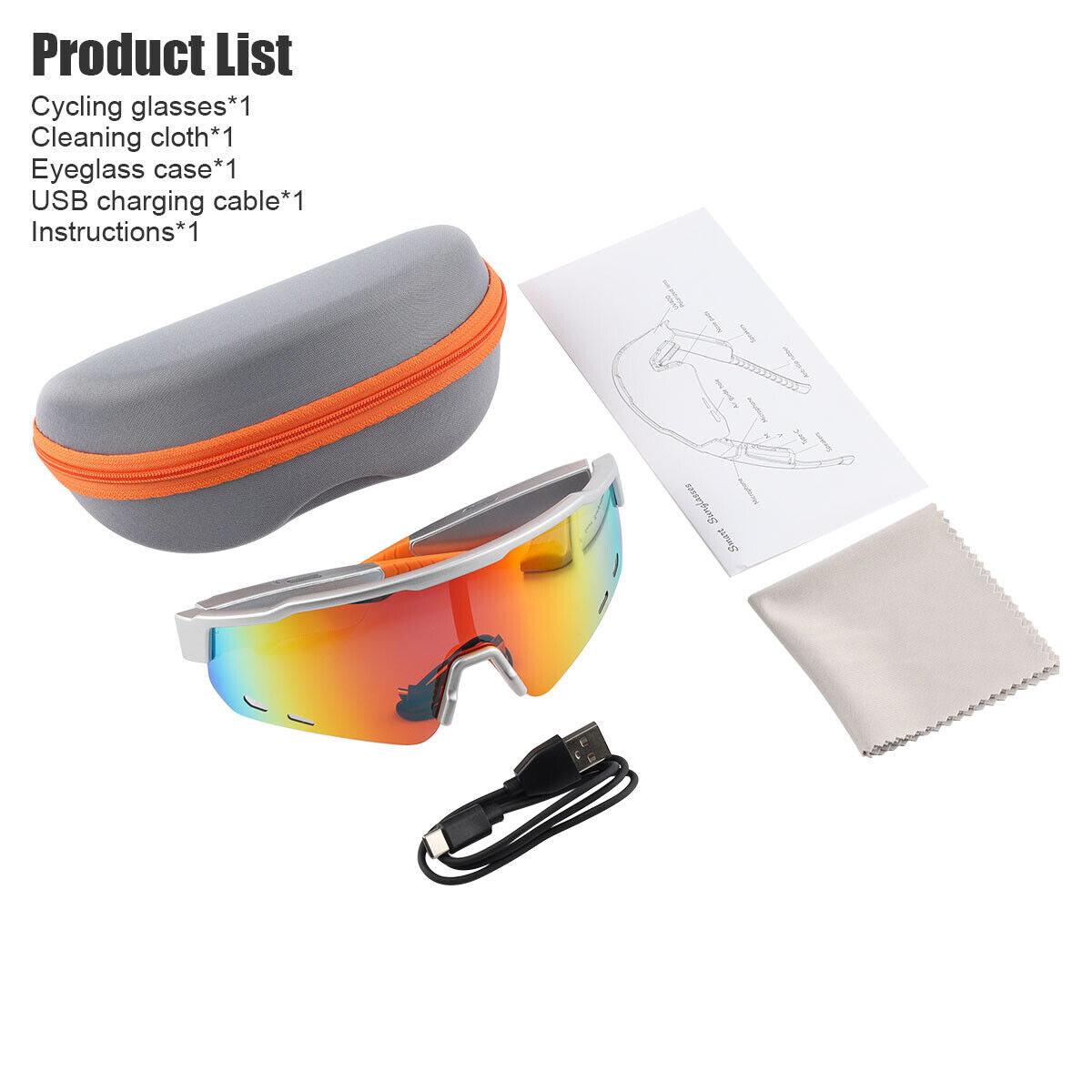 Bluetooth Headset With Sunglass - Cycling Bicycle Smart Glasses Bluetooth Audio Sunglasses / Open Ear Headphones

About Bluetooth Headset With Sunglass
For cyclists and outdoor enthusiasts, we present the Bluetooth headset with sunglass —the ideal combination of fashion, utility, and technology. These smart glasses provide a smooth audio experience as you ride or partake in other outdoor activities. By combining the ease of use of open-ear headphones with the advantages of sunglasses.
Features Of Bluetooth Headset With Sunglass
High-tech, external sports glasses designed for sports.

Easy to wear and difficult to take off; enhances the weight of the glasses. Maximizes the distribution of weight during vigorous activities. Eliminates concerns about glasses rattling, coming loose, or falling off.

With a new, improved audio unit and air conduction stereo sound effect. You may build a Hall of Fame soundtrack that will stoke your passion for sports.

Bluetooth 5.2 dual microphone noise cancellation. With Bluetooth 5.2, calls can be made even in noisy environments. The signal is more robust and connection interruptions no longer occur due to improved algorithms.

 IPX4 sweat and rain without worrying about swilling. A multi-layer film that covers every sound hole position and provides enough protection.

 Air guide perforations to direct airflow fast through and prevent fog buildup. High-definition polarised lens to cut down on glare and UV rays; strong, powerful impact.

An 8-hour range Fast charging takes one hour, making short- and medium-distance riding manageable. Wearing glasses while listening to fast charging technology increases charging efficiency by 100% instantaneously.
Benefits of Bluetooth Headset With Sunglass
Increased Safety:
When riding on roads or trails, it's important to be able to hear ambient noises while still enjoying your audio content. This is made possible by the open-ear design.
UV Protection Bluetooth Headset With Sunglass:
During outdoor activities, UV-protective lenses shield your eyes from dangerous sun rays, lowering the risk of eye strain and safeguarding your vision.
Convenience:
By removing the need for additional headphones or earbuds, this Bluetooth headset with sunglass offers hassle-free audio without getting in the way of your hearing.
Multifunctionality Bluetooth Headset With Sunglass:
These bluetooth headset with sunglass are appropriate for a range of outdoor activities, including jogging, trekking, and even leisurely walks, in addition to cycling.
With Cycling Bicycle Smart Glasses with Bluetooth Audio, you may enjoy the perfect fusion of fashion, comfort, and technology. These smart glasses offer an all-in-one solution for entertainment, communication, and eye protection throughout your outdoor adventures—whether you're cruising around the city or discovering new trails. Reimagine your cycling experience by being connected and safe!
Condition: A brand-new, unused, unopened, undamaged item
Battery Capacity: 150mAh
Bluetooth support protocol: HSP/HFP/A2DP/AVRCP
Bluetooth Version; V5.2+EDR
Charging time: About 40 minutes (fast charge)
Charging volt: USB DC5V
Connectivity: Bluetooth, USB-C
Distance: 10-15M
Features: Built-in Microphone, Built-In On/Off Switch, Call functions, Dual Microphone Noise Cancellation, HD Voice, Playback Controls, Rechargeable Battery, Stereo, Surround Sound, Touch Control, UV400, UV400 Sunglasses, Volume Control, Waterproof
Form Factor: Ear-hook
Number of Earpieces: Double
Standby Time: 230 hours
Suitable For: Cycling, Driving, Hiking, Outdoor Sports
Talking Time: 8 hours
Type: Polarized Smart Glasses
Wireless Technology: Bluetooth

Package:
1 Riding glasses
1 Cleaning cloth
1 Glasses case
1 USB charging cable
1 User's manual

Parameters:
Product name: K18 cycling glasses
Bluetooth name: K18
Bluetooth version: V5.2+EDR
Frequency range: 2402-2480MHZ
Transmission power: Class2
Bluetooth support protocol: HSP/HFP/A2DP/AVRCP
Charging voltage: USB DC5V
Charging Interface: Type-C
Transmission distance: 10-15m
Music playback: approx. 7 hours
Talk time: approx. 8 hours
Standby time: 230 hours
Charging time: less than hours (fast charging)
Battery capacity: 150mAh
Weight: 40g

Be Maskura Fit
Our Happy Hoopers
30 Minutes Daily Fun Workout
The smart hula hoop counts your burned calories, tracks how long you work out, and records other vital information.
Easy Installation Process
Our Smart Weighted Hula Hoop has a carefully planned design with 27 knots placed in hoop's circumference.
27 Detachable Knots
Our Smart Weighted Hula Hoop has a carefully planned design with 27 knots placed in hoop's circumference.
Let customers speak for us
nice looking, with bluetooth, comfortable to wear
Fantastic! This glass has a trendy appearance and is also quite comfortable to wear. The bluetooth pairing begins soon when I put it on and ends when I remove it. I've had a terrific time using it to make calls and listen to podcasts. Because there is no actual button, Lemuna is more comfortable to wear.
Shark Shaver Pro - Platinum Electric Skull Shaver For Head & Face
Best Electric Men's Shaver