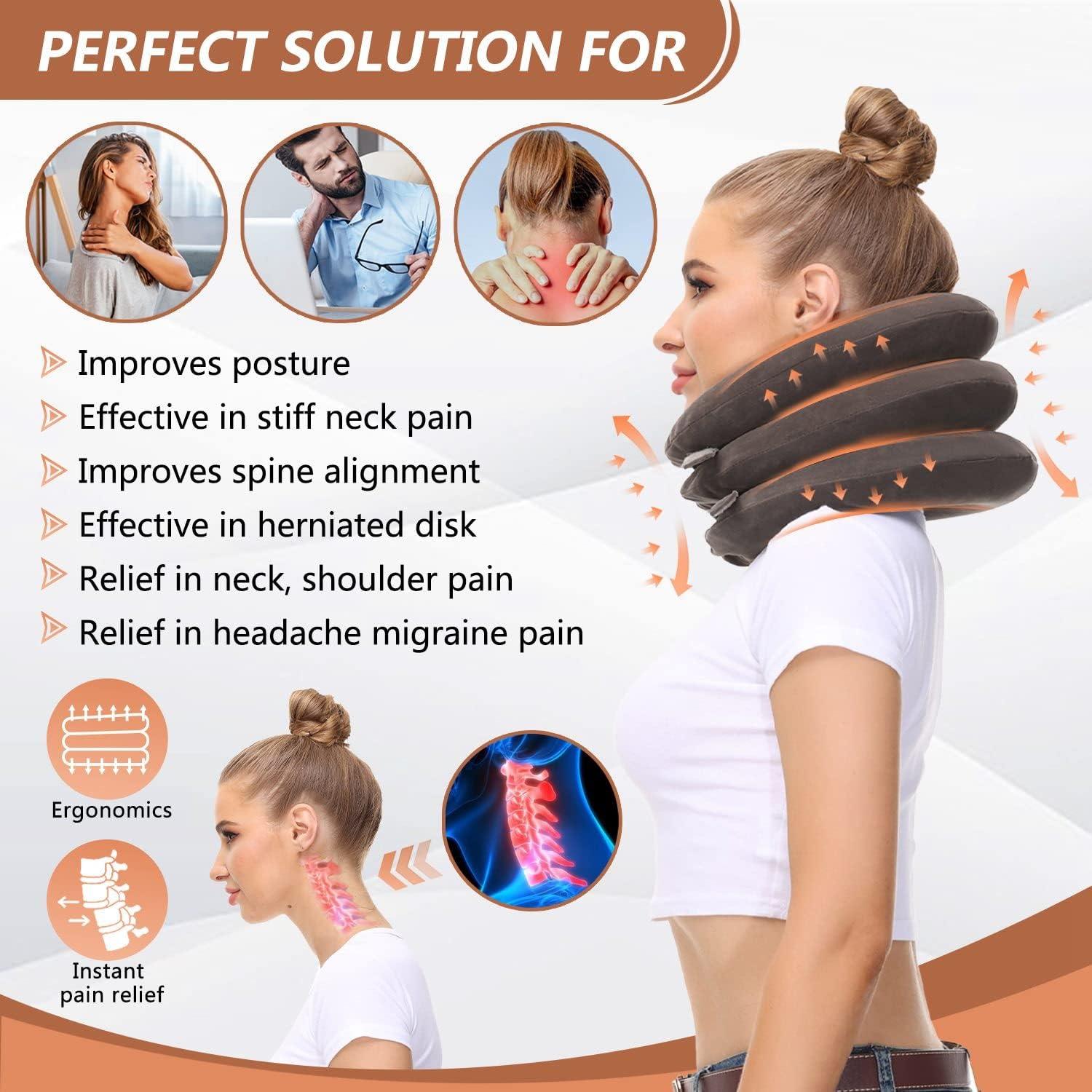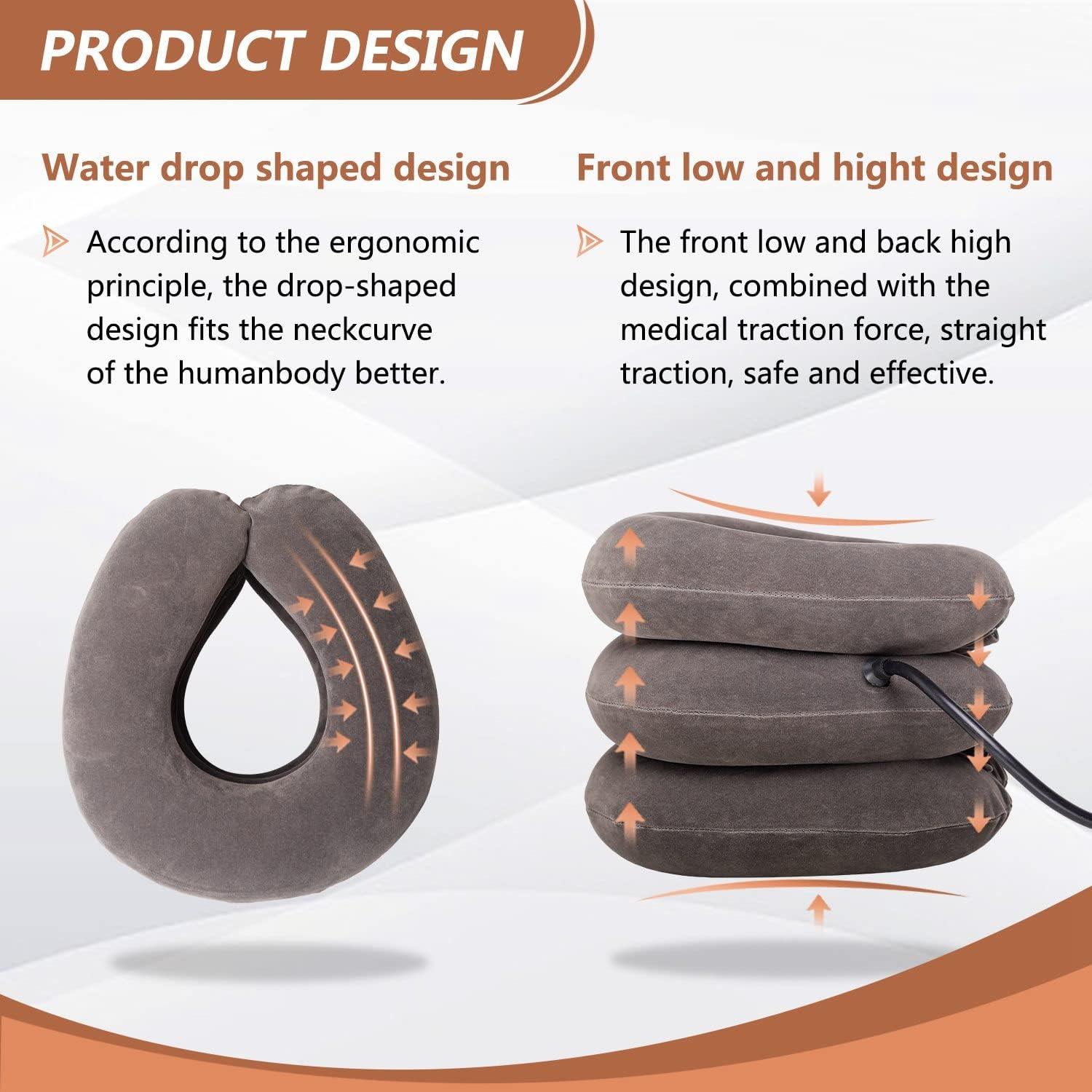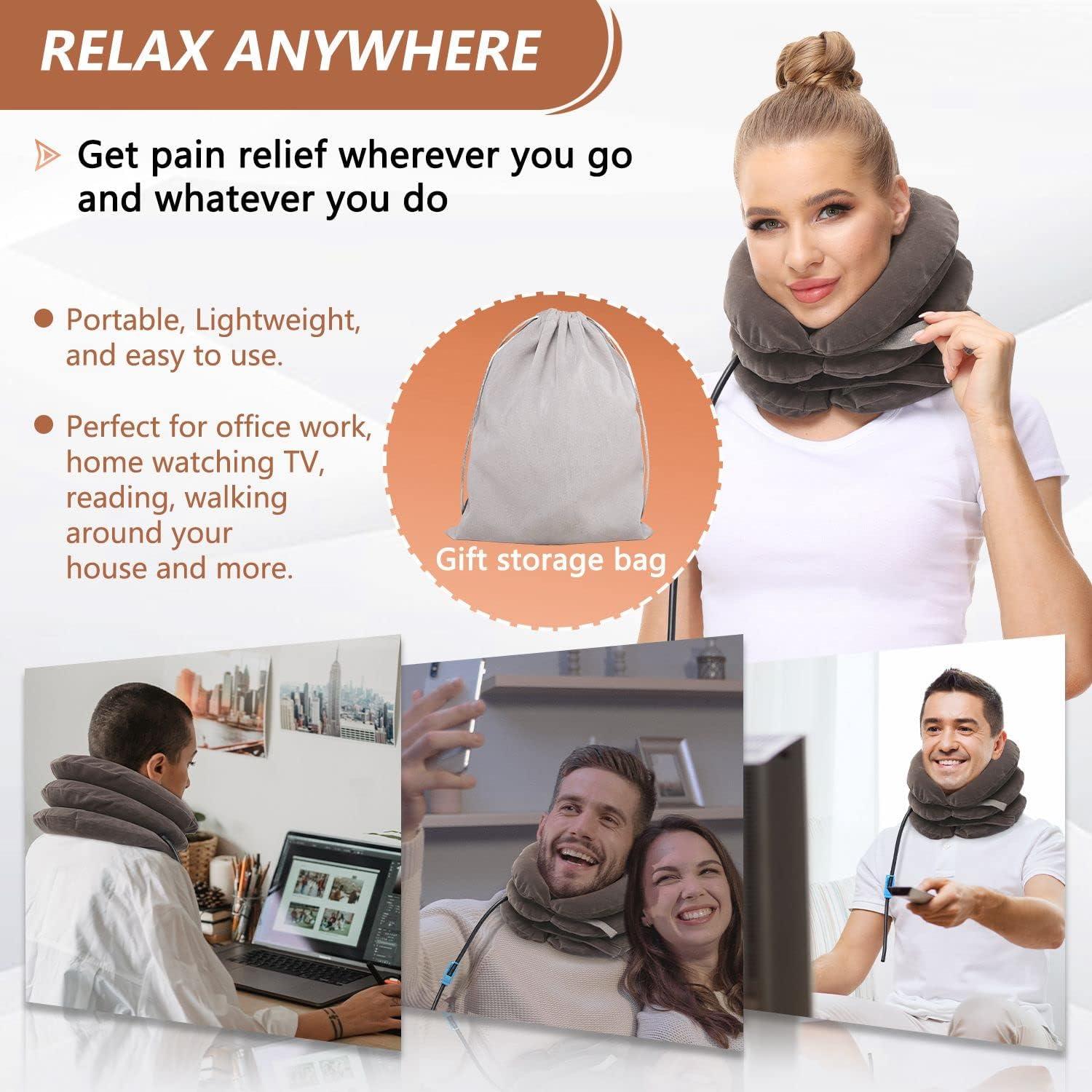 Cervical Traction Collar - Inflatable Cervical Collar Neck Relief Traction Brace

About Cervical Traction Collar
A medical device called a cervical traction collar is used to support and traction the neck. It is often used to treat neck pain and stiffness brought on by ailments like arthritis or traumas like whiplash.
A soft, inflated bladder that is placed around the neck serves as the collar. In order to offer the proper level of traction and support, the bladder can be inflated. The collar may be customized to meet the wearer's neck size because it is also adjustable.
Simply blow up the bladder until the collar offers the necessary level of support to use it. The length of time the collar is worn depends on the needs of the individual.
Here are some benefits of using a cervical traction collar
Neck Pain Relief: The collar's mild traction can aid in reducing neck pain brought on by headaches, muscle stress, and other ailments.
Improve Posture: By aligning the neck and spine, the collar can aid in better posture. This can lessen stiffness and soreness while also enhancing your general appearance.
Adjustable and Comfortable: The collar may be adjusted to fit most people and is constructed of a soft, breathable cloth. Long periods of time can be spent wearing it comfortably because of this.

Easy Use: The collar is simple to use and is quick to put on and take off. You can wear it when standing up, sitting down, or sleeping.
Safe and Efficient: Using a collar to ease neck pain and enhance posture is safe and efficient. It can aid in symptom management but does not treat any underlying conditions.
An inflatable cervical collar can be an excellent choice for you if you want to get rid of neck pain and correct your posture. Make sure the item you select is adjustable, comfy, and covered by a warrant.
Instructions to Use Cervical Traction Collar
Before using the inflatable cervical collar, carefully read the manufacturer's instructions.

Use the inflation mechanism to slowly inflate the collar until it is at a comfortable height.

Make sure the collar is properly centered and aligned before placing it around your neck.

Ensure a tight yet comfortable fit by fastening the collar with the included fasteners or straps.

In order to prevent undue pressure on the neck area, use the collar as instructed by the manufacturer or your healthcare provider. Avoid over-inflating the collar.

While wearing the collar, gently stretch and move your neck. This will help you become more relaxed and flexible.
You May Check It Out: Neck Brace for Posture
Note:
Before utilizing the collar, speak with a medical practitioner, especially if you have any current health issues, injuries, or worries.

Observe the instructions and durational recommendations provided by the manufacturer.
An adaptable and simple equipment called the Inflatable Cervical Collar Neck Relief was created to support and relieve neck stress and pain. It is a handy option for encouraging relaxation and assisting in the healing process because of its adjustable inflation, cushioned comfort, and portability. You can take action to reduce neck discomfort and improve your general well-being by including this collar in your self-care routine.
Condition: A brand-new, unused, unopened, undamaged item Size
Size: 27cm x 17cm
Department: Unisex
Main Purpose: Neck pain
Material: Latex Bladder and Flannelette
Type: Neck Stretcher Pillow
Features: Adjustable, Pillow, Neck Stretcher Pillow, Cervical
Body Area: Neck
Suitable: Driver, Students, Office Workers

Be Maskura Fit
Our Happy Hoopers
30 Minutes Daily Fun Workout
The smart hula hoop counts your burned calories, tracks how long you work out, and records other vital information.
Easy Installation Process
Our Smart Weighted Hula Hoop has a carefully planned design with 27 knots placed in hoop's circumference.
27 Detachable Knots
Our Smart Weighted Hula Hoop has a carefully planned design with 27 knots placed in hoop's circumference.
Let customers speak for us
Works well
One of these was being used by a chiropractor for my neck problems after I was in an automobile accident. He sold me one, but after a while it broke. I'm glad I located it here at a lower cost. It's a fantastic product to incorporate into your at-home therapy regimen. I heartily endorse it.
Shark Shaver Pro - Platinum Electric Skull Shaver For Head & Face
Best Electric Men's Shaver