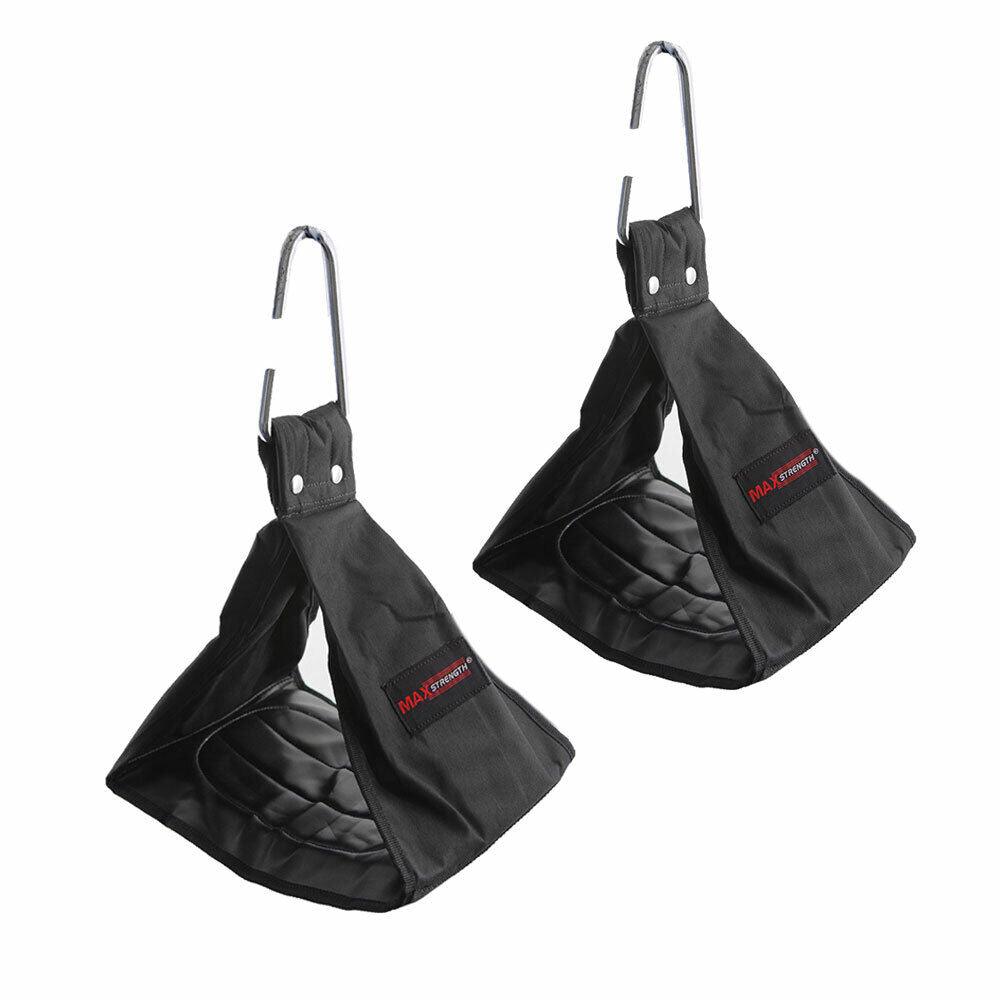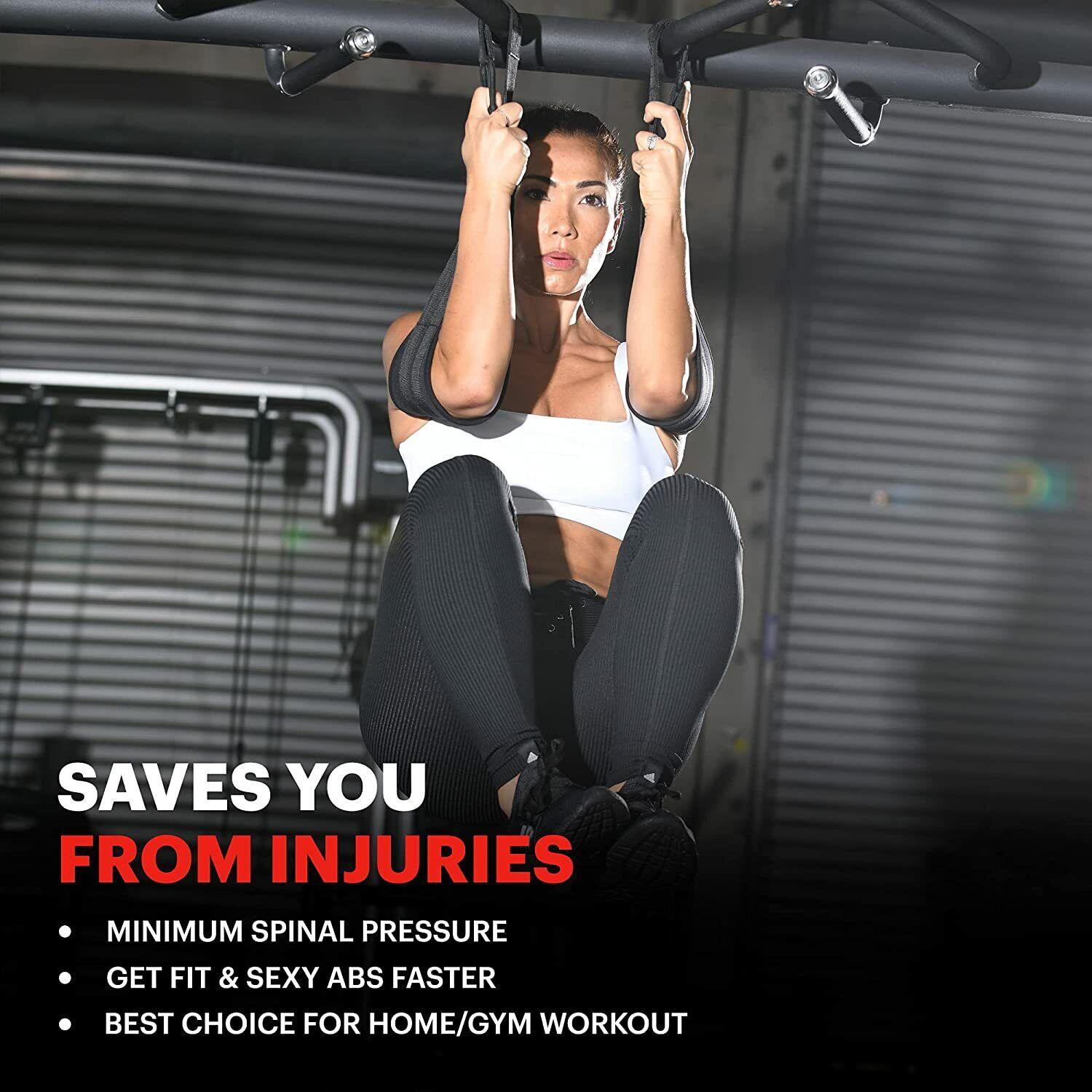 Hanging Leg Raise Strap - Wall Mounted Pull Chin Up Bar Ab Sling Home Gym Exercise

About Hanging Leg Raise Strap
The innovative and effective hanging leg raise strap is a device that helps to complete your core training.  The key features and advantages of our Ab Sling will be discussed and mentioned which will prove why it is a must-have equipment for your fitness routine.
Product Features of Hanging Leg Raise Strap
Durable & Top-notch Quality: Our Ab Sling is made from high-quality and durable materials that ensure its lifespan and capacity to survive after frequent use. It is designed to support your body weight as you exercise, giving you a risk-free and secure workout.
Comfortable and Padded: Padded arm loops and head support are features of the Ab Sling that increase comfort while exercising. You can focus on your core muscles without experiencing pain because of the soft padding's reduction of pressure on your arms and shoulders.
Convenient Straps: Different body types and heights can be easily accommodated by adjusting the length of the straps. The Ab Sling may be tailored to match your unique requirements, whether you're tall or short, maintaining appropriate form and alignment during workouts.
Multiple Attachment Options: Pull-up bars, power racks, or any other reliable overhead anchor point may be quickly and easily linked to the Ab Sling. Due to its adaptability, you may use it for a variety of exercises that target your abs, obliques, and even lower back muscles.
Work on Core Muscles: Your core muscles are worked harder and more precisely when you use the Ab Sling. This helps you attain the six-pack abs you've always desired by improving core strength, stability, and definition.
Reduced Chances of Strain: The Ab Sling supports your body while you perform hanging leg raises or knee raises, which eases pressure on your lower back. This ensures you can do workouts with appropriate form and helps to prevent injuries.
Benefits Of Hanging Leg Raise Strap:
The Ab Sling can be used effectively to isolate and engage your core muscles. You can perform a number of hanging exercises with it that target your entire stomach and help you develop a stronger, more toned core.

Your grip strength will increase naturally when you carry out hanging exercises with the Ab Sling, which is beneficial for many other exercises and daily tasks.

The Ab Sling tests your balance and stability and also improves body control and coordination, which can elevate your performance in various sports and athletic endeavors.

As the Ab Sling is portable and lightweight, you can use it at home or at the gym, giving you a convenient workout option.
You can improve your core exercises with the help of our Ab Sling, a versatile and effective gear that helps you achieve your fitness goals. Gain self-assurance, fortify your core, and benefit from a flat, toned midsection. Seize the opportunity to further your fitness objectives. Get an Ab Sling today to get started on achieving your exercise goals!
Condition: A brand-new
Sport/Activity: Gym & Training, Weight Lifting
Type: Ab Sling
Indoor/ Outdoor: Both

Be Maskura Fit
Our Happy Hoopers
30 Minutes Daily Fun Workout
The smart hula hoop counts your burned calories, tracks how long you work out, and records other vital information.
Easy Installation Process
Our Smart Weighted Hula Hoop has a carefully planned design with 27 knots placed in hoop's circumference.
27 Detachable Knots
Our Smart Weighted Hula Hoop has a carefully planned design with 27 knots placed in hoop's circumference.
Let customers speak for us
Worth every penny
These relieve the strain from your hands and shoulders while working your abs on a dip station. The cushioning keeps the strap from cutting into your arms.
Shark Shaver Pro - Platinum Electric Skull Shaver For Head & Face
Best Electric Men's Shaver