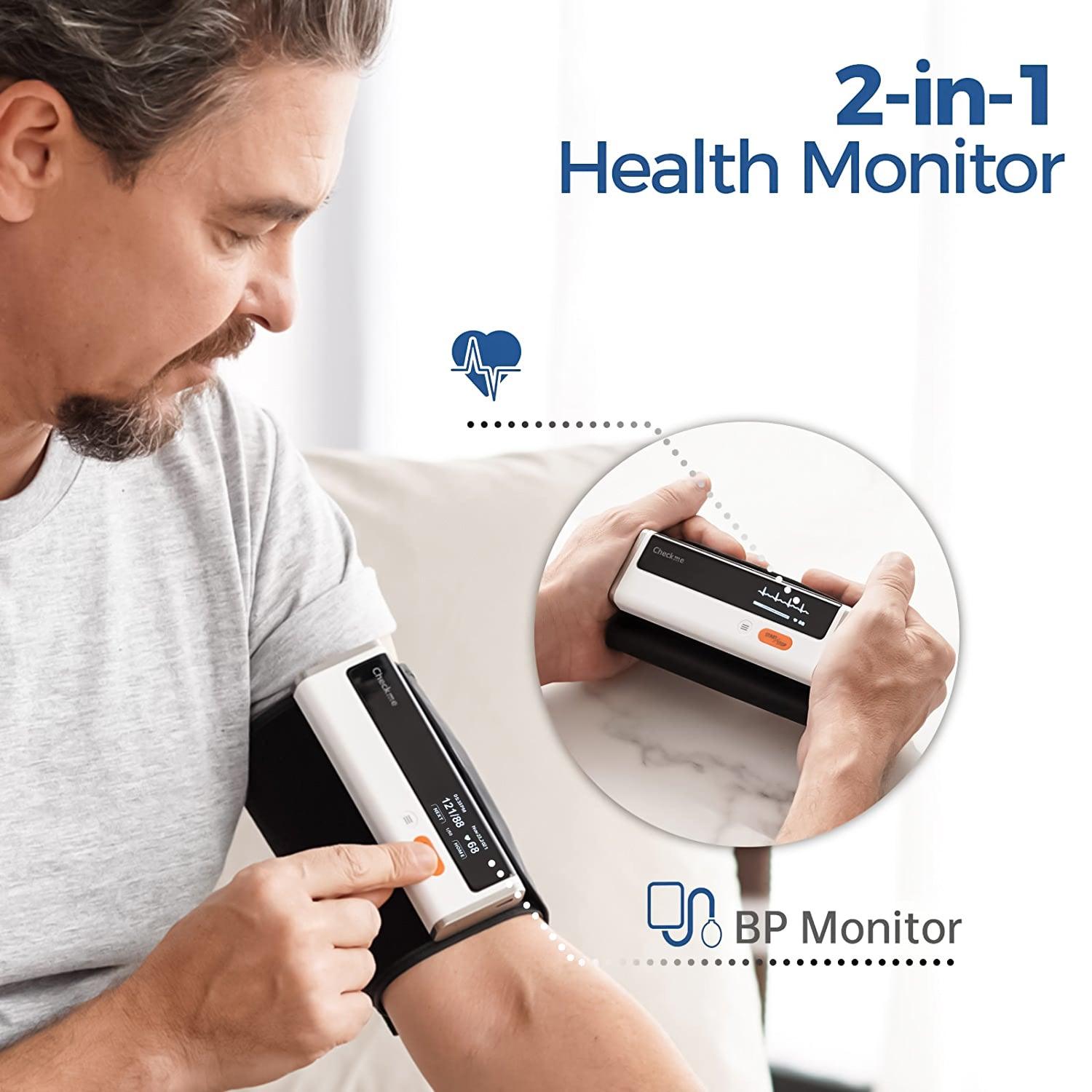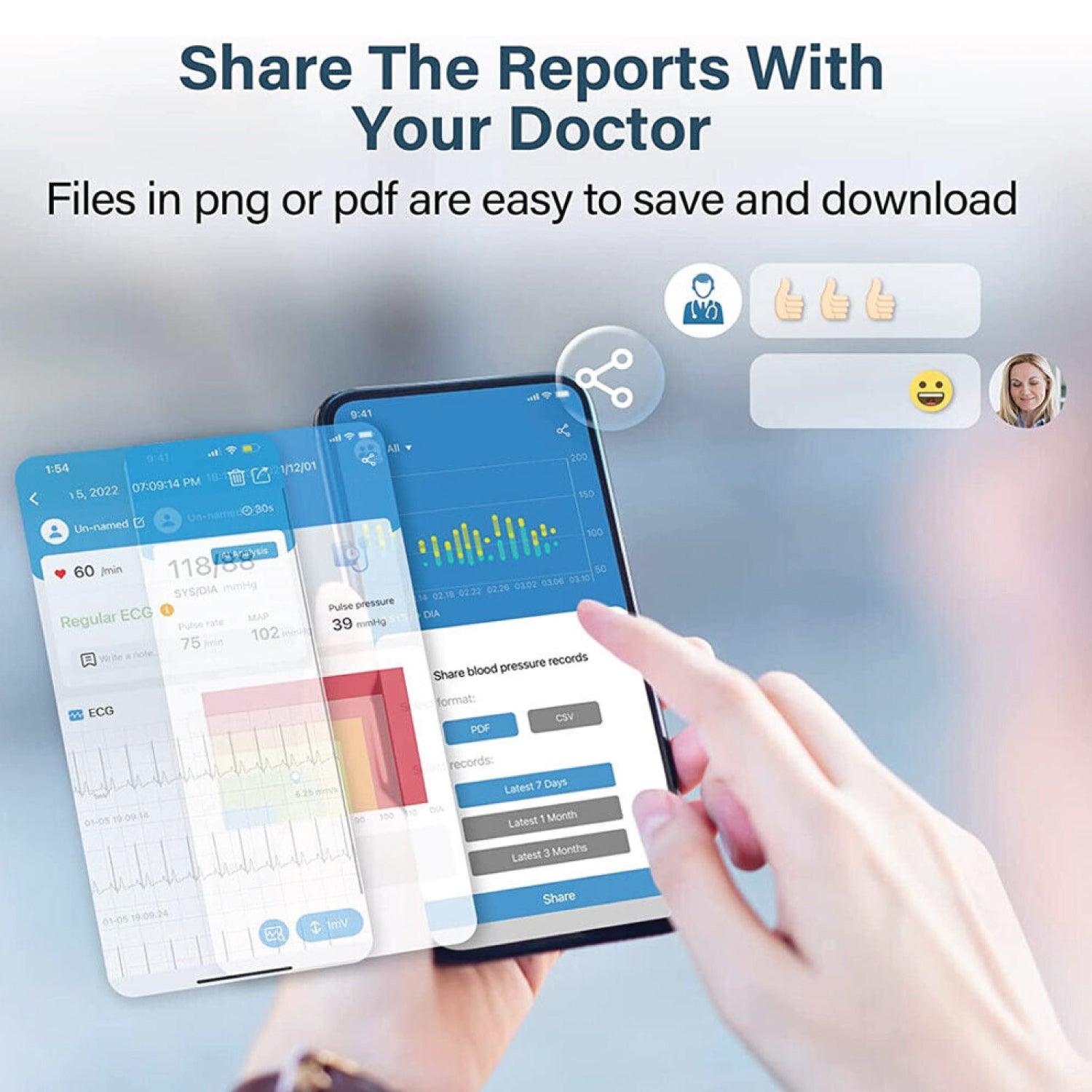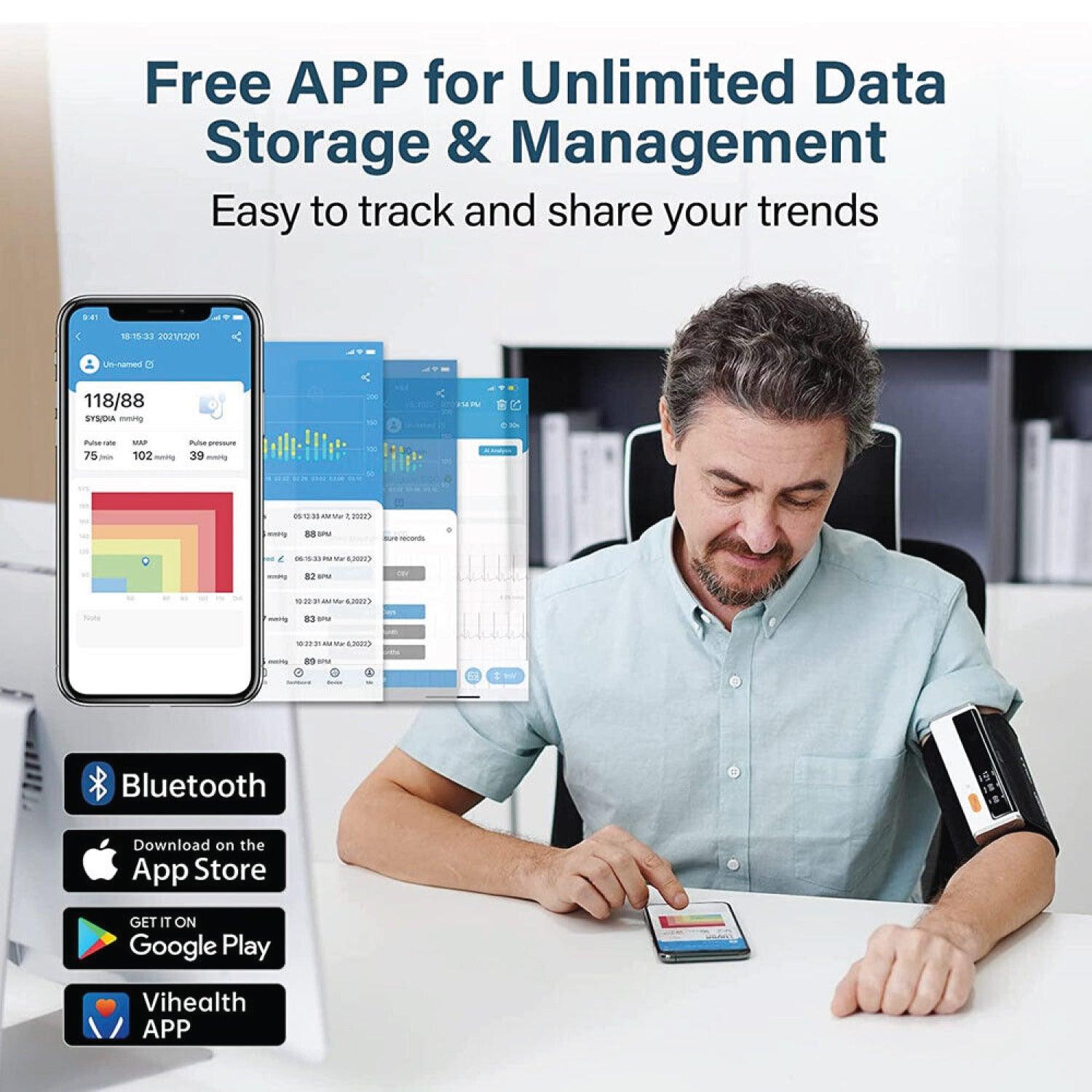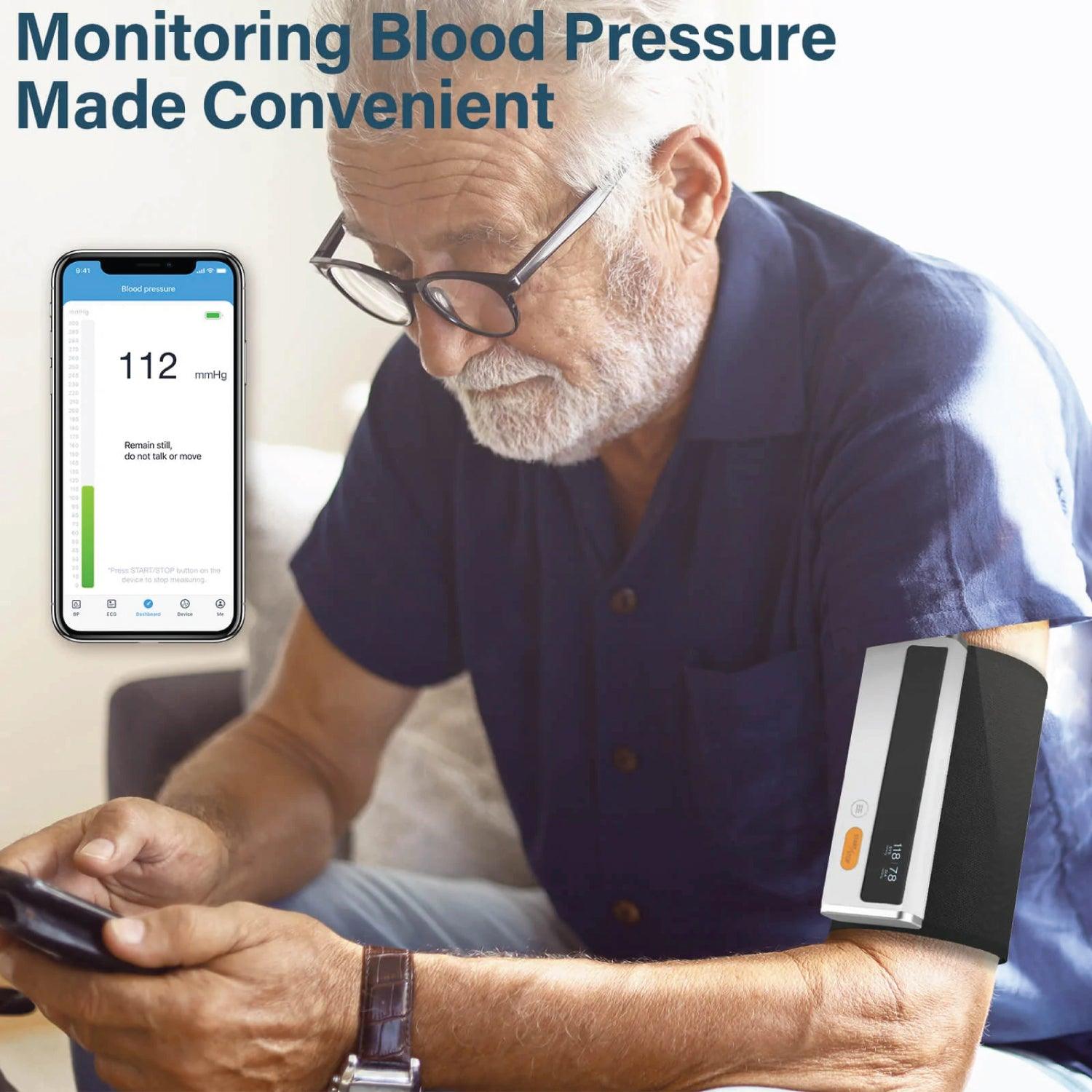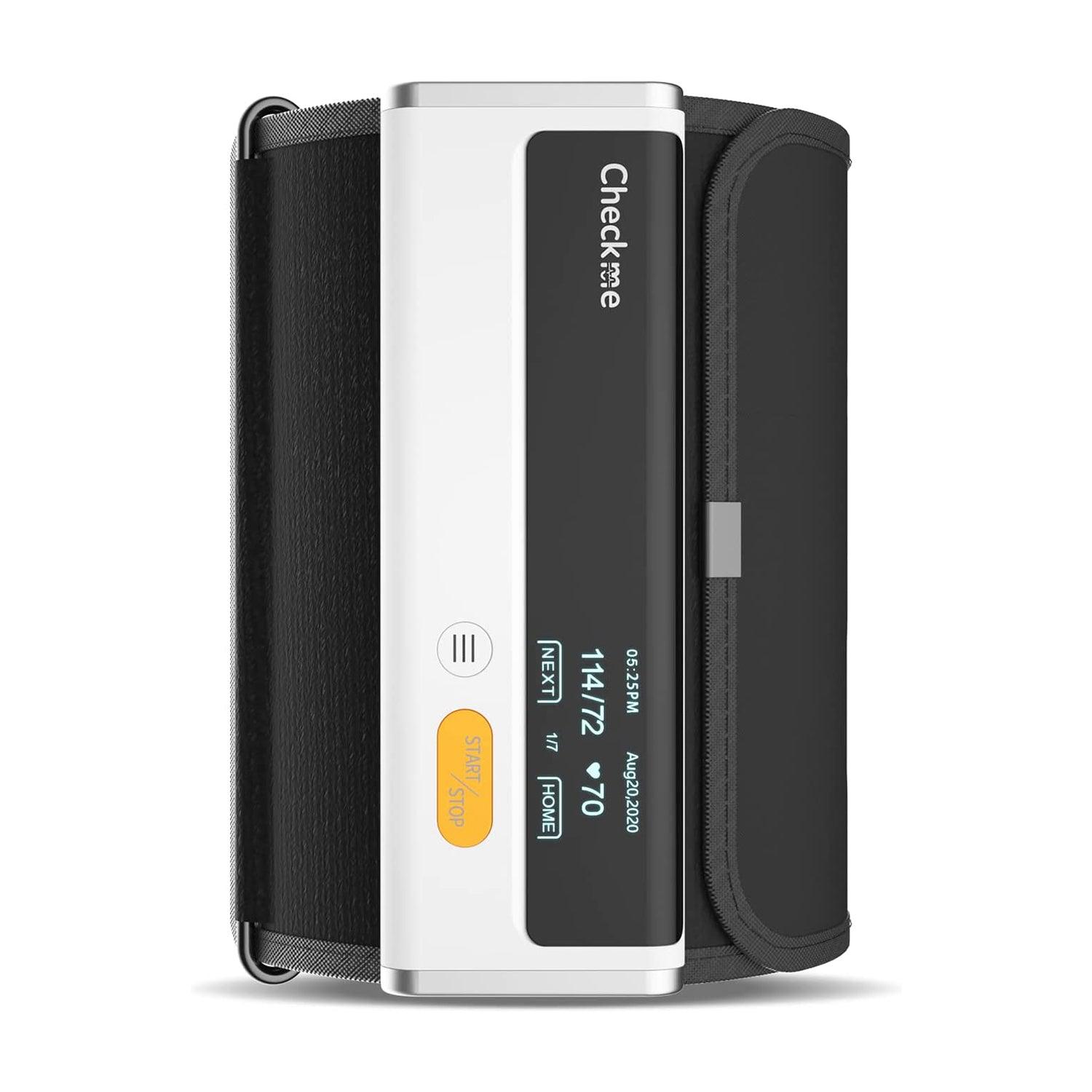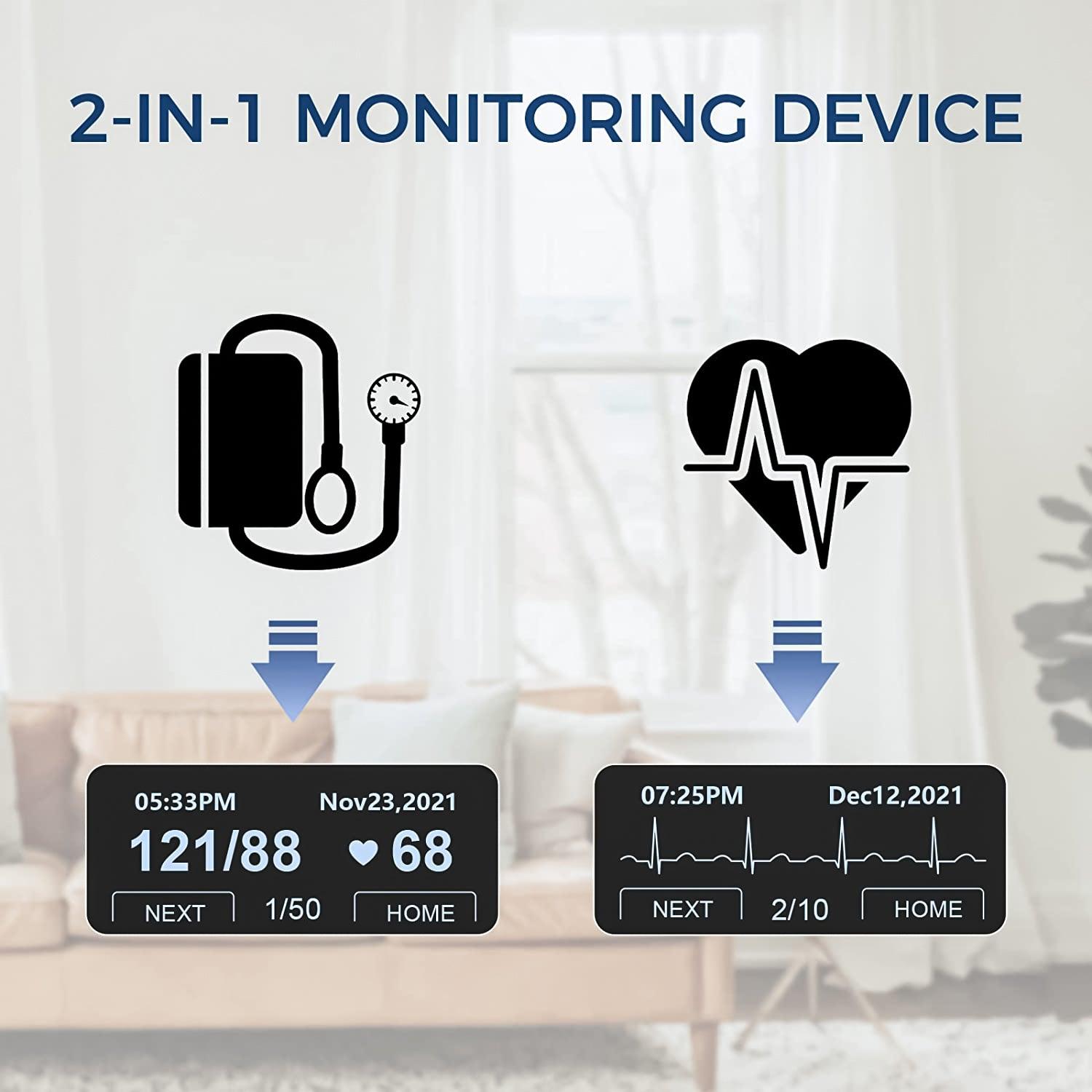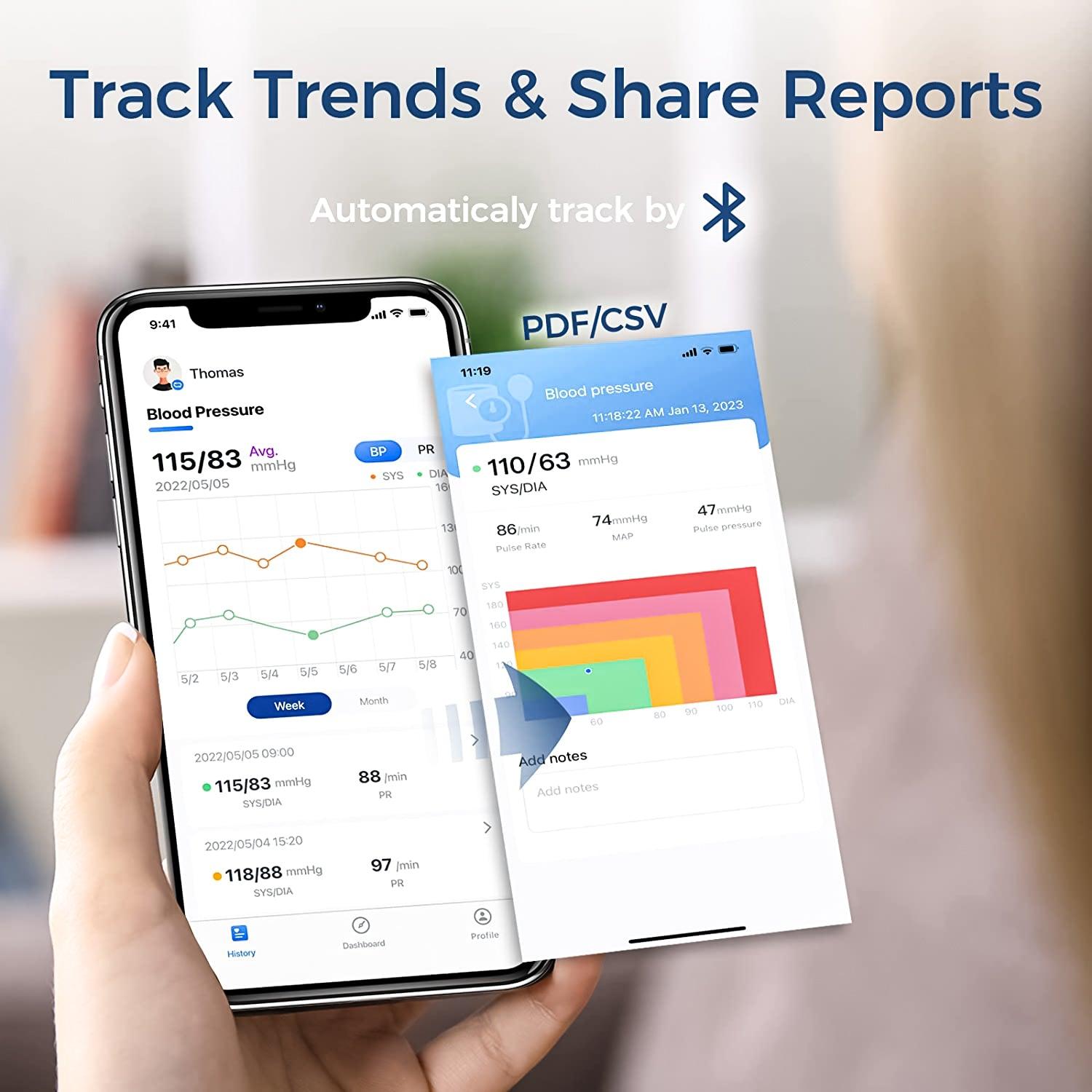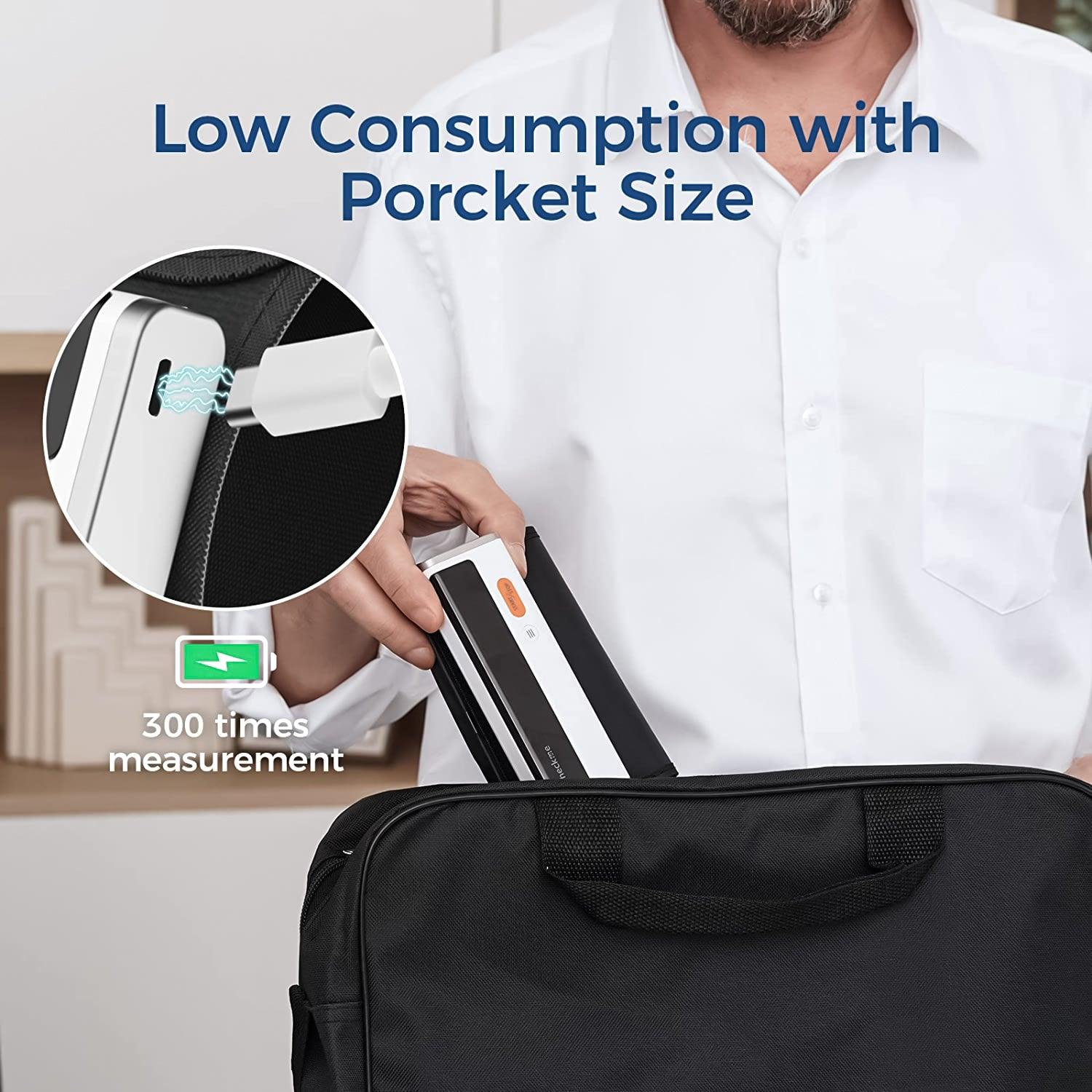 Blood Pressure Machine for Home Use - Wireless Upper Arm Blood Pressure Monitor, ECG Monitor 2 in 1 Machine w Free APP

Blood Pressure Machine for Home Use
2-in-1 Cardiovascular Health Monitor:
Blood Pressure Machine for Home Use device that can measure both your blood pressure and your ECG/EKG at the same time. Check your blood pressure and ECG at home or while traveling with the 2-in-1 BP monitor. No wire, tube, or gel is necessary.
Bp Accuracy X3:
Get the most accurate readings of your blood pressure. The most realistic value is provided by the function X3 Measurement, which is the average value of three measurements at once. On the APP dashboard, the time delay between the three measures can be configured to 30s, 60s, 90s, or 120s.
Ecg Tracking:
With 2 ECG electrodes on either side of the blood pressure monitor, this gadget allows for a 30-second ECG test while being held in the hand. Instant results that are simple to read on the device's OLED screen and a comprehensive report in the "VicHealth" app.
Wi-fi & Bluetooth Sync:
Using WiFi or Bluetooth, the machine's blood pressure and ECG readings immediately sync to the app on your phone. * Please set your WiFi name and password to a maximum of 19 characters in order to enable the operation of the WLAN function.
Record Saving and Sharing:
Use the mobile phone app to access free, unlimited data storage. With only one click, you may save and send your doctor your blood pressure and electrocardiogram information.
Portable and Powerful Blood Pressure Machine for Home Use:
The device's small size and portability make it incredibly easy to carry about. A full charge lasts for about 500 measurements.
NOTE:
Users of pacemakers may not be able to use this product's ECG function. 
This is dedicated to giving customers self-management and self-monitoring tools so they can coexist in a wise and healthy way.
Automatic Data Sync, Bluetooth, and Wi-Fi Sync 
With Wi-Fi sync technology, the connected smartphone doesn't even need to be open during or right after the measurement because the data is immediately synchronized.
If no Wi-Fi network is identified, Bluetooth sync is also an option. You will see the most recent records kept on your phone once the monitor device is Bluetooth-connected to the phone APP.
Power Source: Rechargeable Battery
Set Includes: Monitor, Cuff
Type: Upper Arm Monitor with ECG
Display Type: Digital
Labels & Certifications: CE
Manufacturer Warranty: 1 Year
Features: Automatic, Bluetooth

Be Maskura Fit
Our Happy Hoopers
30 Minutes Daily Fun Workout
The smart hula hoop counts your burned calories, tracks how long you work out, and records other vital information.
Easy Installation Process
Our Smart Weighted Hula Hoop has a carefully planned design with 27 knots placed in hoop's circumference.
27 Detachable Knots
Our Smart Weighted Hula Hoop has a carefully planned design with 27 knots placed in hoop's circumference.
Let customers speak for us
I've been using this blood pressure monitor for a few weeks, and despite having high blood pressure, it has exceeded my expectations. The ECG monitor is a fantastic extra feature, and the wireless upper arm monitor is quite simple to use. I can simply share my readings with my doctor thanks to the free app, which is incredibly helpful for keeping track of my data. For those who have high blood pressure, this blood pressure machine is a need.
ok
Quick delivery, very happy with the product.
So simple to use
I decided to get a home BP monitor. This one is very easy to use. The digits are easy to read. It stores information for 2 people.
Works great
I purchased this product because my other BP machine went bad. This one works great, and is accurate, as it shows similar readings that I get at Doctors office TS
A great addition to my home health kit
I've been using this blood pressure machine for the past few weeks and it has been a game-changer for me. The wireless upper arm monitor is easy to use and the ECG monitor is a nice bonus. The free app is very helpful and allows me to keep track of my readings over time. I would highly recommend this blood pressure machine for anyone looking to monitor their health from the comfort of their own home.
Shark Shaver Pro - Platinum Electric Skull Shaver For Head & Face
Best Electric Men's Shaver