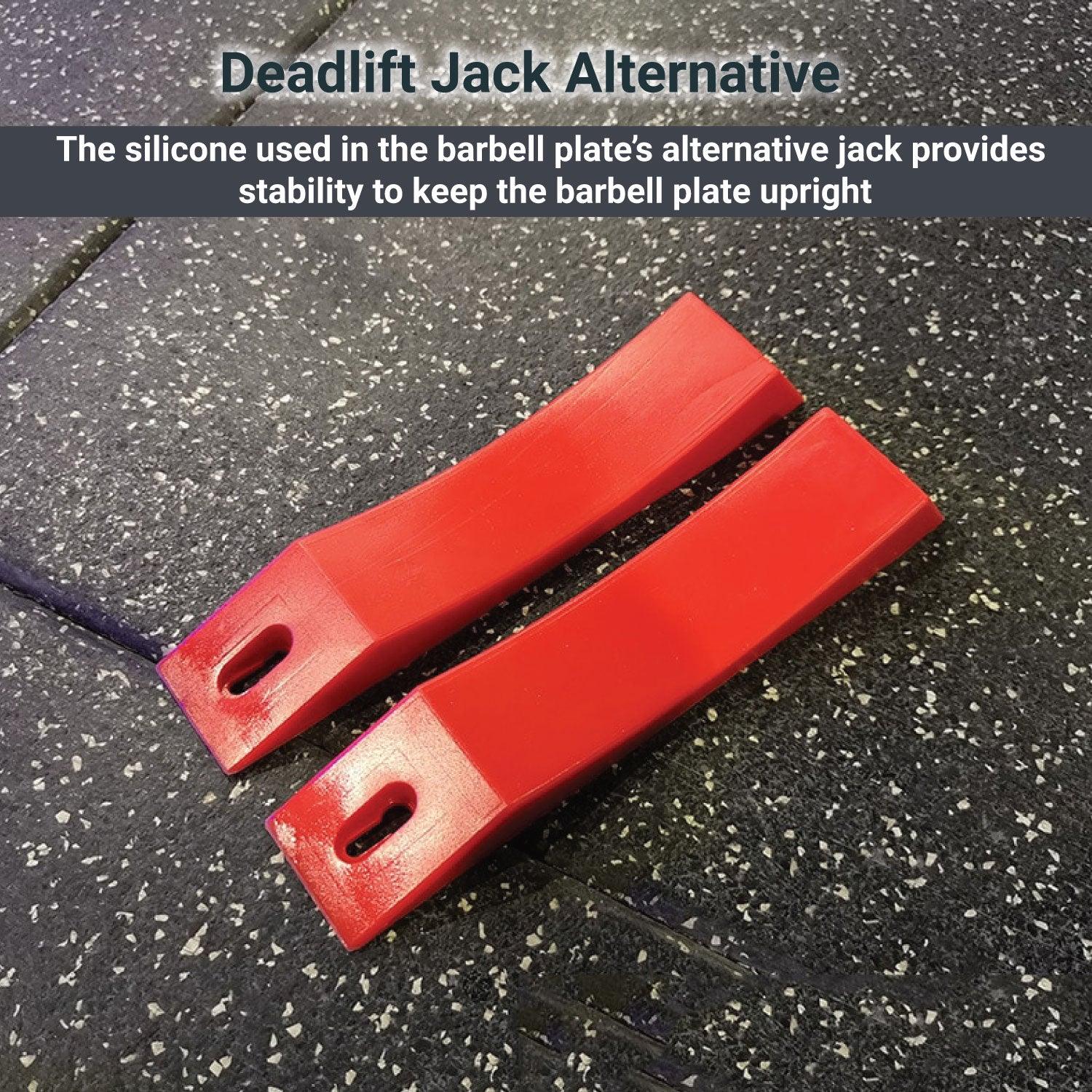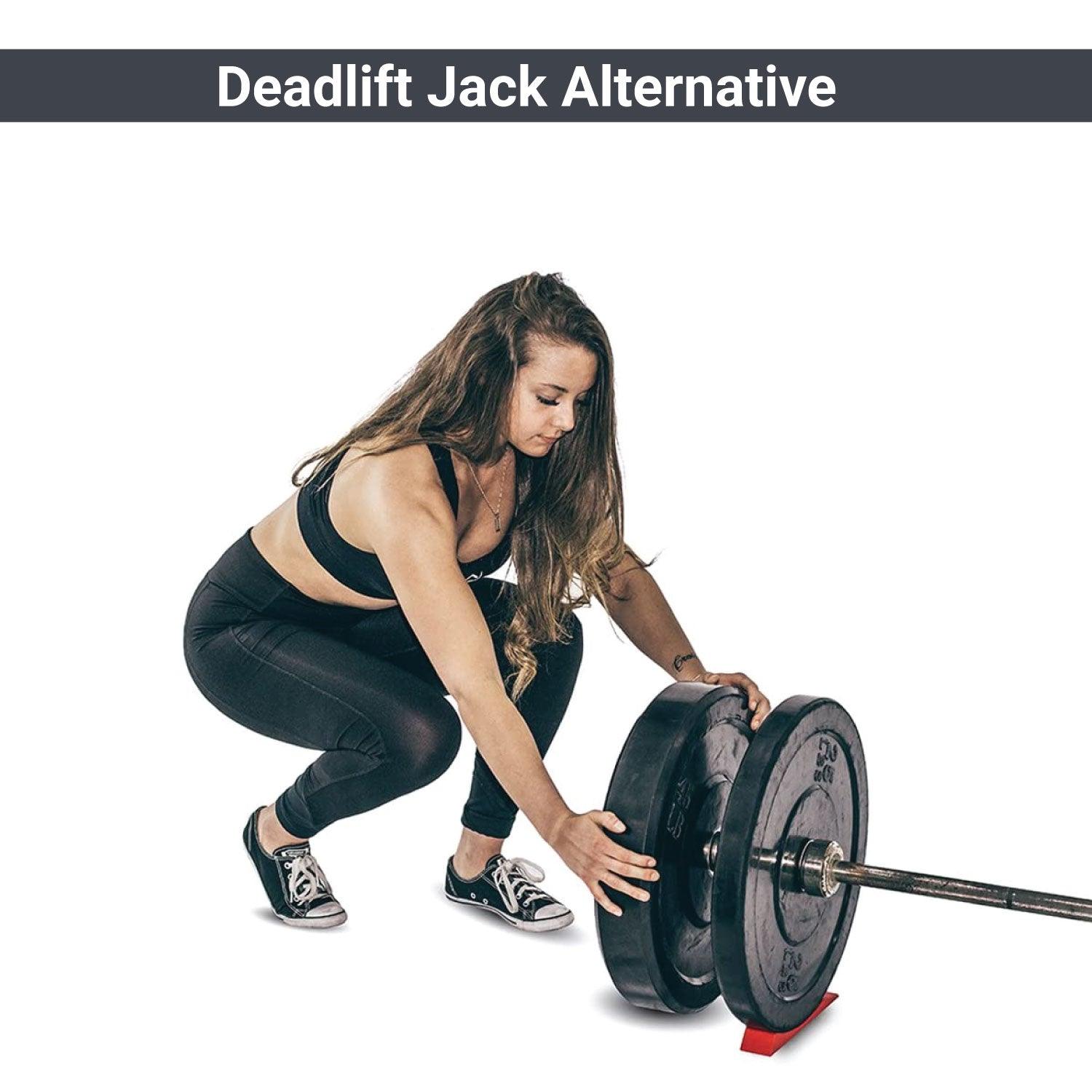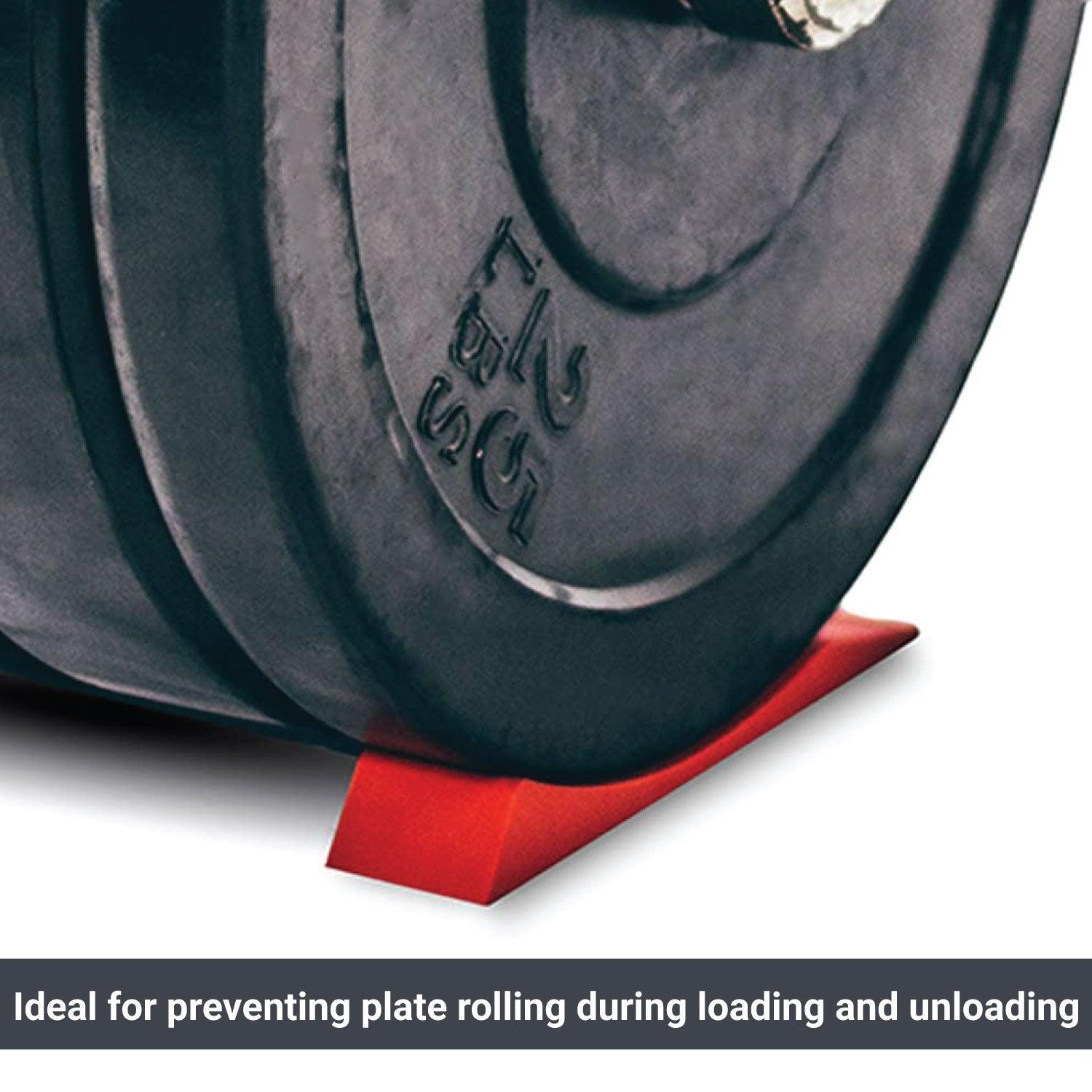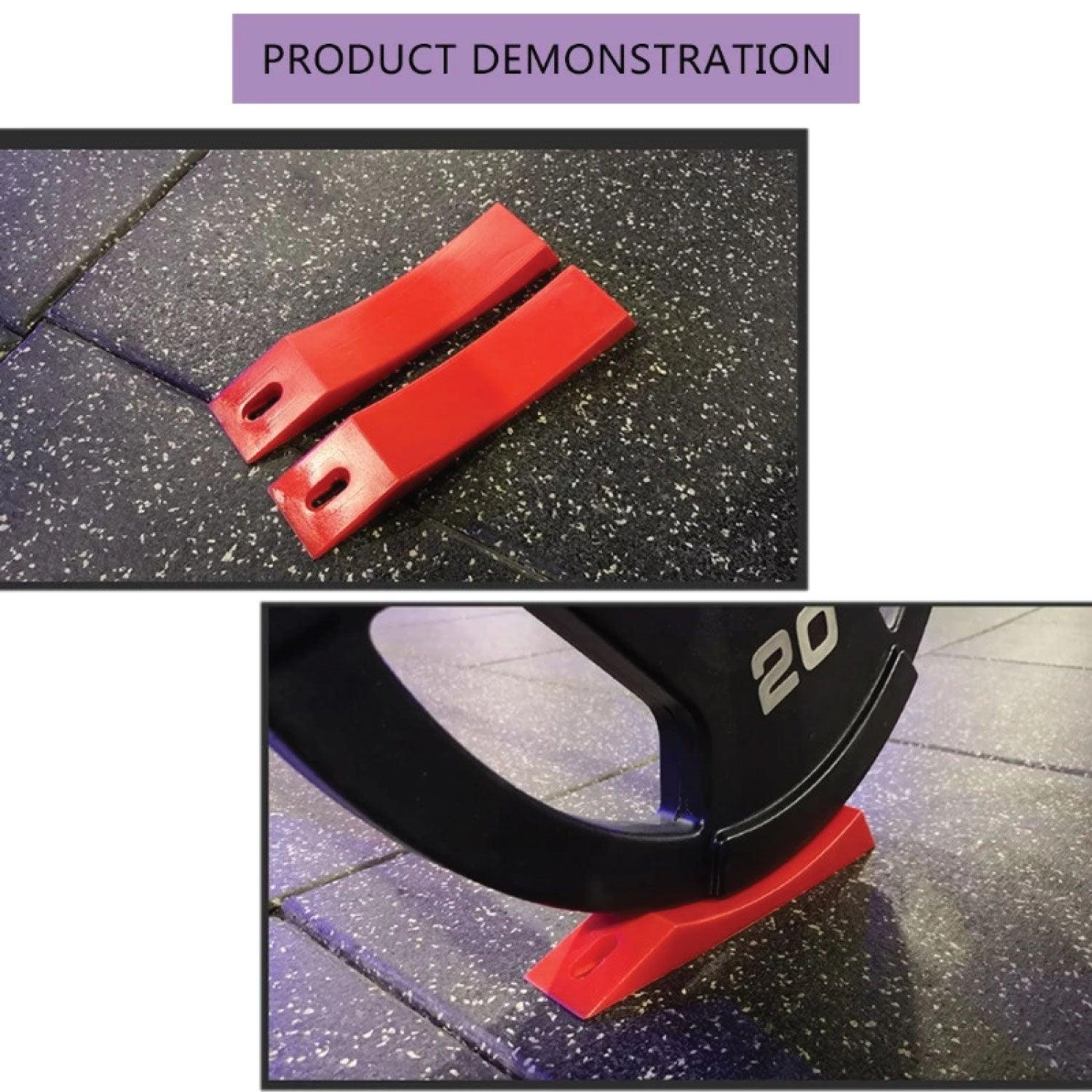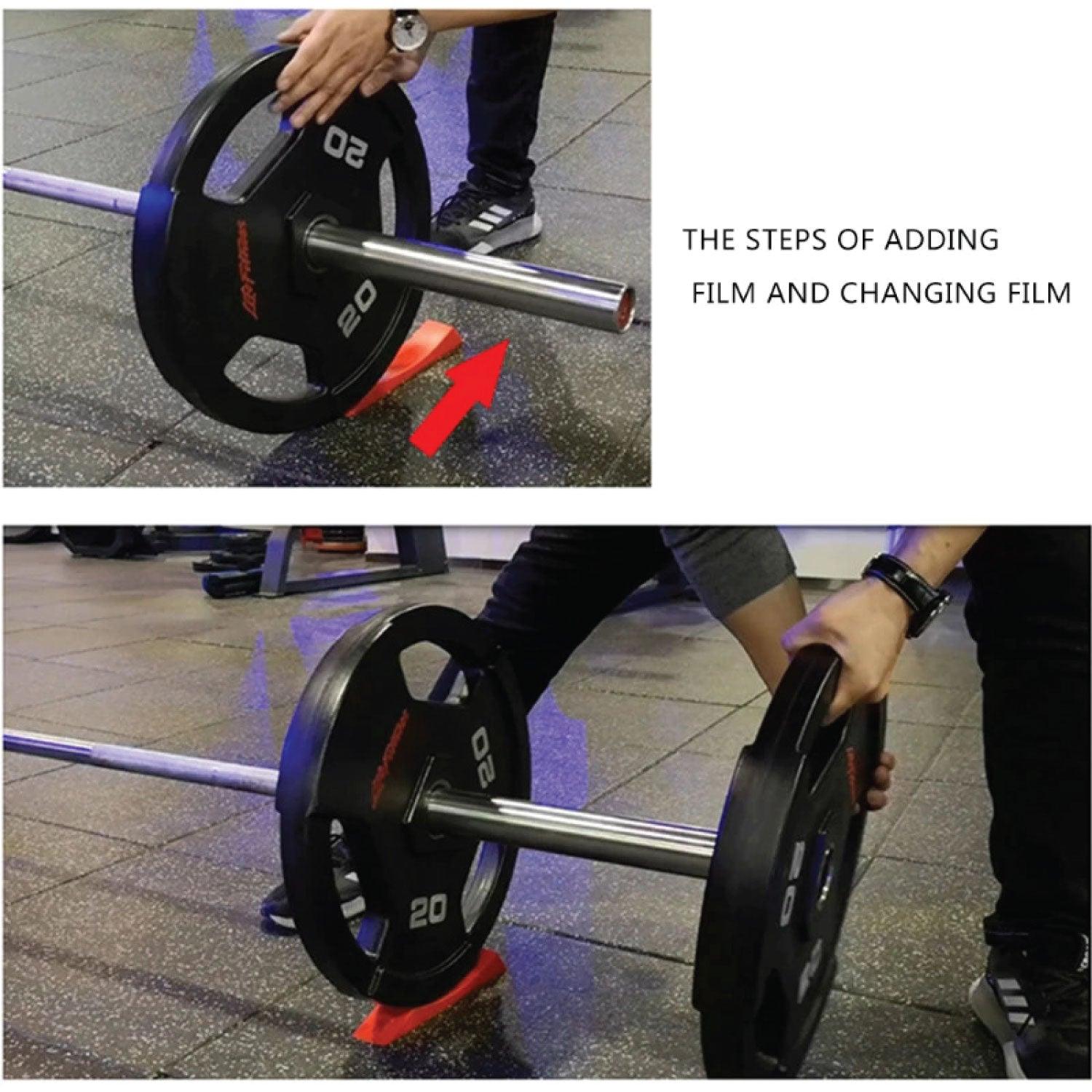 Deadlift Jack Alternative - Dead Wedge The Deadlift Jack Alternative for Your Gym Bag - Raises loaded barbell & plates for effortless

Deadlift Jack Alternative Effortless Time-saving and Safely Loading and Unloading Dead Lifting Jacks are 100% brand new and high-quality. A deadlift wedge is perfect to help retrieve the weights or plates from the barbells more safely.
You may exercise more effectively by saving time, concentrating on each set of your training, and without having to balance the bar. Ideal for deadlifts, weightlifting, Cross fit, at-home workouts, and powerlifting.
About This Time
Primarily, the silicone used in the barbell plate's alternative jack provides stability to keep the barbell plate upright. You won't ever have to worry about the deadlift wedge moving when changing the weight plates.
Secondly, barbell plates, alternative Jack is lightweight and portable, making it simple to transport from home to the gym or anyplace else you like. Soft and cozy to the touch and also safe for the skin. It's really simple to clean. You may wash it as you choose.
Easy-to-Use Deadlift Jack Alternative :
Firstly, slide the weighted plate up to the deadlift wedge and hold it there until it is stable.
2. Because of the extra elevation, it is simple to load or unload the weight plates.
3. Finally, roll the weight plates back out of the loading groove and onto the ground, down the rubber jack. Simply roll the plate closest to the ramp up, roll-off, and load or unload plates wherever you need to. Plates can tumble off of a block of wood, frustrating and hurting people. Maintaining them as training partners will help you to always be prepared.
An improved version of the deadlift jack here is some reasons why thousands of satisfied gym owners and lifters adore the dead wedge. In your workout backpack, you may find more functionality than a normal barbell jack while paying a fraction of the cost!
Compact design that doesn't take up extra space in your gym or gym bag. It works when deadlift jacks fail, including deficit deadlifts, block deadlifts, trap bar deadlifts, etc.

The Dead Wedge is placed immediately underneath just one Olympic plate because of its ideal breadth. This ensures that it never obstructs or gets caught below the other plates.

Ideal for preventing plate rolling during loading and unloading; hands-free. It does not call on you to hold the bar steady while getting a new plate. You can switch weights even with the barbell elevated on blocks due to the rise in safety's ability to lower accidents.
It has been proven to work with bumper plates, hexagon plates, and other popular plate designs. It can handle more than 900 pounds. Roll the inner plate onto the dead wedge, unlock the collar, switch out the weights, lock the collars in place, roll-off, and you're ready to go! *Includes one dead wedge.
All you need is one! Please make use of our 100 percent MONEY BACK NO-HASSLE GUARANTEE if you don't totally like it. 
Package Includes: 1Pc x Barbell Collar
Material: Silicone
Weight: approx.160g
Color: Black/Blue/Red
Size: approx.23x4.5cm/9.05x1.77in
Quantity: 1Pc
Category: Exercise Machine & Equipment Sets
Be Maskura Fit
Our Happy Hoopers
30 Minutes Daily Fun Workout
The smart hula hoop counts your burned calories, tracks how long you work out, and records other vital information.
Easy Installation Process
Our Smart Weighted Hula Hoop has a carefully planned design with 27 knots placed in hoop's circumference.
27 Detachable Knots
Our Smart Weighted Hula Hoop has a carefully planned design with 27 knots placed in hoop's circumference.
Let customers speak for us
Deadlifting made effortless!
This handy dead wedge has transformed deadlift day from a grind to a breeze. Simply pushing the wedge under the loaded bar allows me to unload plates between sets without lifting or bending the entire bar - effortlessly bringing the weight closer to the ground.
Lower back saver, deadlift game changer!
As someone who struggles with lower back issues, this dead wedge jack has finally allowed me to seriously progress my deadlift without further injuring myself. Simply pushing the wedge under a loaded barbell allows me to easily unload plates in between sets without having to bend over and lift the weight.
Finally deadlifted pain free!
After years of battling lower back pain during and after deadlift workouts, this simple wedge has finally allowed me to optimize intensity without injury.
Deadlifting game changer
This compact dead wedge has become an essential part of my gym bag. Pushing the wedge under a loaded barbell allows me to easily unload plates between sets without lifting the entire bar or bending over.
Relief from Deadlift Injuries
The wide rubber base provides a completely stable surface even under extreme weights. The lightweight foldable design fits inside my gym bag for travel workouts.
Shark Shaver Pro - Platinum Electric Skull Shaver For Head & Face
Best Electric Men's Shaver