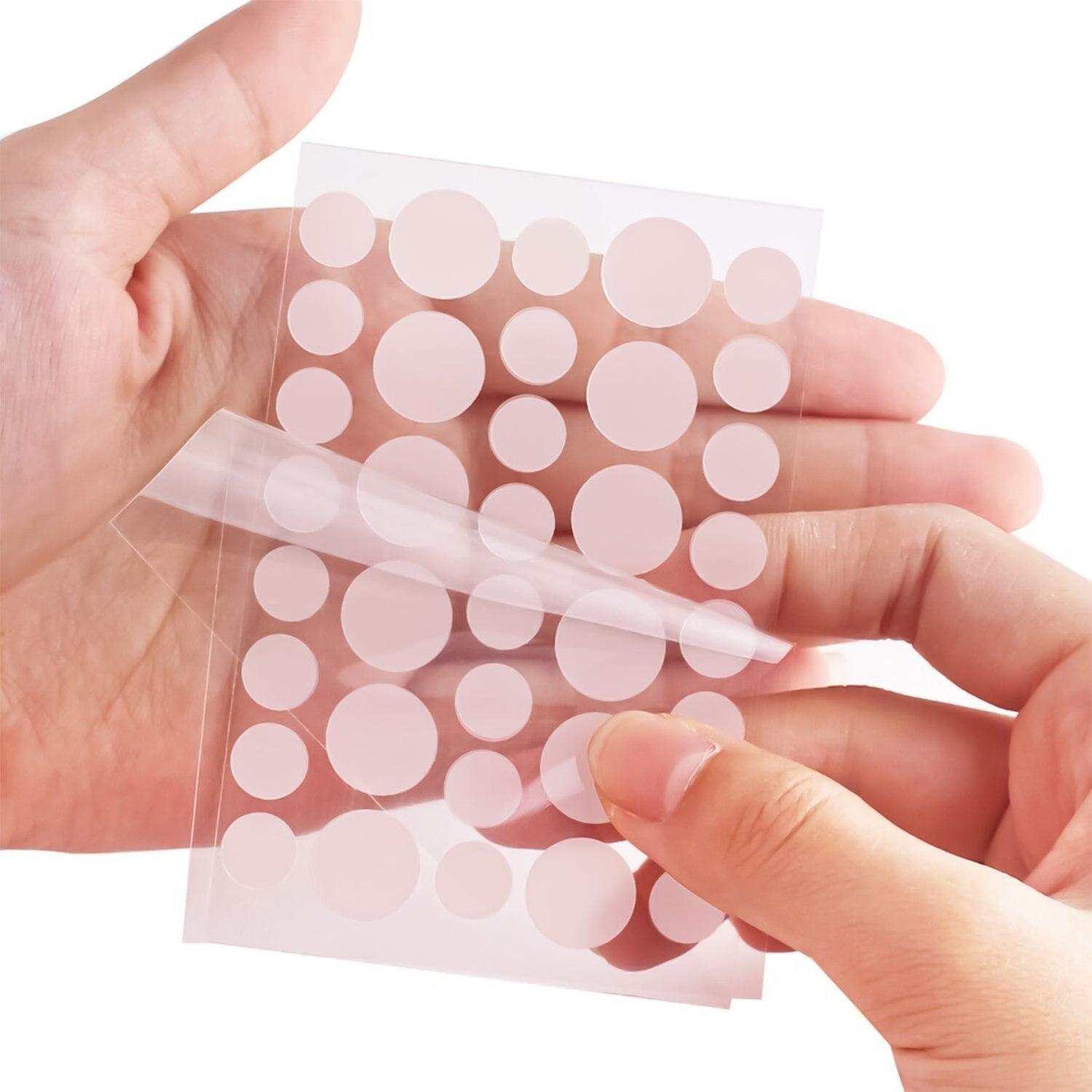 Hydrocolloid Patches for Blackheads - Acne Pimple Healing Patch - Absorbing Cover, Invisible, Blemish Spot, Hydrocolloid, Skin Treatment

About Hydrocolloid Patches for Blackheads
High-grade Hydrocolloid: 
Adhere directly to the skin, drawing out all pus and impurities at the source.
Date of Manufacturing :
The manufactured date, not the expiration date, is indicated on the back of the package.
Transparent:
Invisible, allowing you to confidently wear the patches in direct sunlight.
Strong Adhesive:
Works even on those pesky pimples that haven't yet appeared! Your skin will be soothed, flattened, and calmed by the Healing Patch.
One pack has 24 patches in total, including two sizes.

After cleaning the afflicted area, purify and dry the skin. Whiteheads and active acne are the greatest candidates for real invisible spot covers.

Apply the patch by putting it on and lightly pressing it to the affected area. To secure, apply pressure for 3 seconds.

The patch should turn white between 4 and 8 hours. Take off and throw away the patch. Moisten the area.

Add Real Spot Corrector Cream as a complement to help discoloration vanish.
The Acne Patch: What is it?
The Acne Patch is a high-end, ultra-thin, translucent hydrocolloid patch designed to draw out pollutants from your zit. This moisture-drawing patch helps drain fluid from your pimple and is suitable for all skin types.
Why Is It There?
Hydrocolloid I'm done now! There are no additional components that might irritate your skin. There are no flavors or scents, just a single active component!
How Does a Hydrocolloid Function?
Hydrocolloid is a stretchy, gooey substance that absorbs fluid from the pimple while maintaining the moisture of the skin surrounding it. This is essential for accelerating the healing of zits. They are very powerful when used appropriately and under the right conditions.
How Come the Acne Patch? 
Transparent and ultra-thin, with strong adhesive properties that ensure it sticks where it is supposed to stick. 
Hastens to heal while painlessly absorbing fluid from whiteheads. They offer a barrier of defense against irritants and pathogens.
They perfectly embrace your pimple, accelerating healing and avoiding scarring. They adapt well to various skin tones and are appropriate for all ages and genders.
Package includes:
Acne Covering Patches 36/72/108/144/180 pcs
Item Type: Pimple Covering Patch
Quantity: 8mm / 0.31in: 24pcs, 12mm / 0.47in: 12pcs
Material: Hydrocolloid, pressure sensitive adhesive, hydrophilic material
Thickness: Approx. 3mm / 0.12in
Be Maskura Fit
Our Happy Hoopers
30 Minutes Daily Fun Workout
The smart hula hoop counts your burned calories, tracks how long you work out, and records other vital information.
Easy Installation Process
Our Smart Weighted Hula Hoop has a carefully planned design with 27 knots placed in hoop's circumference.
27 Detachable Knots
Our Smart Weighted Hula Hoop has a carefully planned design with 27 knots placed in hoop's circumference.
Let customers speak for us
Great product
It nicely work to cover the acne keeping bacteria from spreading and causing more acne. They are fairly waterproof- wore in the shower to test.
Shark Shaver Pro - Platinum Electric Skull Shaver For Head & Face
Best Electric Men's Shaver