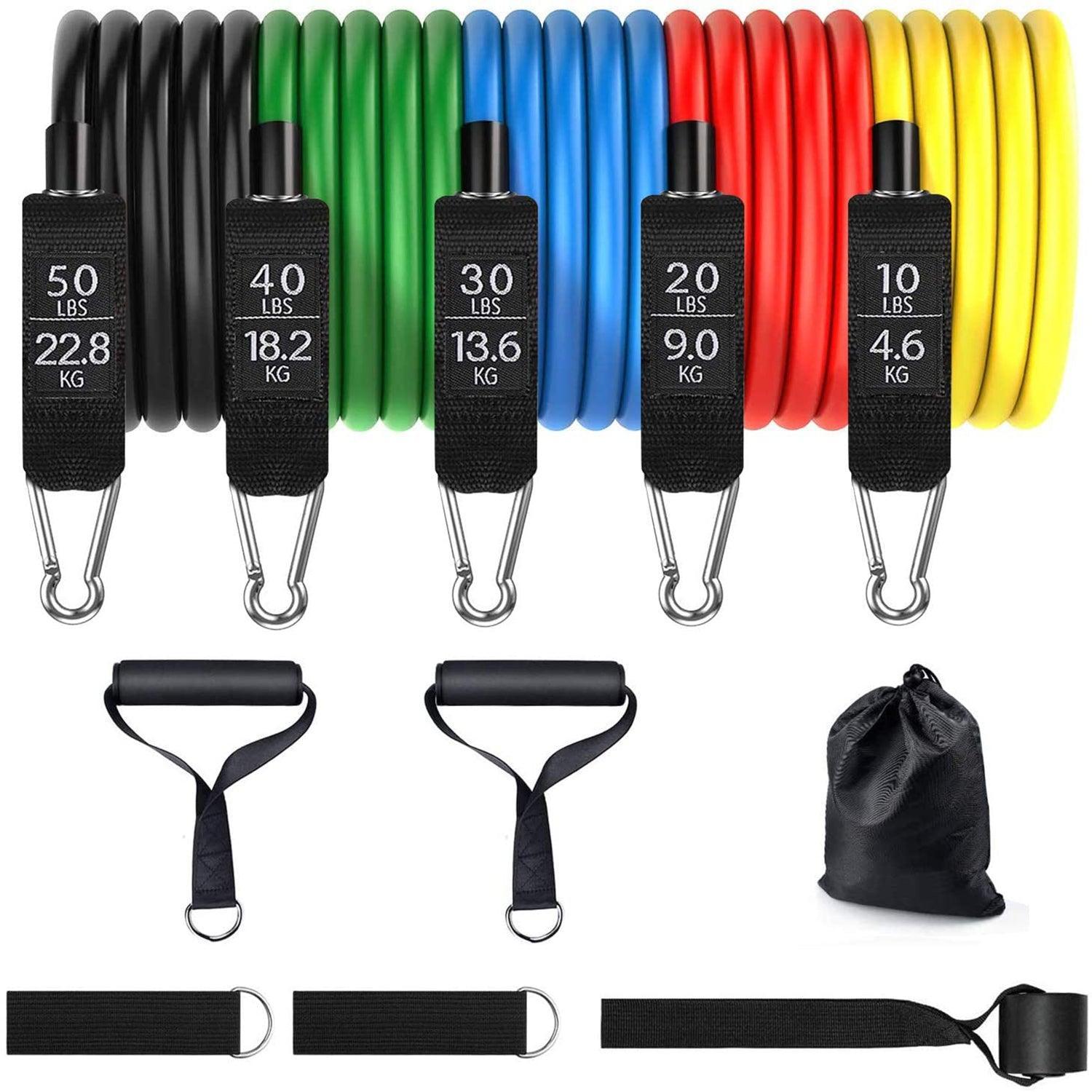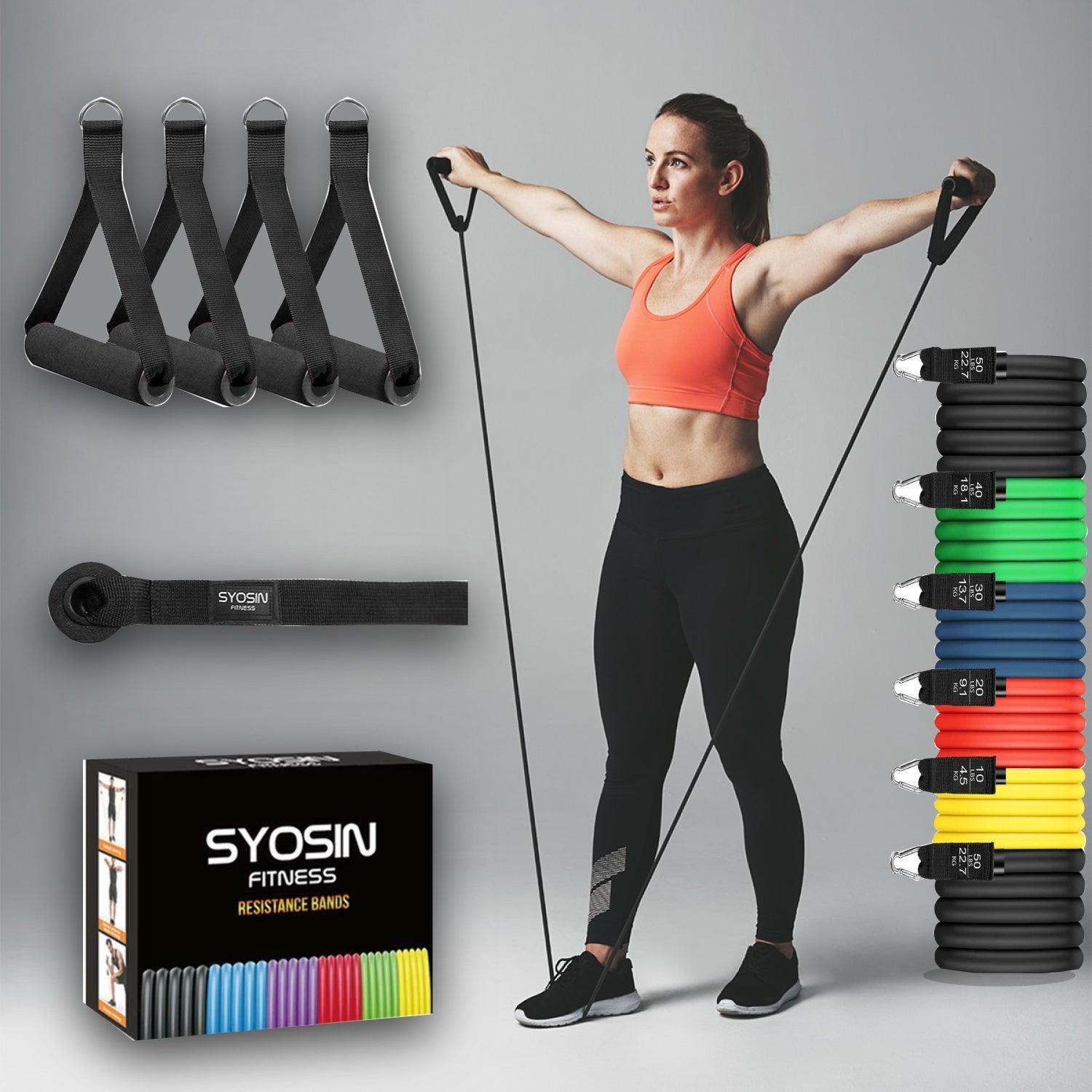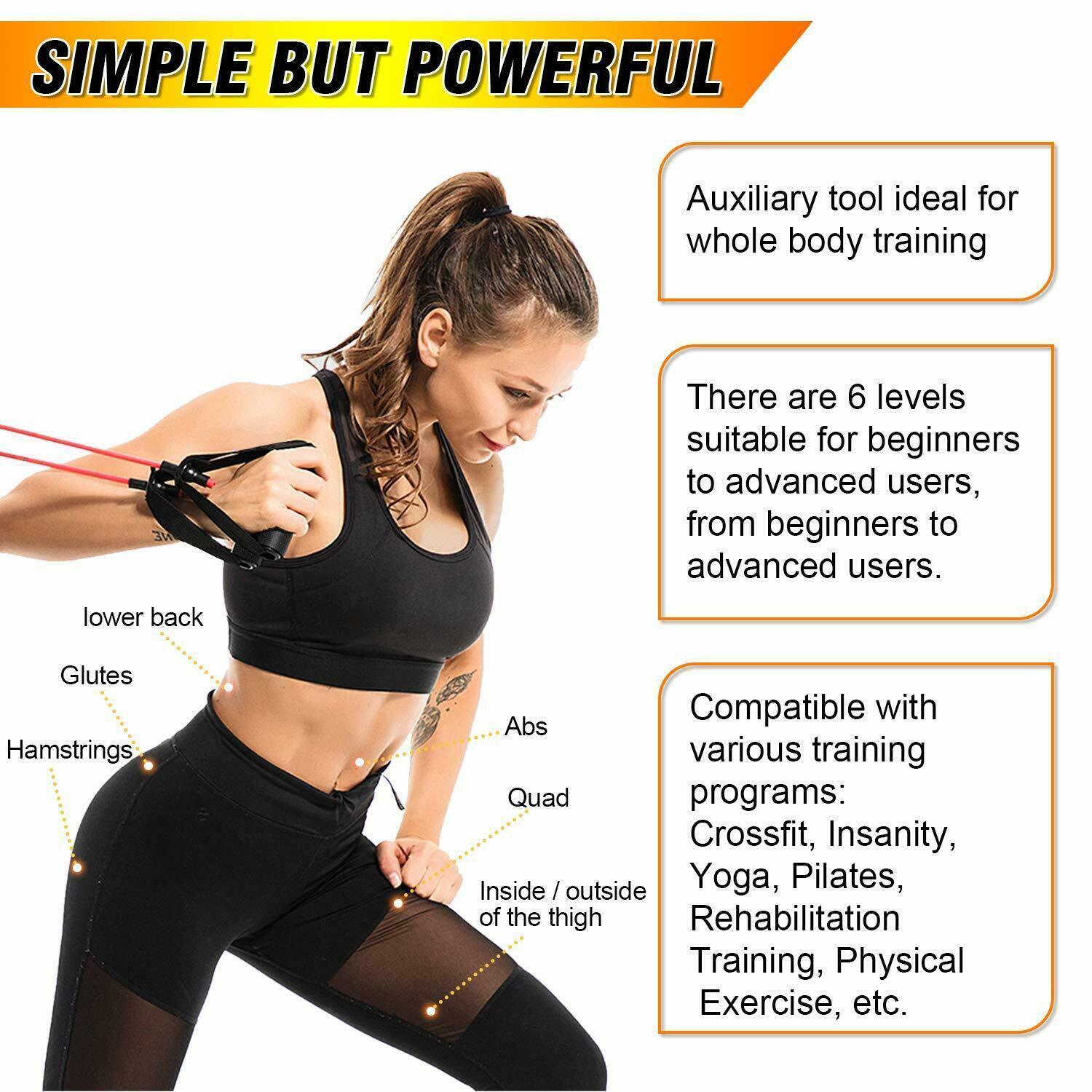 17PCS Resistance Bands Set Workout Exercise CrossFit Fitness Yoga Training Tubes

Portable Exercise Resistance Bands Set Bands with Door Anchor, Ankle Straps for Fitness, Home Gym Equipment for Men/Women
We are bringing you the best resistance bands set for you. 100% good quality resistance bands set.
Resistance Bands Set Features: 
Yellow 10 pounds, Red 20 lbs, Blue 30 lbs, Green 40 lbs, and 2x Black 50 lbs are the resistance levels of each home gym resistance band. Exercise bands can be used alone or stacked up to 200 pounds to satisfy the needs of various exercise phases. Assist you in making the transition from elementary to advanced.
You may save money on gym VIP fees by using a resistance band set, and you won't have to acquire any more training equipment. The resistance band set is portable (we will send you a resistance band bag at the same time) and can simply be stowed in your backpack to allow you to work out whenever and wherever you want while maintaining a beautiful body shape. Now is the time to invest in home fitness equipment and turn your house into your personal gym.
Features: 
Calorie Burn & Muscle Training: Resistance bands are Excellent For Quick Fat Burning perfectly while Building Muscle And Maintaining Good Fitness. Exercise bands enable us to exercise all body parts, including the arms, shoulders, back, and calves. Additionally, these bands help to define a curvy body, slim your arms, and create a vest line.
Multipurpose Use: The five colours of the exercise bands stand for varying degrees of resistance: yellow (10 lb; 4.5 kg), red (20 lb; 9 kg), green (30 lb; 13.5 kg), blue (40 lb; 18 kg), and black (22.9 lb).You Can Simply Choose The Different Fitness Bands, Easy To Use For Beginners, Unisex, Depending On Your Fitness Level And The Level You Want To Achieve.


Premium Quality: Resistance Bands Made of Natural Rubber That Are Flexible, Safe, And Durable, The Handles Are Made of Non-Slip Foam To Absorb Sweat And Prevent Slipping Break, And The Stainless Steel Buckles Are Strong & Durable, Assuring You a Safe Workout. Additionally, the door anchor is soft and thick, protecting your doors from damage.
Convenient Use: No matter where you are, either at home, at work, outside, or in the gym. A fantastic addition to the home gym is the resistance band set. It Has a Convenient Travel Pouch, So You Can Take It Anywhere and Anytime to Work Out.
Workout resistance bands are comprised of ecologically sustainable, high-quality latex materials. To ensure that they are safe to use. Each resistance band is supple and quick to recover. Even if it is overused, our exercise band's resistance is the greatest choice for your fitness exercise.  Suitable for every muscle in the entire body, our exercise bands resistance is the finest choice for your fitness exercise.
All workout routines, including yoga, Pilates, and beach body exercises, can benefit from the use of resistance bands. The fitness band set is ideal for strengthening hips, legs, chest, and abdominal muscles. The threaded non-slip handles, ankle straps, and door anchors that come with the kit are meant to help you work out your muscles more thoroughly and get greater fitness results.
Condition: A Brand New, Unopened, Undamaged
Muscle Group: Arms, Full Body, Legs
Colour: Multicolored
Weight: 1.1kg
Type: Resistance Band.
Material: Foam, Latex, Metal, Nylon Sheath, Plastic, Rubber.
Activity: Gym & Training, Running & Jogging, Weight Lifting, Yoga

Package:
5 Resistance Bands
2 Handles
2 Foot straps
1 Door anchor
3 Elastic fitness bands
1 Rope
1 Bag,
1 Manual
Be Maskura Fit
Our Happy Hoopers
30 Minutes Daily Fun Workout
The smart hula hoop counts your burned calories, tracks how long you work out, and records other vital information.
Easy Installation Process
Our Smart Weighted Hula Hoop has a carefully planned design with 27 knots placed in hoop's circumference.
27 Detachable Knots
Our Smart Weighted Hula Hoop has a carefully planned design with 27 knots placed in hoop's circumference.
Let customers speak for us
worthy gym equipment
I've been using the Resistance Bands Set for a few weeks now and I'm really impressed with how versatile and effective they are. The set comes with different levels of resistance, so I can adjust the intensity of my workouts as needed. The bands are also great for targeting specific muscle groups and I've noticed an improvement in my flexibility and core strength.
Effective for Home Workouts
extremely happy with my purchase. The bands are high-quality and provide a great workout. They're easy to use and very versatile, allowing me to target different muscle groups. I've already noticed an improvement in my strength and overall fitness.
Great quality
This set is awesome. You can use it for so many different areas of training and resistance. All the straps included are very useful and comfortable. Definitely worth buying.
Great for Home Workouts
I love these resistance bands! They are perfect for at-home workouts and the different levels of resistance are great for different exercises.
Shark Shaver Pro - Platinum Electric Skull Shaver For Head & Face
Best Electric Men's Shaver