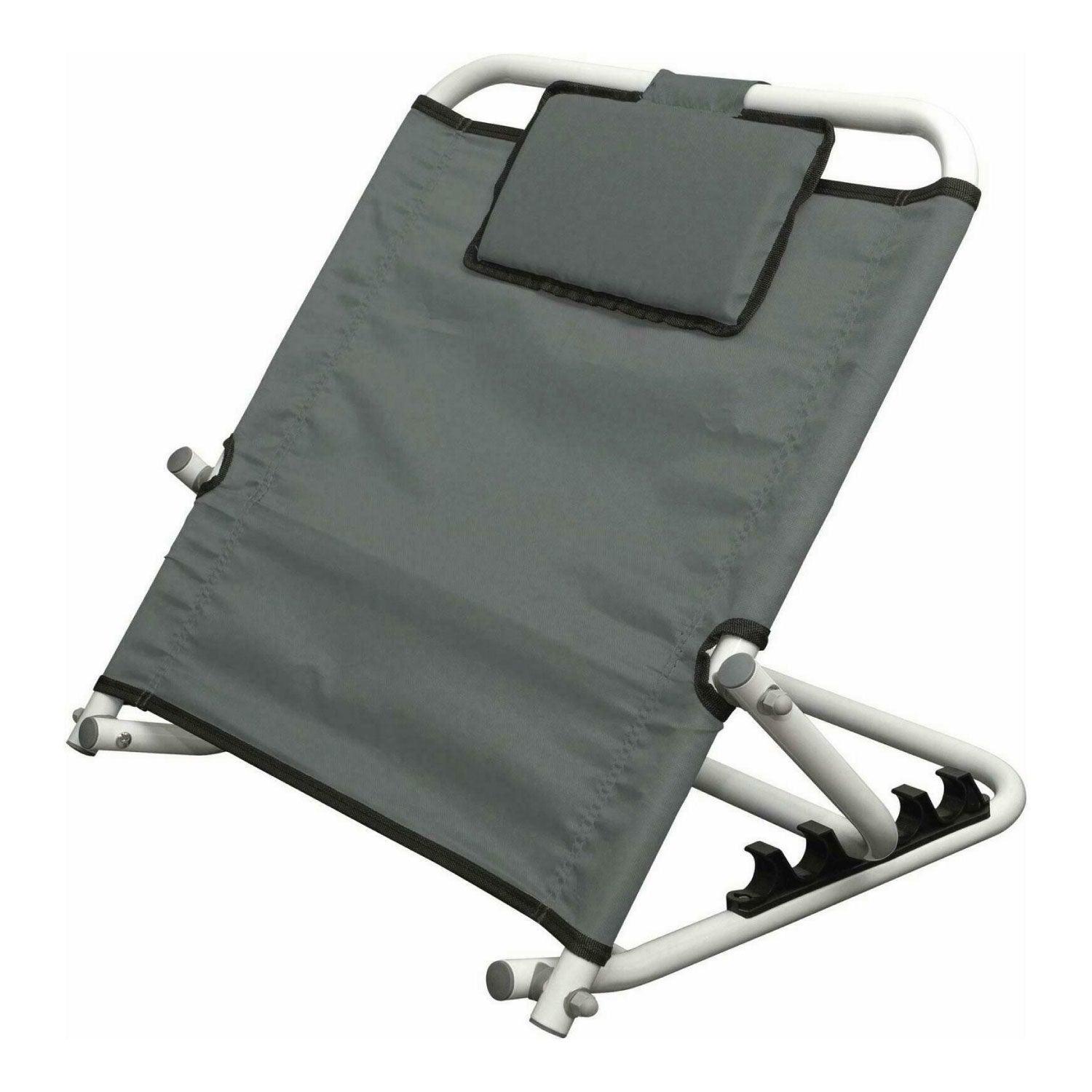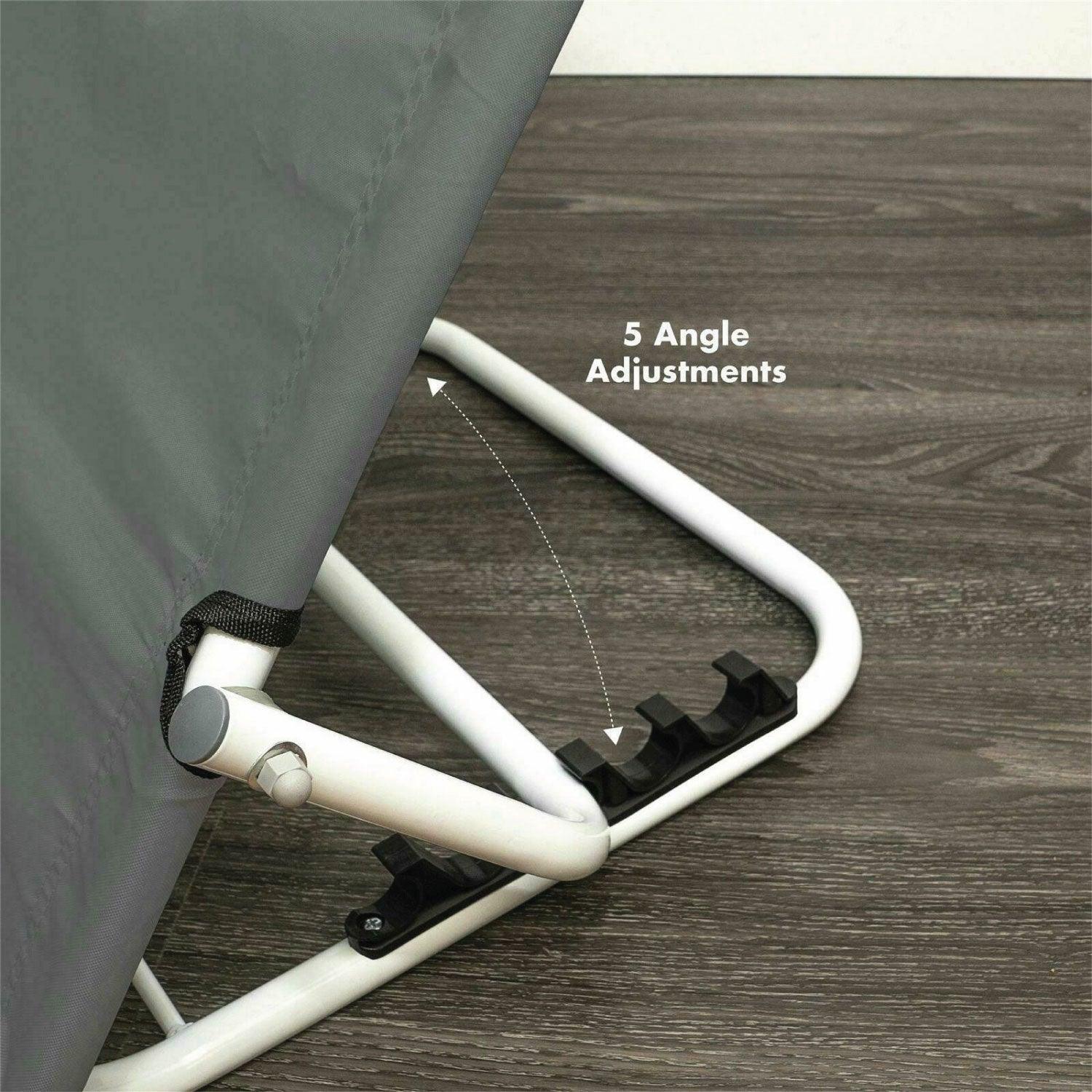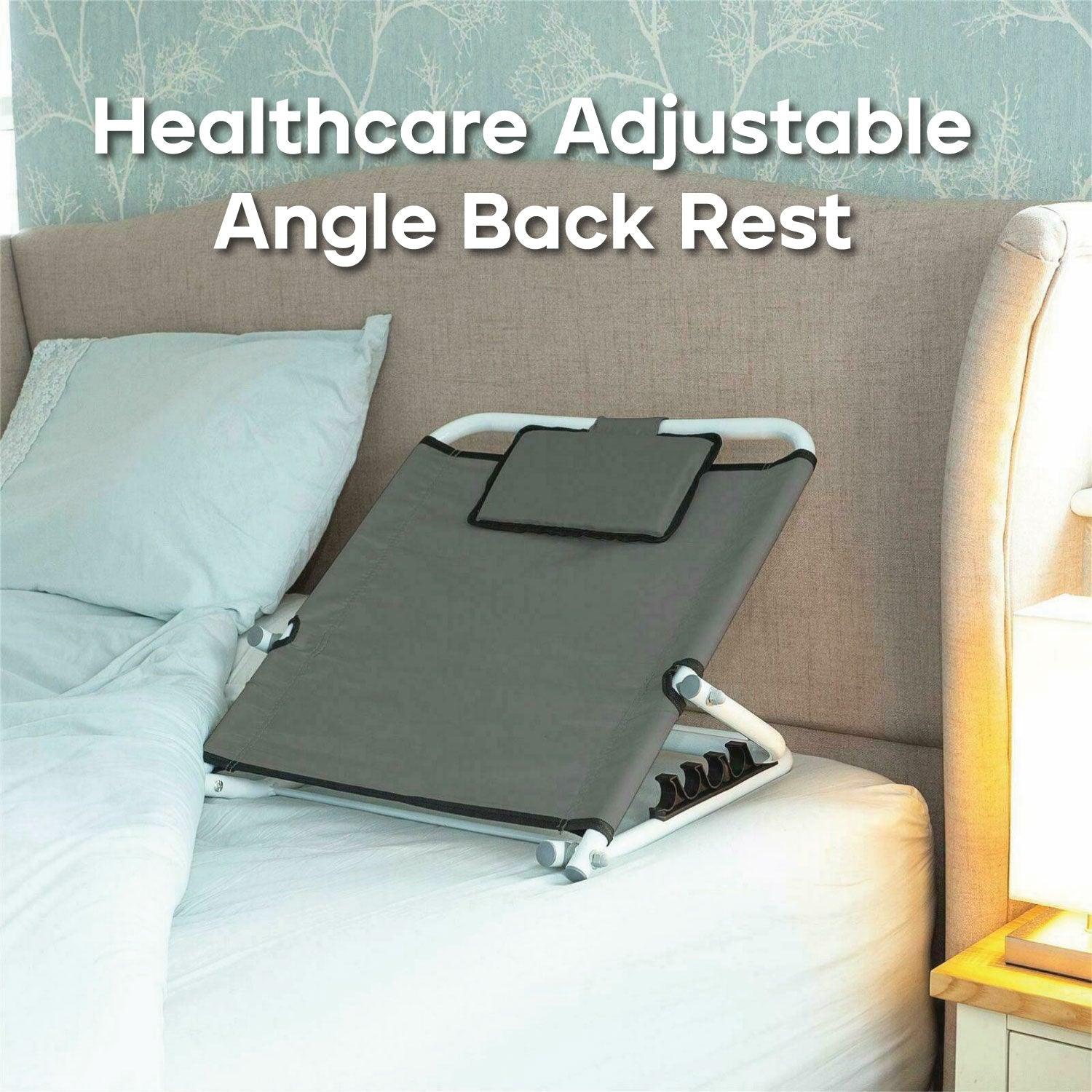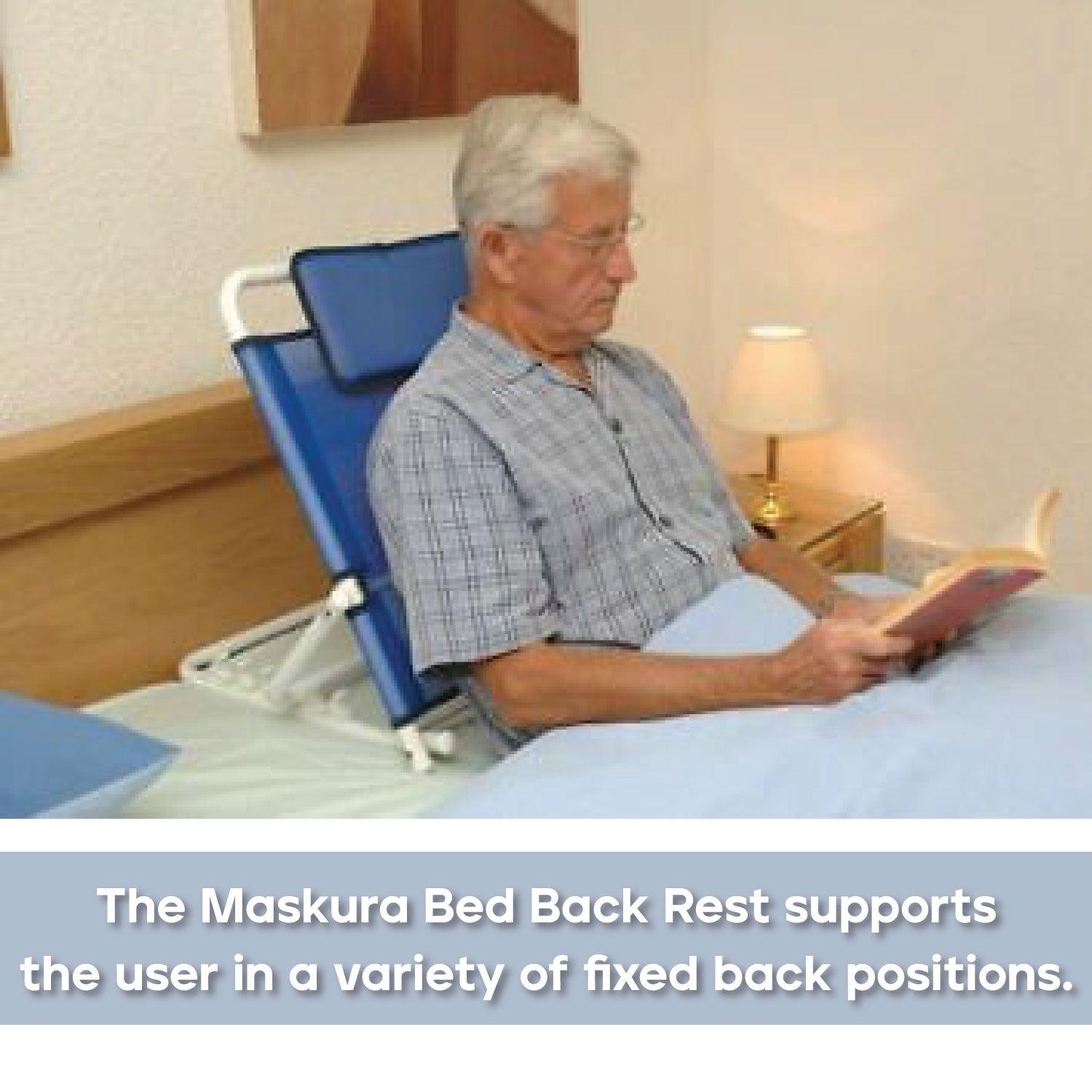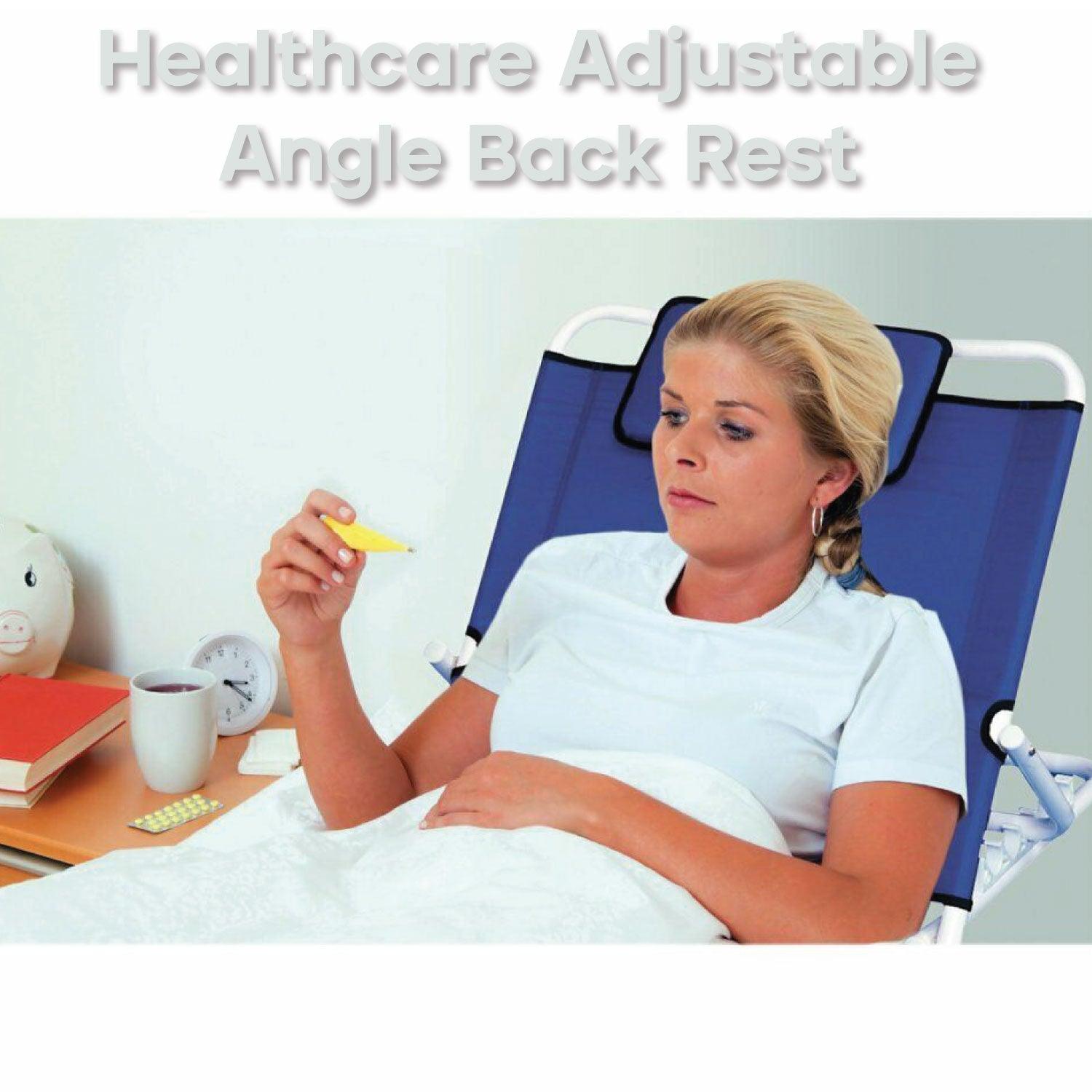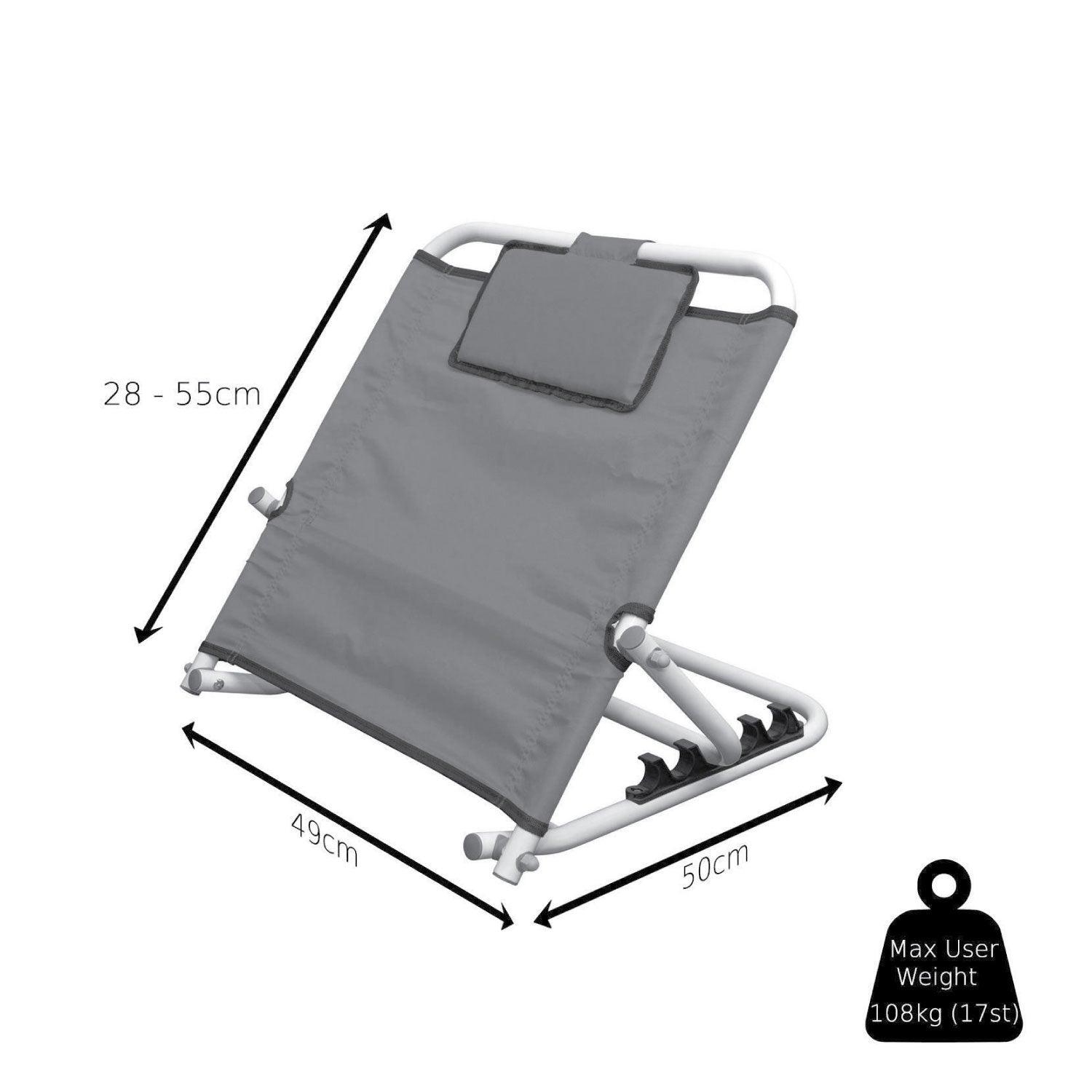 Adjustable Back Support for Bed - Adjustable Grey Fabric Bed Back Rest 5 Position Disability Mobility Aid Bedroom

Adjustable Back Support for Bed, For patients who are resting or those looking for more comfort in bed, the Bed Back Rest (Grey) is a perfect and adaptable backrest. The bed backrest supports the user in a variety of fixed back positions. It is coated with an easy-to-clean fabric. It also includes a head cushion. 
About Adjustable Back Support for Bed 
When sitting up in bed to eat, drink, read, or watch television, the backrest is sturdy and comfortable. Make sure the headboard is fastened or that the bed is against a wall so that the back support cannot move backward while being used.
Solid metal frame with a fabric-covered back and a cushioned headrest that is detachable.

Six easily adjustable angles allow you to achieve the best posture for maximum comfort.

It folds up small, making it easy to transport and store.
The backrest's structure contains durable, white-coated aluminum, and the fabric that makes up the backrest portion is a blue mesh-like material. A cushioned headrest is also included; it fastens with a hook and loop and can be removed if necessary. Setting up the backrest couldn't be easier. You only need to pull the two components apart to unfold the frame, which is shipped folded flat.
The base frame piece has a metal component attached to the front that slides into one of six half circles.  That has been carved out on each side. This establishes the angle of the backrest, which is adjustable to get you in the right position. Through the six different configurations, the angle may change from 20 to 75 degrees.
Designed to enhance your bedtime comfort and support. It's perfect for those who spend a lot of time in bed.
Key Features of Adjustable Back Support for Bed
Ideal for those who can't sleep flat in bed;

Works with most mattresses; easy-to-clean fabric;

Cushioned head cushion; 108 kg (17 stone) weight limit;

Lightweight tubular steel structure.

A strong metal frame with a fabric back is ideal for people who spend a lot of time in bed.

Use pillows for comfort.

Ideal for sitting up straight in bed.

Improved support in bed.

Easy to adjust. 
Net weight (kg): 3
Type: Bed Wedge
Features: Foldable
Material: Metal, Fabric
Color: Gray
Be Maskura Fit
Our Happy Hoopers
30 Minutes Daily Fun Workout
The smart hula hoop counts your burned calories, tracks how long you work out, and records other vital information.
Easy Installation Process
Our Smart Weighted Hula Hoop has a carefully planned design with 27 knots placed in hoop's circumference.
27 Detachable Knots
Our Smart Weighted Hula Hoop has a carefully planned design with 27 knots placed in hoop's circumference.
Let customers speak for us
Highly recommended bed.
Very helpful. It helped my father who was sick and was hospitalized, we used this support for him to help him drink and eat his meal. Grateful for the prompt service.
A budget friendly excellent product
Very simple to put up and operate. When I need it while lying in bed, it works great.
Usefull to use it
Flexible Backrest Anyone recovering from illness would love this Back Rest Reclining Support Bed Wedge with Pillow. This is perfect for reading in bed or doing crafts because it can be adjusted in position. This has helped me tremendously as I recover from surgery.
Perfect for all age
I really enjoy this stuff. When you wish to read in bed, I think it is fantastic. It took me a few tries to find a position that was comfortable for me. I enjoy it enough to get one for my 90-year-old mother. Where she could utilize it, it should be lightweight.
An excellent product indeed
All I had hoped for was this. Such comfort! I placed it on the bed so I wouldn't have to use pillows to just prop my neck up while watching TV. To prevent it from sliding back, I tied a towel around the lower rung that I would lie on. It is really sturdy and not at all fragile. Highly suggested.
One individual found this useful.
Shark Shaver Pro - Platinum Electric Skull Shaver For Head & Face
Best Electric Men's Shaver