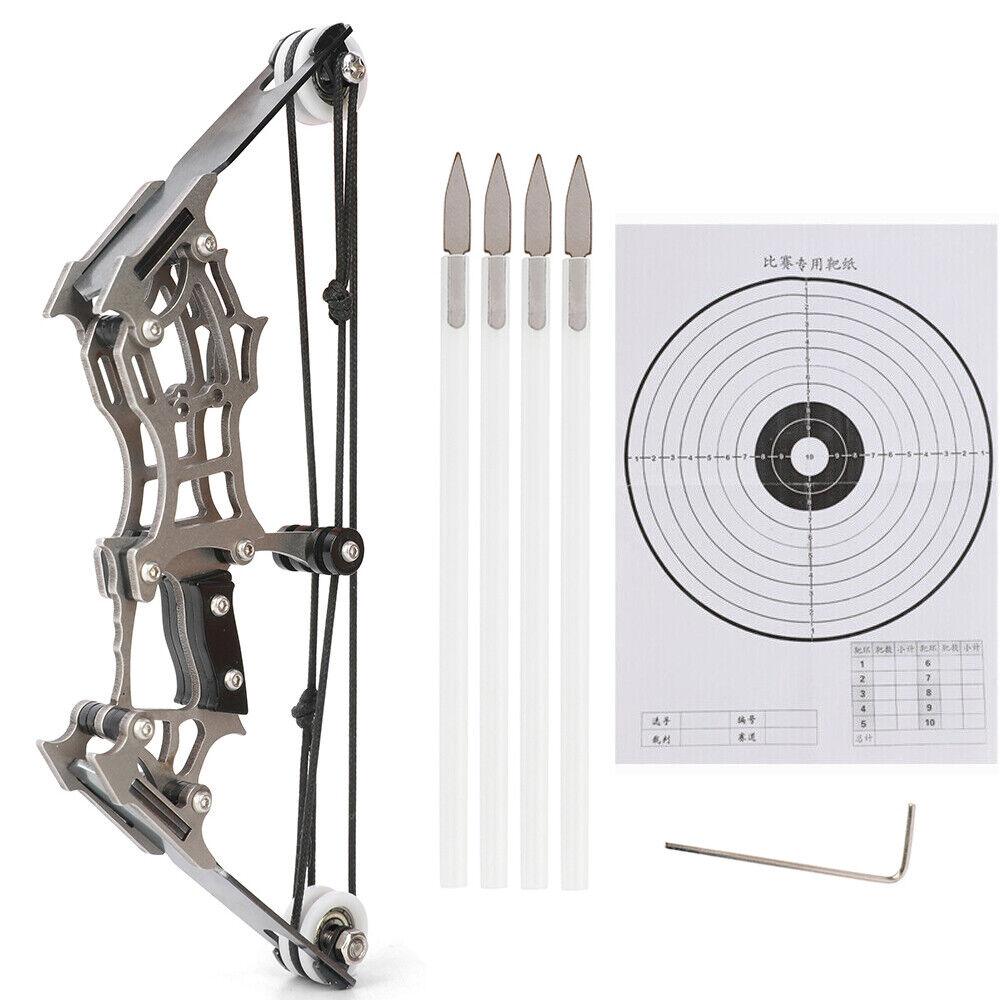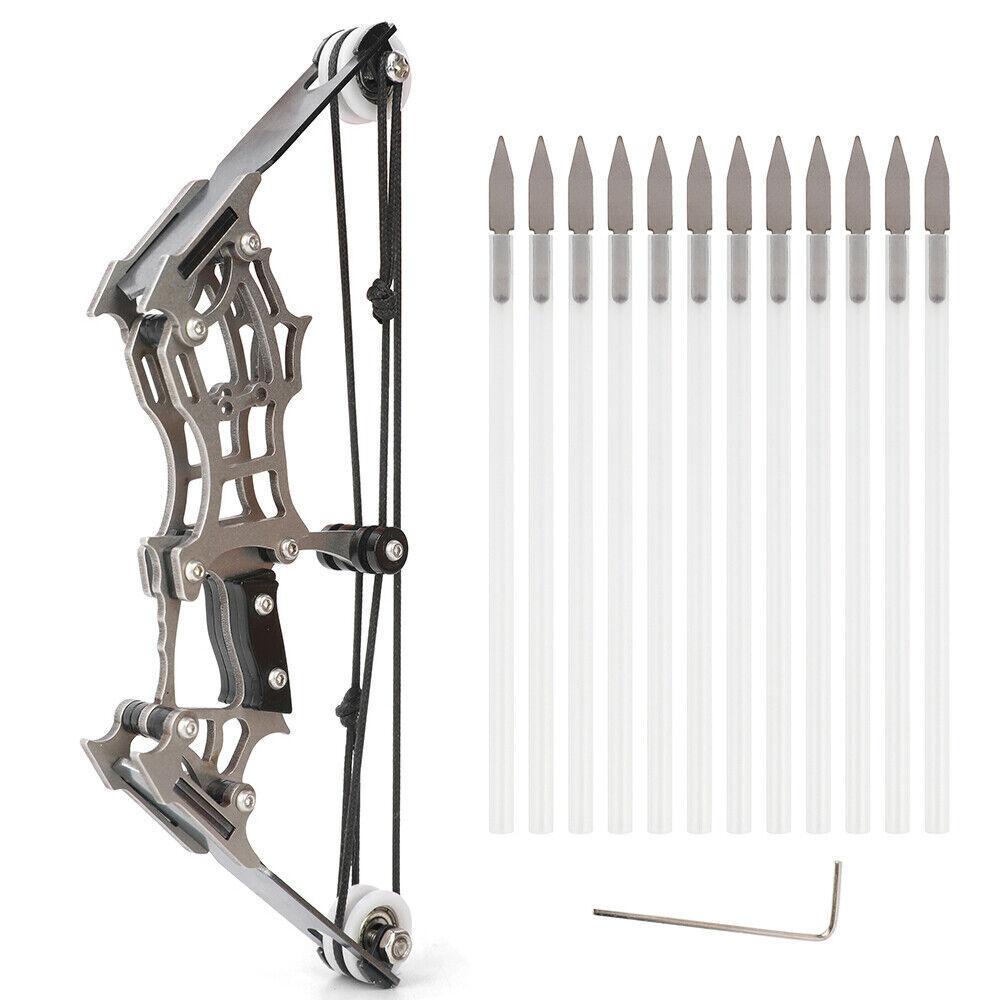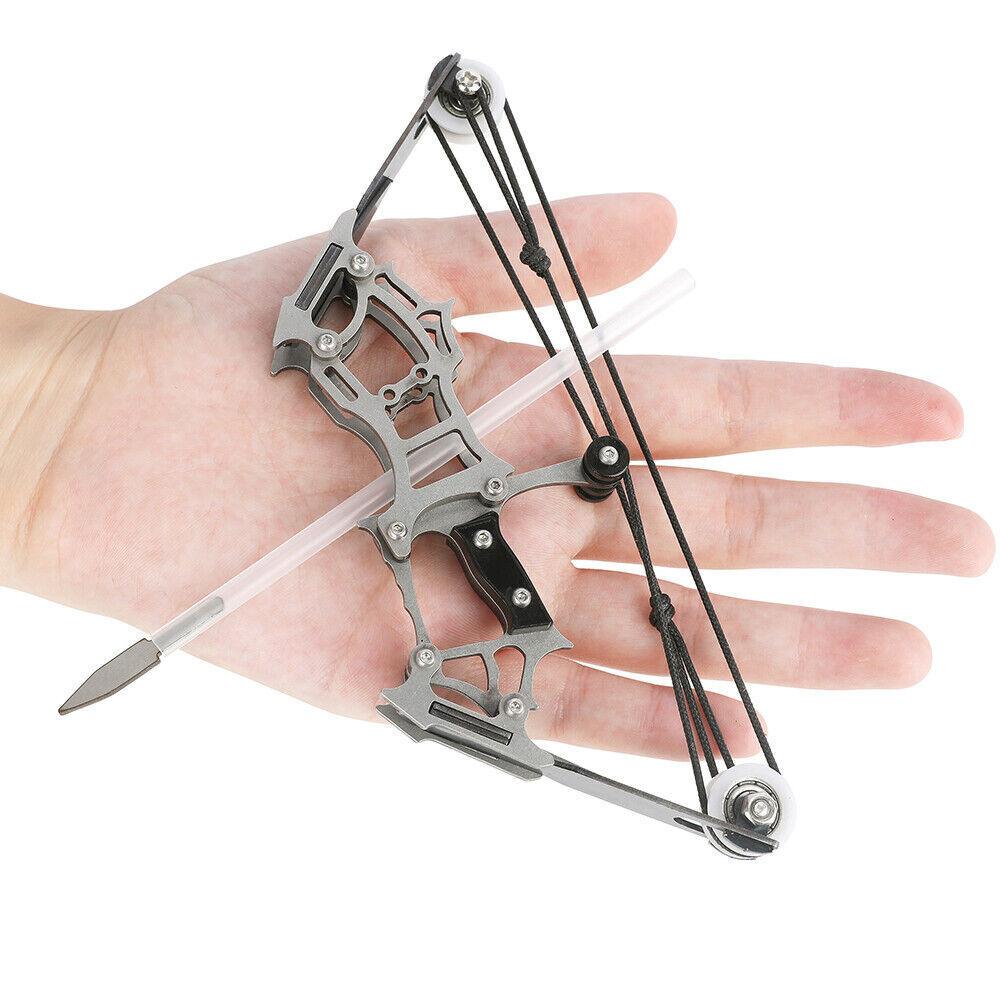 Archery Kits for Beginners - 6" Mini Compound Bow Arrows Set

About Archery Kits for Beginners
The 6" Mini Archery Kits for Beginners is a compact and lightweight archery toy designed for kids as a recreational shooting activity. It is often used for target practice and can be a fun introduction to the sport of archery.
Compact Size: The bow itself is designed to be small and lightweight, making it suitable for children. It typically measures around 6 inches in length, allowing for easy handling and maneuverability.
Compound Bow Design: The mini compound bow is modeled after the design of a real compound bow, featuring two cams or wheels at the ends of the limbs. While it may resemble a compound bow, it's important to note that it lacks the power and functionality of a full-sized compound bow.

Arrow Set: The set usually includes a number of arrows specifically designed for use with the mini compound bow. These arrows are shorter in length and made of lightweight materials such as plastic or foam, ensuring safe and controlled shooting.

Shooting Targets: Some sets may come with shooting targets, allowing kids to practice their aim and accuracy. These targets can be made of foam or other soft materials to ensure safety during shooting.

Safety Considerations: As with any archery-related activity, safety is of utmost importance. Adult supervision is recommended when children are using the mini compound bow. It's essential to ensure a safe shooting environment, with appropriate backstops and no risk of arrows causing harm to people or property.

You May Check It Out: Junior Archery Sets
Recreational Use: The 6" Mini Compound Bow Arrows Set is primarily intended for recreational use and should not be confused with professional or competitive archery equipment. It offers a fun and engaging way for kids to learn basic archery skills, hand-eye coordination, and focus.

Gift Idea: The mini compound bow set can be a popular gift choice for young archery enthusiasts or those interested in outdoor activities. It provides a safe and enjoyable introduction to the sport and can be used in the backyard or other suitable shooting areas.

Draw Weight: 5-6lbs.
Overall Length: 15.2cm / 5.98"
Shooting Range: about 15-20 meters
Weight: 82.6g / 99g
Bow Size: 15.2×5.8×1.9cm / 6x 2.28x0.74"
Arrow Shaft: Plastic, 11.4cm
Arrow Points: Steel, 3.4cm
Suitable for: Right & Left Hand Archers.

Bow Set Include:
Kit 1: Mini Compound Bow + 4 Arrows + 1 Target Paper + 1 Wrench
Kit 2: Mini Compound Bow + 12 Arrows + 1 Target Paper + 1 Wrench

Be Maskura Fit
Our Happy Hoopers
30 Minutes Daily Fun Workout
The smart hula hoop counts your burned calories, tracks how long you work out, and records other vital information.
Easy Installation Process
Our Smart Weighted Hula Hoop has a carefully planned design with 27 knots placed in hoop's circumference.
27 Detachable Knots
Our Smart Weighted Hula Hoop has a carefully planned design with 27 knots placed in hoop's circumference.
Let customers speak for us
Has been perfect for the money.
My son has outgrown his children's bow after wearing it for a year. This is a terrific beginner level bow with all of the same attachments as my compound bow, and my son adores it. The trigger release is a shambles, but for the price, you could easily acquire a better one for your child, which I highly recommend because the release that comes with this bow occasionally releases on draw without pushing the trigger. Overall, it's a good buy.
Shark Shaver Pro - Platinum Electric Skull Shaver For Head & Face
Best Electric Men's Shaver