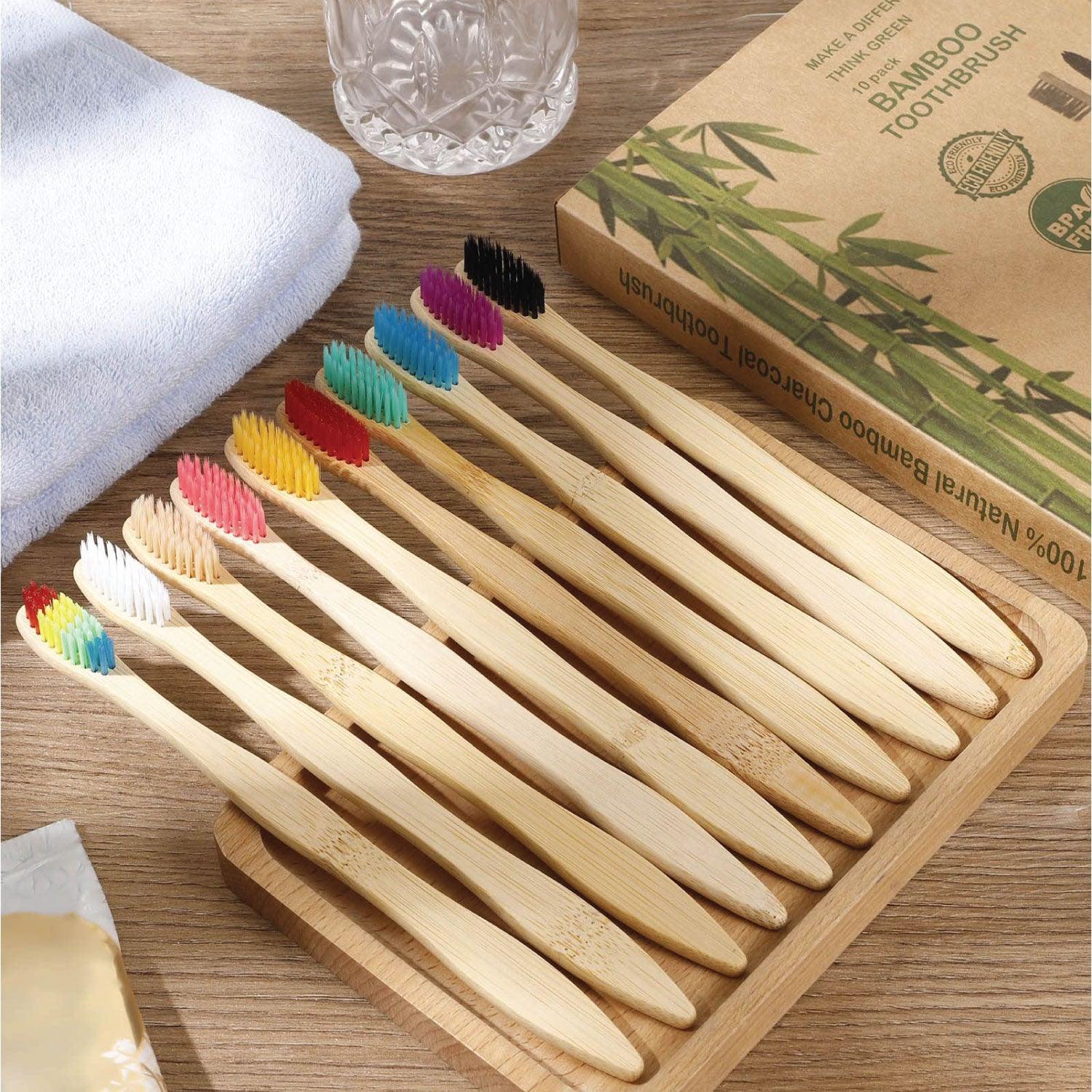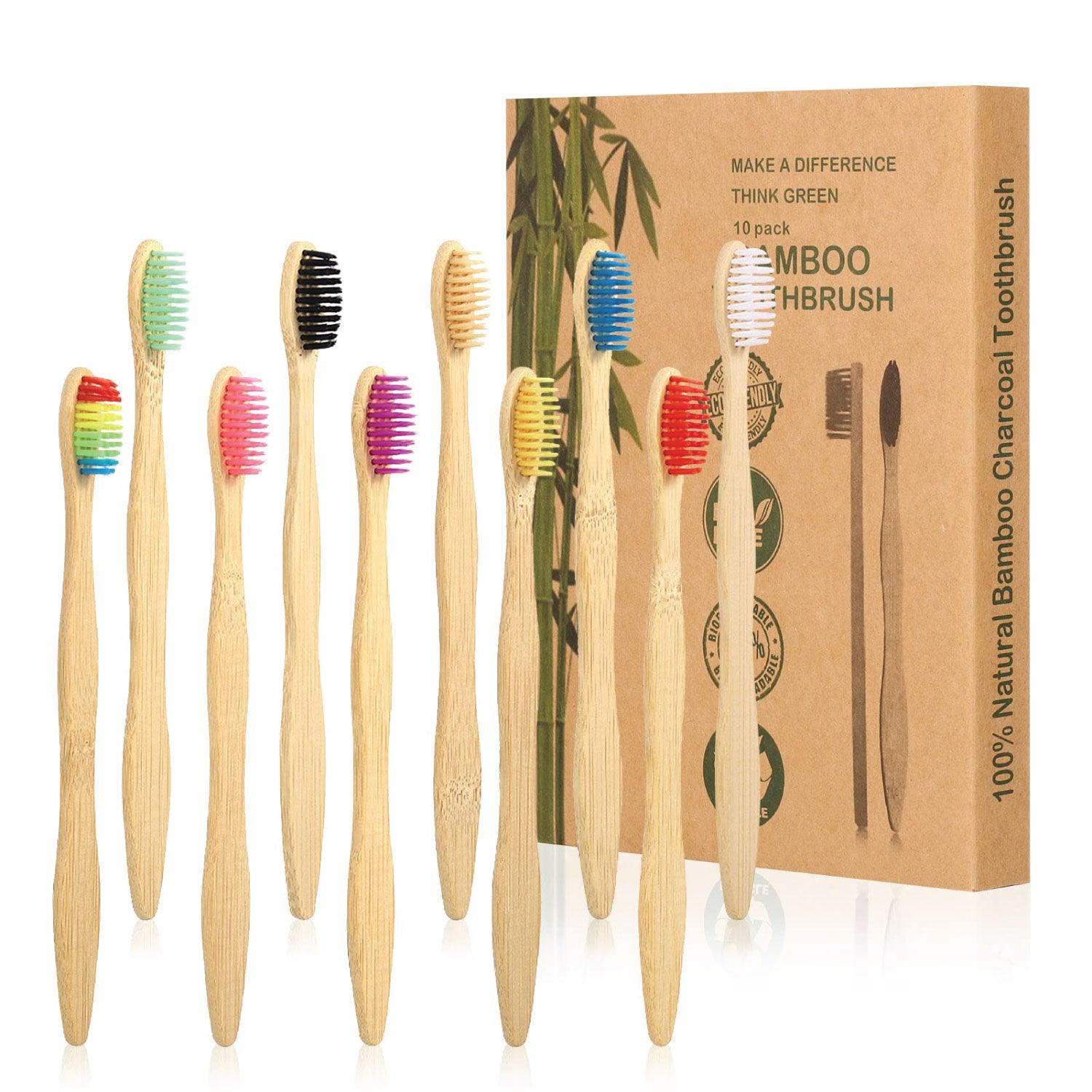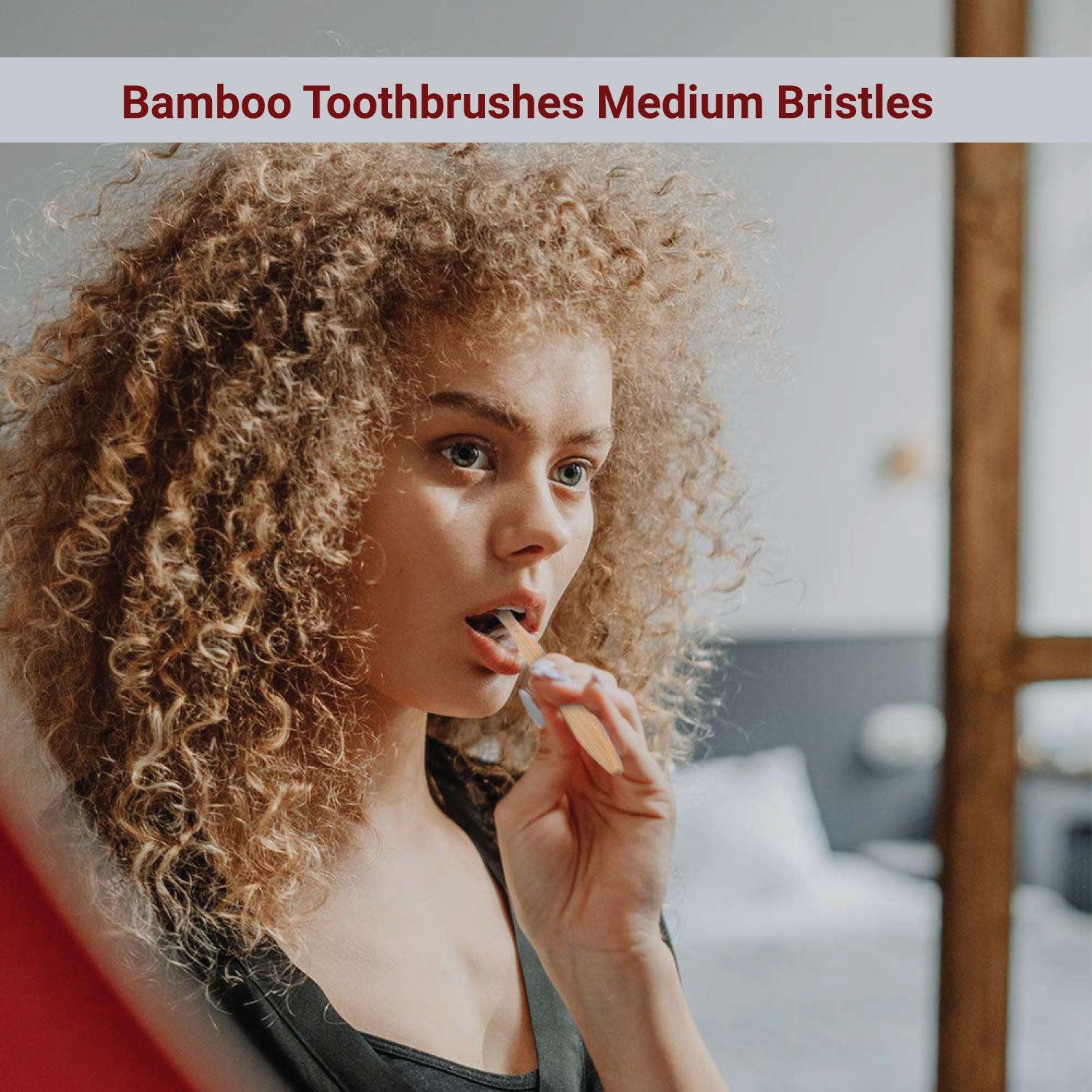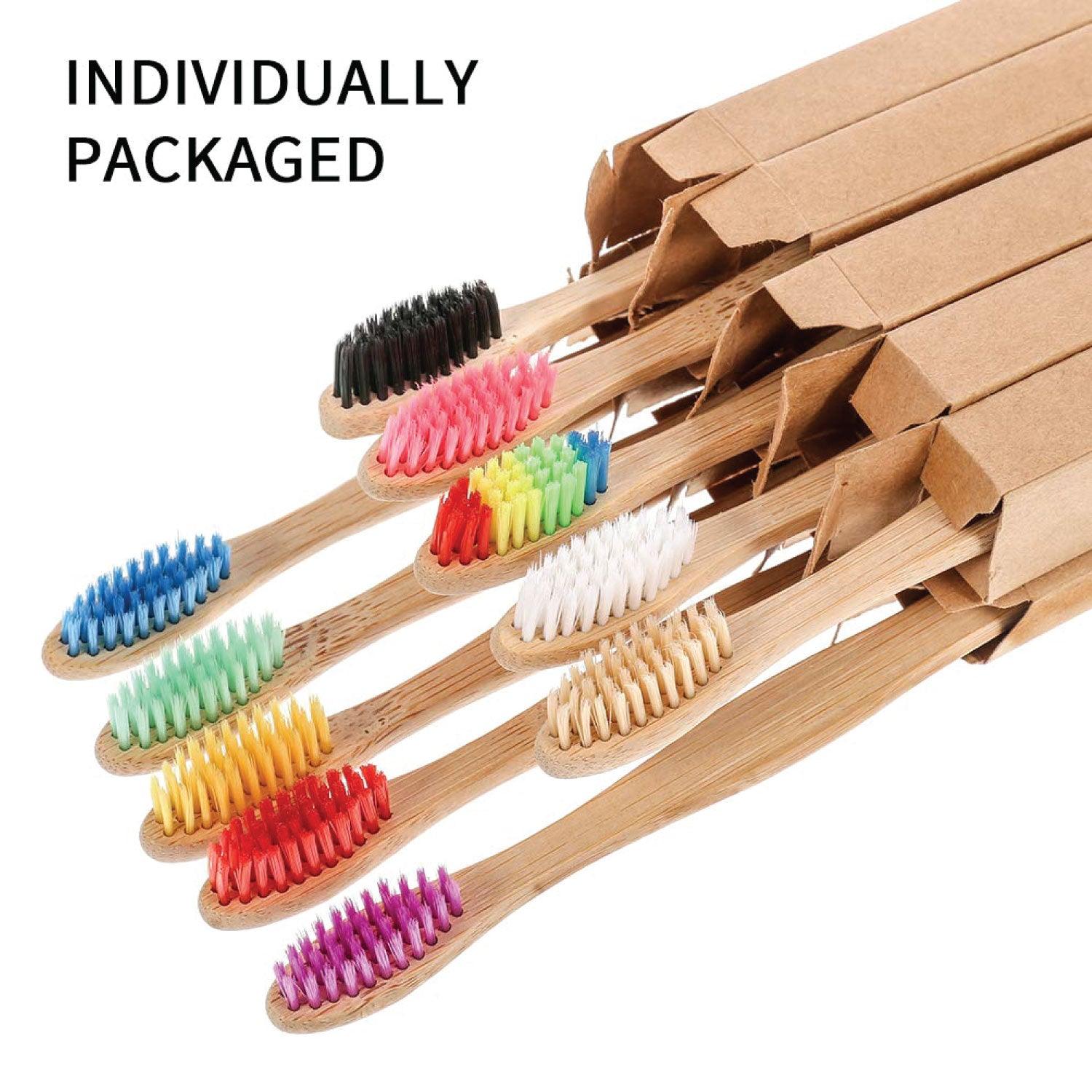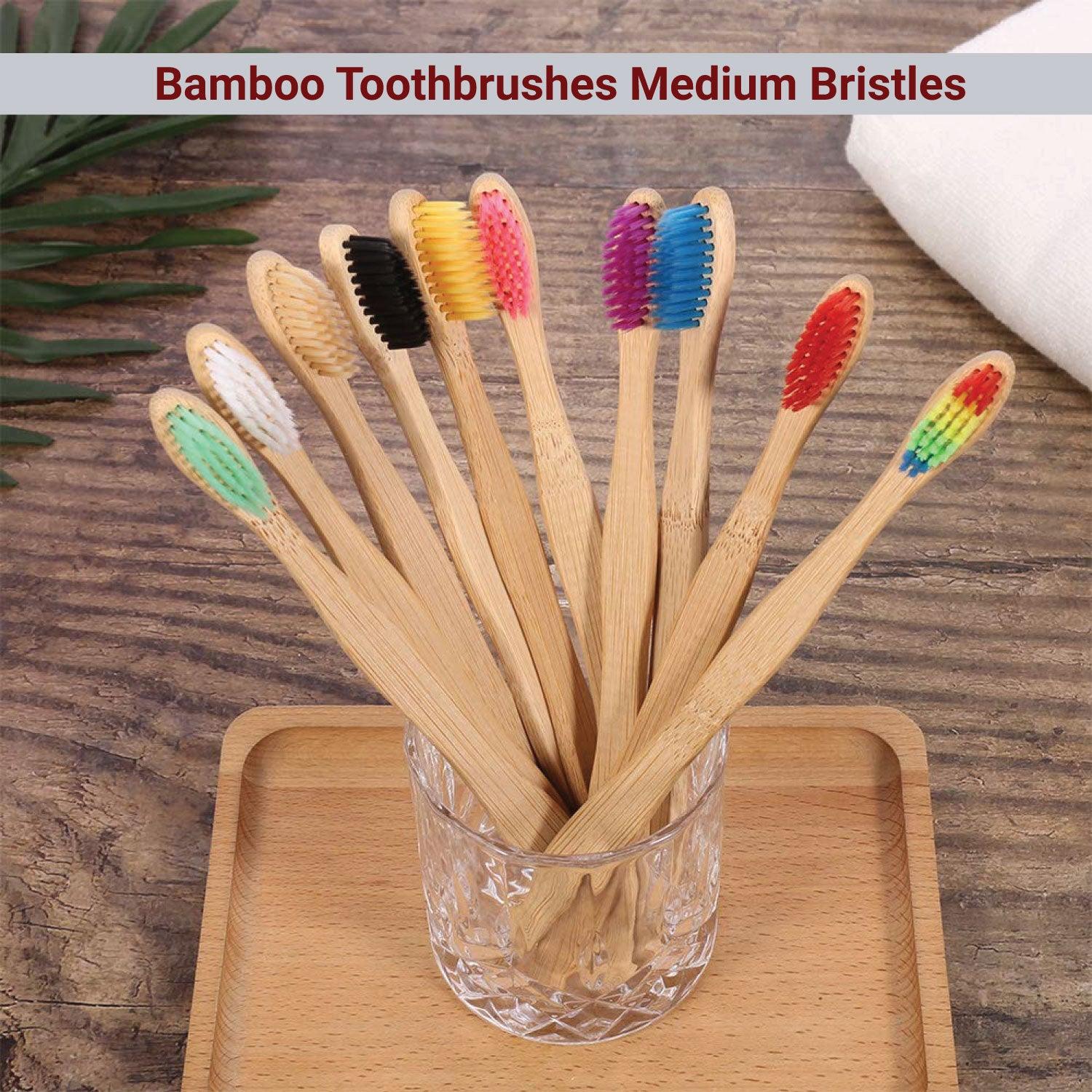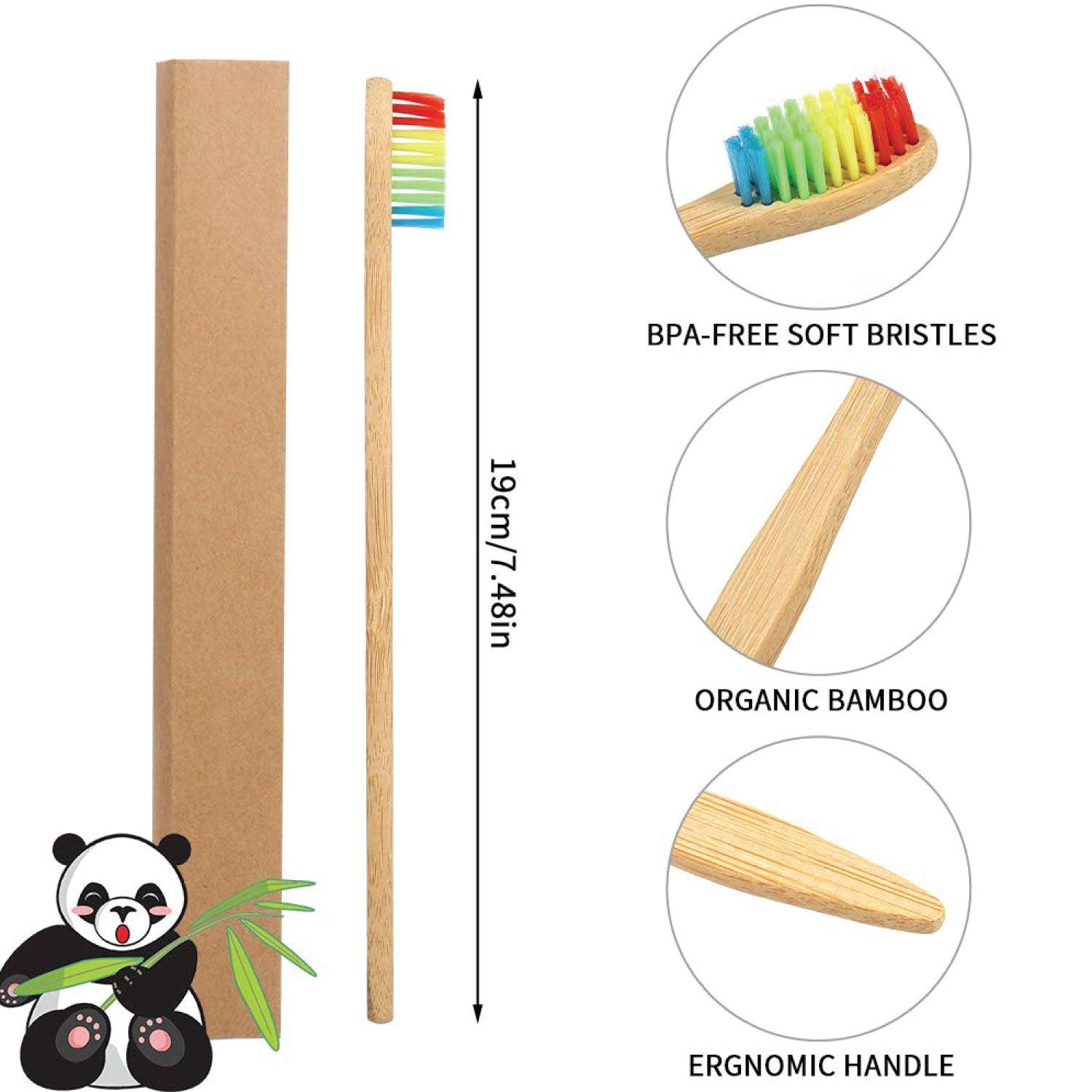 Bamboo Toothbrush Bristles - Goaycer Bamboo Toothbrushes Medium Bristles - Family 10 Pack Eco Friendly Biodegradable Organic Premium Wooden Toothbrush

About Bamboo Toothbrush Bristles
The Bamboo Toothbrushes Bristles brush is soft and cozy.  It doesn't harm the enamel with this Wooden Toothbrush. It effectively stimulates blood flow by massaging the gum tissue. Bamboo charcoal is made of ions that assist in keeping the mouth healthier and cleaner.
This brush is to have a handle with non-slip properties, an exquisite look, and a cozy hand feel. A superfine brush can reach far into the spaces between teeth to clean them more thoroughly.
Biodegradable and Sustainable MAO BAMBU TOOTHBRUSHES:
Organic Bamboo toothbrushes are crafted from the best Mao bamboo. We only use packaging that is completely compostable and biodegradable. Because the handle is reusable, you may decorate toothbrush handles any way you choose or use them to support garden plants.
High-Quality Bamboo Toothbrush Bristles  
The handle grips are smooth, pleasant, and light, and are built for a comfortable grip. Our carbonized coating aids in water repulsion and is splinter-resistant. No dyes, glue, paint, or other chemicals.
Medium Firm Bristles TOOTHBRUSHES:
The Premium Quality BPA-Free Medium Firm bristles are soft on your teeth and gums, not to damage enamel and avoid bleeding, created just to calm your mouth while gently brushing, and the bristles are recyclable.
Check It Out Now: Water Flosser for Teeth 
Bamboo Toothbrush Bristles 10 Pack, 5 Colors:
Each of the ten brushes has slightly different colored bristles, making it easy for family members to tell which one belongs to whom. It was fantastic for the entire family! You can pick the ones in your favorite color.
Together, Let's Save The Planet:
Every year, 3.6 billion throwaway plastic toothbrushes wind up in landfills and the ocean. Bamboo toothbrushes are better for the environment since they are durable and long-lasting and make the ideal eco-friendly present. We really hope you adore your brand-new bamboo toothbrushes!
Category: Toothbrushes
Material: Bamboo
Size: 17 cm
Package: 17cm Package content:10PC
Be Maskura Fit
Our Happy Hoopers
30 Minutes Daily Fun Workout
The smart hula hoop counts your burned calories, tracks how long you work out, and records other vital information.
Easy Installation Process
Our Smart Weighted Hula Hoop has a carefully planned design with 27 knots placed in hoop's circumference.
27 Detachable Knots
Our Smart Weighted Hula Hoop has a carefully planned design with 27 knots placed in hoop's circumference.
Let customers speak for us
The ideal toothbrush for my household
My family and I adore the medium-bristle Goaycer Bamboo Toothbrushes that I bought for them. We love that they come in a 10-pack and that they are biodegradable and environmentally friendly. Our teeth feel clean and healthy after being cleaned by medium-sized brushes, which are soft but effective. For anyone seeking a toothbrush that is economical, high-quality, and environmentally friendly, these are fantastic investments.
Saving the planet one toothbrush at a time
As a conscious consumer, I am always on the lookout for eco-friendly alternatives to everyday products. Goaycer bamboo toothbrushes are an excellent addition to my bathroom essentials. The 10-pack is perfect for my family and me, and we love how they feel in our mouths.
Eco-friendly and tooth-friendly
The bristles are soft on my gums and it makes for a painless brushing. I am so glad that I could find something this good for my teeth and also for the environment.
Great Bamboo Toothbrushes
These brushes impressed me a lot, they're on the larger side so probably not great for children but for a 20-year-old, they're a great size and the way the handle is shaped is oddly convenient. I guess I didn't know that having a good toothbrush could make such a difference.
Shark Shaver Pro - Platinum Electric Skull Shaver For Head & Face
Best Electric Men's Shaver