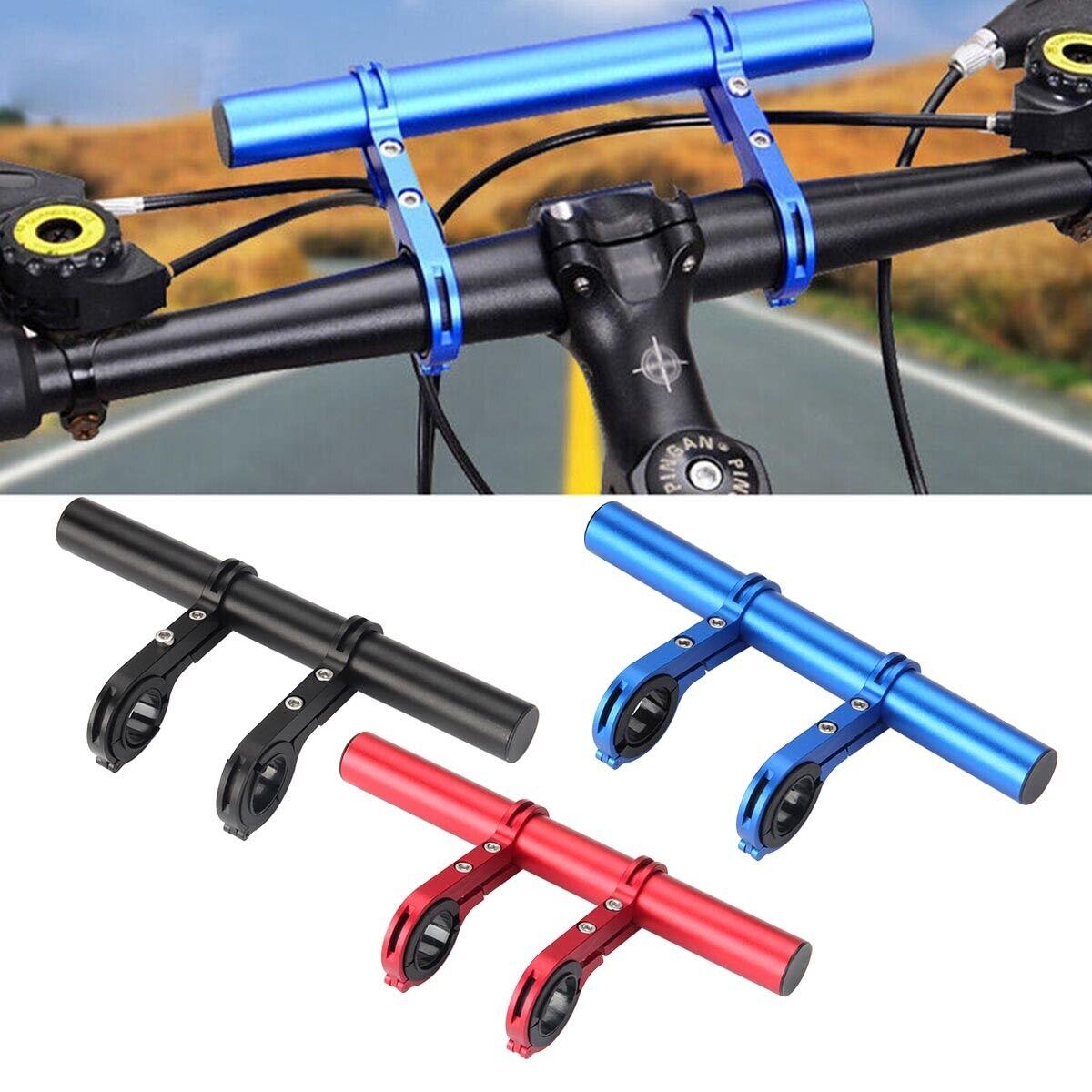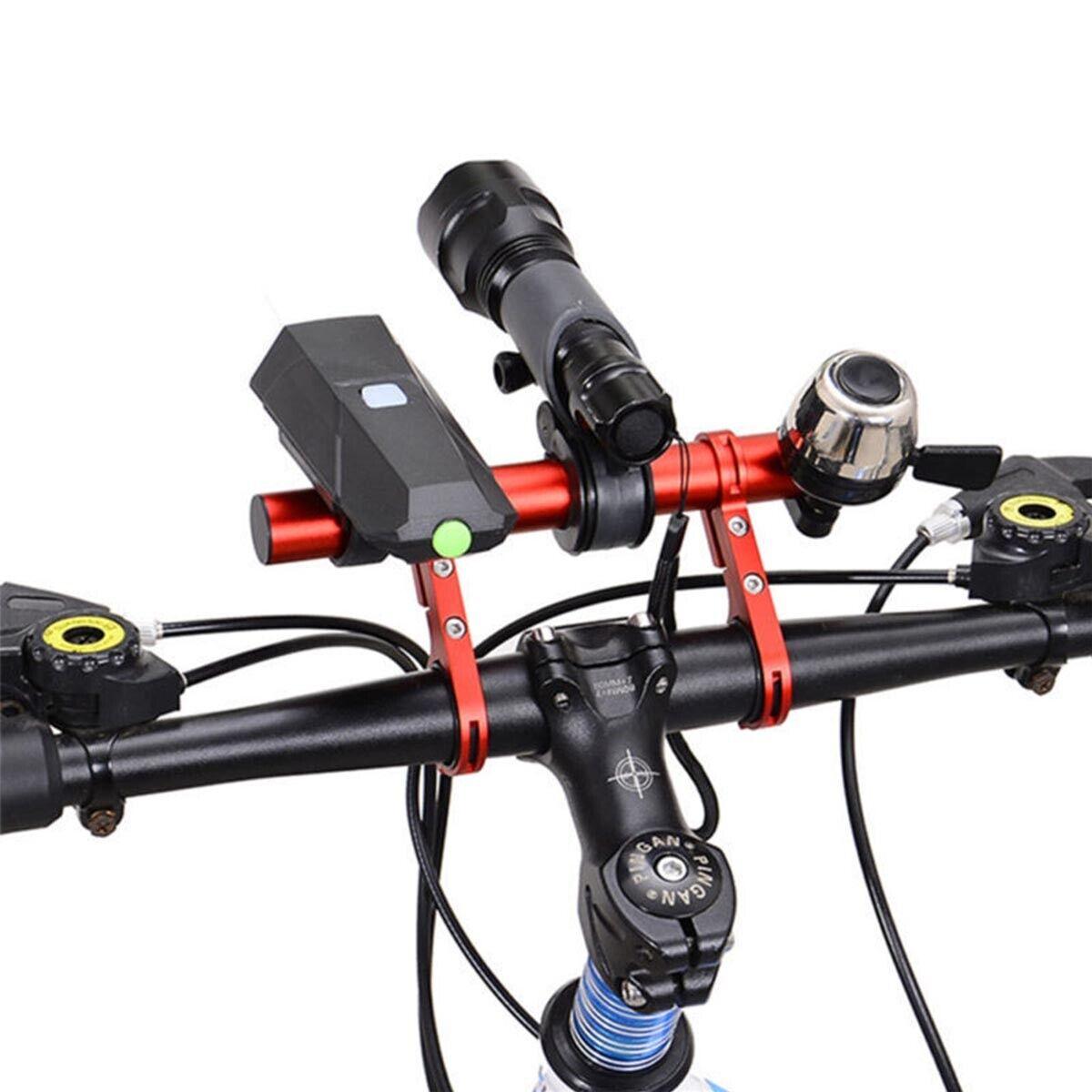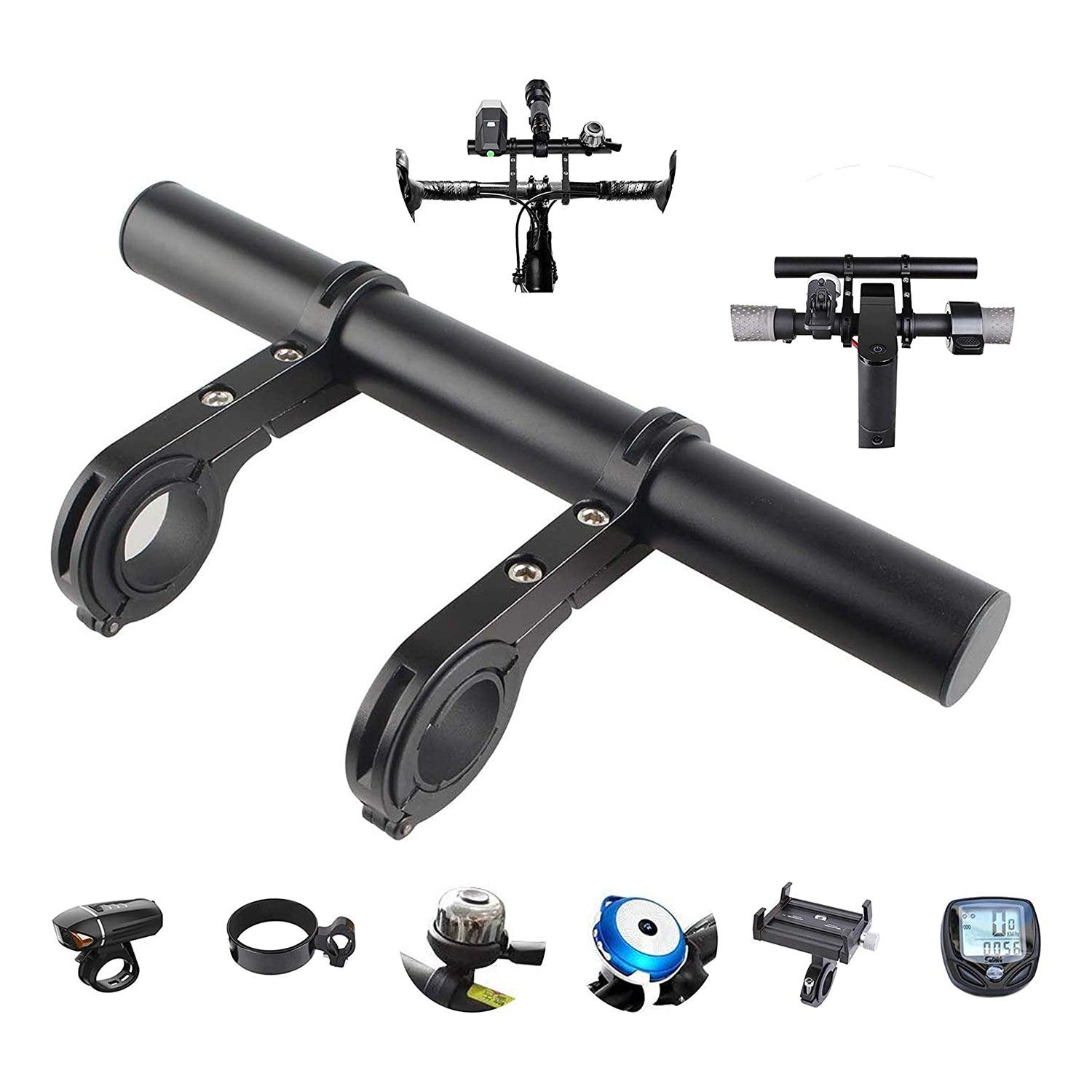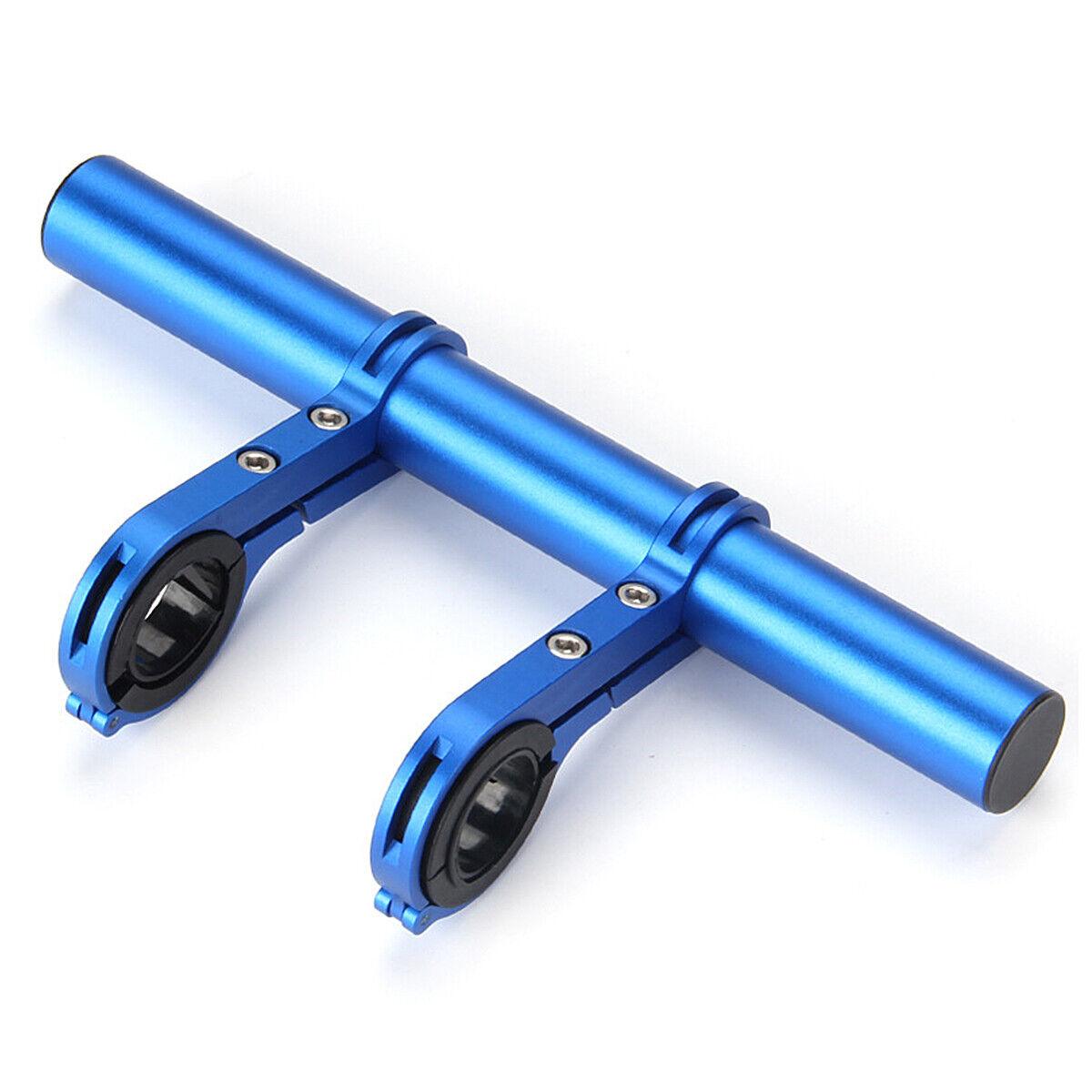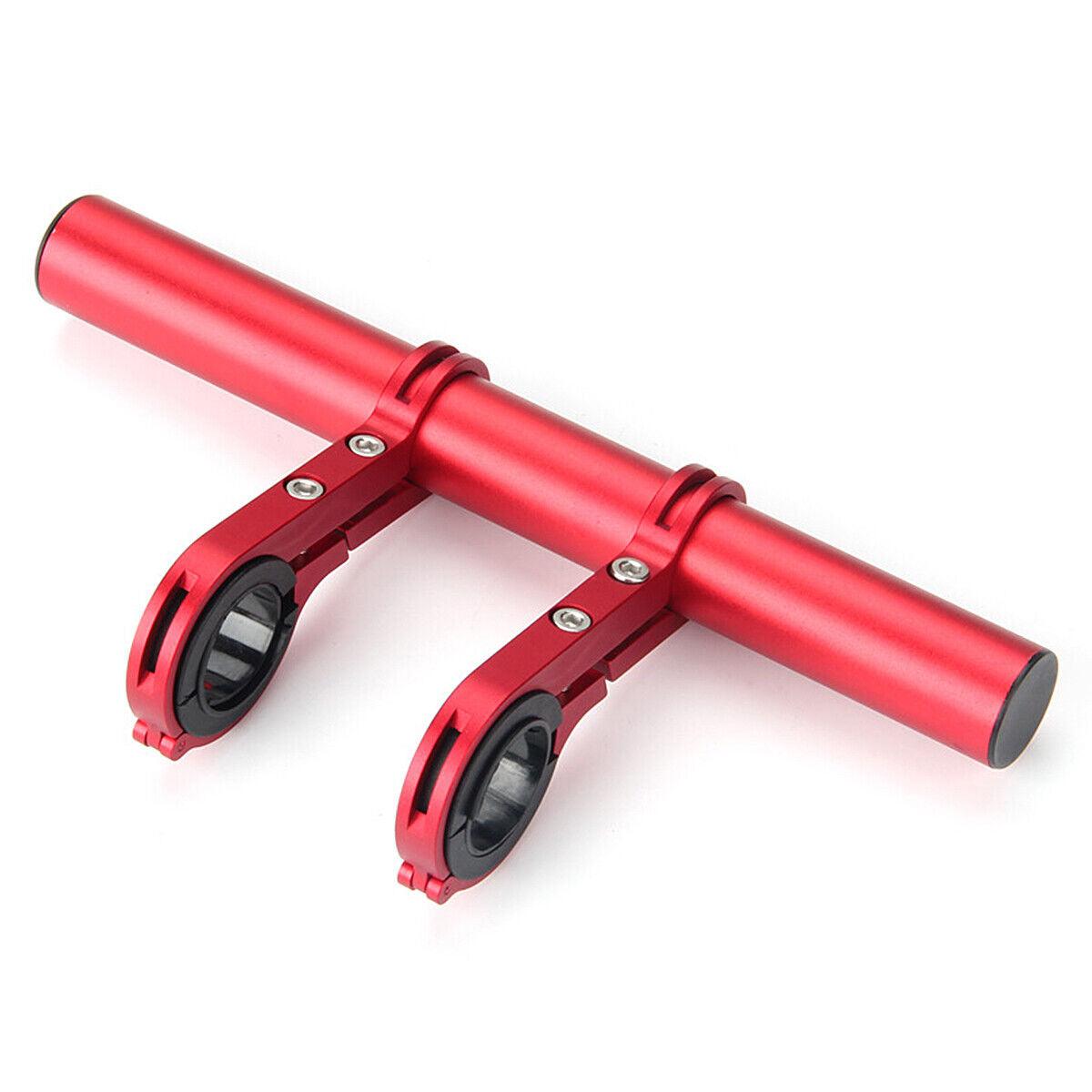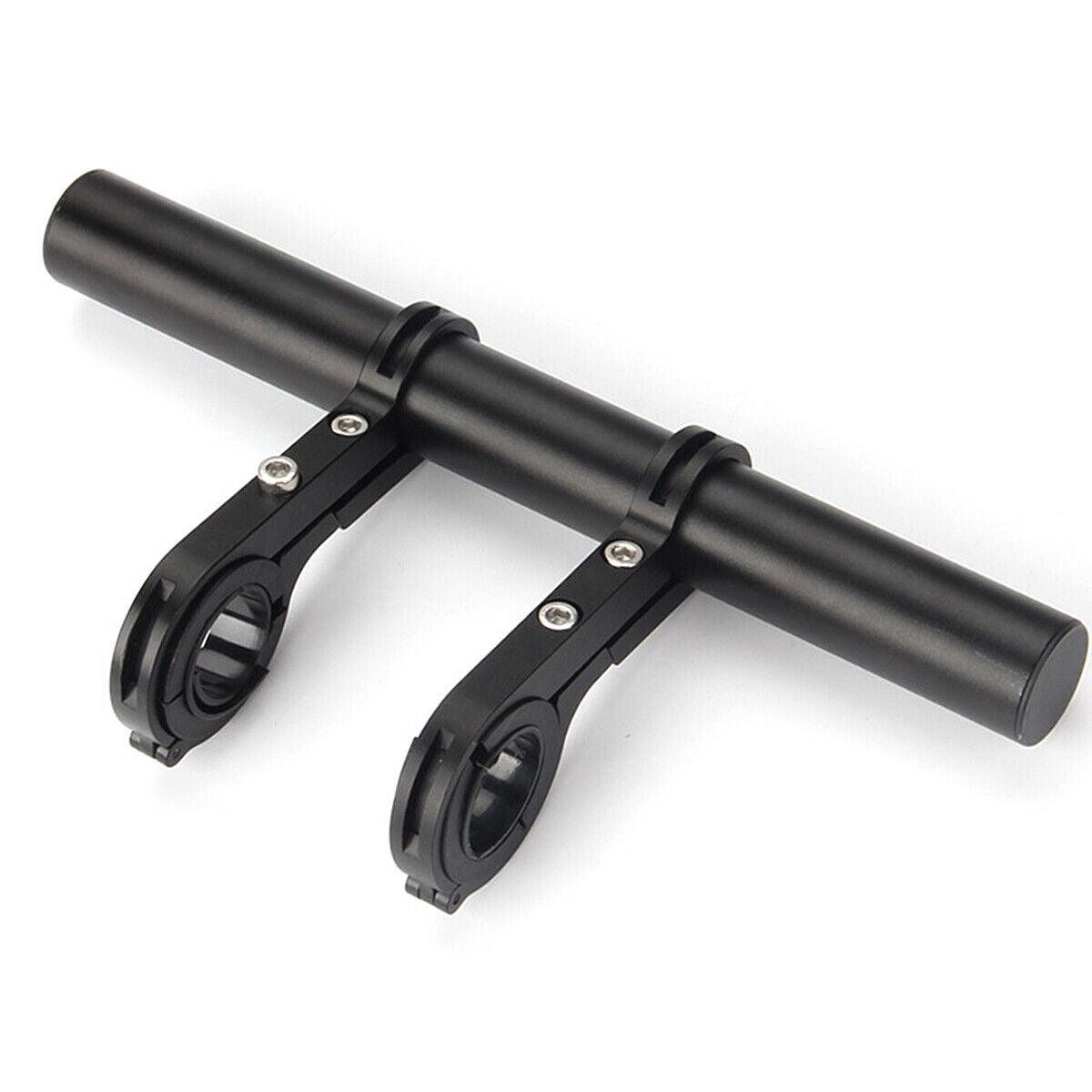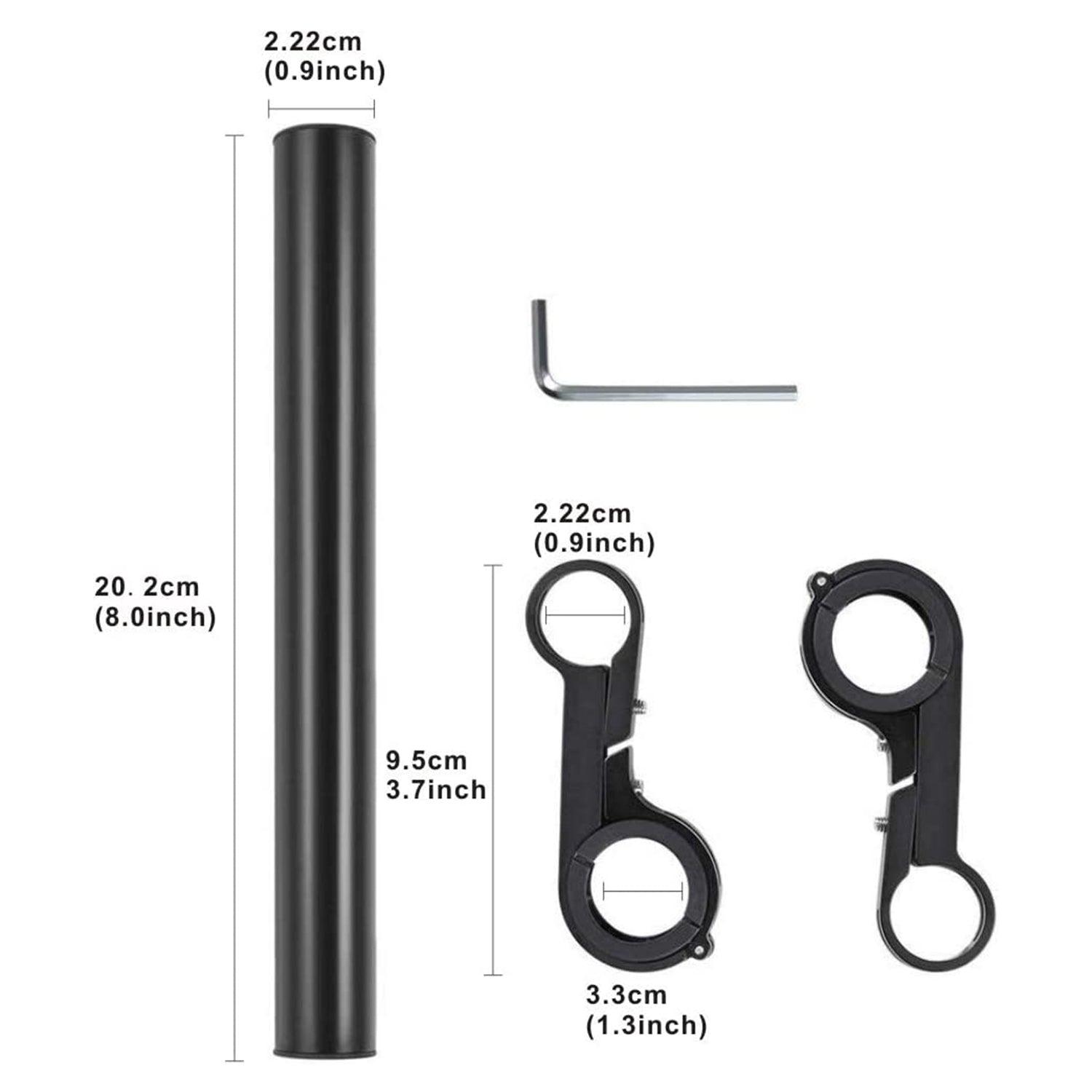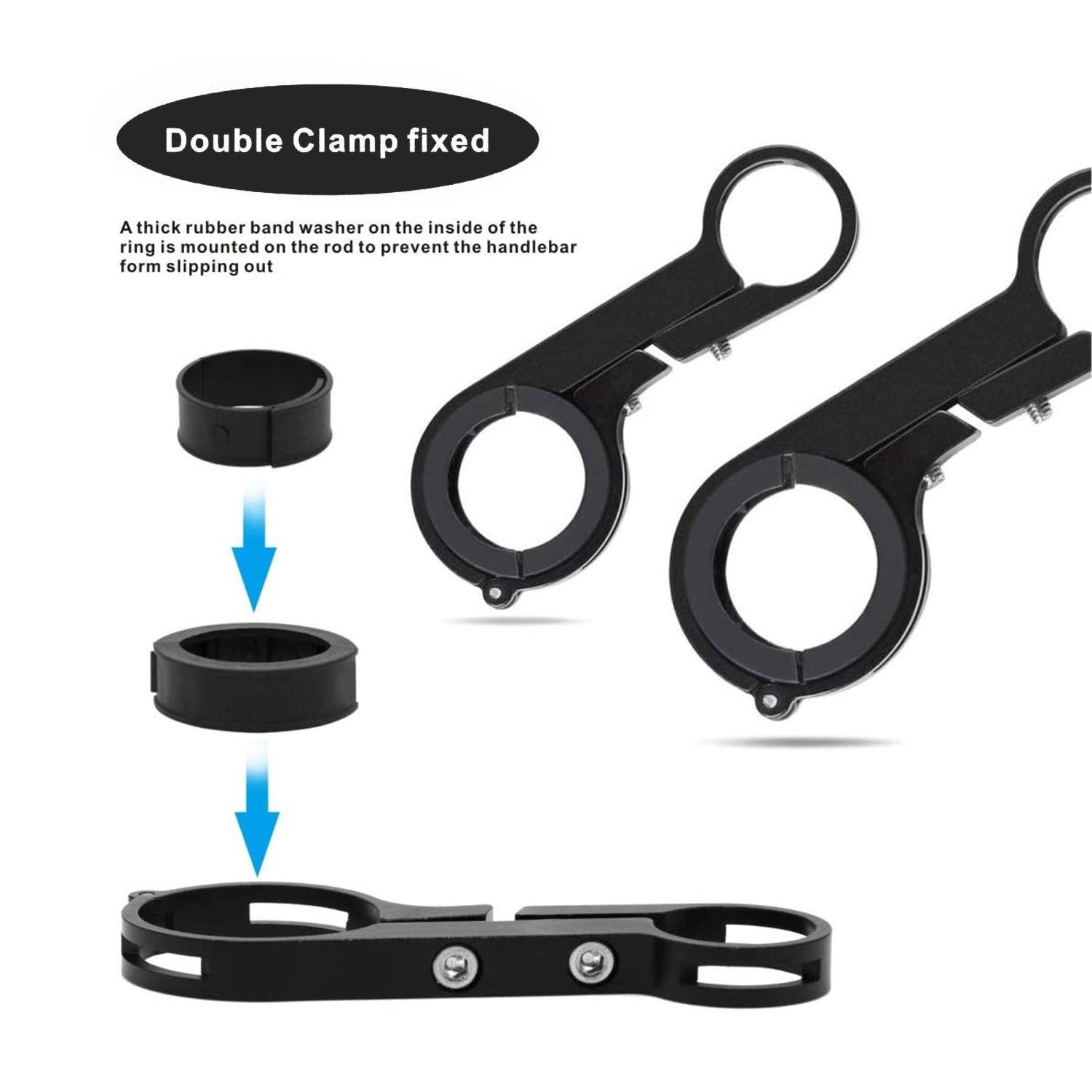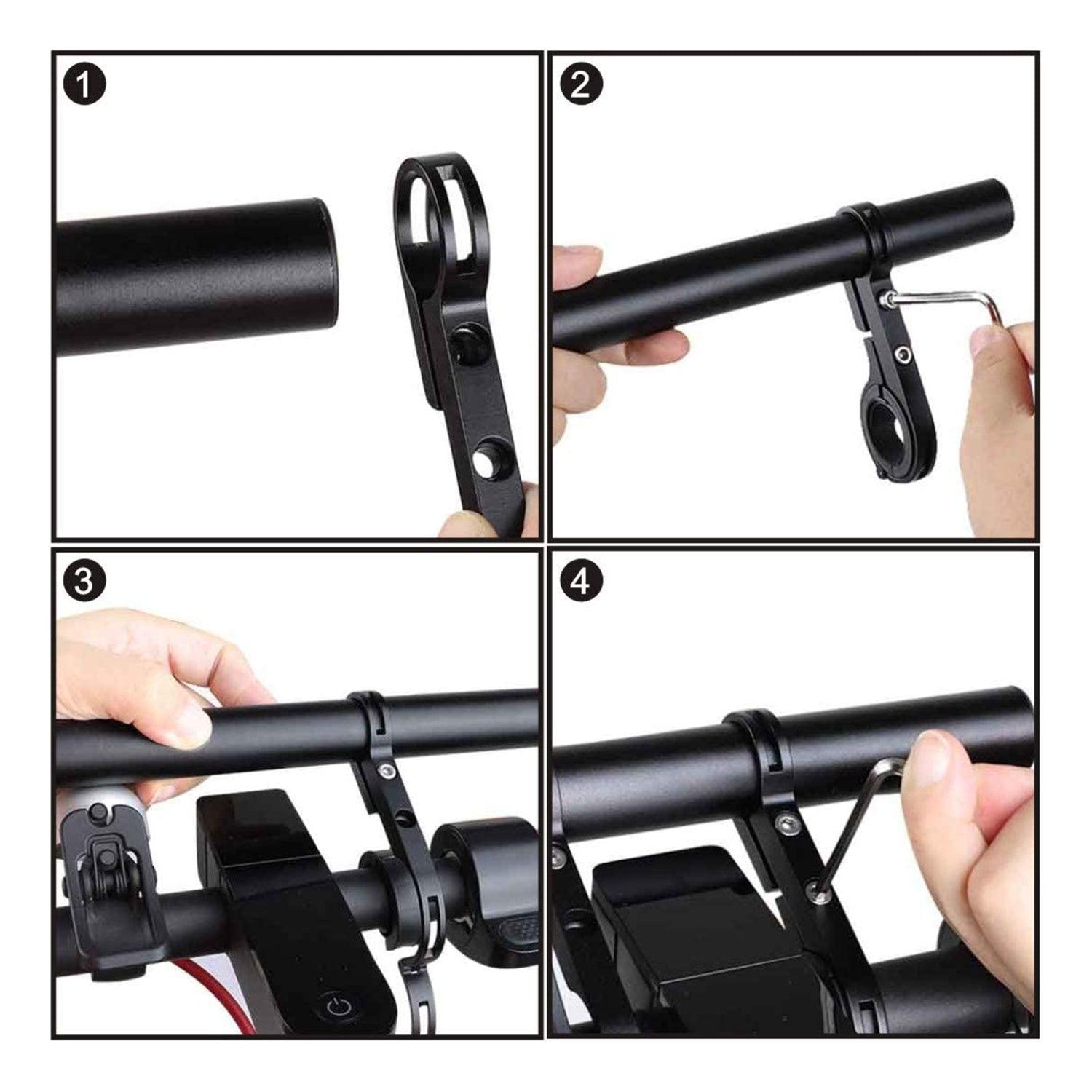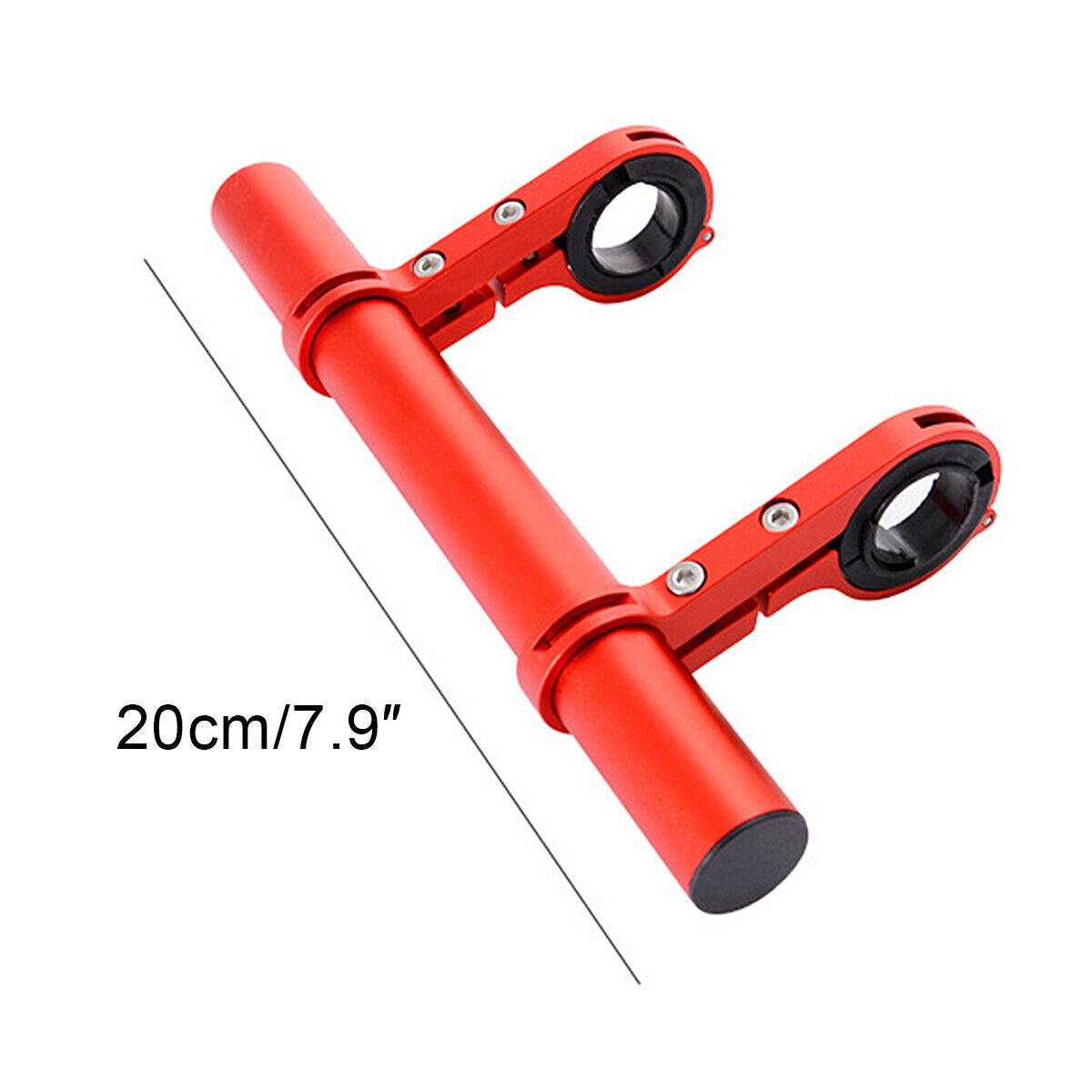 Bike Handlebar Extender - 2PCS Clamp Brackets and 1PC Hex Wrench, Aluminum Universal Bicycle Handlebar Extension for Bicycle Light, Speedometer

About Bike Handlebar Extender 
To give your bike handlebars extra room, use the bike handlebar extender. Perfect for repairing bike lights, bells, and your phone, as well as a code table, horn, and holders for bells, clip lights, and phones. Streamline your journey!
Why You Need It: Additional Storage
This bicycle extension handle will increase storage without taking up a lot of room. There are more things you may put together, such as repairing bicycle lights, speedometers, GPS units, smartphone holders, etc.
For 25.4mm HANDLEBAR:
Both crossbars and parallel handlebars may use our bicycle extension bar. It is appropriate for 31.8mm handlebars and 25.4mm handlebars with a larger seal. (Before purchasing, please carefully verify the size.)
Aluminum Material:
The high-quality aluminum alloy used to make the Ainiv bicycle extension handle has strong corrosion resistance, effectively resists rust, and won't fade. It won't wear out or distort, and it is portable and lightweight.
Easy to Install Bike Handlebar Extender:
You may save a lot of time by using this extended handlebar. Using the Allen key we supply, it is simple to construct and dismantle in under a minute.
Check It Out: Best Bike Items
Safe and Stable:
The extension handle is firmly fastened with double clips, so there is no need to be concerned about the stand being tilted, broken, or dropped on rocky roads. has non-slip pads that are effectively shockproof and stop slippage. Safeguard your stuff and your vehicle.
Description:
Brand New and High Quality

Made of high-strength 6061 T6 aluminum alloy that has undergone CNC machining.

Suitable for raising the handlebar fork stem on mountain bikes.

Can maximally extend the fork stem by 35mm.

Simply attach the front fork stem from the original bicycle.
Specifics: 
Material: An alloy of aluminum
Color: Silver/Black
Type: Bicycle Fork Stem Extender Length: 12 cm / 4.7 in 
How to Apply Bike Handlebar Extender:
Attach height adjusters to STEM-UP and insert them into the fork stem to get the desired stem height.

Align the direction of the stem and the wheel, and raise the clamping bolts on the stem.
Type: Handlebar Riser
For Bike Type: Mountain Bike
Material: Aluminum
Part Type: Increased Device

Be Maskura Fit
Our Happy Hoopers
30 Minutes Daily Fun Workout
The smart hula hoop counts your burned calories, tracks how long you work out, and records other vital information.
Easy Installation Process
Our Smart Weighted Hula Hoop has a carefully planned design with 27 knots placed in hoop's circumference.
27 Detachable Knots
Our Smart Weighted Hula Hoop has a carefully planned design with 27 knots placed in hoop's circumference.
Let customers speak for us
comparatively simple to set up. It functions well and stays in place if you take your time and do the installation correctly. Purchasing an extender with a twin bolt attachment is essential for a better grip while using these. Excellent value given the cost.
My bike got a new look.
Very effective extender for bicycle. I can keep my phone and light attached which is really great.
Excellent
helps me keep my handlebars organized. Allows me to mount my phone and bike light in a convenient location
good quality
Well-made and durable. Affordable and held up well after many rides. Definitely recommend.
very good thing
helpful tool for long rides. Easy to access nutrition and hydration. Lightweight and doesn't affect handling.
Shark Shaver Pro - Platinum Electric Skull Shaver For Head & Face
Best Electric Men's Shaver