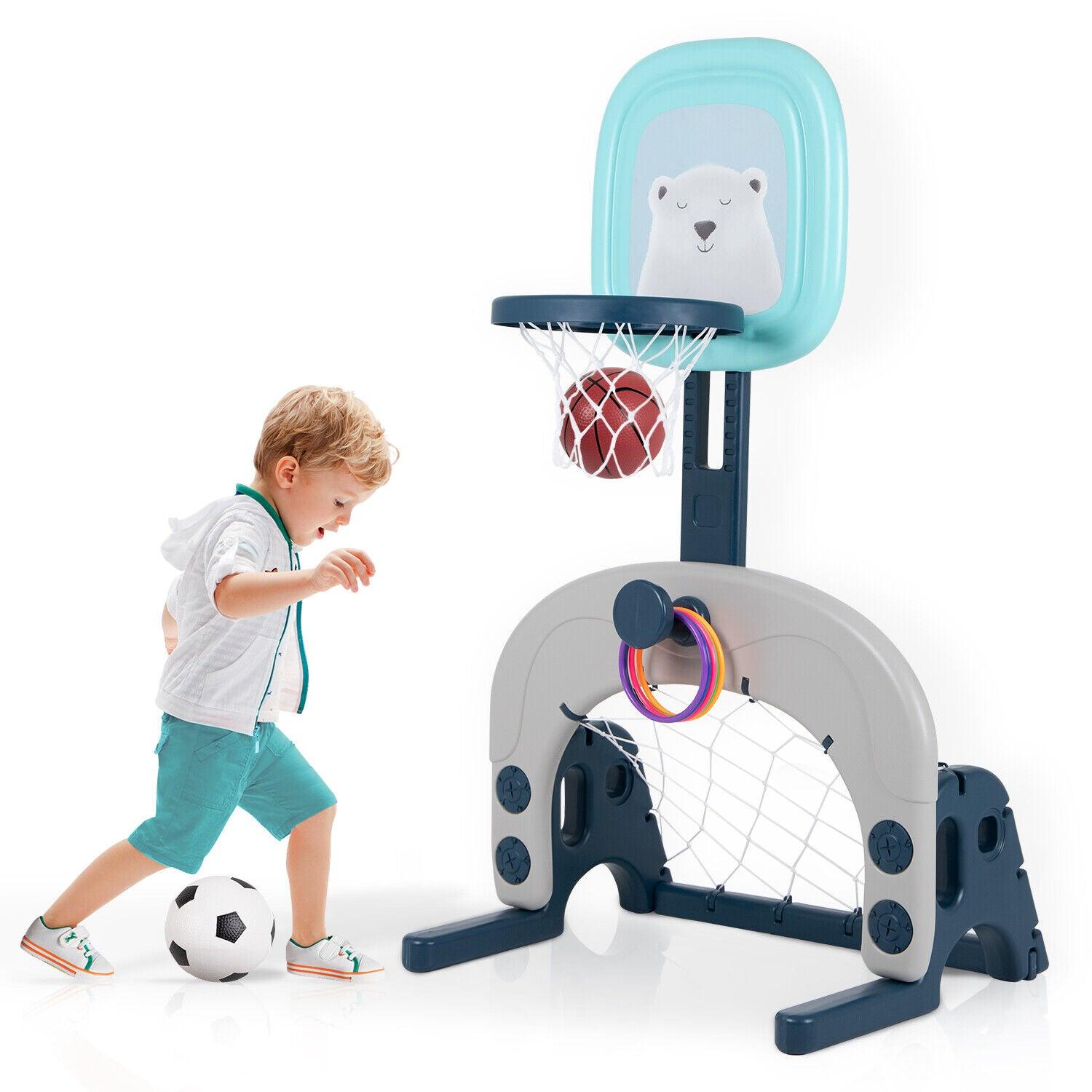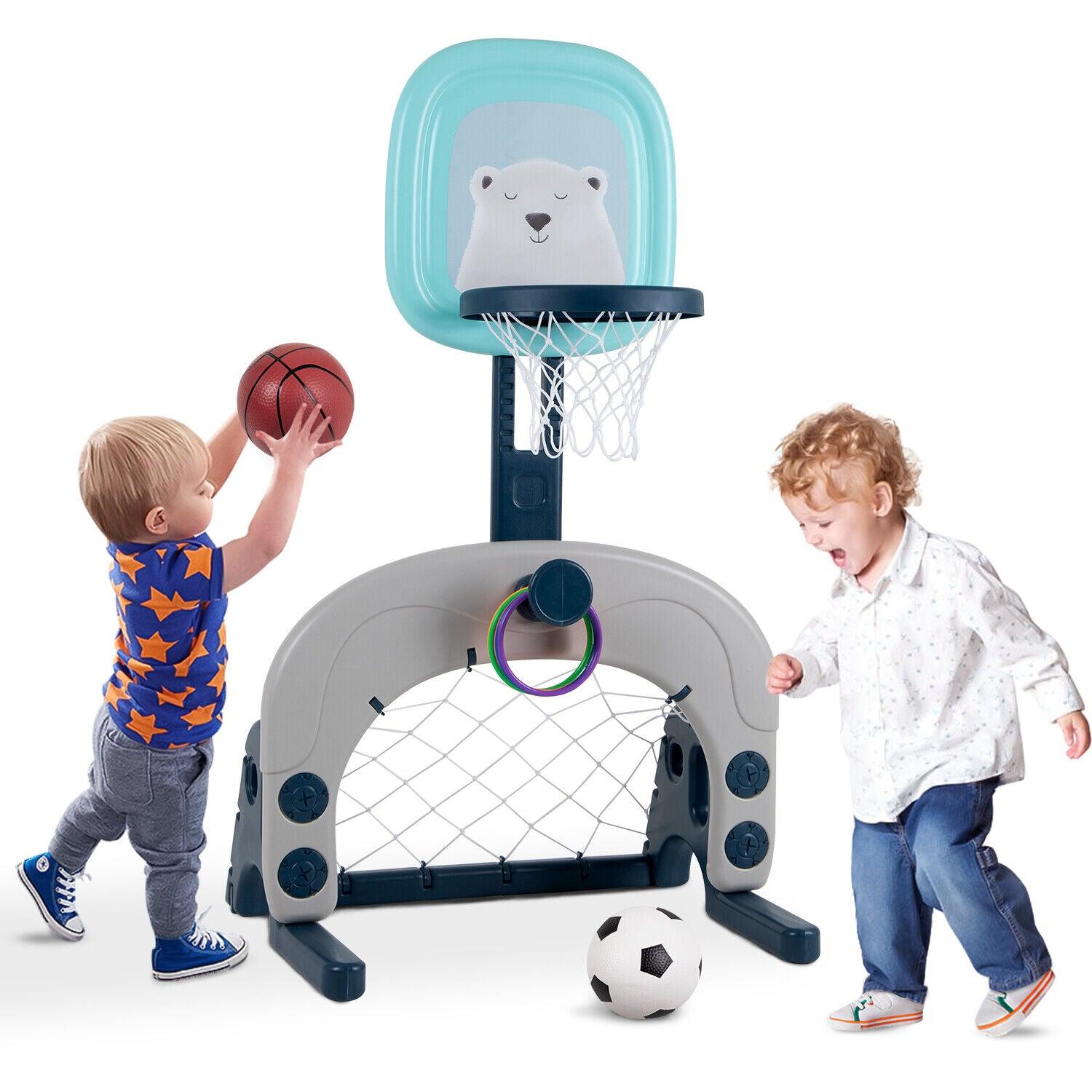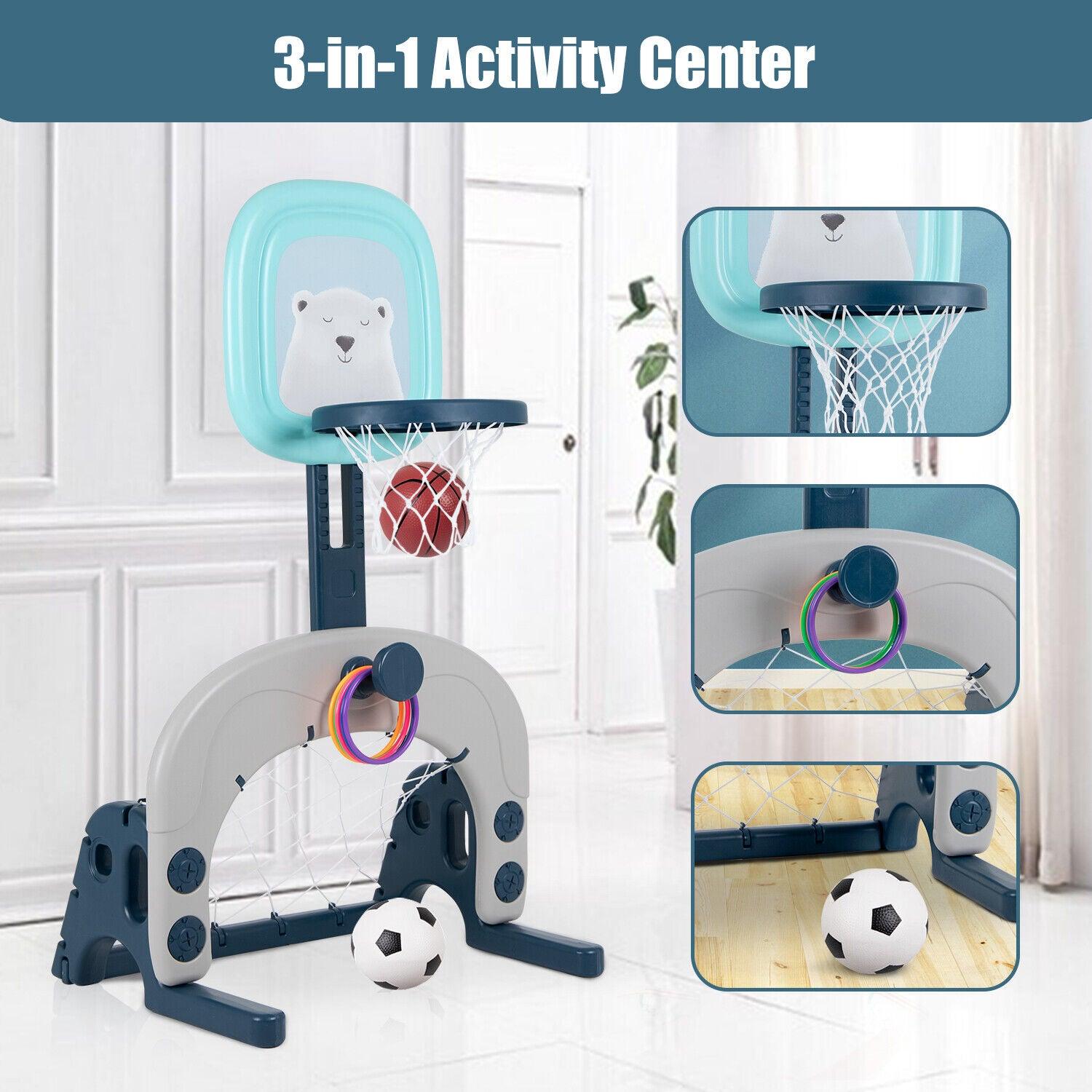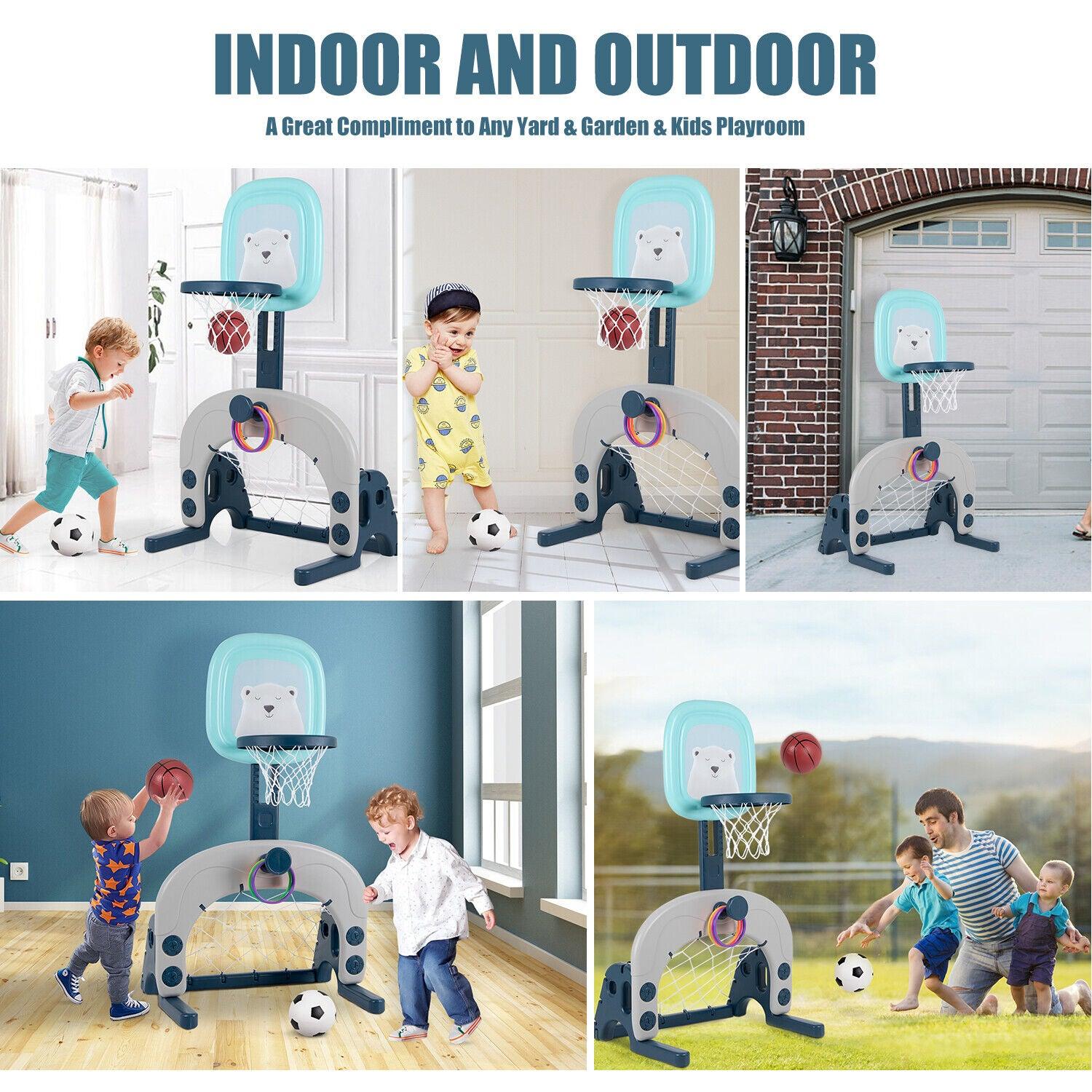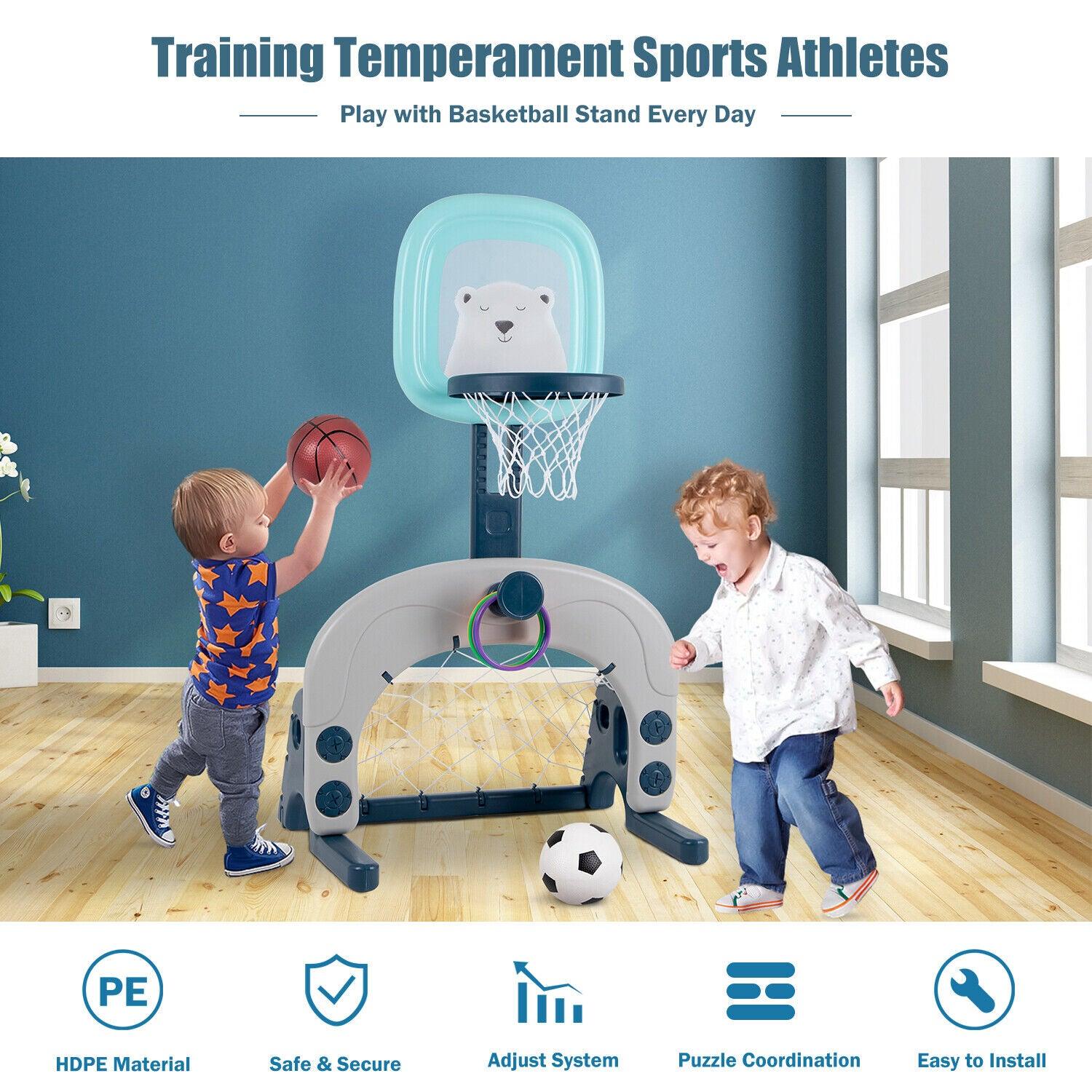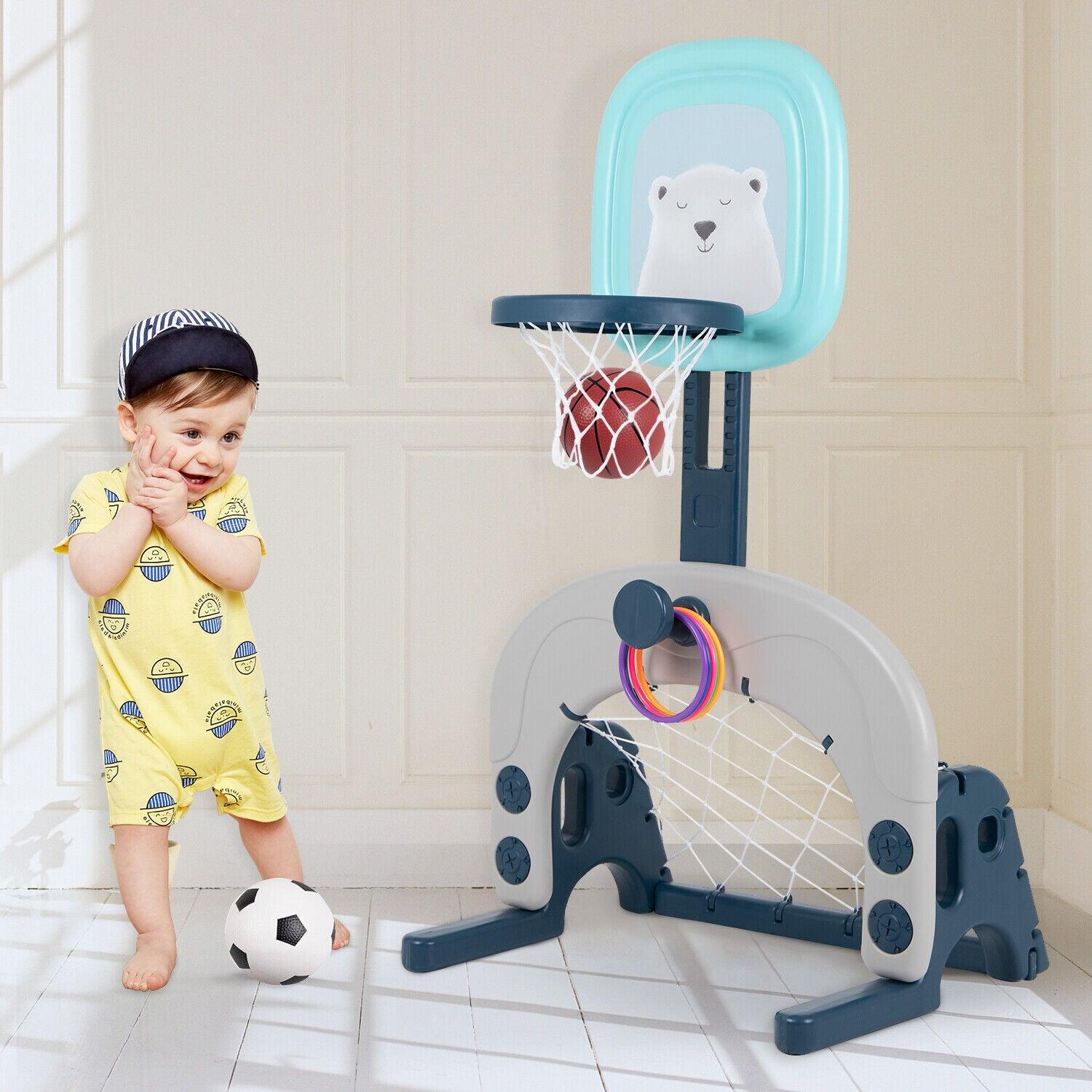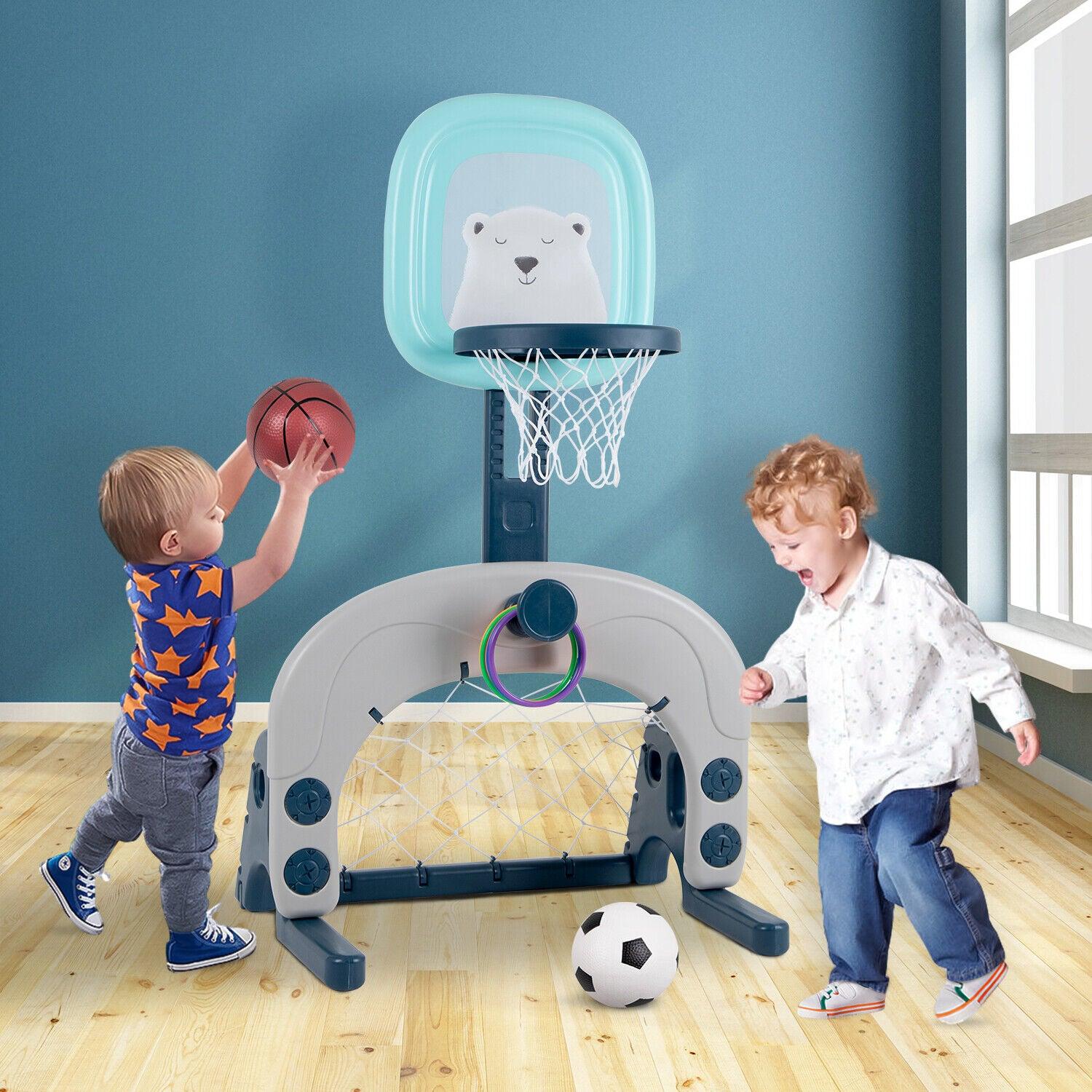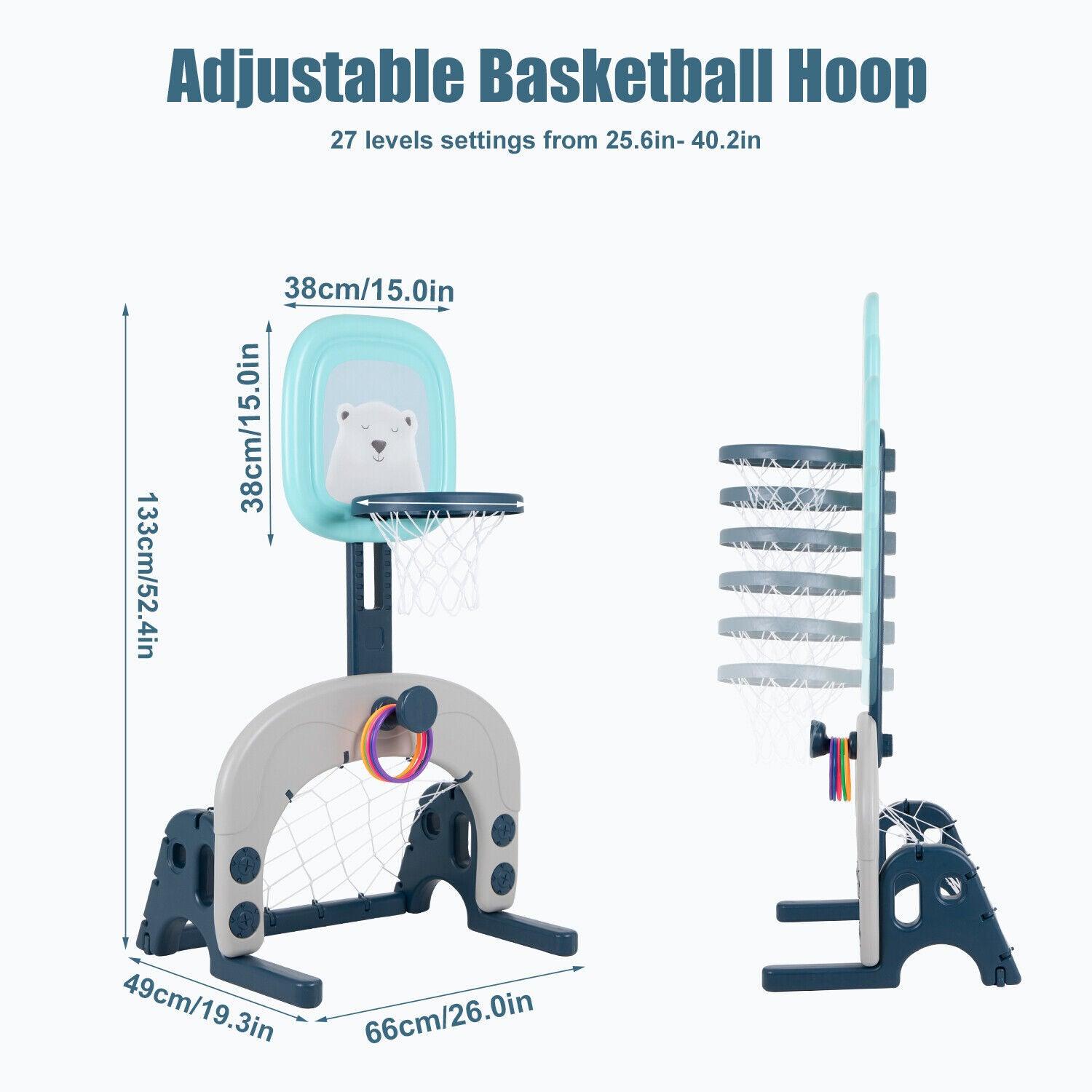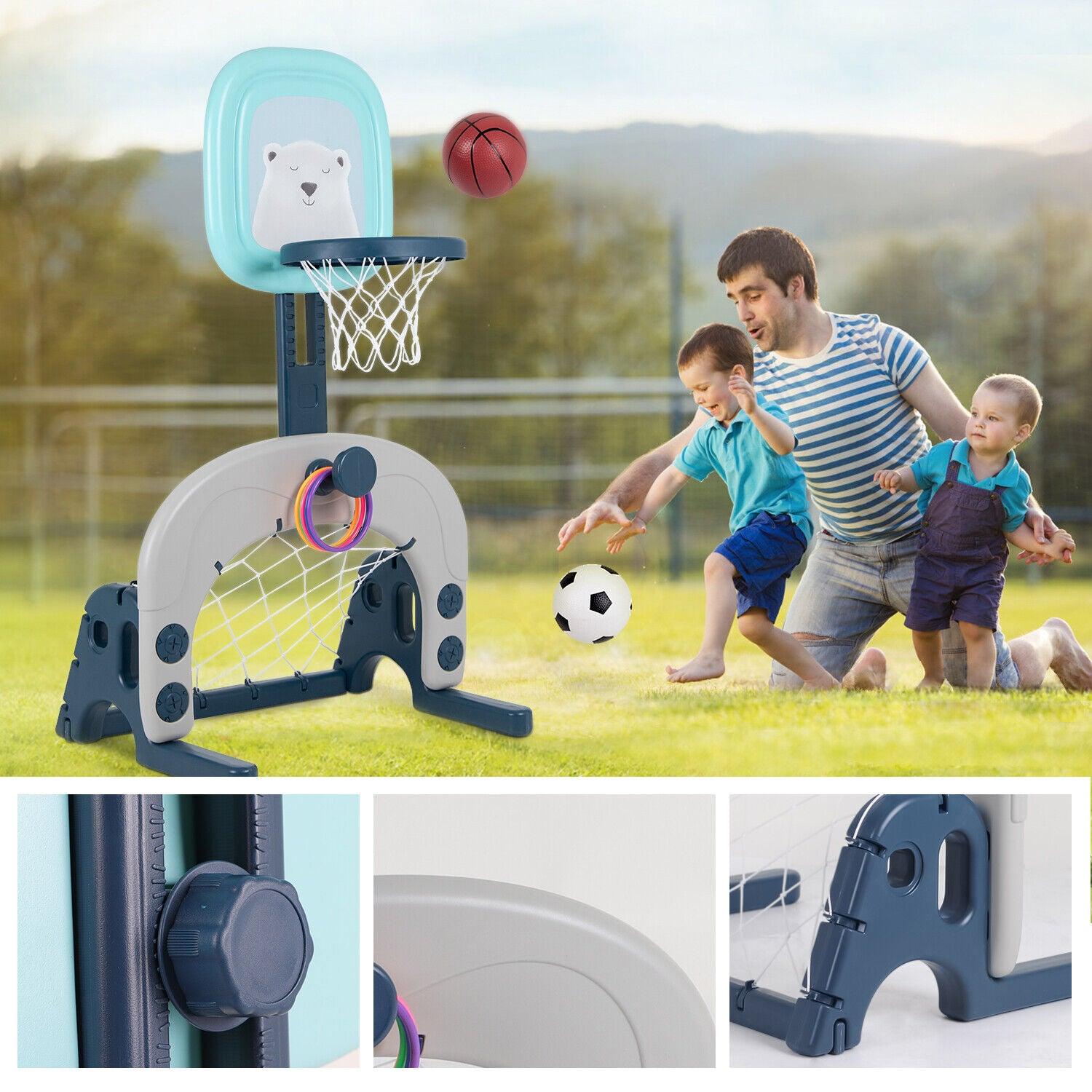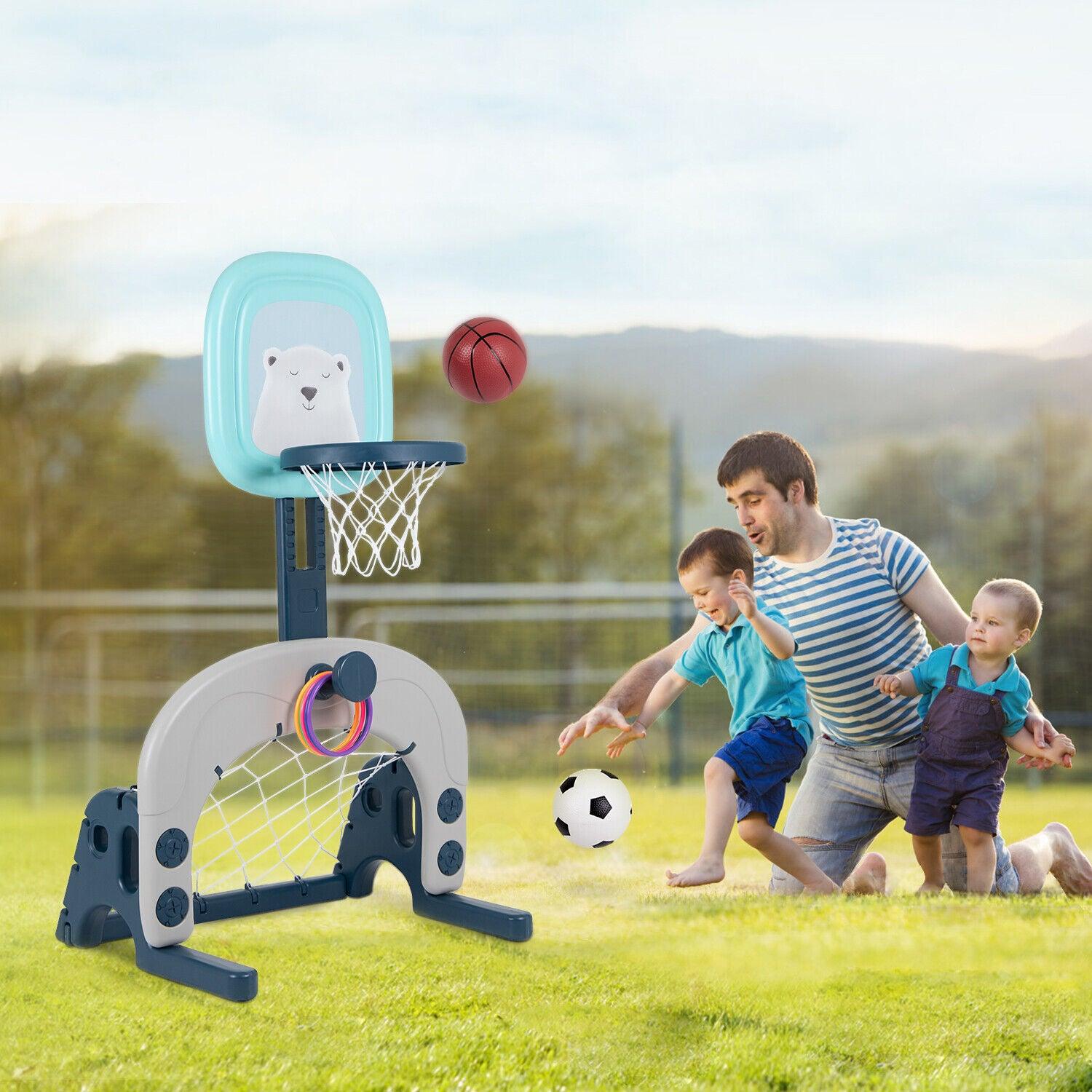 Flashing Basketball Stand - Basketball Hoops 3-In-1 Kids Activity Center Soccer & Ball Gaming Activity Gift

About Flashing Basketball Stand
3in1 Kids Educational Toy Flashing Basketball Stand
The ideal gift for children is a flashing basketball stand. The most essential time for children to learn new abilities is when they can walk, as this accelerates their growth and learning. Basketball and football games are good for kids' health. When kids play it, they can learn a variety of abilities, including social skills when playing with others and teamwork.
The Basketball Hoop Soccer Set is a fantastic method for kids to be active and have fun. It has an adjustable height so that it may develop with your child, and it includes several extras like a basketball, pump, and ball holder.
The Basketball Hoop Soccer Set is simple to install and composed of sturdy materials. You can use it both indoors and outdoors, making it a fantastic method to get kids moving and assist in the development of their hand-eye coordination.
Features Of  Flashing Basketball Stand
BS EN1227, EN71, ASTMF963, and CPSIA certification approved. 

Made of odorless, non-toxic, and environmentally safe HDPE.

A ring toss set, a football net, and an adjustable basketball hoop.

There are no burrs on the smooth surface, protecting children from injury.

Basketball and football nets that are detachable and washable.

27 support pole is age-appropriately adjustable from 25.6 to 40.2 inches.

Helps children develop their hand-eye, balance, and social abilities.

Suitable for use in recreational areas such as the living room, bedroom, playroom, lawn, and garden.

Play games like basketball, football, and ring toss with their friends or family.

You can fill the basketball stand with water to enhance its stability.
Benefits of Flashing Basketball Stand
Physical Activity:
Basketball is a terrific sport for kids to do that will get them moving and keep them healthy.
Enhances Hand-eye Coordination:
By practicing regularly, you can cultivate good hand-eye coordination, a critical skill required for shooting a basketball.
Encourages Teamwork:
Playing basketball with others can teach kids the value of cooperation and working as a team.
Discipline Culture:
Problem-solving abilities are developed because they are necessary for making a basket and can be useful in other aspects of life.
Entertainment: Basketball is an enjoyable sport for kids to play, therefore it amuses.
Additional Features You Must Know
Height-Adjustable:
The basketball hoop's height can be changed from 2.5 feet to 6.2 feet, allowing it to grow with your child.
Top Notch Material:
The basketball hoop is composed of materials that can withstand years of use.
Easy to Put Together:
The basketball hoop is designed to be easily assembled and disassembled, facilitating convenient transportation.
Versatility:
The basketball hoop comes complete with a range of accessories, including a basketball, a pump, and a ball holder.
Condition: A brand-new, unused, unopened, undamaged item in its original packaging
Type: Basketball & Soccer & Hoop
Featured Refinements: Basketball Stand
Features: Adjustable
Experience Level: Beginner
Sport/Activity: Basketball
Material: HDPE
Color: Blue
Product Size(W*D*H): 66 x 49 x 133 cm
Backboard Size: 38 x 38 cm
Recommend Age: 1-7 Years Old
Gender: Boys and Girls
Net Weight: 2.5kg
Gross Weight: 3.5kg

Package:
5 Rings
1 Basketball
1 Pumper
1 Soccer Bal
1 User Manual

Be Maskura Fit
Our Happy Hoopers
30 Minutes Daily Fun Workout
The smart hula hoop counts your burned calories, tracks how long you work out, and records other vital information.
Easy Installation Process
Our Smart Weighted Hula Hoop has a carefully planned design with 27 knots placed in hoop's circumference.
27 Detachable Knots
Our Smart Weighted Hula Hoop has a carefully planned design with 27 knots placed in hoop's circumference.
Let customers speak for us
As described
Easy to assemble, not as stable but what is nowadays any kid could knock something over. Good enough for my toddler
Shark Shaver Pro - Platinum Electric Skull Shaver For Head & Face
Best Electric Men's Shaver