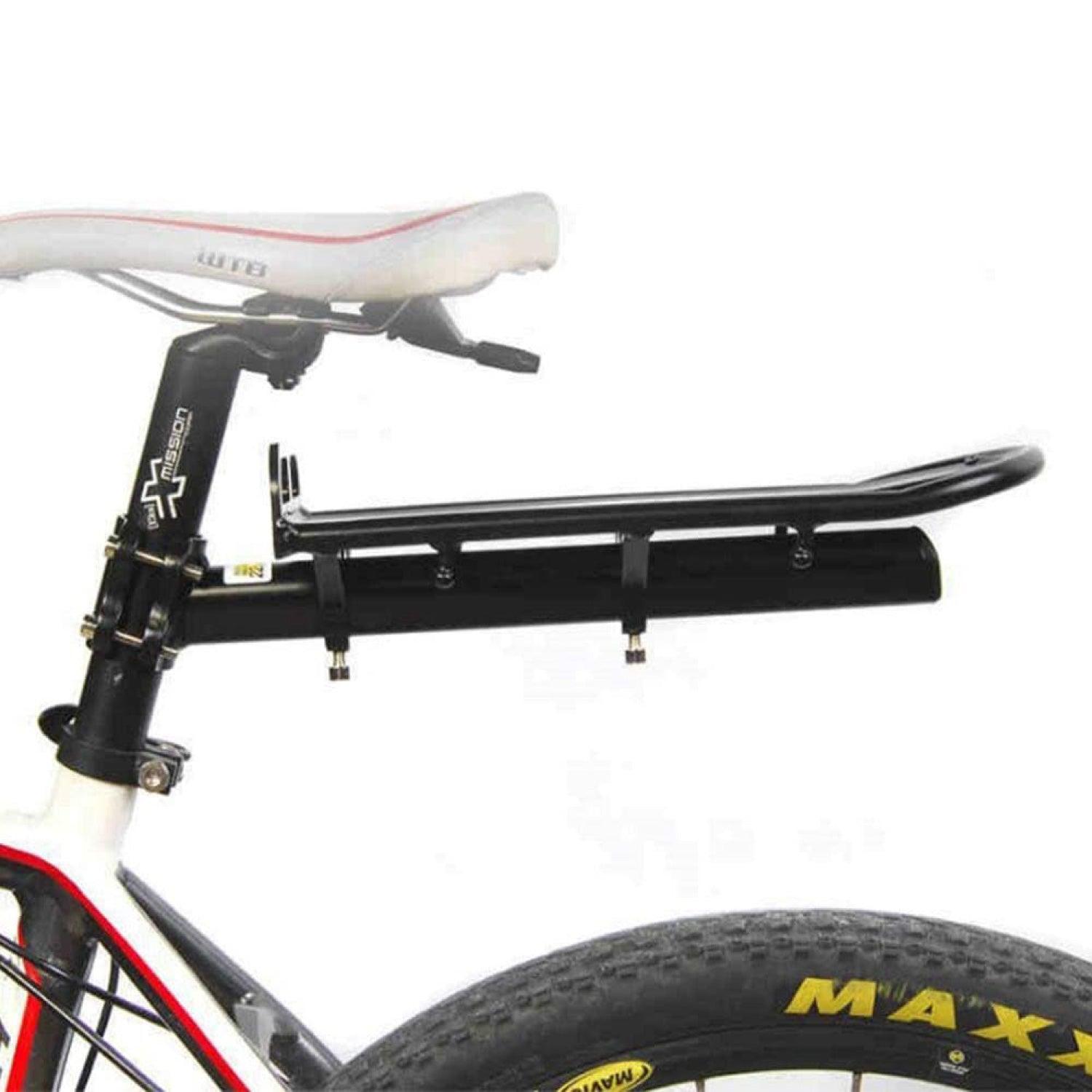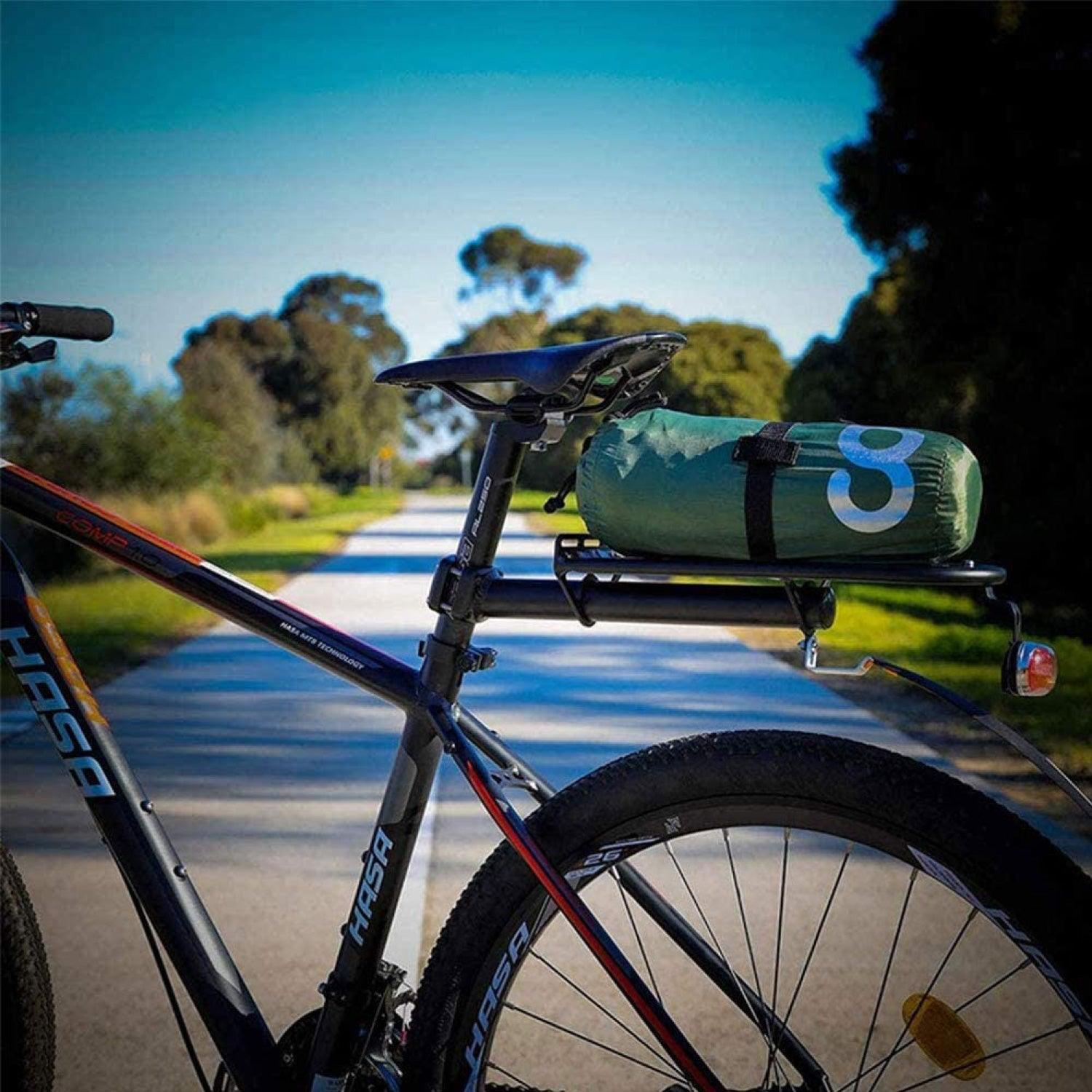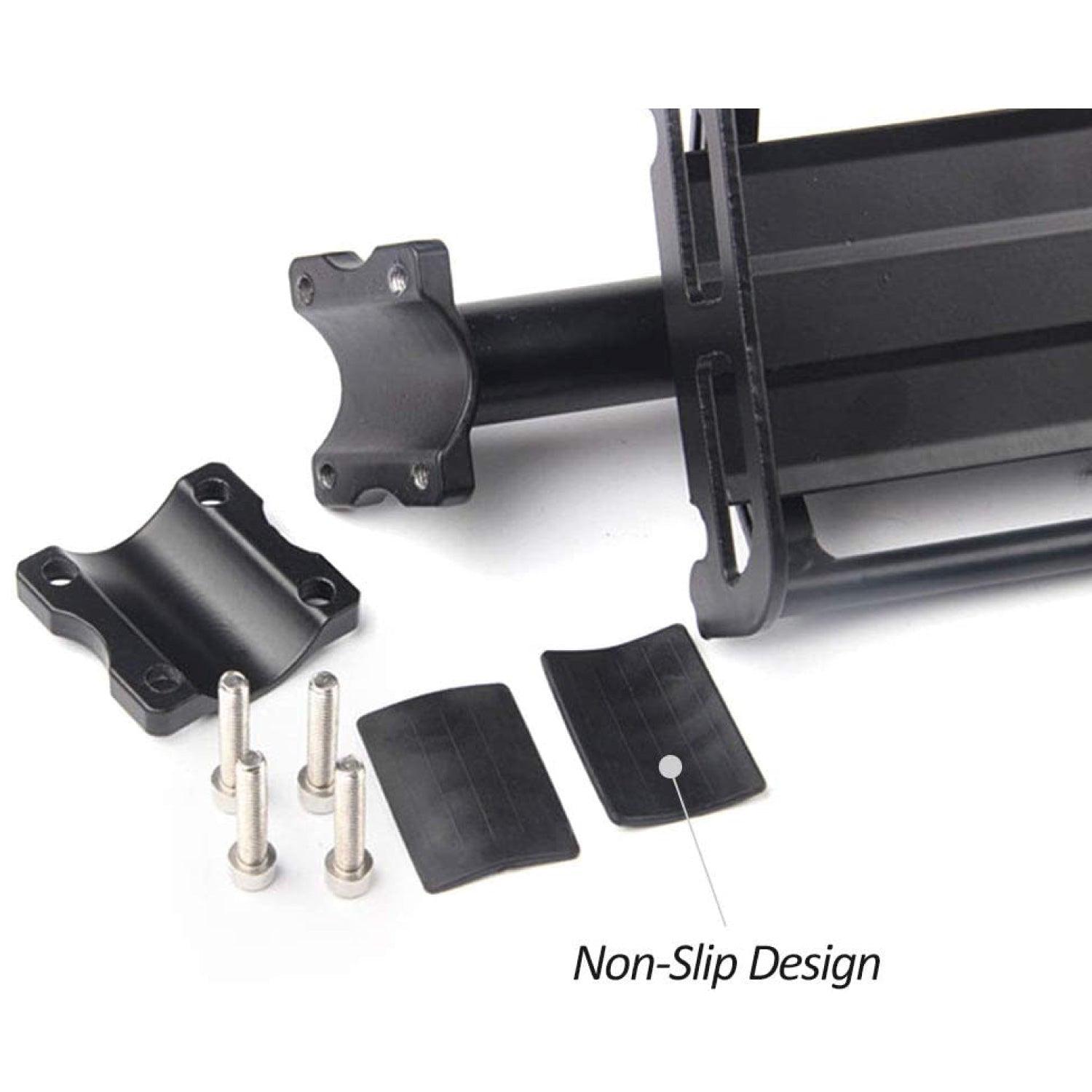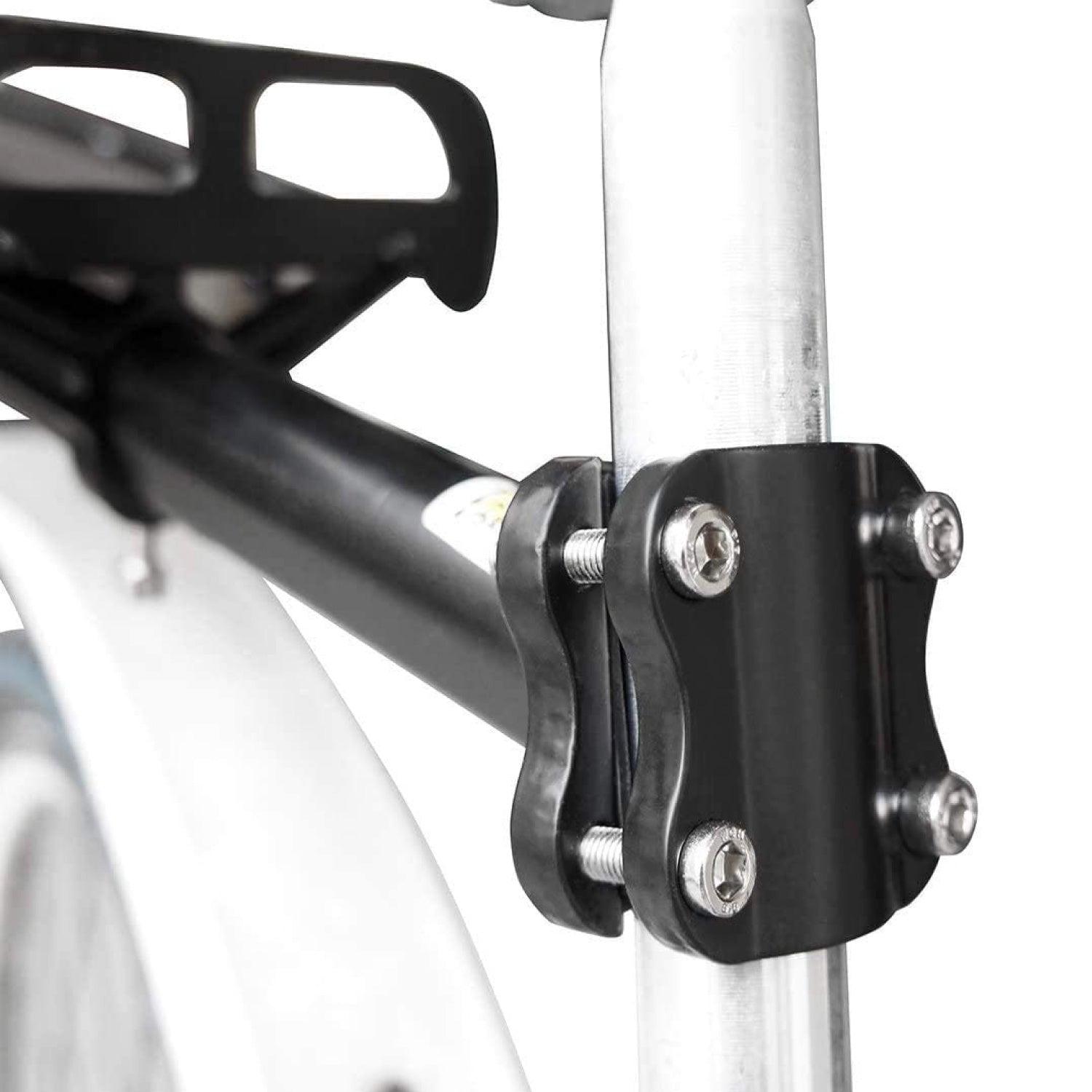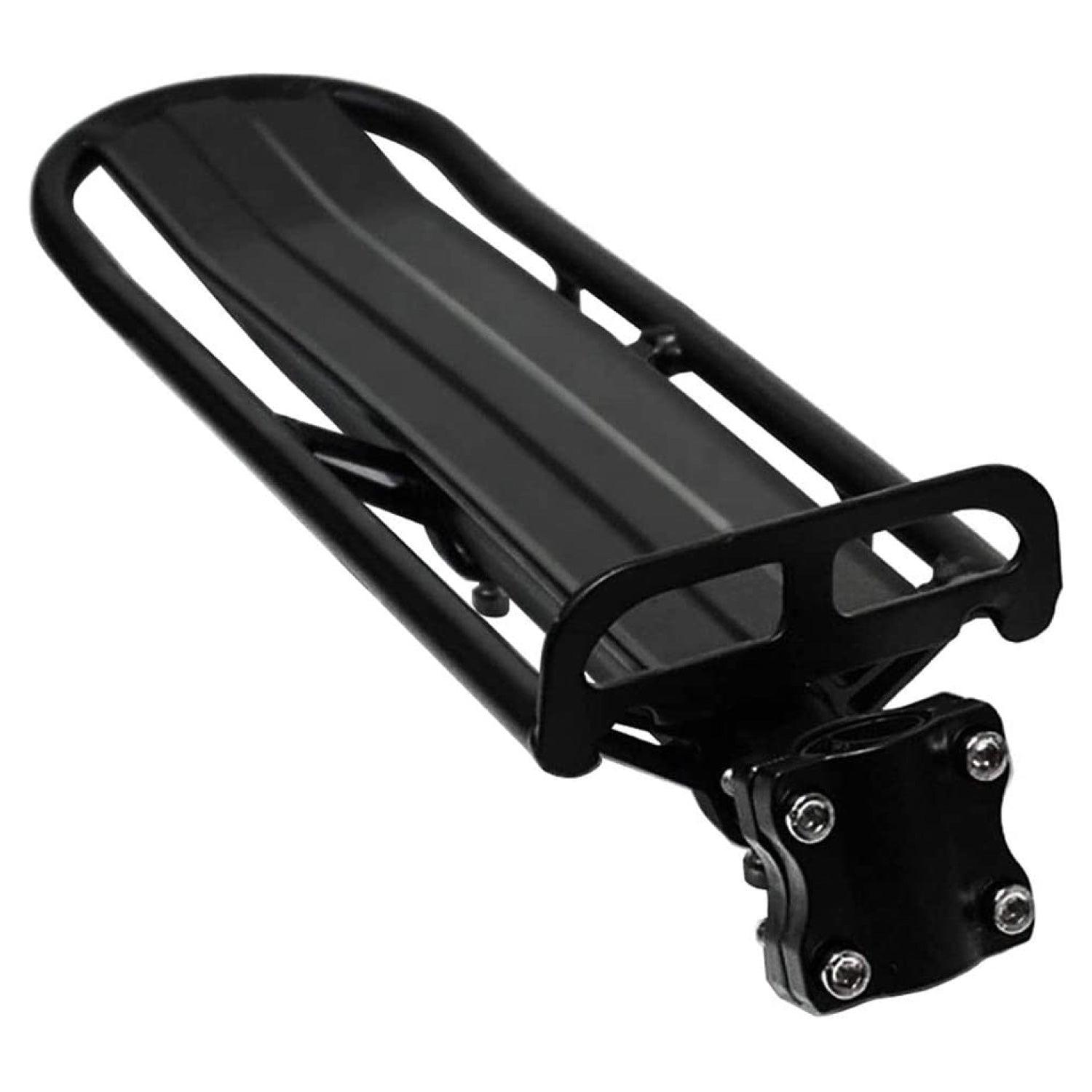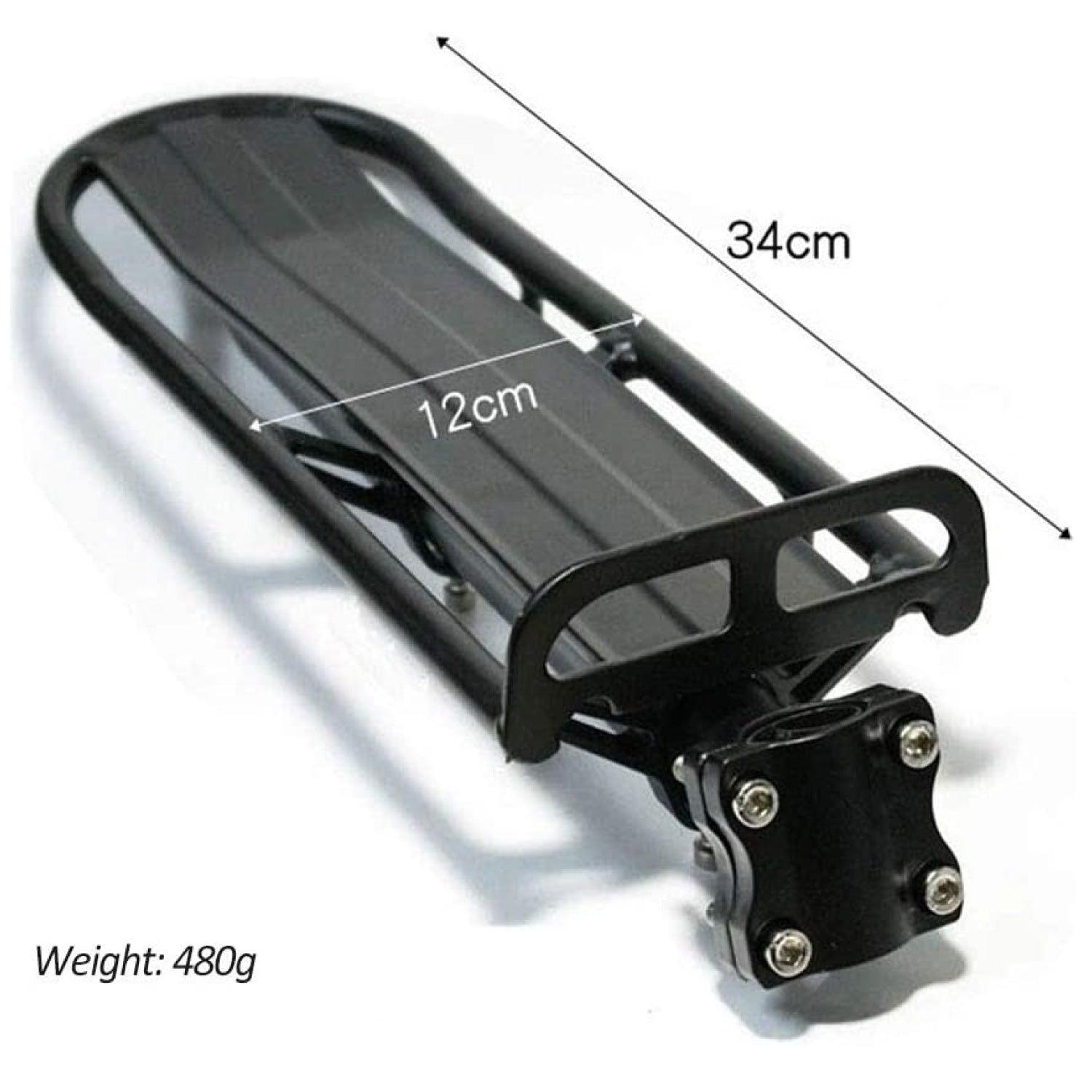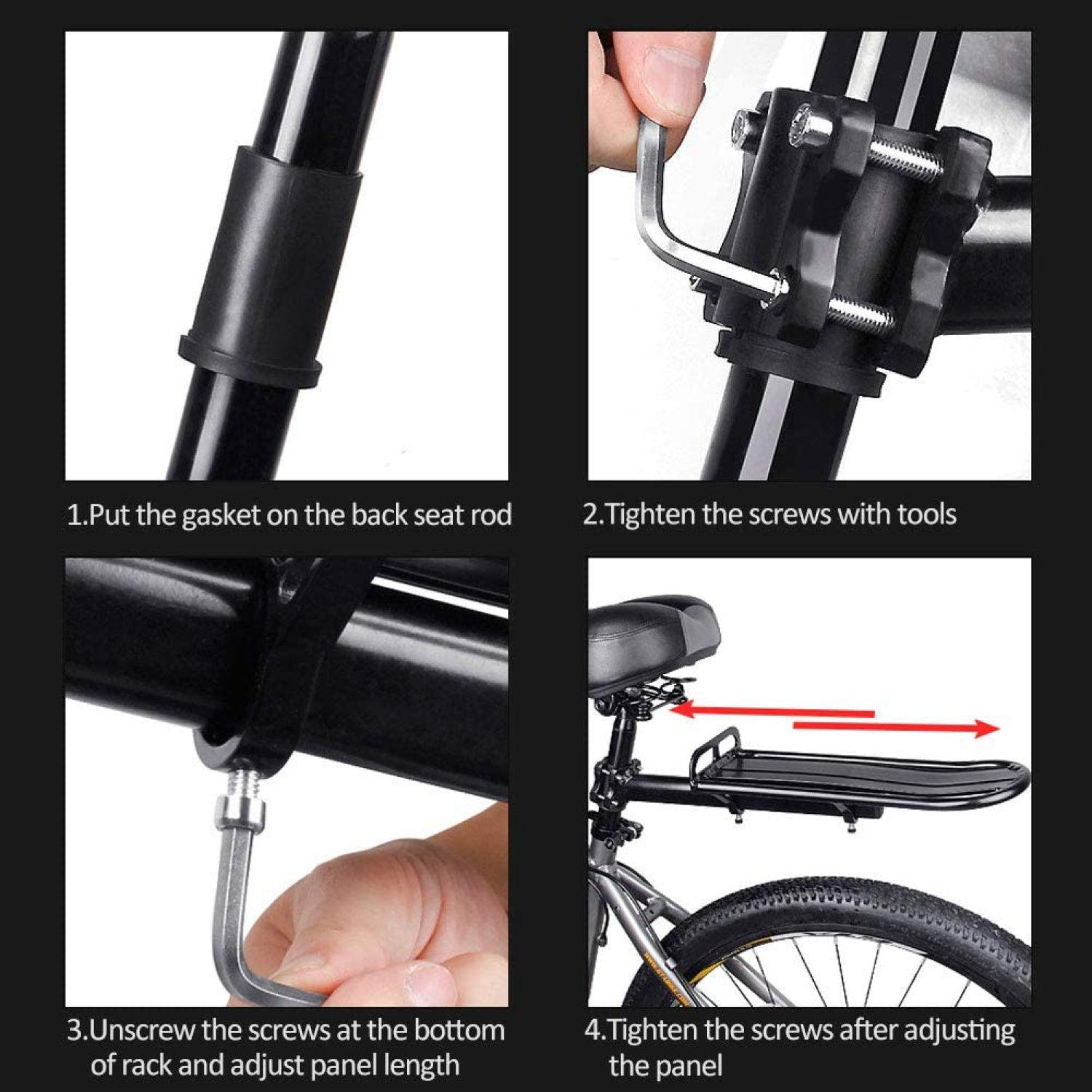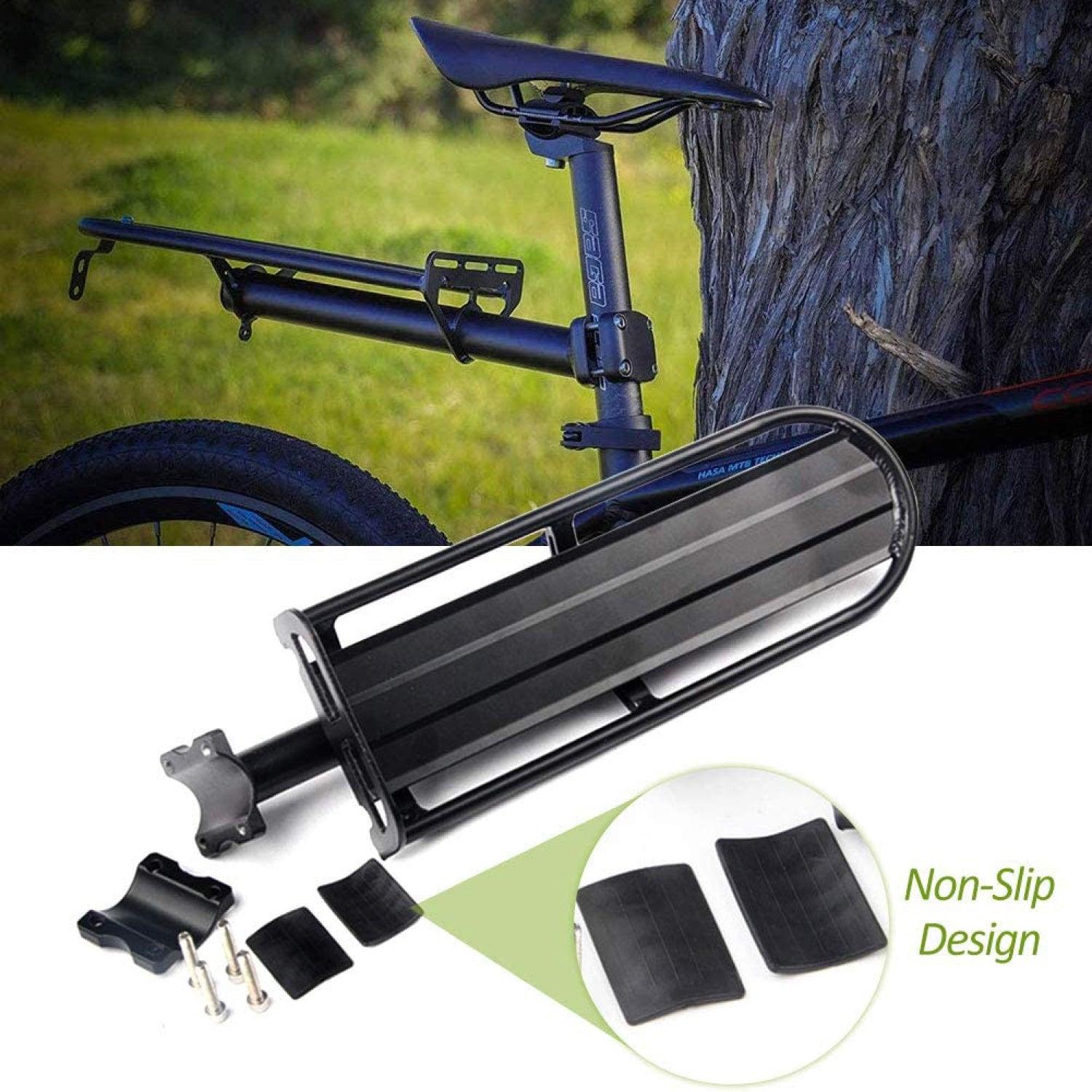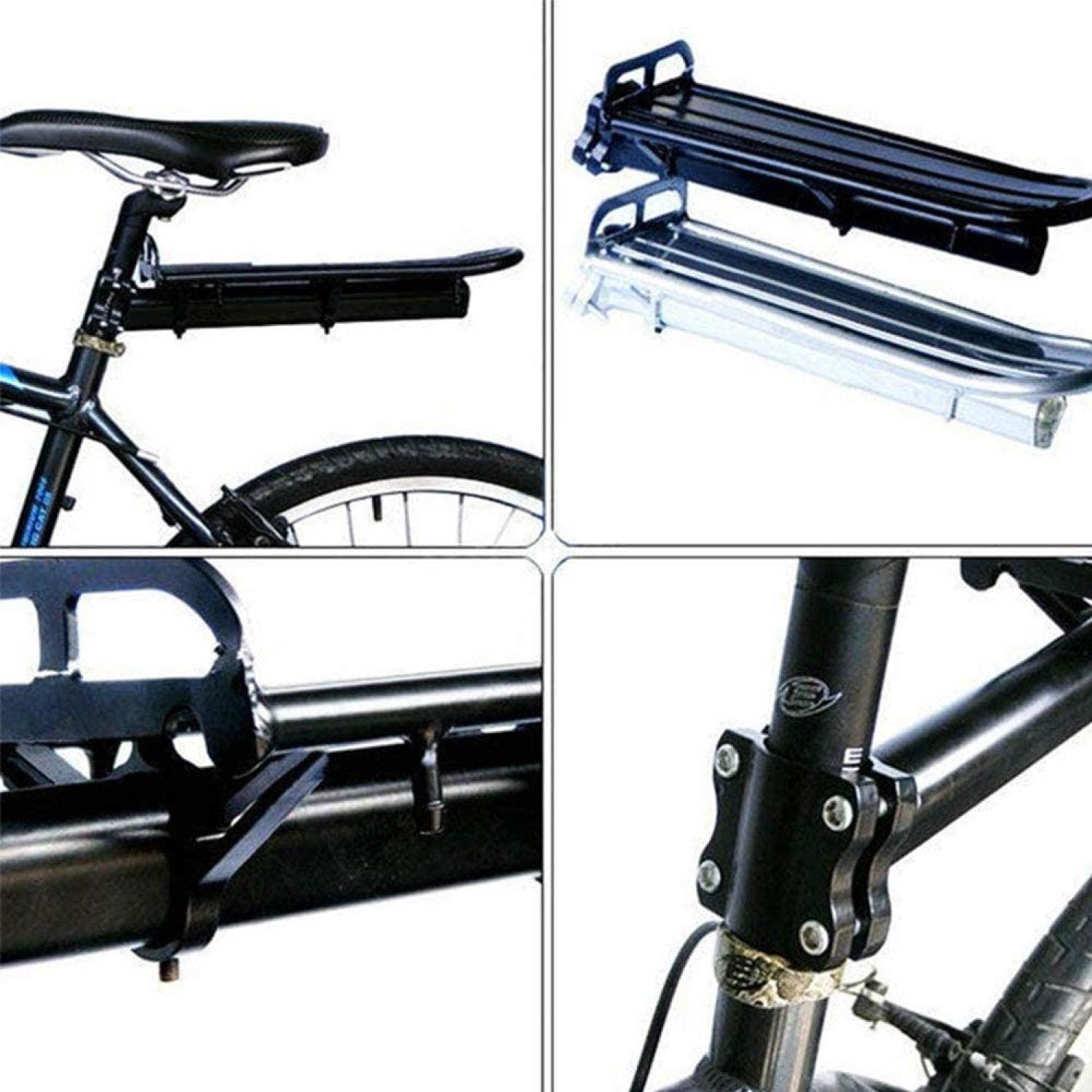 Mountain Bike Pannier Rack - Adjustable Bicycle Rack Bike Cargo Rack,bicycle Rear Seat Rack Cycling Luggage Carrier Bicycle Quick Release Alloy Rear

About Mountain Bike Pannier Rack
Mountain Bike Pannier Rack from a strong, high-quality aluminum alloy. It supports up to 22 pounds of weight while carrying and makes carrying bags simple. Its size is around 34 cm by 12 cm. You can change the length. Four built-in hooks make it simple to carry bags and hang bands. They are best paired with baskets, panniers, and backpacks.
Easy to Install Mountain Bike Pannier Rack:
Most bikes, including road and mountain bikes, can have adjustable clamps mounted on the seat post. Rear suspension bikes, however, are not compatible with these clamps. Please note that we accept full responsibility for any issues with quality.
Protection:
Rear red reflectors improve visibility when riding at night. So that you may ride safely. When riding on a more challenging path, an elastic bungee cord may stretch over your gear or carrying bag for further security.
Fender:
Under the seat, this adds additional security for your bag or panniers. On a wet or muddy day, you want to keep your bicycle dryer and cleaner.
Pay Attention:
This baggage carrier is appropriate for seat posts with a 32mm minimum diameter.
Long-lasting:
The bicycle luggage rack's high-strength aluminum alloy construction.  Which contains stainless steel screws, It allows you to ride without restriction on wet or humid days.
Practical:
Its upgraded loading mechanism supports weights of up to 50 kg (110 lb). This along with its four sturdy legs, make it ideal for transporting items on trips and commuting to and from work. Please take note that going forward, they include English instruction in the shipment,  if you do not receive it.  Let us know and we will send it to you right away.
Safety:
The bicycle rack can guard against wheels scratching the luggage, and the moveable mirror on the back of the rear bicycle rack may increase security. Suitable for freight, baggage, and luggage.
Suitable Mountain Bike Pannier Rack:
Suitable for various types of bicycles, including road and mountain bikes. The bicycle baggage rack's main rod and bottom rod are also movable. Screws allow you to change the length to suit your needs.
Lightweight Mountain Bike Pannier Rack:
The bicycle frame is composed of a robust aluminum alloy, and its rear section is capable of supporting a lot of weight. The bicycle rack is mounted on the back of the bicycle and can hold up to 25 kg, making it easy to transport items.
Assembly and Disassembly: -
With the help of small tools, the rear of the bike rack can be easily installed in a few minutes. The bicycle suitcase can be loaded with daily necessities and is the basic choice for long-distance riding.
After-sales Service:
I hope you can enjoy a pleasant shopping experience. If you have any questions about our products, please feel free to contact us. We will provide you with solutions within 24 hours.
Type: Bike cargo rack
Quantity: 1pc
Material: Aluminum alloy
Color: black
Bearing capacity: 22 lbs (depending on your bike's seated rod strength)
Bracket size: about 53.4*14.5*35.5cm
Net weight: about 1200g
Packing List: 1 * Bike Cargo Rack
Be Maskura Fit
Our Happy Hoopers
30 Minutes Daily Fun Workout
The smart hula hoop counts your burned calories, tracks how long you work out, and records other vital information.
Easy Installation Process
Our Smart Weighted Hula Hoop has a carefully planned design with 27 knots placed in hoop's circumference.
27 Detachable Knots
Our Smart Weighted Hula Hoop has a carefully planned design with 27 knots placed in hoop's circumference.
Let customers speak for us
Having a place to store your belongings while riding a bike is awesome. Using a particular tool to screw screws is frustrating. I wish the ranch kit had been thicker. It can be challenging to utilise when the screw parts on a bike are so thin.
Highly Recommend!
I would highly recommend this adjustable bike cargo rack to anyone who needs extra space on their bike. It's well-made, versatile, and provides plenty of extra storage space.
Perfect for Touring
I recently went on a bike tour and this pannier rack was a lifesaver. It provided plenty of space for my camping gear and made the trip much more enjoyable.
Quick Release Feature is Handy
The quick release feature on this bike cargo rack is incredibly handy. It makes it easy to remove the rack quickly when I don't need it.
Great Value
This mountain bike pannier rack is a great value forthe price. It's well-made and provides plenty of extra storage space for my bike rides.
Shark Shaver Pro - Platinum Electric Skull Shaver For Head & Face
Best Electric Men's Shaver