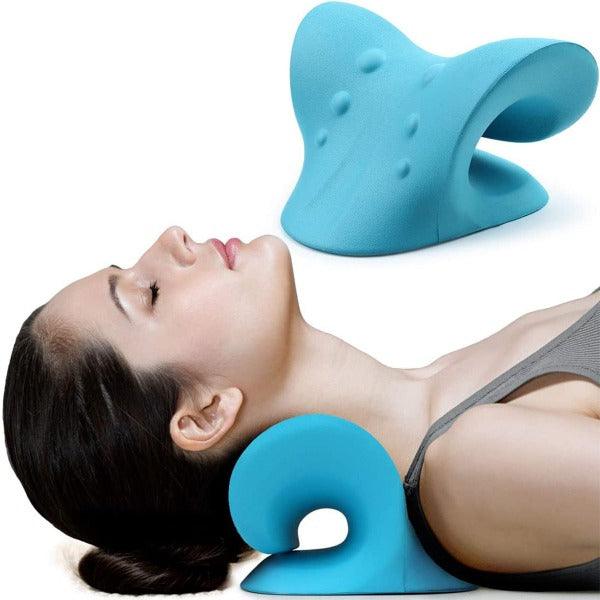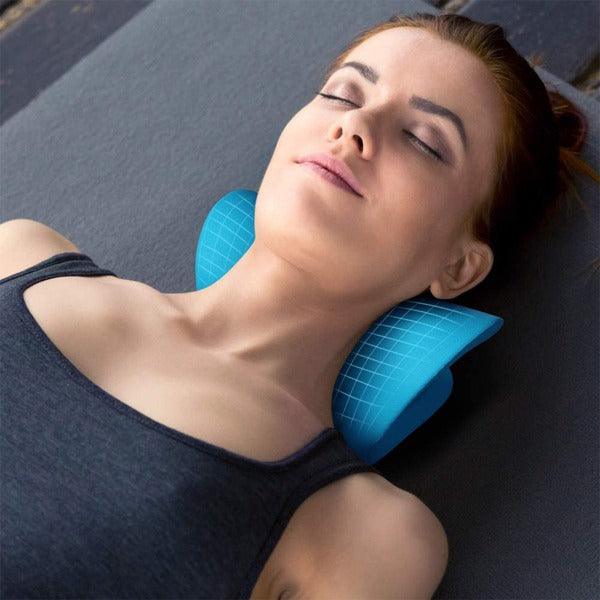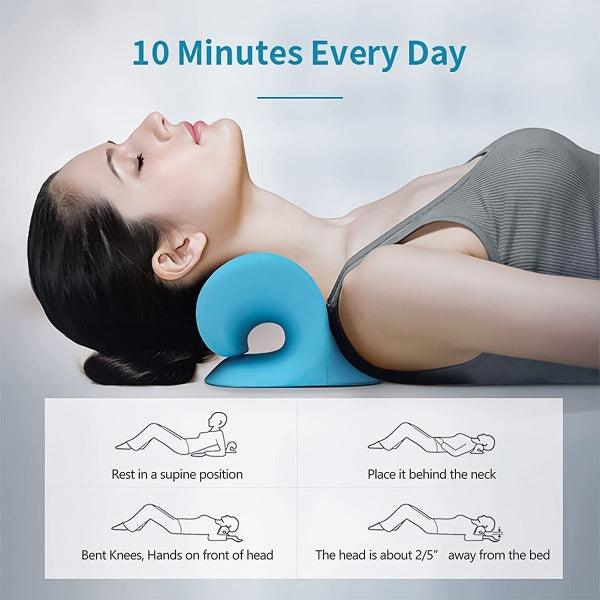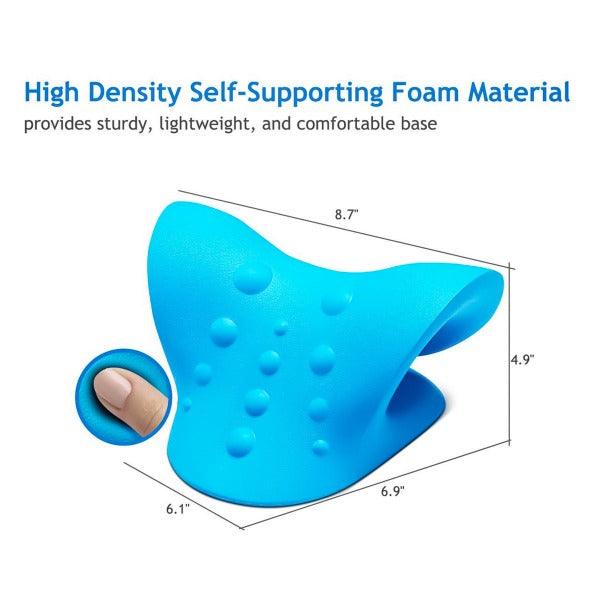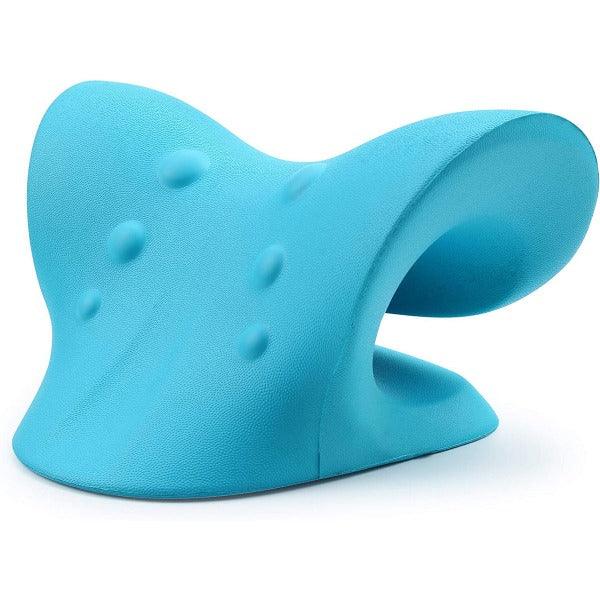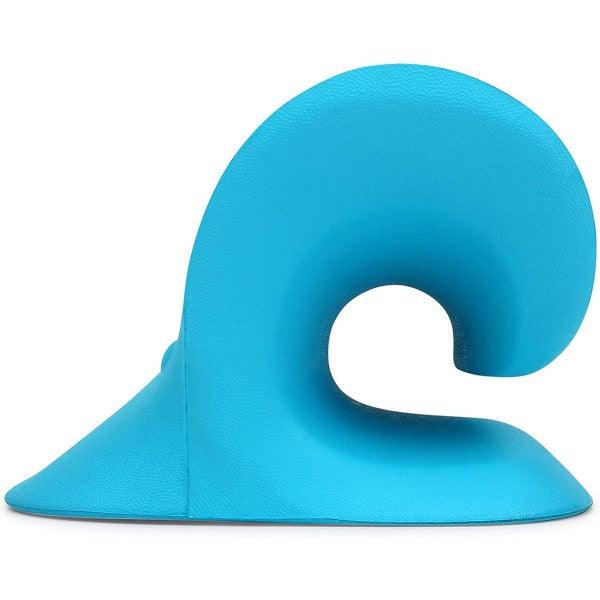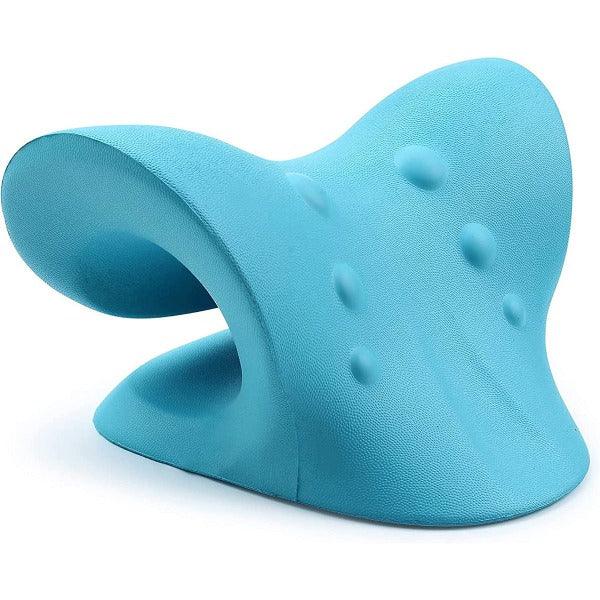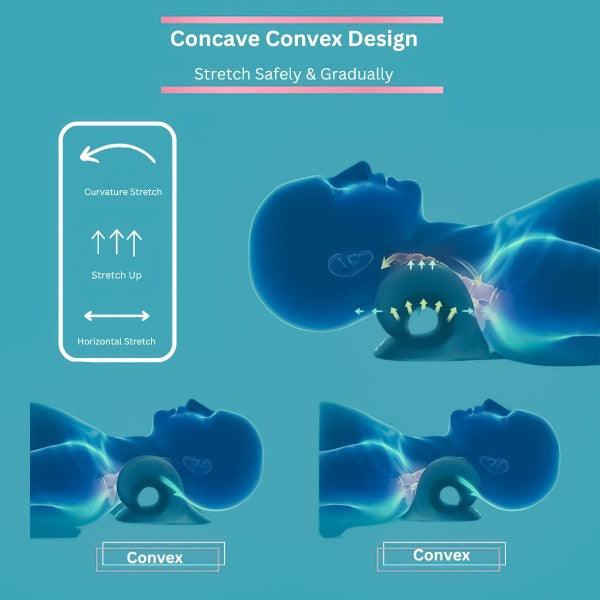 Neck Stretcher - Neck Traction Pillow Original Cloud Shape Neck Stretcher Cervical Pain Relief UK

About Neck Stretcher
In order to create room between your neck bones, a procedure called cervical traction involves gently pulling on your head. A neck Stretcher is also known as spinal traction. Your health care professional or you at home can do cervical traction.
The neck's health companion is called NECK CLOUD. Enjoy a daily massage for pain treatment with a portable, ergonomic device. In a short time, it returns to the initial state.
Ergonomic Design of Neck Stretcher: 
Perfectly replicate the cervical spine of a human. The cervical spine is supported into the proper posture, and the natural curvature of the cervical spine is restored through horizontal, vertical, and curve stretching. It assists in providing ease to occipital muscle pain.
Cervical Neck Traction Device :
Simple physical adjustments can reduce shoulder and neck pain, maintain normal cervical spine posture, and prevent muscle stiffness and compression brought on by poor posture.
Massage Points :
The neck traction pillow has multiple massage points that target sore spots in the neck and lower head. It also offers stretches and massages to effectively relieve shoulder and neck discomfort and tension headaches and enhance sleep.
Neck Health Partner :
You may experience unmatched comfort because of the high-quality memory foam made with eco-friendly materials. Lightweight and portable, it is ideal for anyone who must maintain an upright cervical spine for long-term & extended periods, such as office workers, drivers, students, etc.
Relief of Neck Pain in Just 10 Minutes : 
The steep slope stretches the cervical spine following the initial transition. The gradual slope is ideal for an initial transition. You can feel a little uneasy when you use it for the first time. Typically, it takes 1-3 days to become used to the corrector's curvature before you experience previously unheard-of luxuries. Use it 10 minutes a day, and you feel the difference.
Using Benefits of Neck Stretcher:
Restore Cervical Spine curvature.

Relieve neck stiffness.

Relieve neck pressure.

Pain relief.

Improved posture.

Increased flexibility and range of motion.

Stress and tension relief.

Headache relief.
Colour: Green
Material : Silicone
Product care instructions : Dry Clean Only, Machine Wash, Hand Wash Only
Fabric Type : Silicone :100%
Battery Includes : NO
Be Maskura Fit
Our Happy Hoopers
30 Minutes Daily Fun Workout
The smart hula hoop counts your burned calories, tracks how long you work out, and records other vital information.
Easy Installation Process
Our Smart Weighted Hula Hoop has a carefully planned design with 27 knots placed in hoop's circumference.
27 Detachable Knots
Our Smart Weighted Hula Hoop has a carefully planned design with 27 knots placed in hoop's circumference.
Let customers speak for us
I had a lot of neck pain due to long hour of works. Purchased this for neck pain relief, Its been 4-5 days. I am kind of having a relief, but I think i will give it 100 marks after trying few weeks.
Found this very effective for the neck stress that is caused due to long work. If you keep your correct posture, it really works nice. Holiday Sale worth it.
I suggest this to anyone with neck problems since after using it for three days, I have noticed alleviation each time I use it. I use it twice or three times a day for five minutes. 👏👏👏👏
Good value
Gets the job done, especially for a decent price. Instant relief.
Happy to use it
This device is top-notch. For a while, I experienced neck problems that occasionally necessitated surgery. I don't actually use the equipment for traction; instead, I use it to support and keep my neck and head straight. It supports good posture and is also quite comfortable.
Shark Shaver Pro - Platinum Electric Skull Shaver For Head & Face
Best Electric Men's Shaver