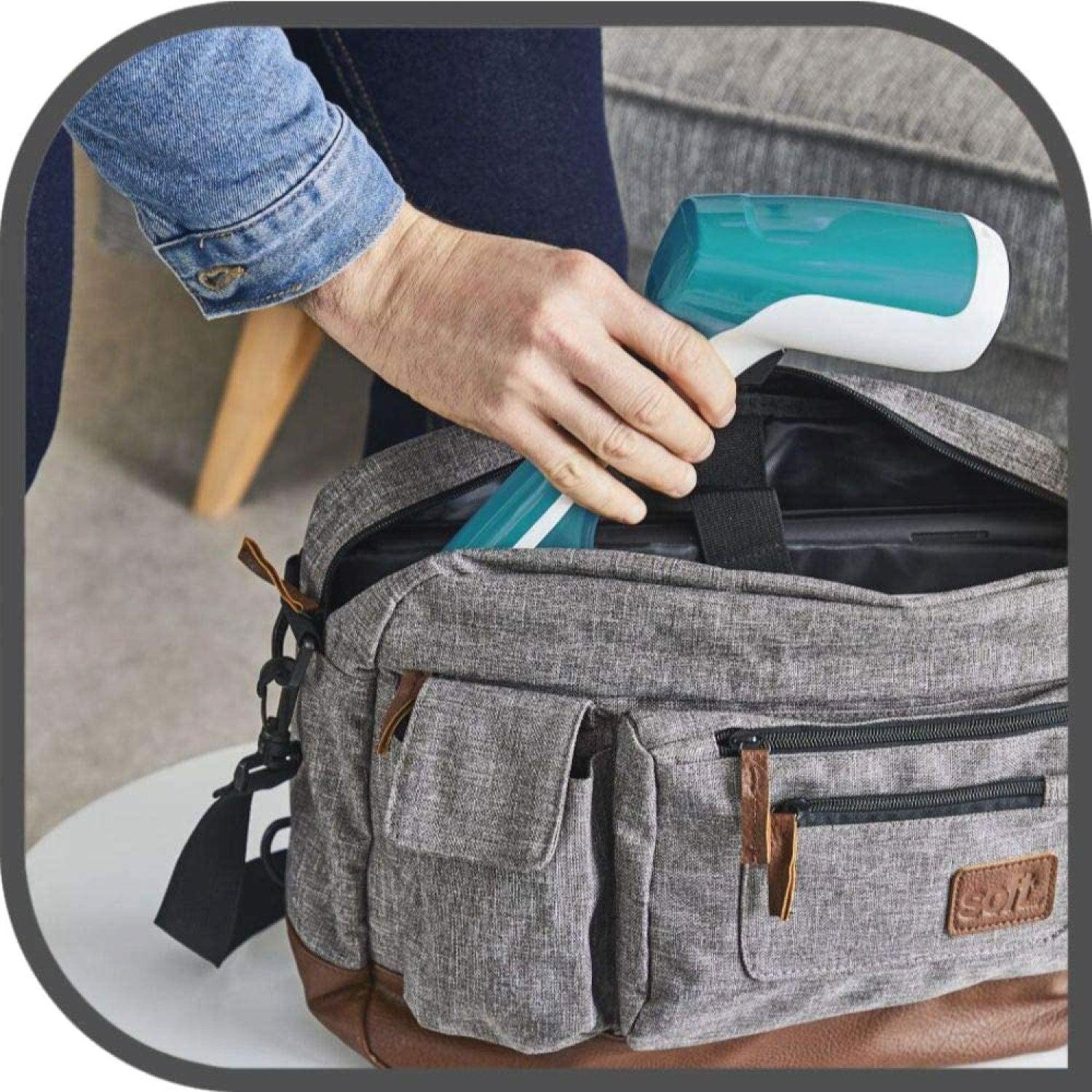 Portable Steamer for Clothes - BEAUTURAL Steamer for Clothes, Portable Handheld Garment Fabric Wrinkles Remover, 30-Second Fast Heat-up, Auto-Off

About This Item:
Portable Steamer for Clothes is an affordable, incredibly lightweight clothing steamer for simple steaming at home or on the go. The Access Steam First is ready when you need it because of its lightning-fast heat-up time of only 15 seconds and one straightforward preset that makes it safe to use on any fabric.
It is ideal for quick and effective wrinkle removal and last-minute touch-ups because it has a disposable water tank and requires no ironing board. Its powerful steam is ideal for steaming furniture or clothing since it destroys bacteria and refreshes, sanitizes, and eliminates odors.
With a portable garment steamer that makes clothing care simple, experience the lightest steaming ever. for instant wrinkle removal and touch-ups with continuous steam on demand, with a quick heat-up time of just 15 seconds.
Freshen Your Clothing Right Away:
Large 260m water tank and strong 1300W steamer provide steam. Preheats in just 15 seconds or less and runs continuously for 15 minutes;
Anti-leakage Portable Steamer for Clothes:
Can be used both vertically and horizontally without leaking; convenient for use with clothing, tablecloths, couches, and many other things.
Continuous Steam Function:
Use the lock button for continuous steam without needing to hold down the trigger;
Automatic Shut-off:
Never burn or blister your hands with low-water and 8-minute inactivity shut-offs, as well as electric leakage and over-heating protection; really practical for steaming huge goods Maximum reach and convenience are provided with an incredibly long 1.9m chord. Additionally, each steamer cable is extensively tested for optimal durability and safety.
Portable Steamer for Clothes Features
• It  is a 1300 watts steamer
• A 20 g/min steam production. Steam that is vertical.
• This requires only 15 second time to use.
•It has a  2.6 m of power cord.
• A 0.07-liter water tank capacity that provides great work.
• This is  safe for sensitive fabric usage.
•  This is also safe for use on objects that include ornamental accents like sequins or beads.
•  It is easy fill tank with detachable design.
•  The steamer comes with fabric brush.
• A 2-year warranty from the manufacturer.
You May check It Out : Interior Car Cleaner
Color: Aqua
Category: Cloth Steam
Ready time: 15 min
Power cable: 2.6m
Water tank capacity: 0.07 liter
Be Maskura Fit
Our Happy Hoopers
30 Minutes Daily Fun Workout
The smart hula hoop counts your burned calories, tracks how long you work out, and records other vital information.
Easy Installation Process
Our Smart Weighted Hula Hoop has a carefully planned design with 27 knots placed in hoop's circumference.
27 Detachable Knots
Our Smart Weighted Hula Hoop has a carefully planned design with 27 knots placed in hoop's circumference.
Let customers speak for us
Very efficient
I liked how quick it heats up. How versatile it is on all fabrics, from rugged work clothes, to delicate linen and also bedspreads and curtains. It also lifts pile on wool rugs, where chairs have set for months. Very good product!!!!! Smart purchase!!!!
Good enough!
Its fast heat-up time and ease of use make it an ideal tool for quick touch-ups and wrinkle removal on the go. The auto-off feature adds an extra layer of safety, which is always appreciated. The only downside is that the water reservoir is relatively small and requires frequent refilling.
Compact and easy to store
I love that the BEAUTURAL Steamer is compact and easy to store. It doesn't take up much space in my closet and is always ready to use when I need it.
Great for refreshing clothes between washes
The BEAUTURAL Steamer is also great for refreshing clothes between washes. It's a quick and easy way to remove odors and wrinkles from clothes that aren't quite ready for a wash.
Saves time and money
Using the BEAUTURAL Steamer has saved me time and money on drycleaning. I can easily steam my clothes at home instead of taking them to the cleaners.
Shark Shaver Pro - Platinum Electric Skull Shaver For Head & Face
Best Electric Men's Shaver