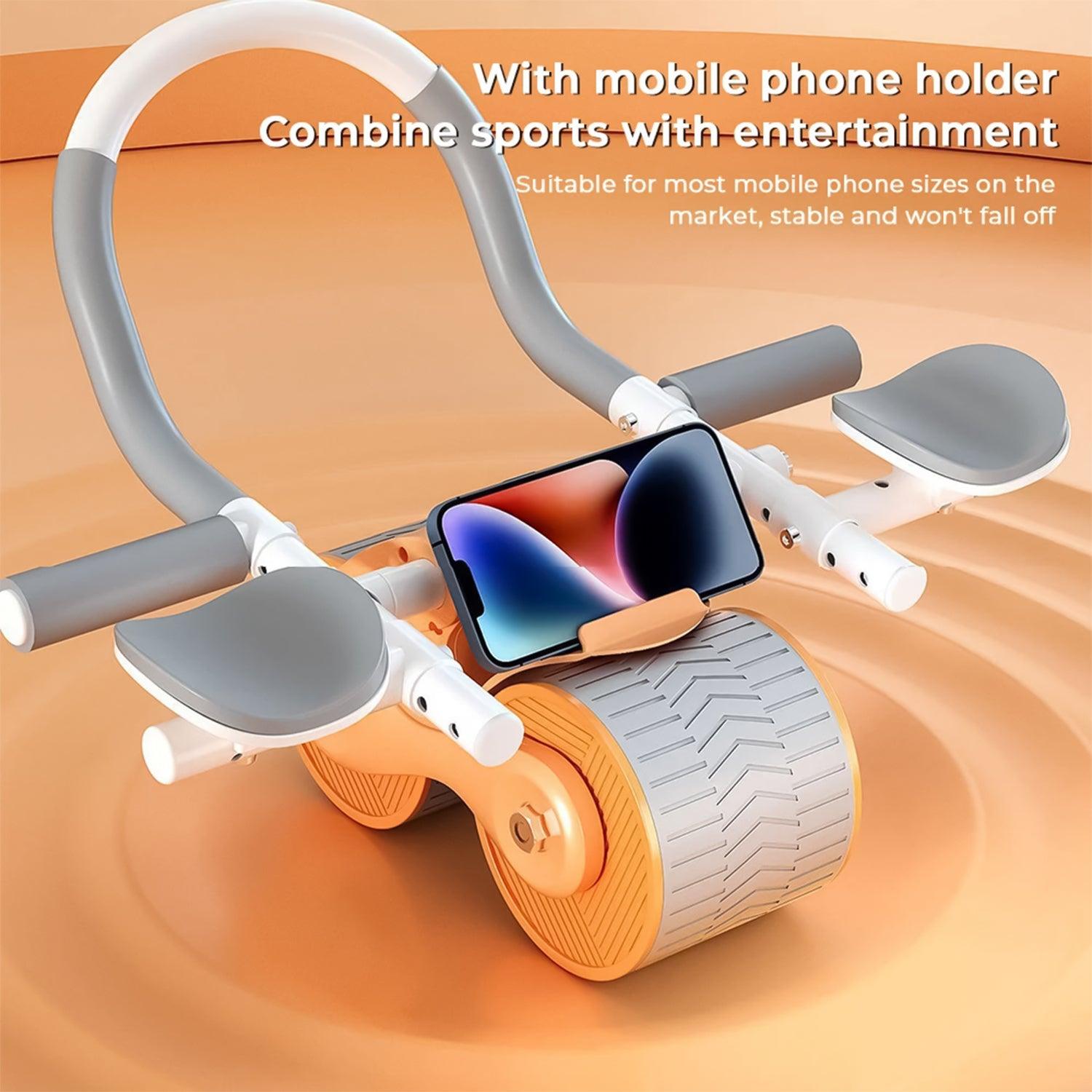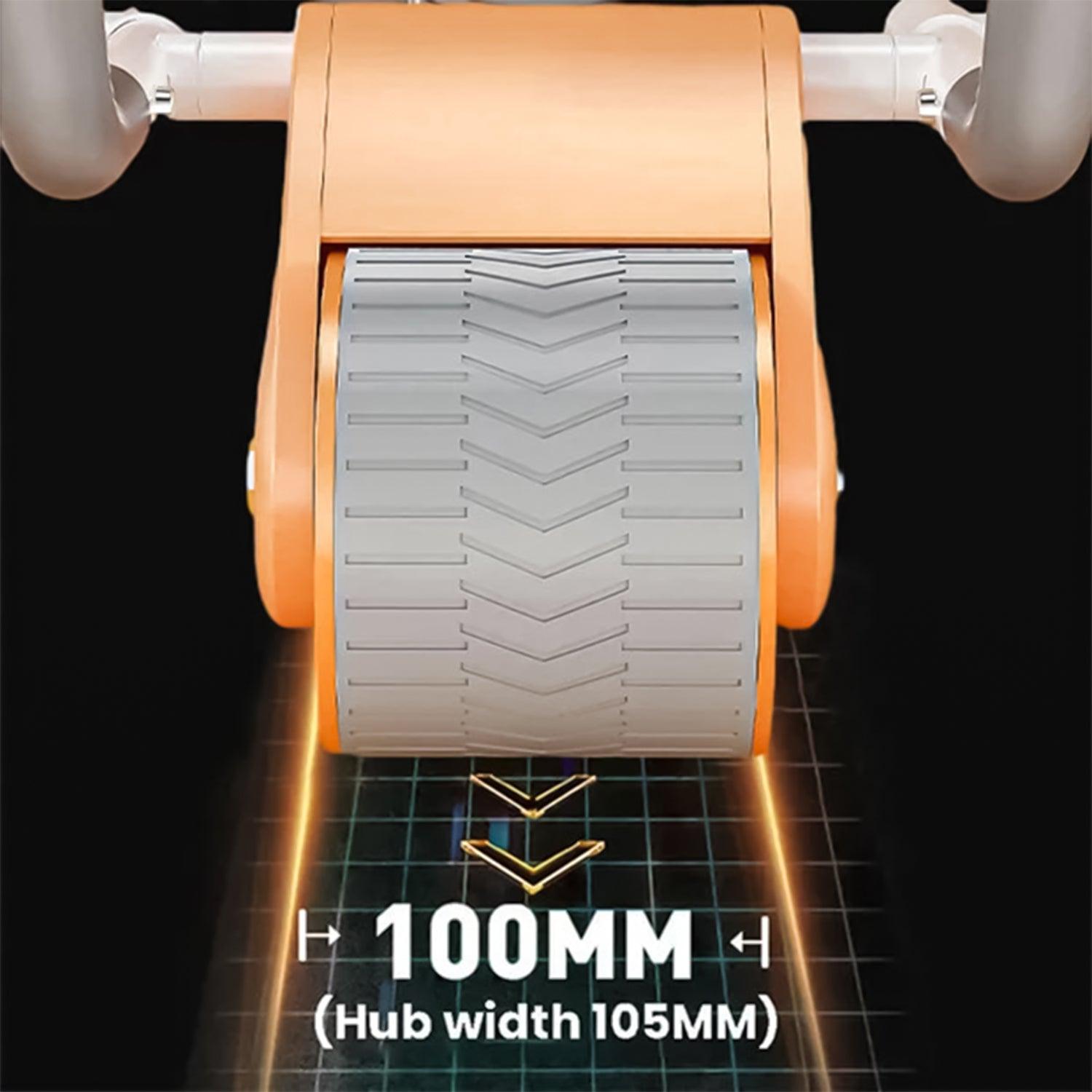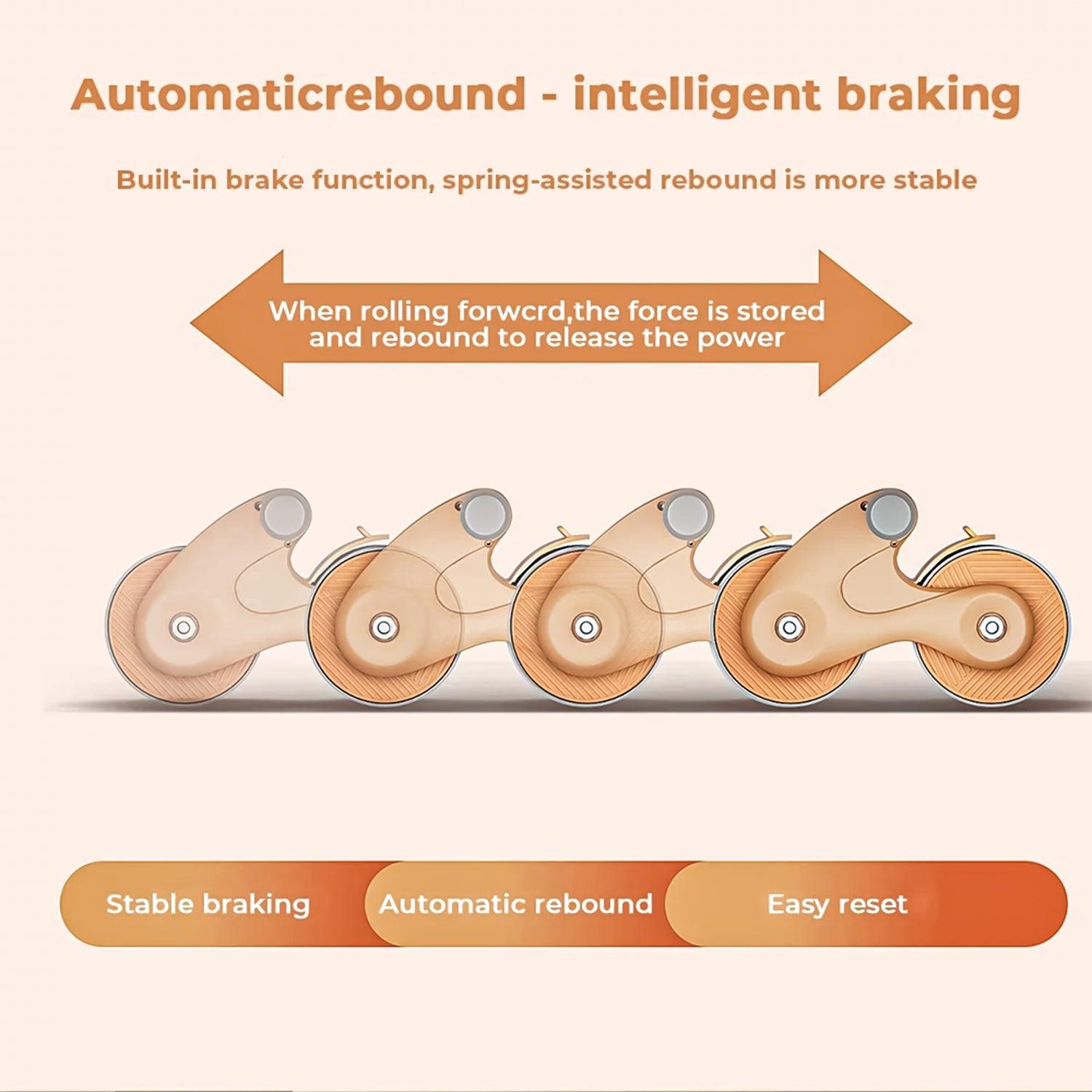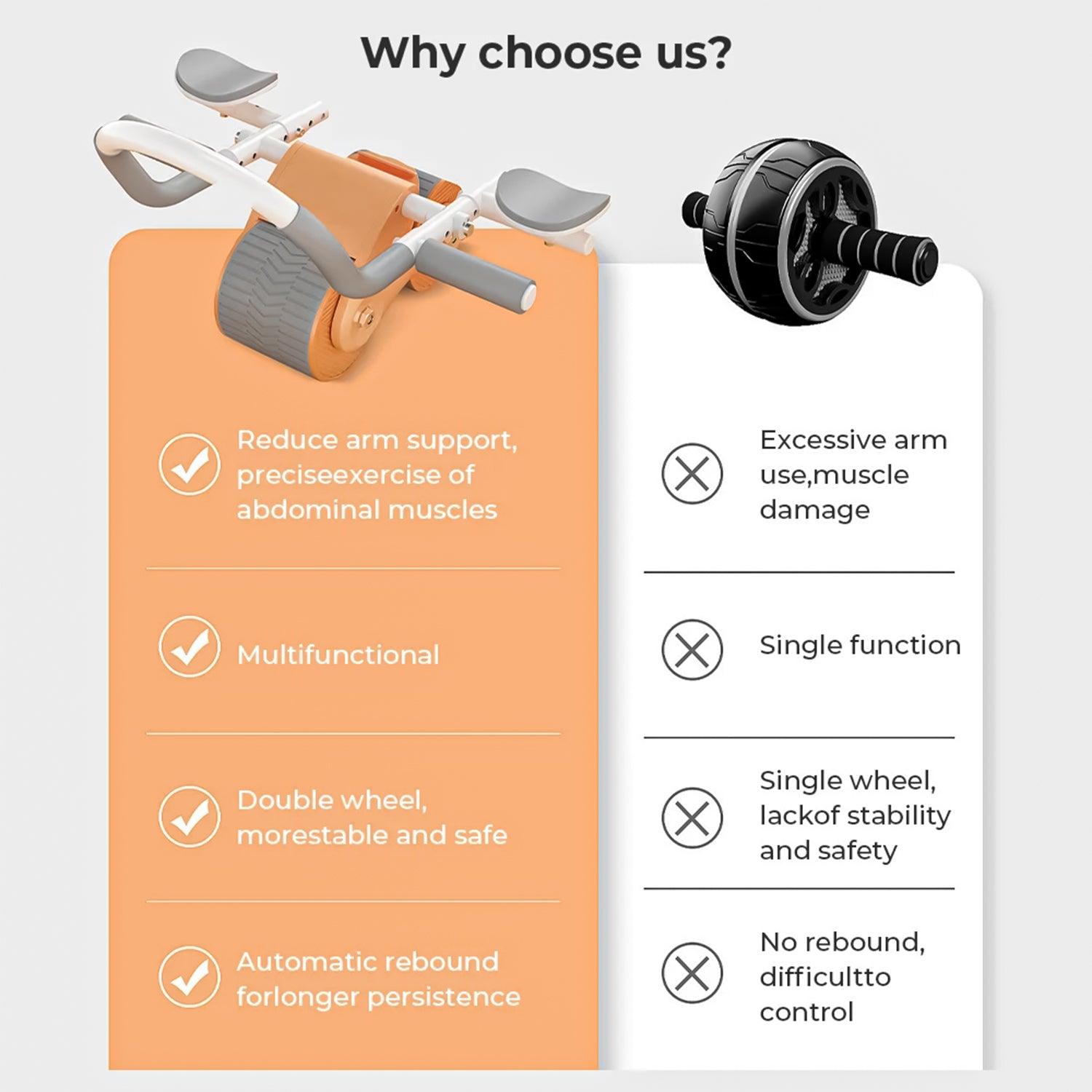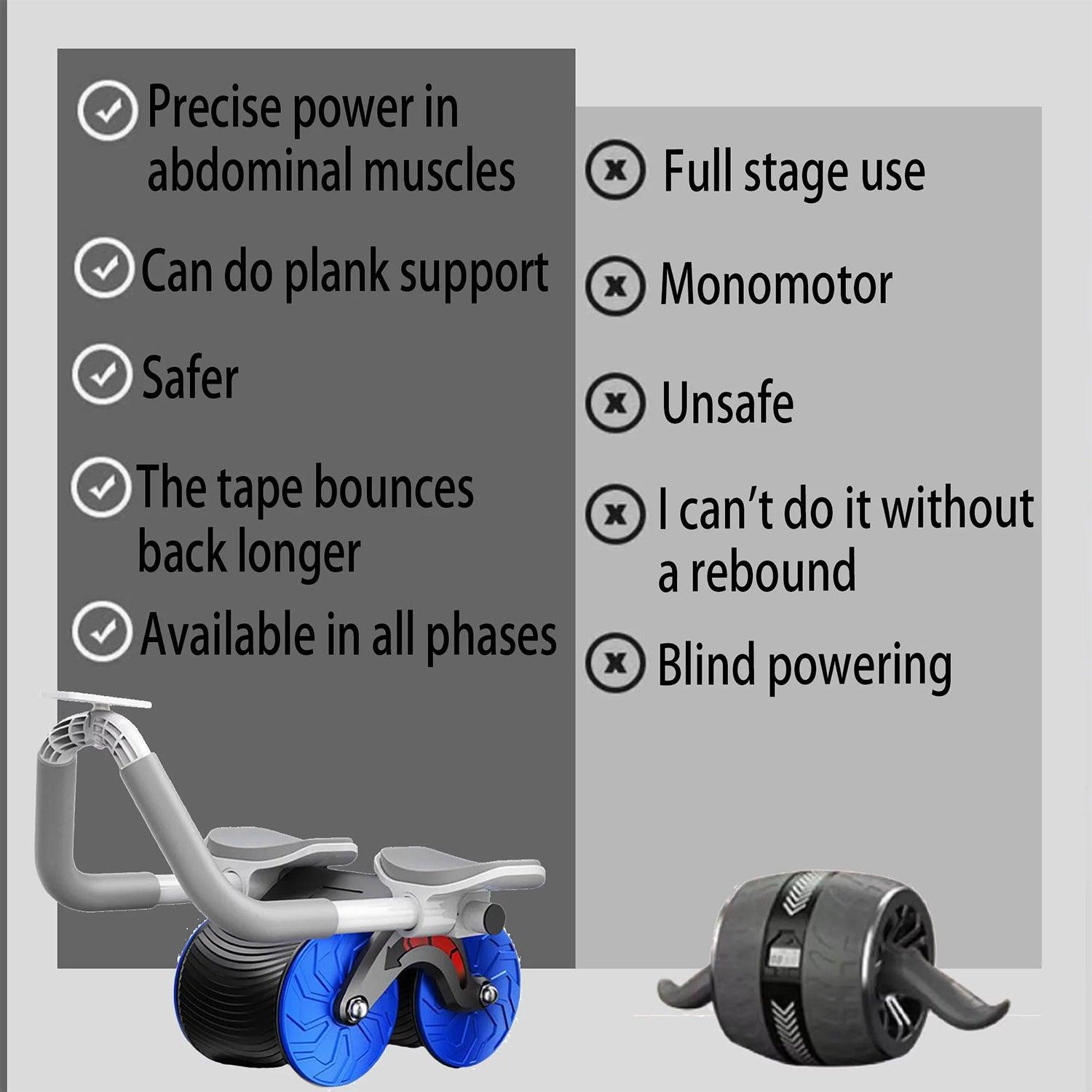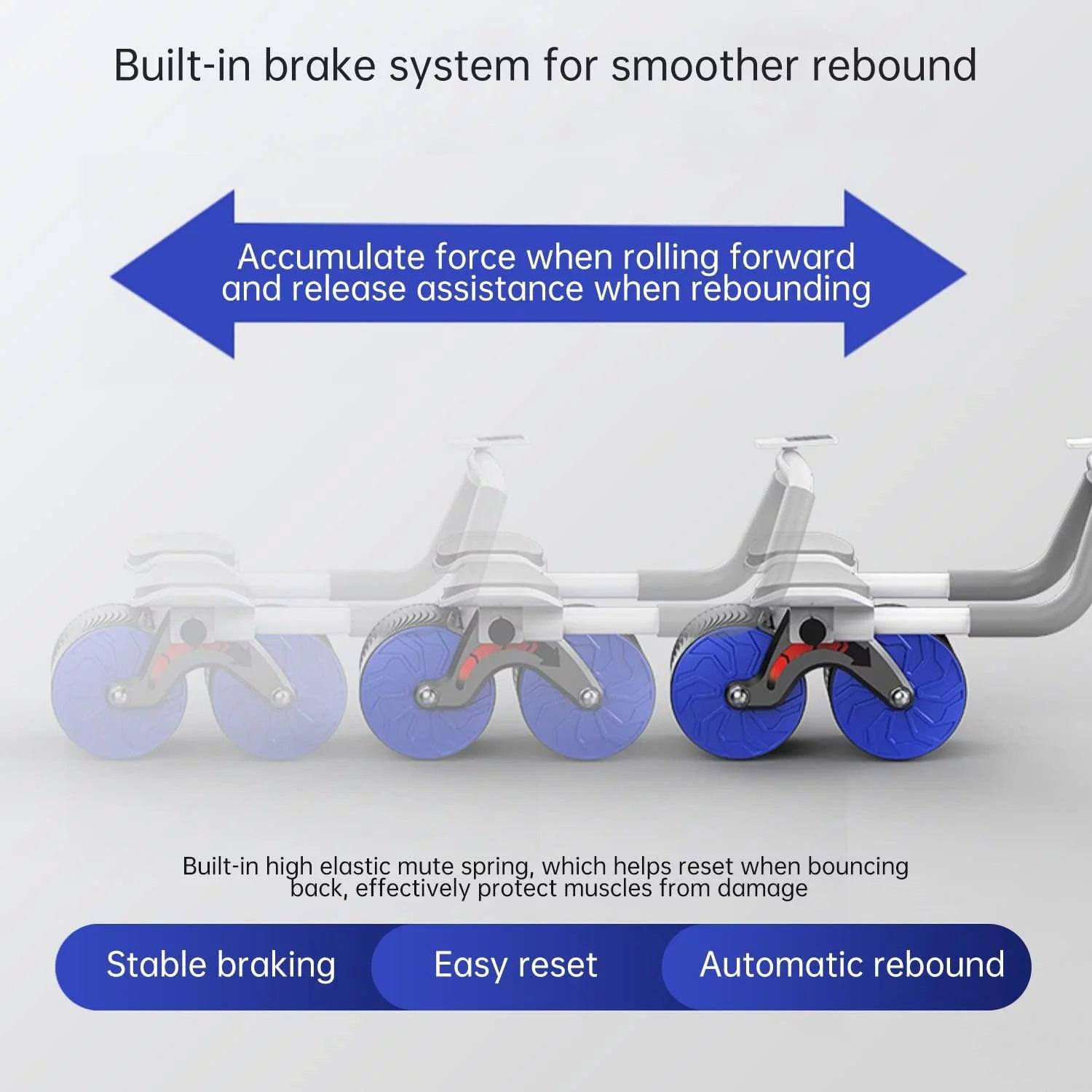 Roller for Abs Workout - Ab Roller Wheel Automatic Spring Back Elbow Support Tool

Roller for Abs Workout
Our exercise roller for abs workout is made of high-quality materials that ensure longevity and impact resistance. The durable construction is built to last, and the EVA foam-filled grip adds comfort during exercises. The wide rubber wheels are not only long-lasting but also gentle on the floor and silent.
Timer for Automated Rebound Wheel:
The ab wheel is developed with automatic rebound technology, which makes it easy to slide and reduces wheel oscillation, allowing you to manage your movement and avoid injuries during training. With a sophisticated timer, it's ideal for beginners.
Elbow Supporting Ab Roller:
Our improved ab roller with elbow support design improves workout stability by decreasing lateral movement and preventing arm compensation. This enables more accurate and efficient ab muscle activation. With our ab roller, you can train your abdominal and core muscles without having to worry about arm strain or injury. With our top-of-the-line ab roller, you can get the most out of your ab workouts.
More Stable, Ultra-wide Abs Roller:
Our Abdominal Wheel provides outstanding stability because of its 4-inch-wide rollers. This function increases control and eliminates lateral deviation during front and back motions, making core training more effective and pleasurable. During your workouts, you will feel more stable than ever before.
Abdominal Flexibility Training:
The abs, arms, chest, shoulders, and back are all properly targeted and engaged by this automated rebound ab wheel. It helps you get well-defined abs and enhanced core strength by stretching and strengthening these areas. It is an essential tool for all levels of fitness aficionados.
Condition: A brand-new, unused, unopened and undamaged item in original retail packaging
Brand: Unbranded
Type: Roller
Features: Adjustable, Foldable, Non-Slip, Knee Pads, Two Wheels
Muscle Group: Abdominal
Sport/Activity: Gym & Training, Weight Lifting
Usage: Home Use, Commercial Use, Semi-Commercial Use
Material: ABS, PVC
Color: Variable
Battery : Not included

Package:
1 Ab Roller Wheel(Timer & Automatic Rebound)

1 Green Elastic Band
Be Maskura Fit
Our Happy Hoopers
30 Minutes Daily Fun Workout
The smart hula hoop counts your burned calories, tracks how long you work out, and records other vital information.
Easy Installation Process
Our Smart Weighted Hula Hoop has a carefully planned design with 27 knots placed in hoop's circumference.
27 Detachable Knots
Our Smart Weighted Hula Hoop has a carefully planned design with 27 knots placed in hoop's circumference.
Let customers speak for us
VERY GOOD
arrived three days ahead of schedule and in perfect shape. All items in their original, simple-to-assemble package. You may already feel the work on your abdomen in just a few minutes.
Shark Shaver Pro - Platinum Electric Skull Shaver For Head & Face
Best Electric Men's Shaver