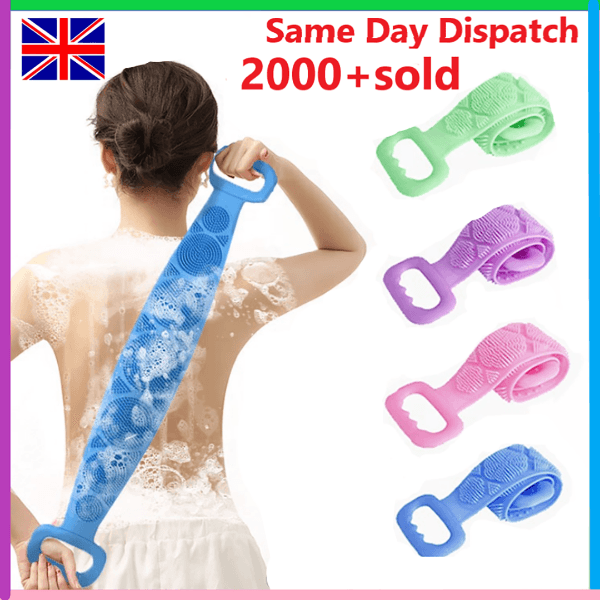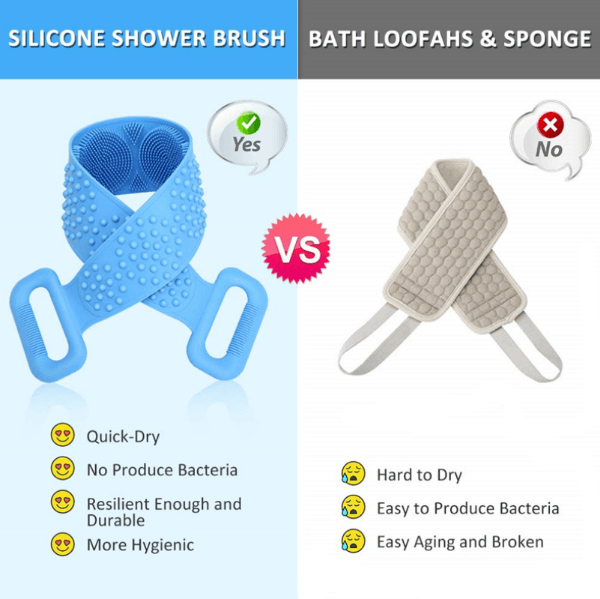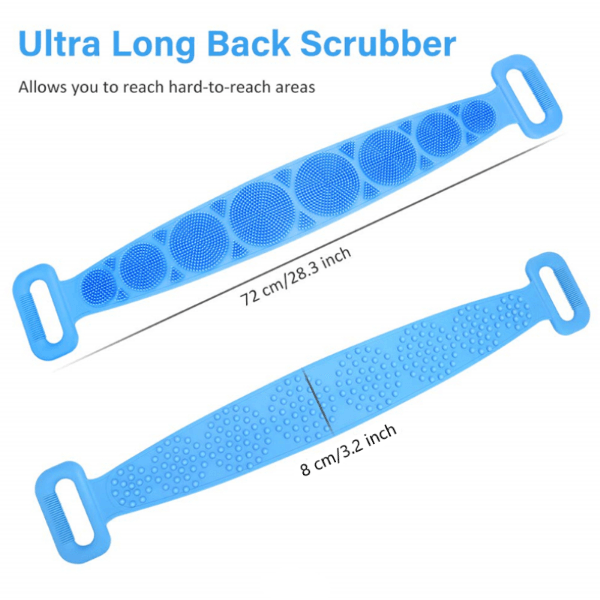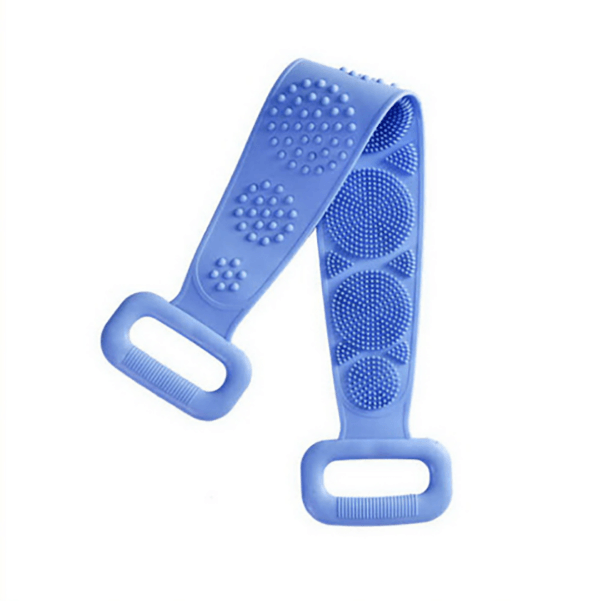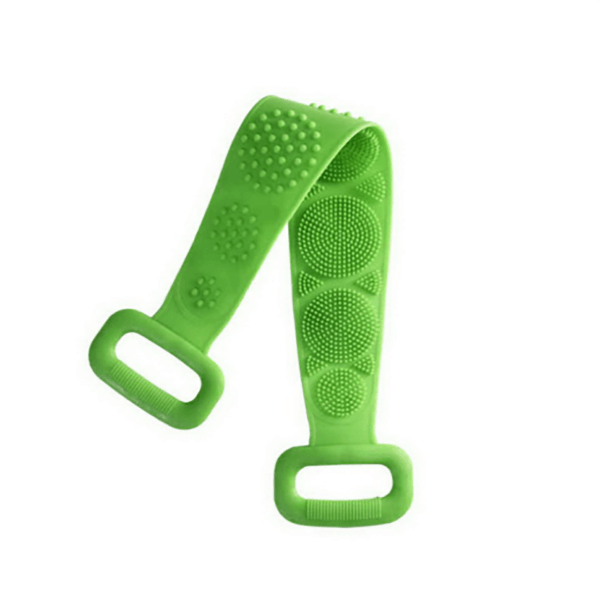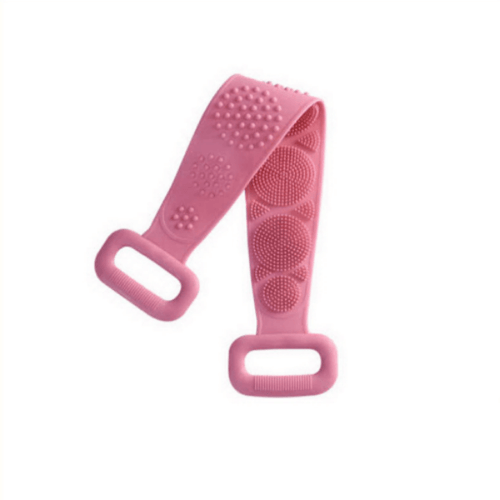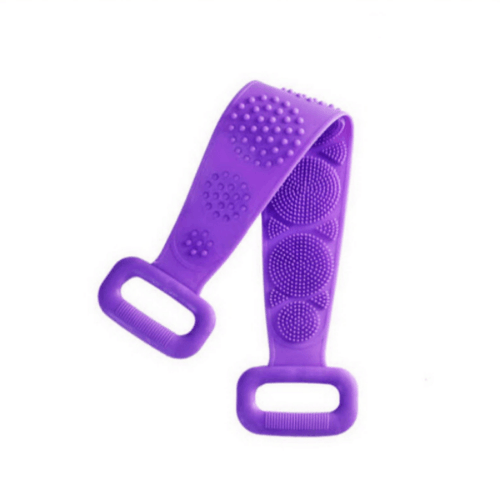 Silicone Bath Body Brush - Silicon Long Body Cleaning Double Sided Back Scrubber Bath Shower Belt Brush UK

About this item
Both-sided Design:
Soft bristles on one side gently exfoliate dead skin, while dots on the other side provide a relaxing spa-like massage.
 SILICONE SKIN BRUSH:
The "Gently" Exfoliating and Massaging Effects of Silicone on Your Skin Foldable, well-made, high-quality, and long-lasting Simple to clean and dry.
Simple to Use:
The silicon-backed scrubber has two handles so you can hang it up to dry quickly and easily. It is simple and efficient to apply body wash to it before moving it across the back in both directions.
Durable and cleaner than loofah:
Even after many years and laundry cycles, our back scrubber will still be available for your bathing and exfoliation needs. It also speeds up metabolism and improves vascular blood circulation.
HAVE A JOYFUL BATHING
Use silicone body scrubbers in the shower, take a bubble bath at home, and make bath time the most tranquil part of the day. You'll adore it, so add it to your cart and buy it.
Extra-Long Silicone Body Scrubber:
Our extra-long silicone body scrubber, which is 34 inches (85 cm) long and 4.5 inches (11.5 cm) wide, can make bathing easier and is better suited for persons with larger bodies.
Product Description
 Silicone is a quick-drying, more hygienic substance.

A lot of foam can be produced by gently rubbing.

With a handle that is easy to use and provides a comfortable grip.

Suitable for a variety of people, including males, females, and the elderly.

Double-sided design with selectable functions: One side can easily froth and exfoliate, while the other side may massage the skin.

Made of high-grade silicone material, it is safe and long-lasting, free of dangerous ingredients, resistant to high temperatures, and easy to rot. It is also healthy and environmentally beneficial.
Condition: A brand-new
Size: 72cm x 8cm Approx
Color: Blue/Purple/Green/Pink
Handle Material: Silicone
Brush Material: Silicone
Type: Scrubbing Brush
Features: Massage, Scrubbing, Scrub, Option to choose an exfoliating glove, Very convenient to use, Cruelty-Free, Exfoliating
Be Maskura Fit
Our Happy Hoopers
30 Minutes Daily Fun Workout
The smart hula hoop counts your burned calories, tracks how long you work out, and records other vital information.
Easy Installation Process
Our Smart Weighted Hula Hoop has a carefully planned design with 27 knots placed in hoop's circumference.
27 Detachable Knots
Our Smart Weighted Hula Hoop has a carefully planned design with 27 knots placed in hoop's circumference.
Let customers speak for us
Shark Shaver Pro - Platinum Electric Skull Shaver For Head & Face
Best Electric Men's Shaver