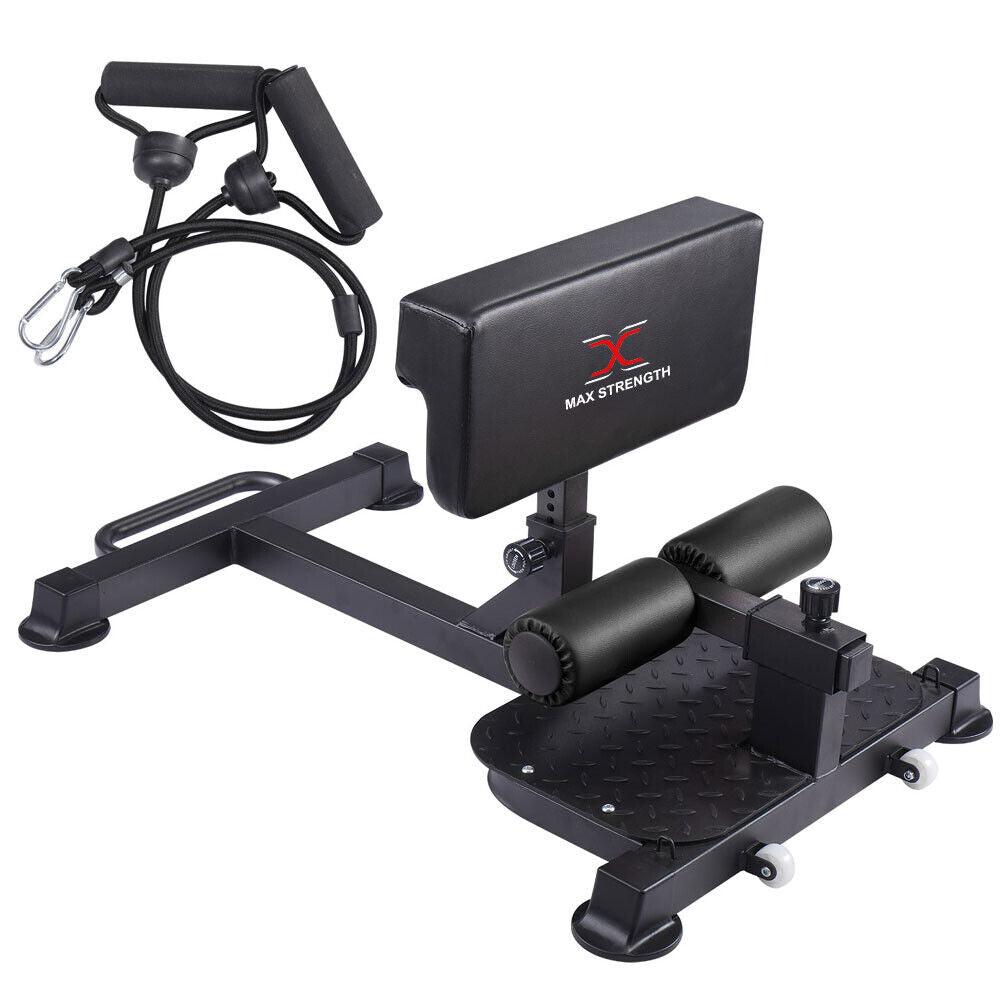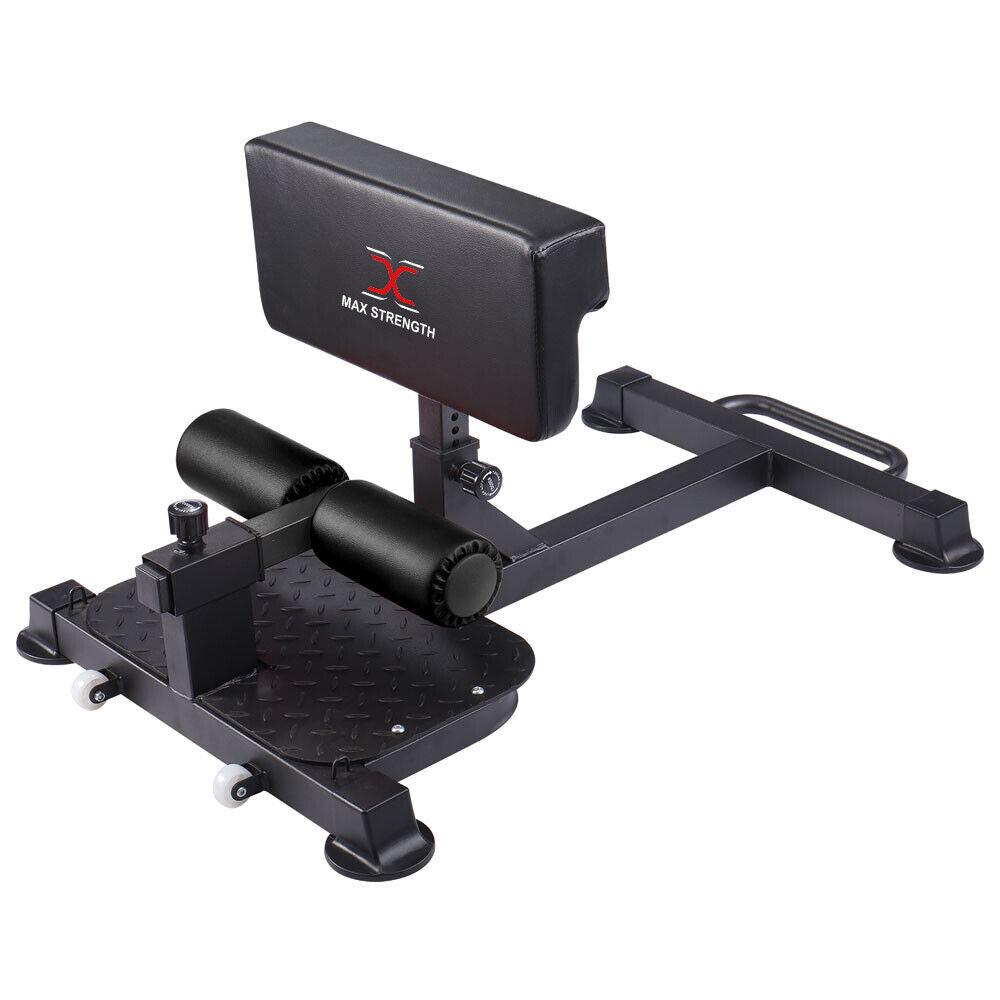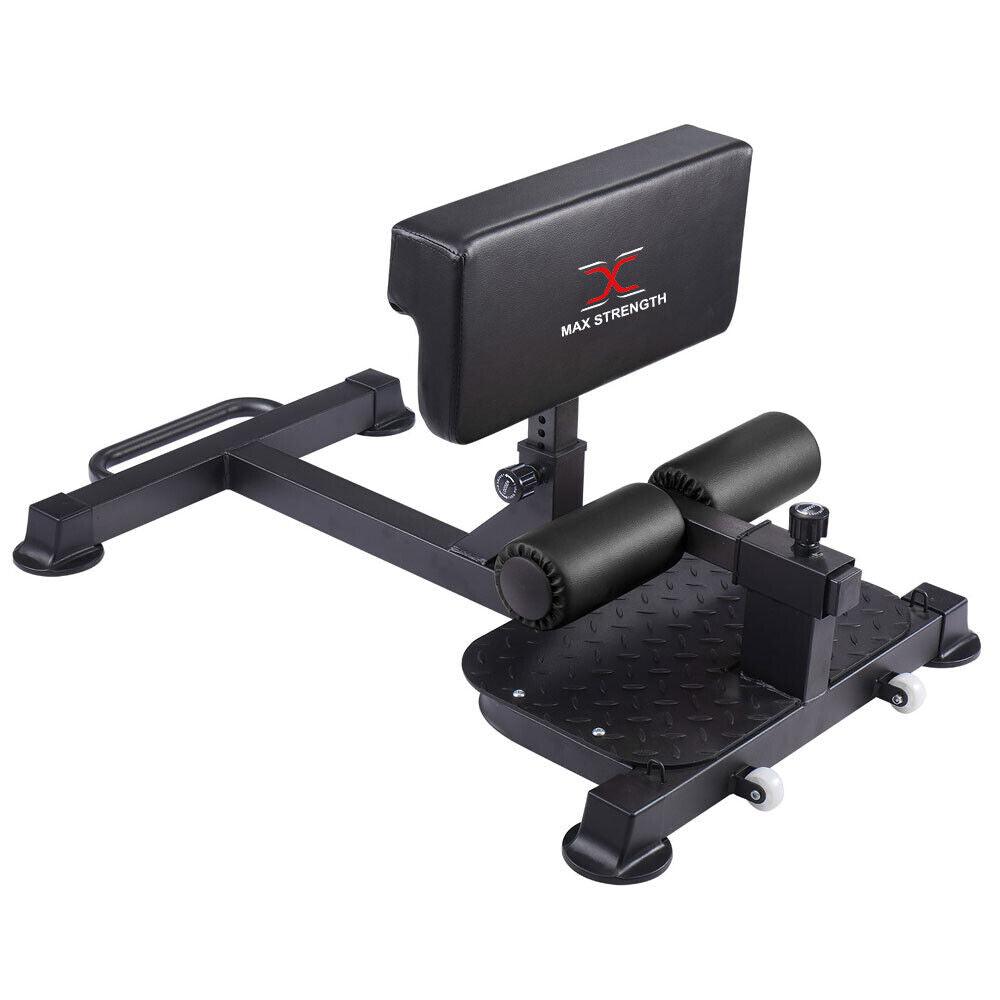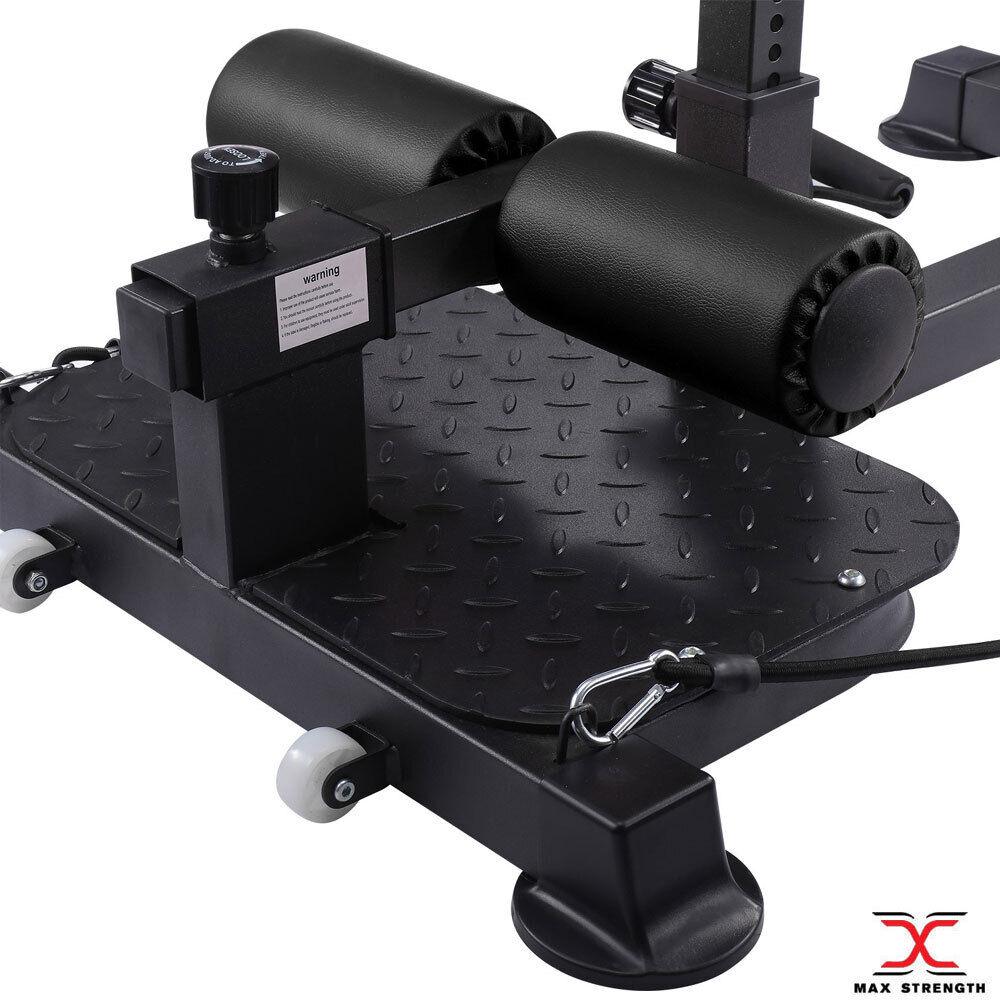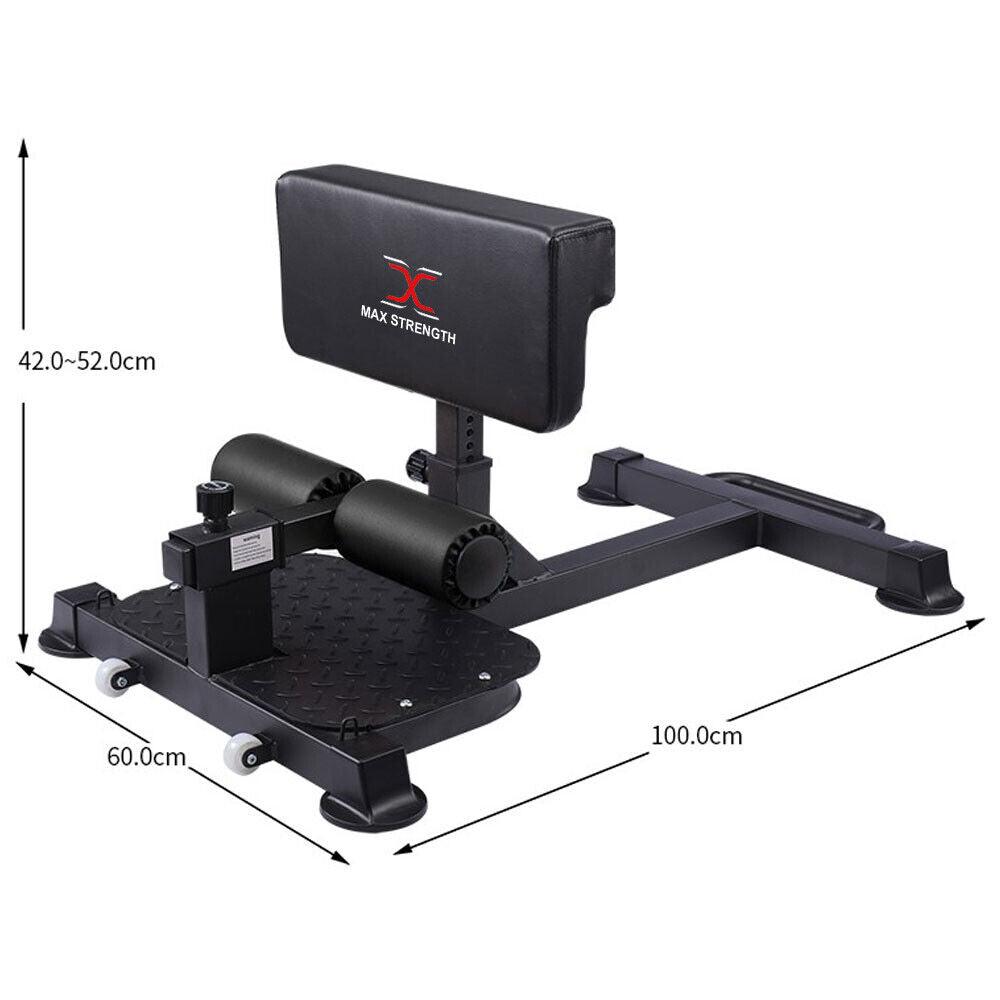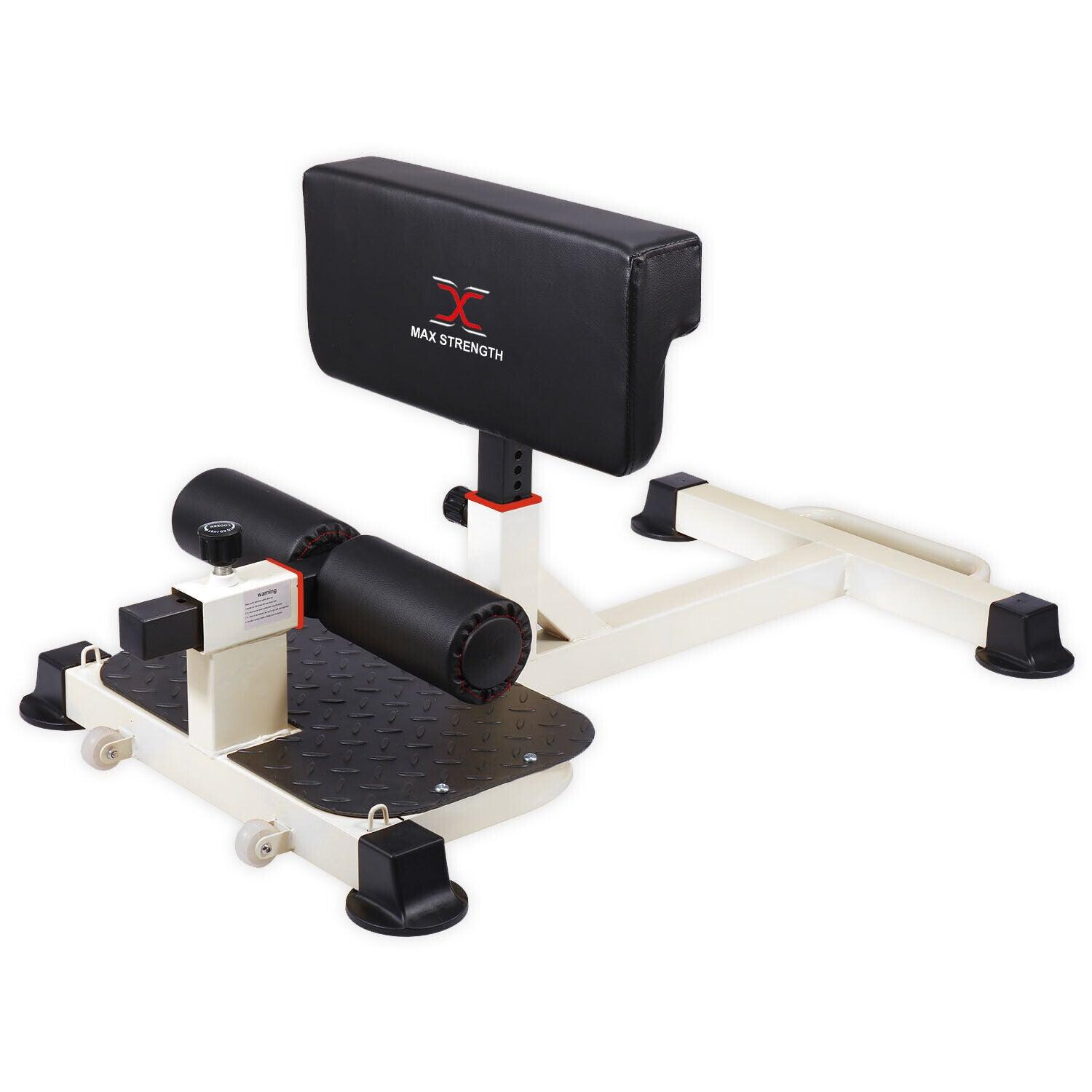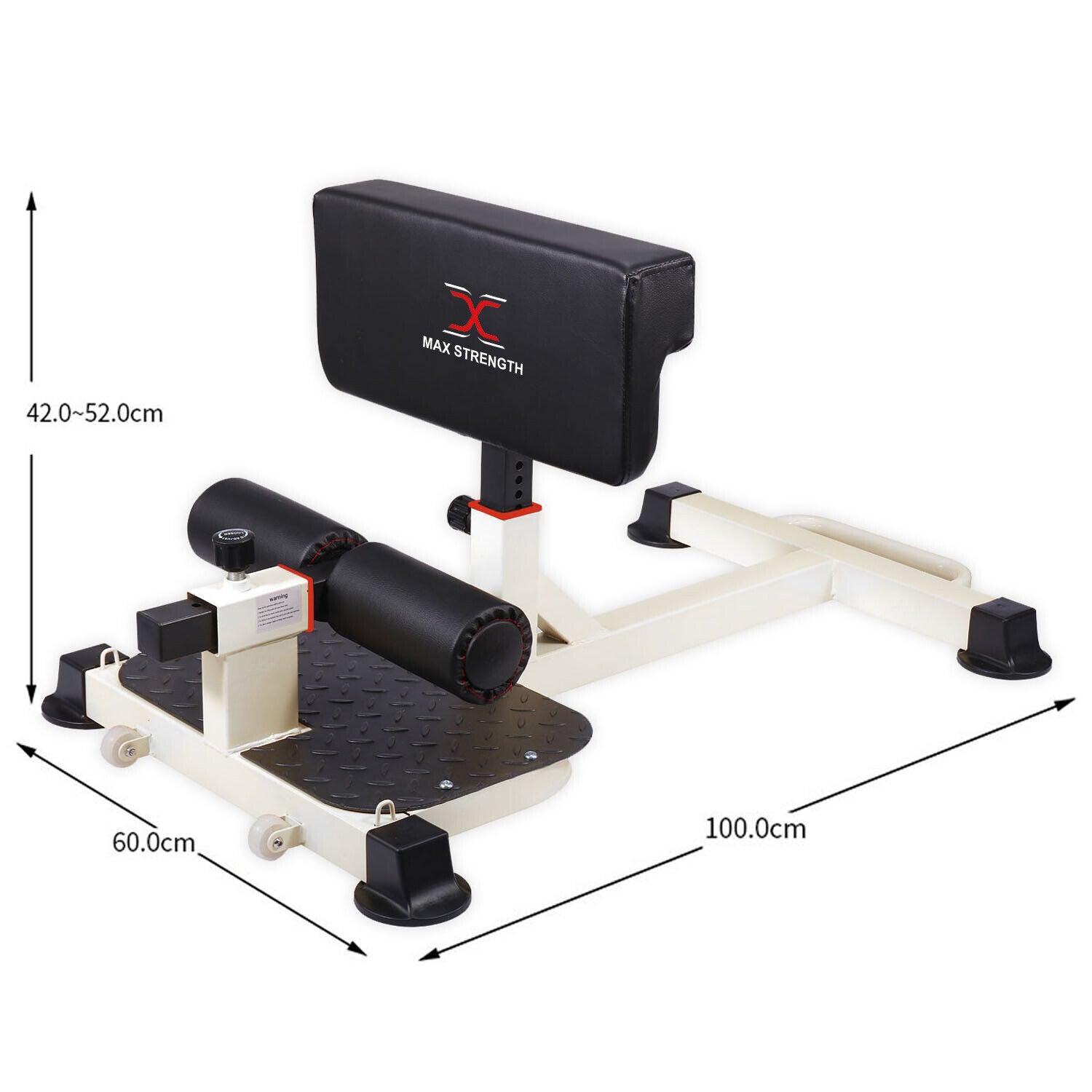 Squat Machines for Home - Adjustable Squat Machine Deep Abdominal Bench Leg Exercise Multi-function

About Squat Machines for Home
Introducing the newest addition to our collection of top-notch commercial training equipment: The max strength squat machines for home. This fantastic piece of equipment is specifically made to maintain the lower leg vertical during a freestanding "sissy squat," an exercise that is frequently underestimated but is excellent for strengthening the lower body and toning the quadriceps and glutes. It can be done as simple as folding your arms or, for a true challenge, as long as you're holding weights like dumbbells or kettlebells. This is another excellent piece of equipment from Maxstrength Fitness that is compact, ergonomic, and highly effective. It is also a great addition to any commercial gym at a great price.
Adjustable Cushion and Ankle Joint:
This leg press machine's height is adjustable in four positions, ranging from 41 to 48 cm, to suit the needs of various user groups. Concurrently, the Foot Holder Can Be Adjusted In Four Ways To Help You Find The Best Exercise Posture In Addition To Fixing Your Feet In Place.

Strong & Durable Materials:
The sturdy, thickened steel pipe used in the construction of this body exercise machine has a weight capacity of up to 150 kg. While offering a comfortable environment for exercising, the premium PU cushion will protect your body from injury and give your body strong support.
Multi-Function Squat Machine:
This home gym fitness equipment facilitates a variety of workout styles, including deep squats, sit-ups, and push-ups, which effectively activate the muscles in your thighs, abdomen, back, and other body parts to improve your strength, balance, immunity, and other aspects of your health.

Portable Design & Easy Storage:
You can easily carry the Deep Sissy Squat Machine from room to room and store it in a corner or under the bed without taking up much space because it is lightweight and compact. It's Perfect for Using in Home Gyms.

Excellent Anti-Skid Design:
At the base of the base are four anti-slip pads that, when in use, can effectively increase friction, improve overall stability, and shield the ground from scratches. Additionally, when performing sit-ups, the supportive tubes at the back give you dependable grips without slipping.
Features of Squat Machines for Home
Extended Stainless Steel Base, 
With a Non-Slip Foot Plate, Safe And Stable.
The Foot Rest Can Be Adjusted 
Easy And Quick 
Dimensions: 39"X 21.2" X (16.5"- 19.7")
The Weight It Can Hold Upto 150kg.
Benefits of Squat Machines for Home
Leg Strength and Muscle Tone: The sissy squat exercise helps you develop strength and definition in your leg muscles by focusing mostly on the quadriceps.
Core Activation: By using your core muscles to balance the machine, you can also develop and stabilize your core.
Better Joint Health: By strengthening the surrounding muscles, doing controlled squats on this machine can help improve the health of your hip and knee joints.
Functional Fitness: Increasing your total functional fitness through sissy squat strength can make daily tasks simpler and more effective.

You May Check It Out: Hack Squat for Glutes 
The MAXSTRENGTH Adjustable Sissy Squat Machine is a reliable addition to your fitness routine, offering a targeted lower-body workout that can help you achieve your fitness goals. Whether you're looking to build muscle, improve strength, or enhance your overall physical performance, this machine provides a convenient and effective solution.

Condition: A brand-new, unused, unopened, undamaged item
Stations: Leg Curl, Leg Extension, Leg Press
Features: Adjustable
Material: Cast Iron
Sport/Activity: Gym & Training

Package:
1 Adjustable Sissy Squat Machine
Assembly instructions

Be Maskura Fit
Our Happy Hoopers
30 Minutes Daily Fun Workout
The smart hula hoop counts your burned calories, tracks how long you work out, and records other vital information.
Easy Installation Process
Our Smart Weighted Hula Hoop has a carefully planned design with 27 knots placed in hoop's circumference.
27 Detachable Knots
Our Smart Weighted Hula Hoop has a carefully planned design with 27 knots placed in hoop's circumference.
Let customers speak for us
Good value for money
It's a straightforward, nothing-special substance that works the back, buttocks, and quads at home, in my opinion. I'm 162 cm tall, therefore I believe that it wouldn't work over this height because the cushion needs to be positioned in the hip bone in order to perform more back extensions, and I use it to the most extent possible to get there. It feels sturdy and well-made.
Shark Shaver Pro - Platinum Electric Skull Shaver For Head & Face
Best Electric Men's Shaver