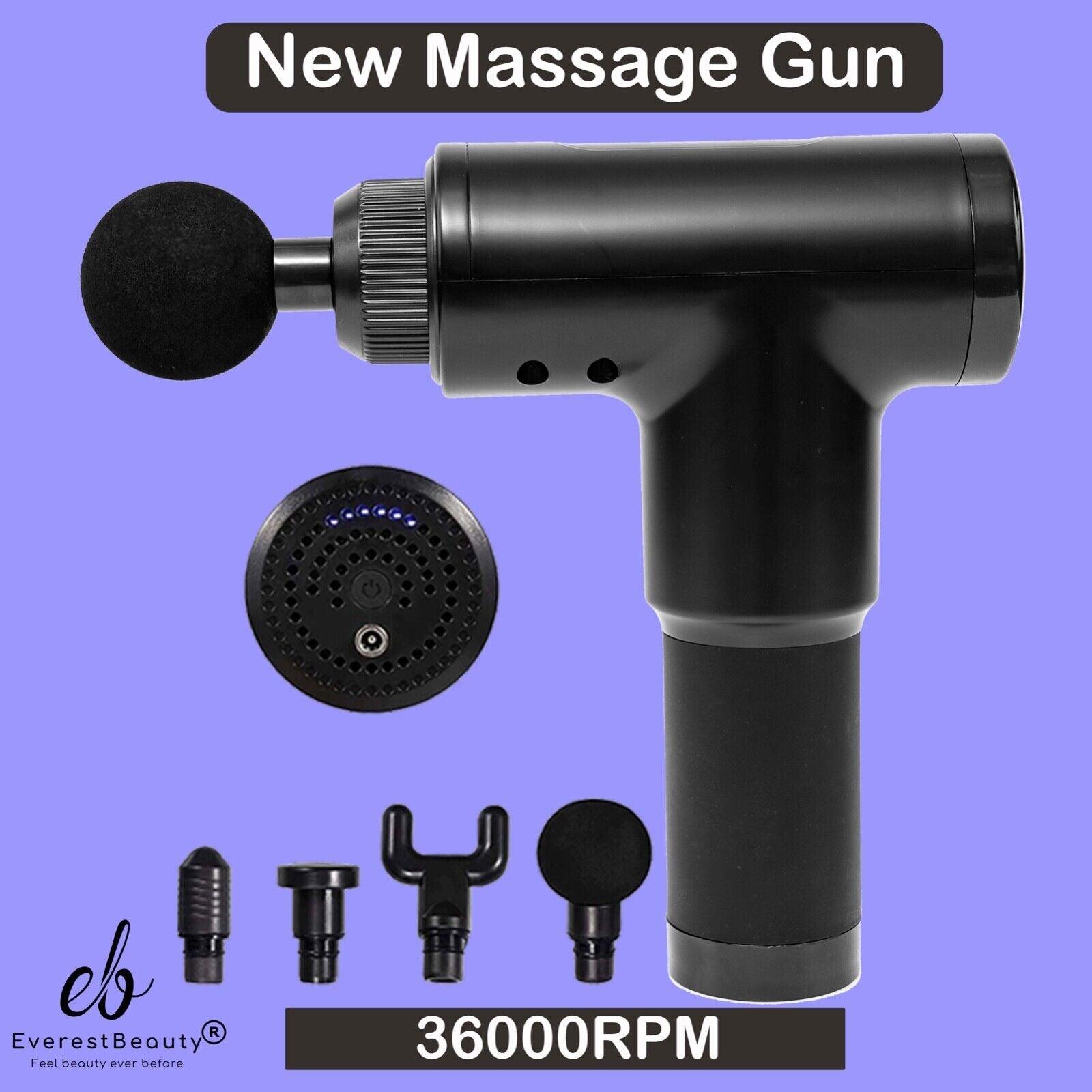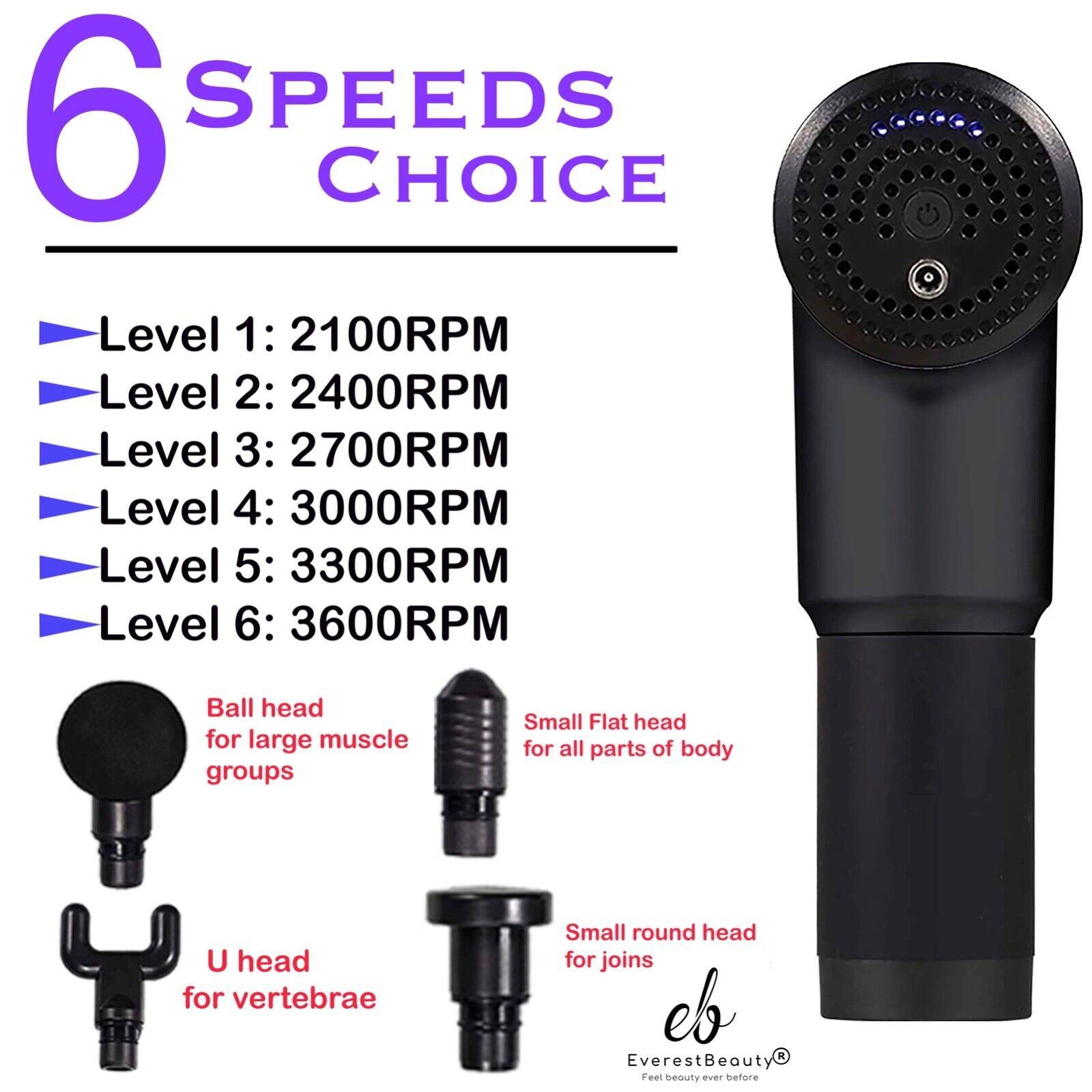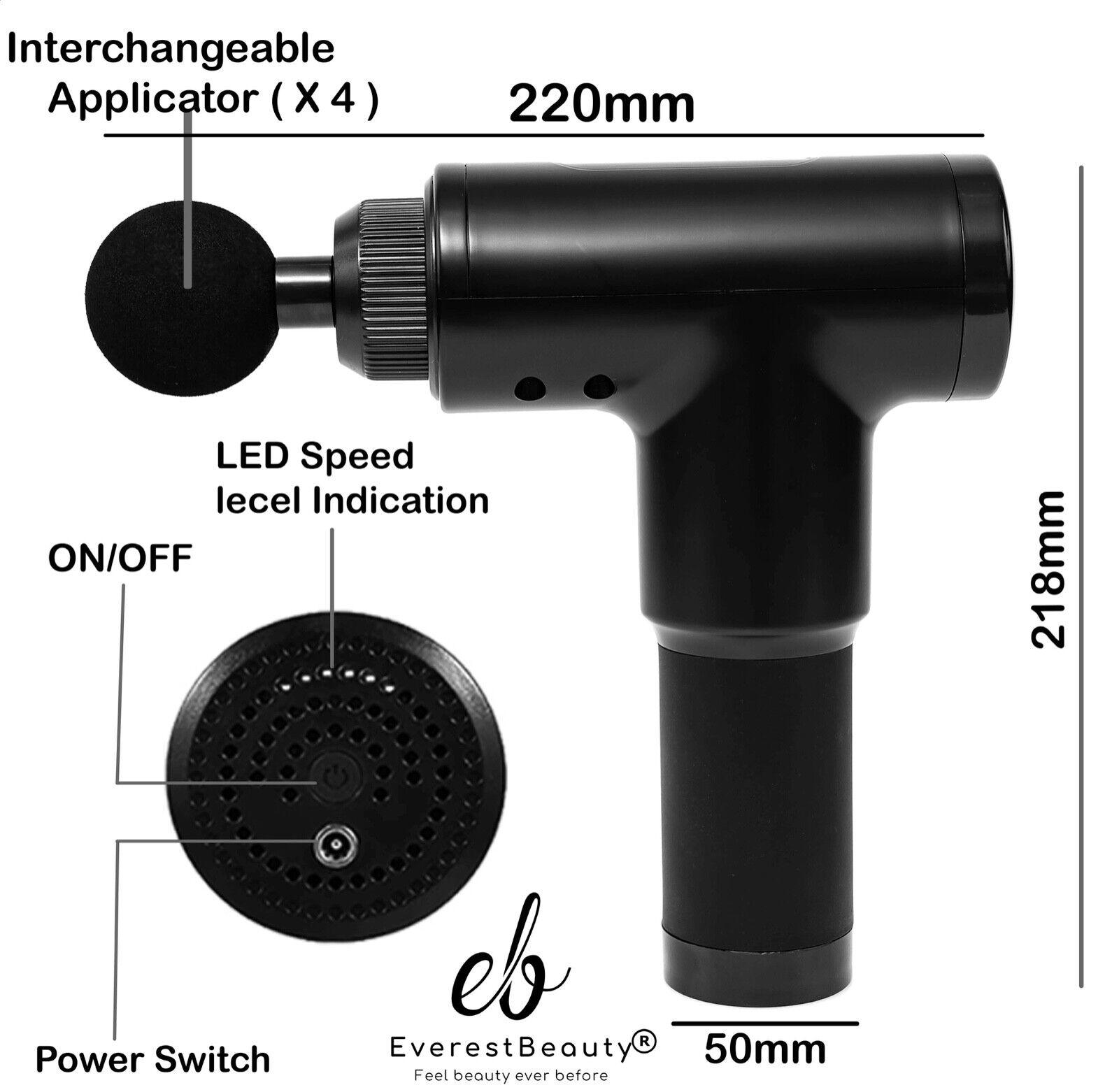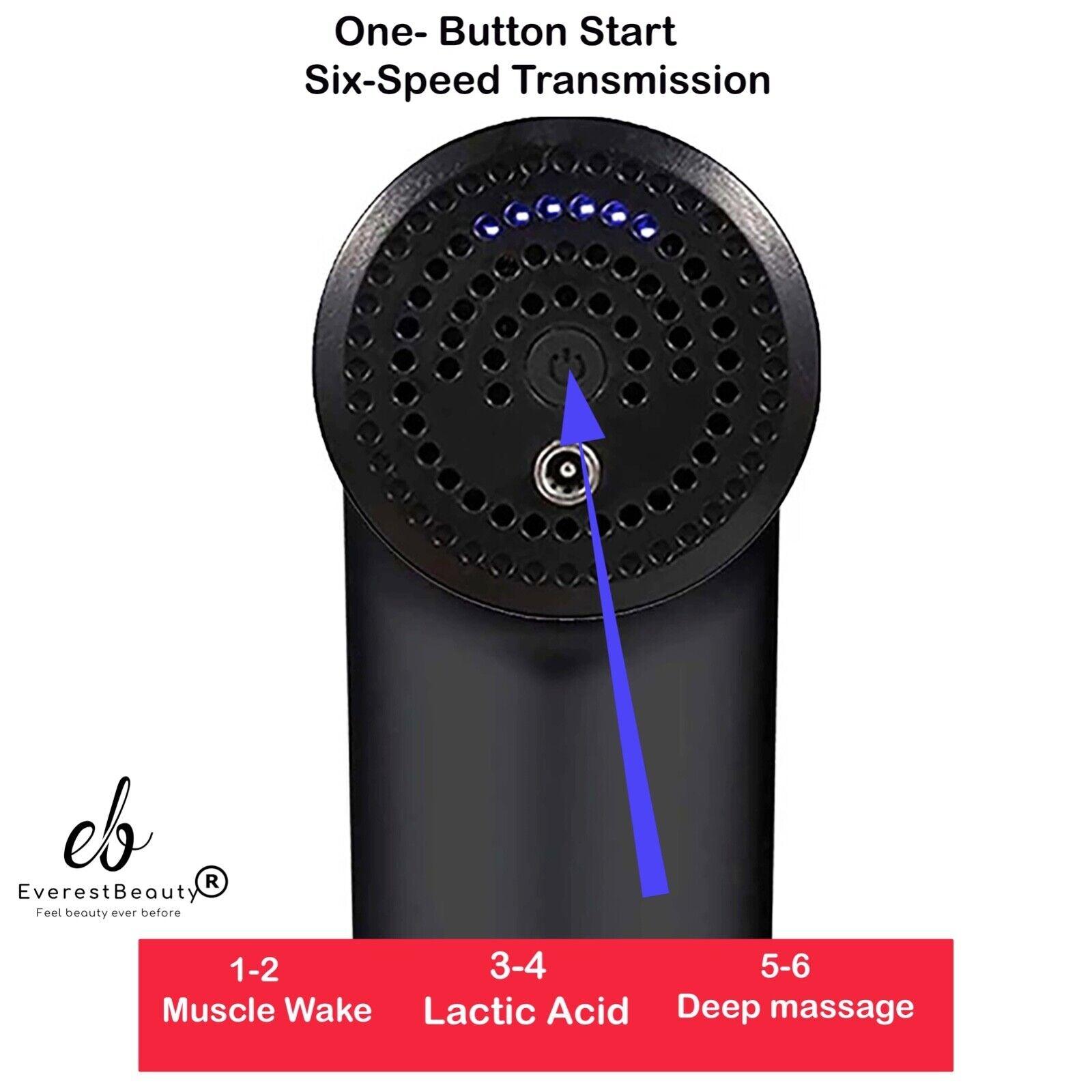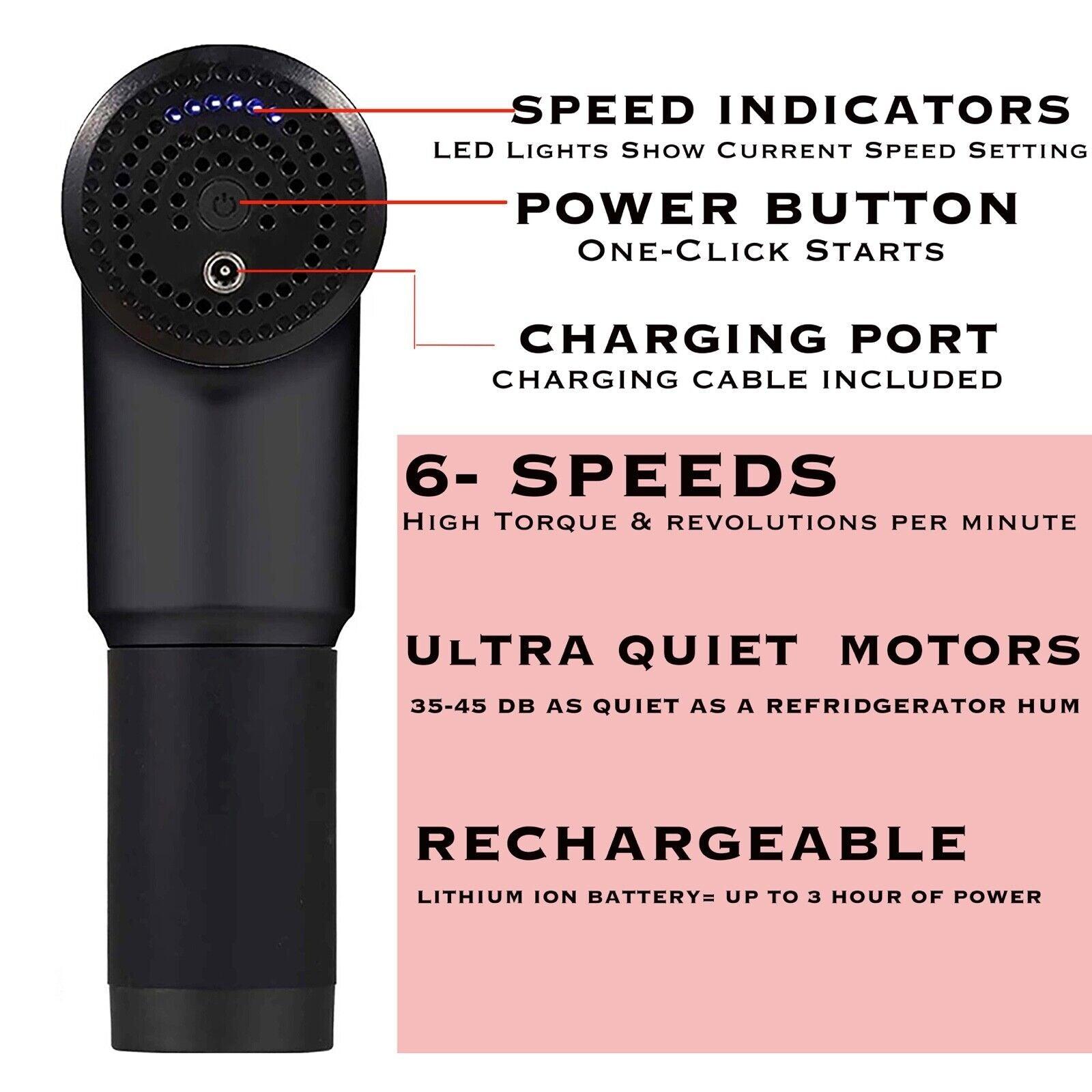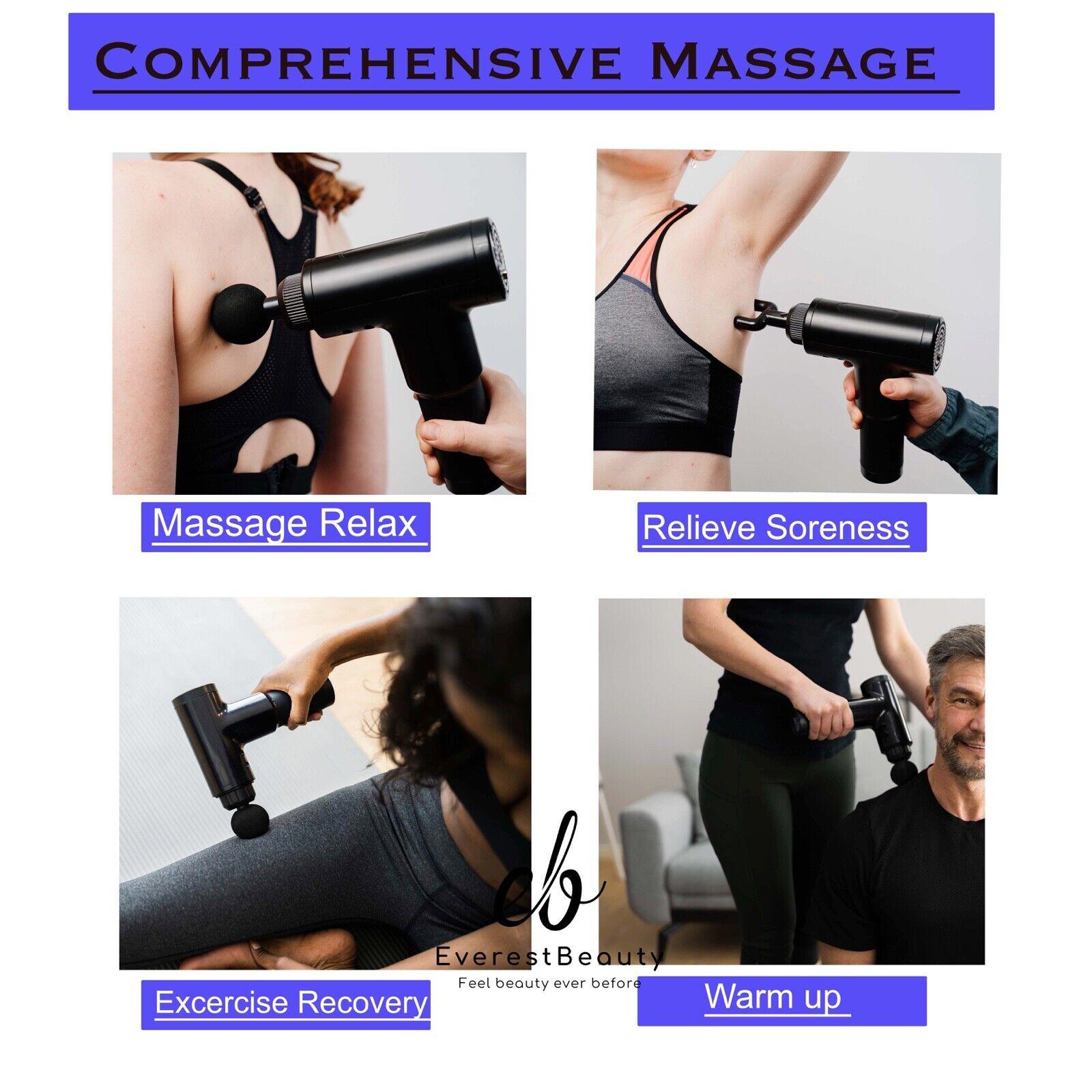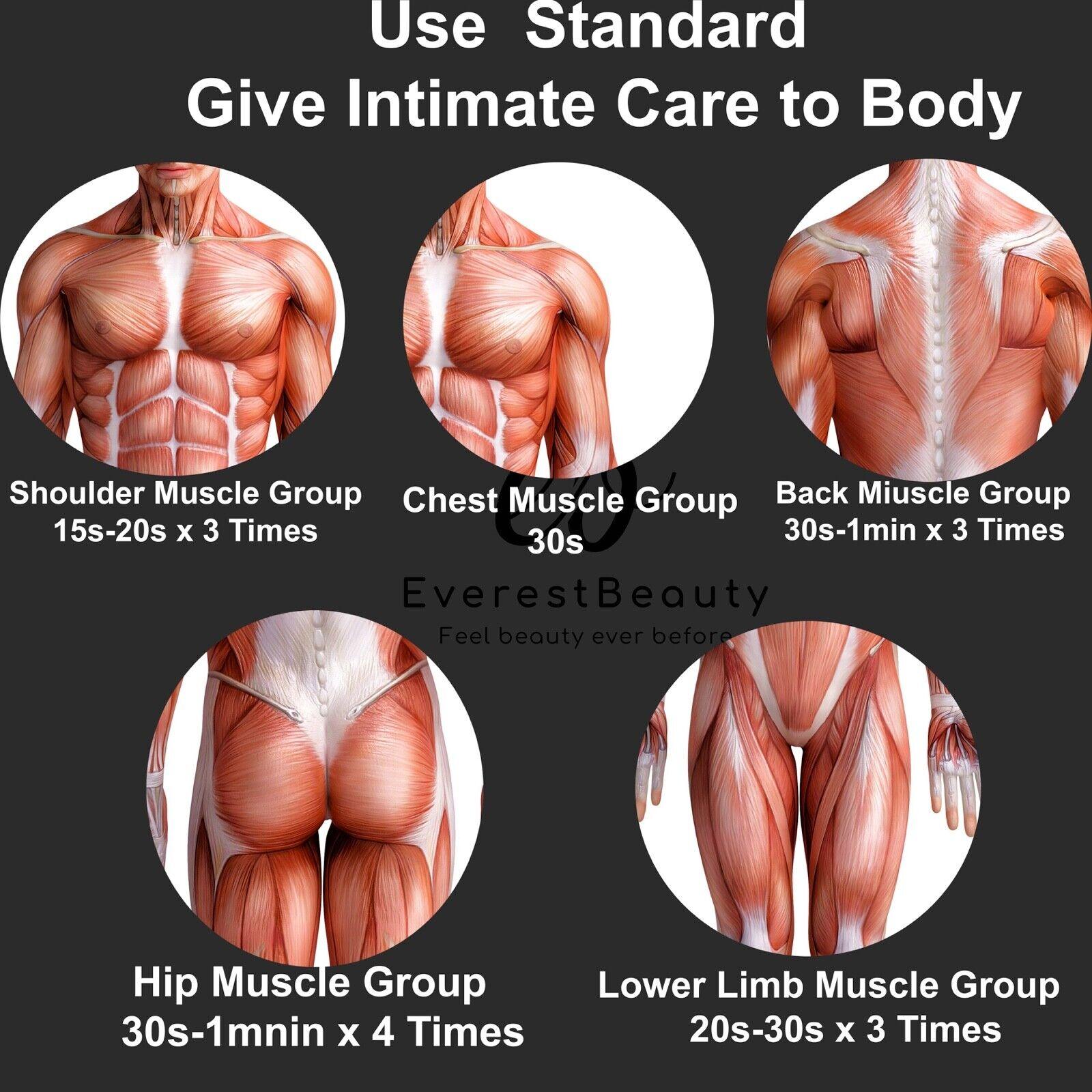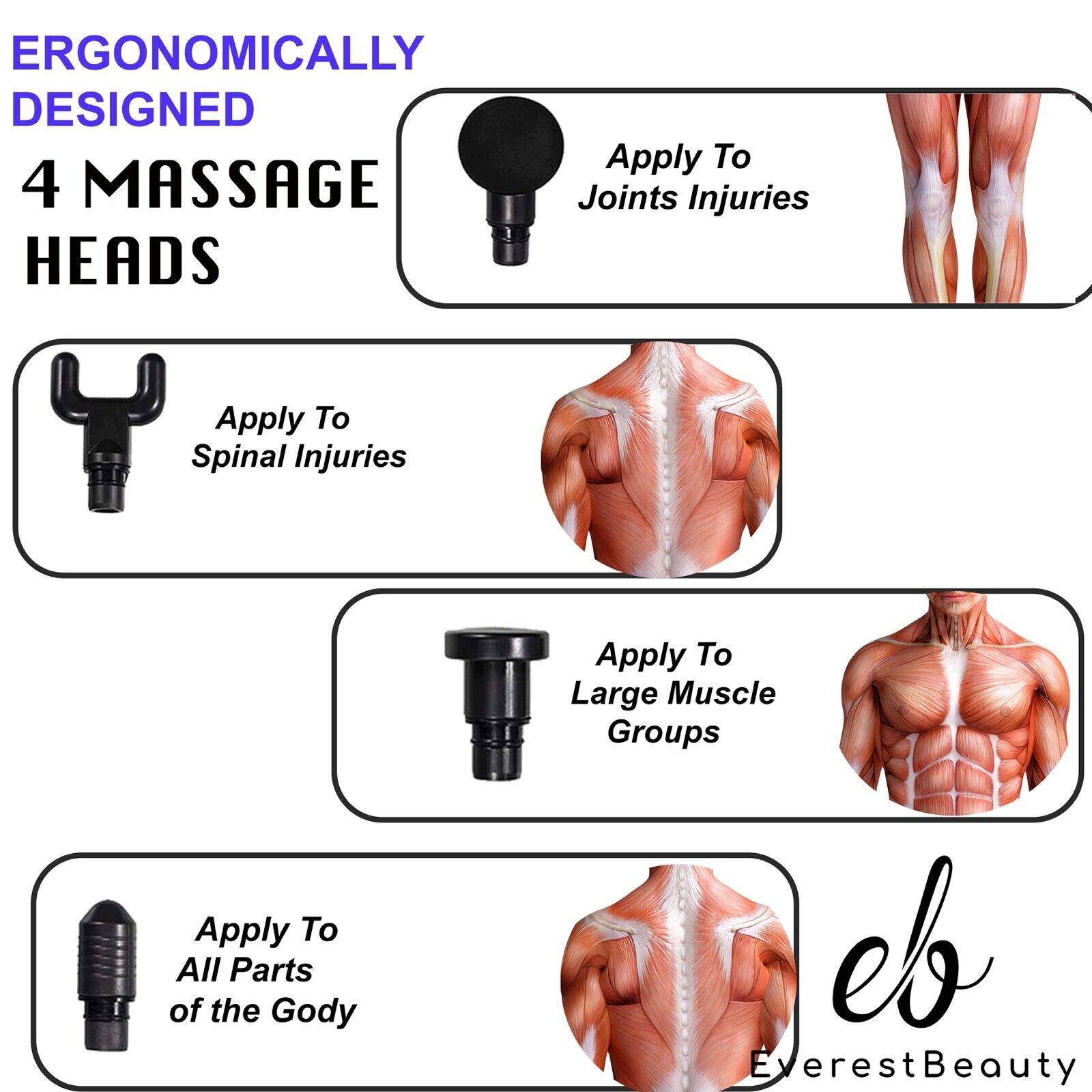 Deep Tissue Massage Gun - Powerful 30 Speeds Percussion Muscle Massager, 2400mah Electric Handheld Muscle Massager Gun, Portable Fascia Gun

About Deep Tissue Massage Gun 
Deep Tissue Massage Gun, This is a powerful cordless handheld deep tissue massager with a new design that uses the most comfortable percussion to massage various parts of the body. Professional Personal Massage Devices may reduce soreness and stiffness in the muscles, elevate blood pressure, enhance the general health of the body's soft tissues, and avoid fasciitis, a painful inflammation brought on by adhesions between the fascia and muscles.
Muscle Massager Gun for Deep Tissue in Sports:
Our strong muscle massager utilizes percussion physical therapy, which may enhance the general health of human soft tissues and avoid inflammation brought on by adhesions between fascia and muscles, to help ease muscular pain and stiffness, boost blood flow, and speed up bodily recovery. Athletes, fitness instructors, therapists, and runners, in particular, benefit from regular medical treatment.
Long Working Time & Led Touch Screen:: 
Our deep tissue muscle percussion massage pistol comes with a high-quality rechargeable lithium battery that has a capacity of 2600mAh and can run for 4-6 hours. A short circuit safety feature, auto shut-off after 15 minutes, a built-in cooling system, and a ventilation design. Those are all provided by the AI smart chip.
The body massage includes an intelligent LED touch screen that is simple to read and use and properly displays the battery life and pace of the massage.
Portable & Cordless Design Deep Tissue Massage Gun:
The robust handle and ergonomic handle form make it simpler to grasp the physical massager while reducing external vibrations. You may use a cordless device easily and unwind at home, the office, or the gym. It comes with a USB charging connection, so you can recharge wherever you go.
Ultra-quiet Deep Tissue Massage Gun: 
Use your downtime after working out to your advantage. It is devoted to the advancement of quiet motors.
It is a professional deep tissue massager with the most recent noise reduction technology (maximum 50 dB). Which includes a high-torque motor with six-speed settings that can produce up to 3600 percussions per minute.
Massage Heads That Are Durable:
Four different-shaped massage heads are included with the massager to help the user relax various body areas. The flat massage head may be used on any region of the body. Also, it can apply the bullet one on joints, and the round one on major muscle groups. The user can adjust the pace of the massage gun as necessary.
Upgraded Deep Tissue Massage Gun:
Improve your understanding of the message gun's situation. With this improvement, you can instantly determine how much power you still have and what equipment you're using. Rechargeable lithium-ion batteries (up to 4 hours of usage per charge) and a standard UK plug are now all included. It makes them more practical to use.
Massage Functions: Percussion
Color: Black
Number of Massage Heads: 4
Custom Bundle: No
Item Height: 23 cm
Item Width: 22*17.5*6.8cm
Endurance Time: 4 Hours
Material: ABS, PVC
Power Source: Corded Electric
Type: Massage Gun
Features: Adjustable Face Cradle, Cordless, Handheld, Lightweight, Rechargeable
Body Area: Arm, Back, Face, Foot, Full Body, Hand, Legs, Neck
Item Length: 25 cm
Massagers: Full Body Massagers
Item Weight: 1 kg
Voltage:12v

Be Maskura Fit
Our Happy Hoopers
30 Minutes Daily Fun Workout
The smart hula hoop counts your burned calories, tracks how long you work out, and records other vital information.
Easy Installation Process
Our Smart Weighted Hula Hoop has a carefully planned design with 27 knots placed in hoop's circumference.
27 Detachable Knots
Our Smart Weighted Hula Hoop has a carefully planned design with 27 knots placed in hoop's circumference.
Let customers speak for us
I don't have a lot of time to dedicate to healing following workouts because I'm a busy professional. Because of this, the Deep Tissue Massage Gun has completely changed my life. The powerful motor effectively relieves my muscle stiffness and soreness, and the 30 different speeds let me personalize my massage experience. It is simple to use at home or while traveling thanks to the portable design. I wholeheartedly endorse this product to anyone trying to speed up recuperation.
A Must-Have for Athletes
As an athlete, I have tried various muscle massagers, but this Deep Tissue Massage Gun is simply the best. With 30 different speeds, it delivers a powerful massage that relieves my muscle pain and soreness effectively. I love how portable it is, making it easy to use anywhere. Highly recommended!
Great but not impactful enough to work with tight muscles.
Very well built, nice accessories, battery lasts long, and doesn't get out my knots or dig into tight muscles. However, it has worked great on almost all my family that has tried it!
Easy to use. Great products
I purchased this massage gun about a week ago to treat my muscle pain. This massage gun actually works great to Relieve my pain.
First time buyer, good price with quality
The price is really good considering the quality. I hope it lasts longer.
Shark Shaver Pro - Platinum Electric Skull Shaver For Head & Face
Best Electric Men's Shaver