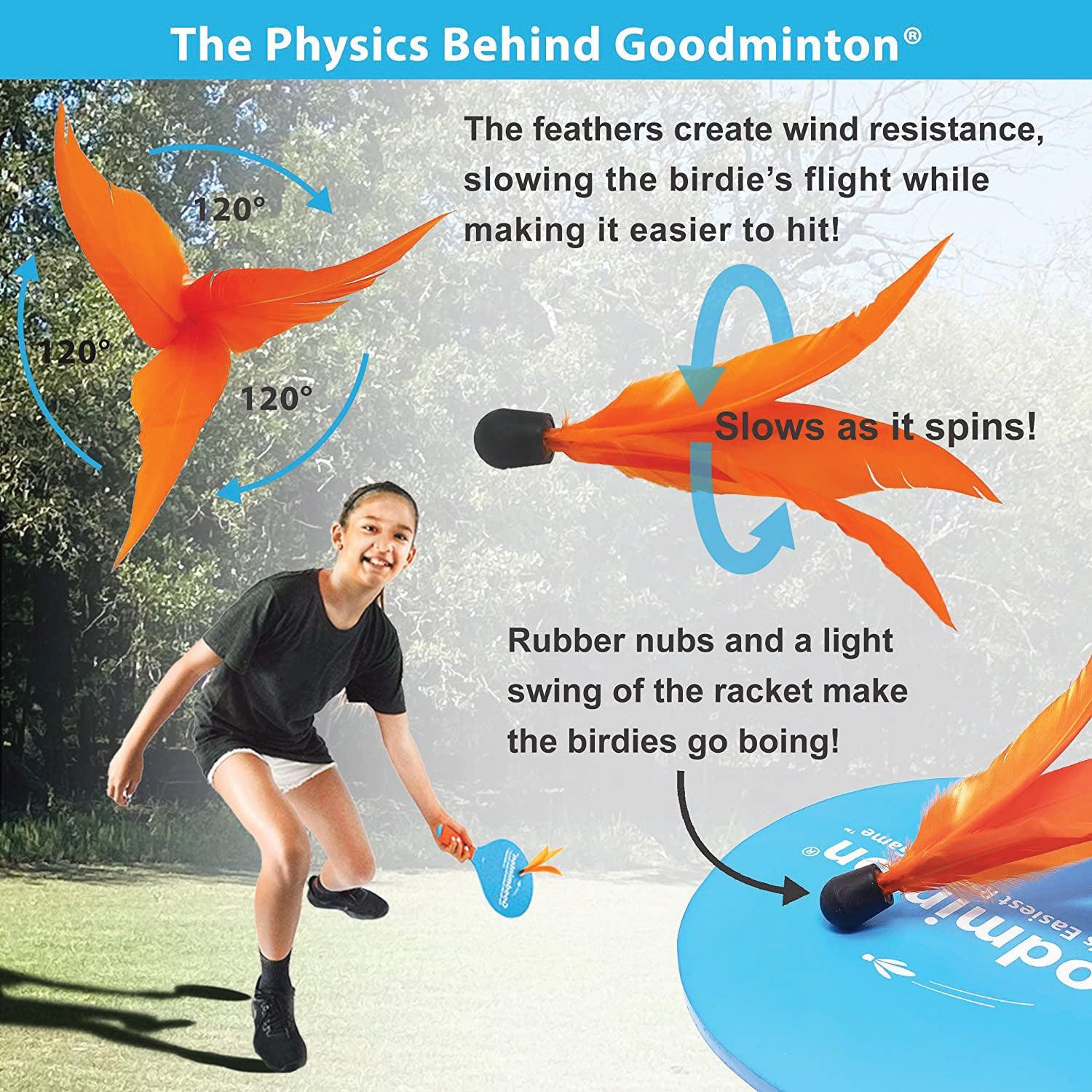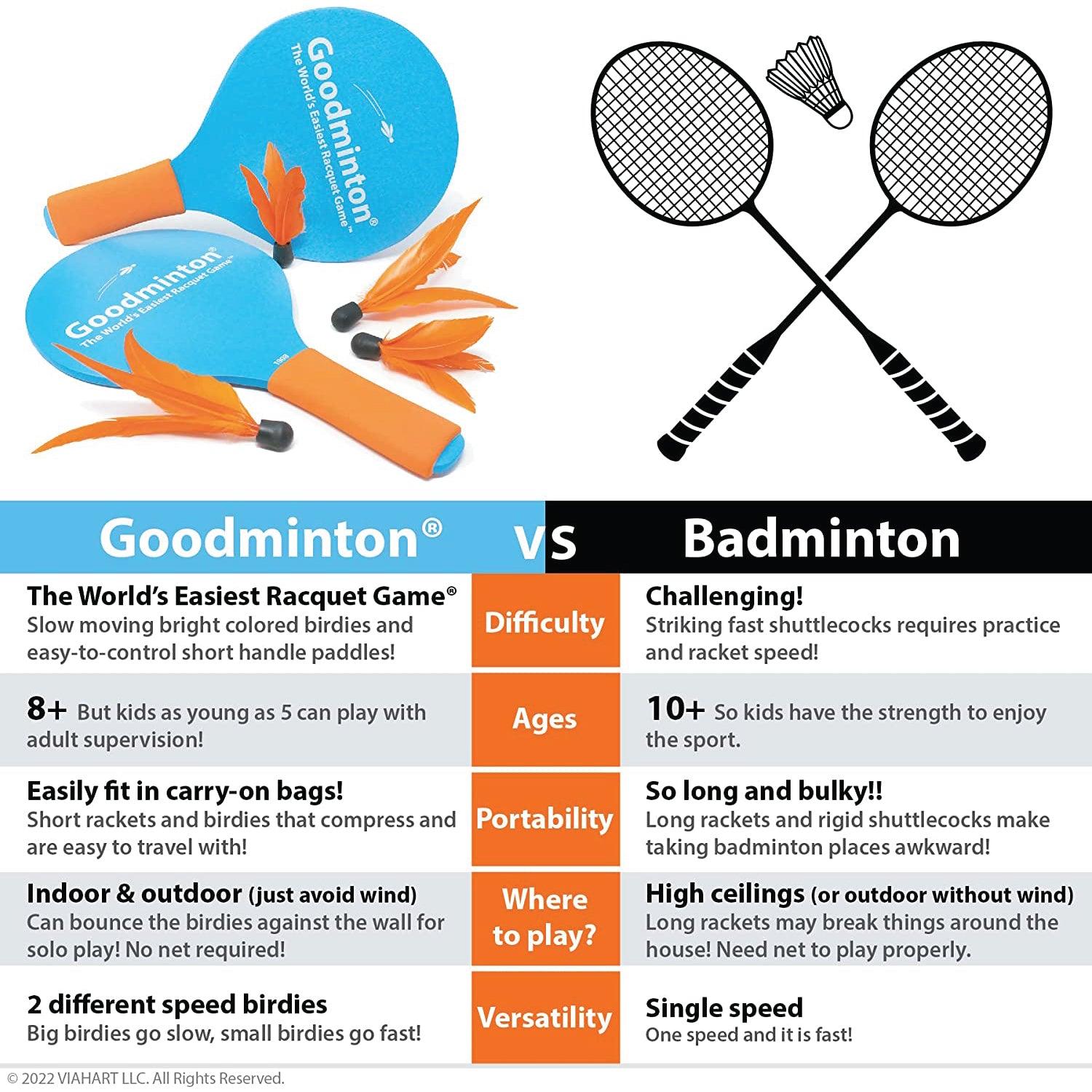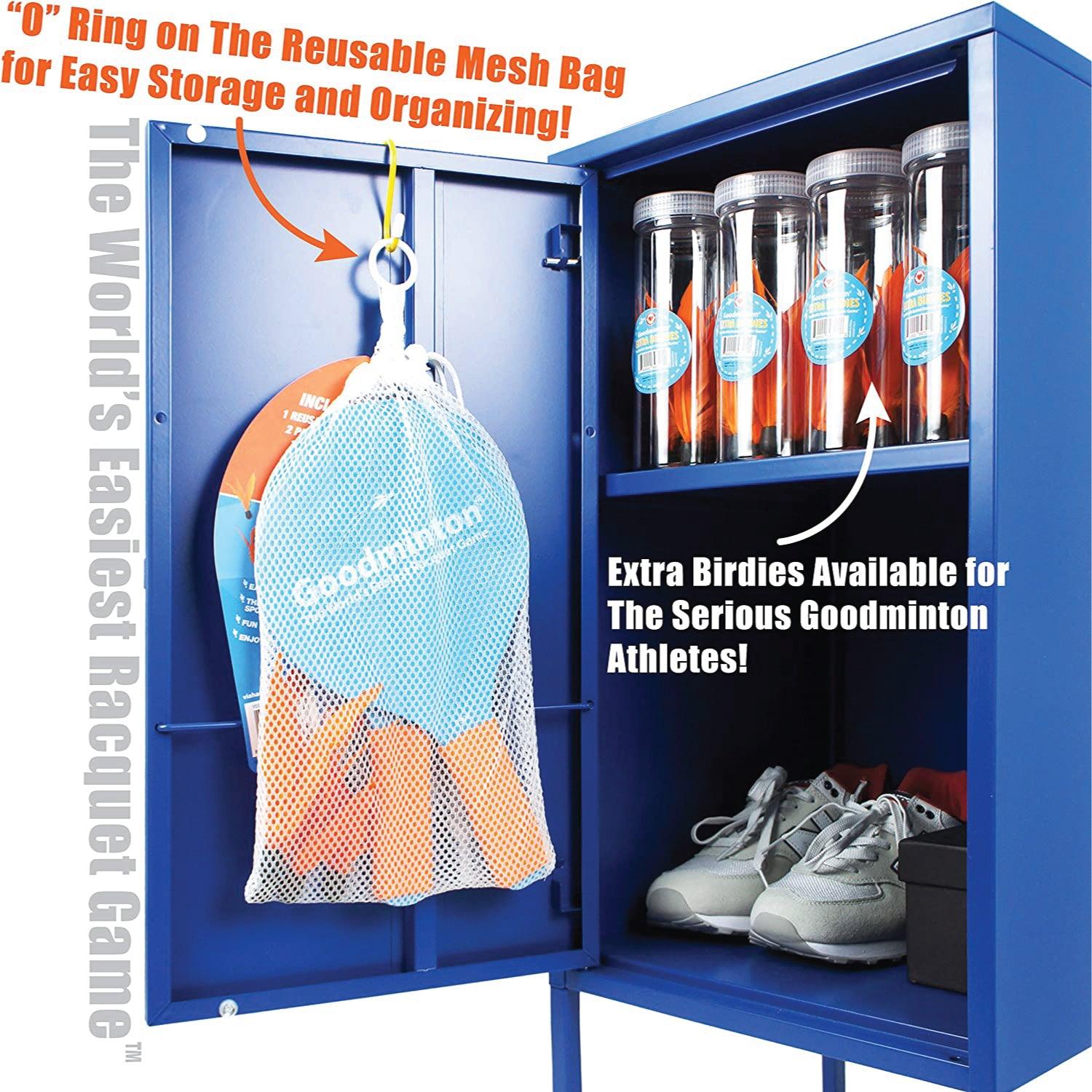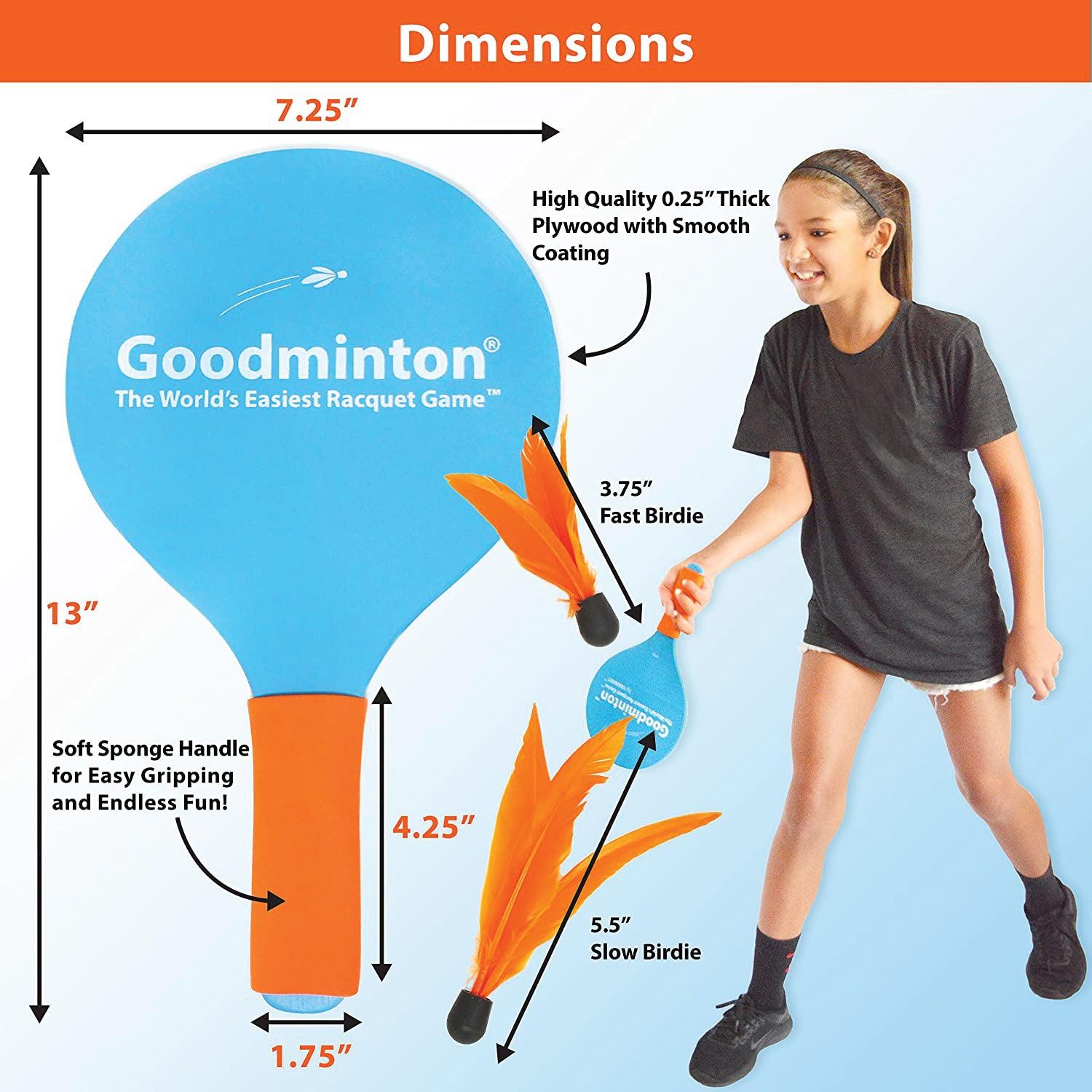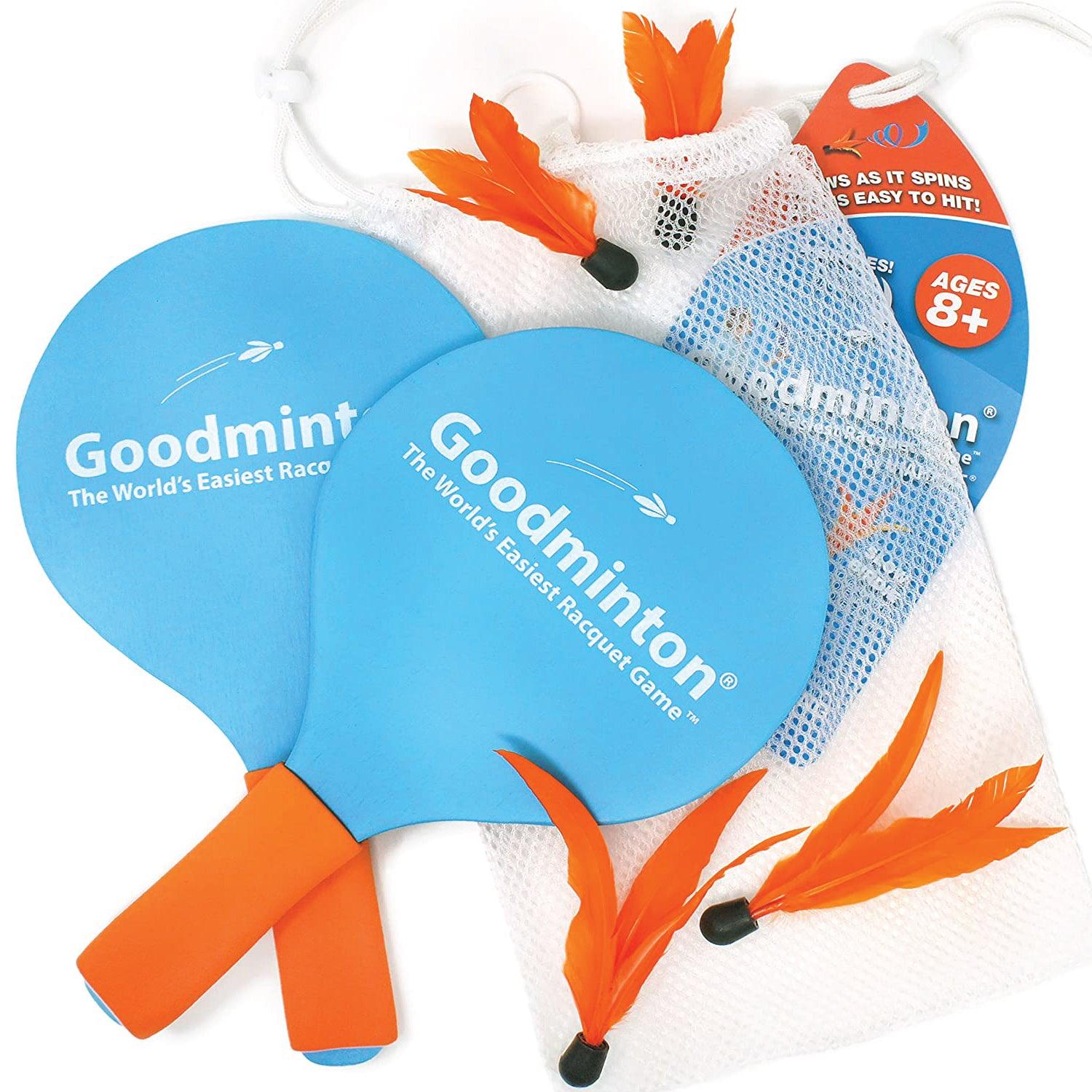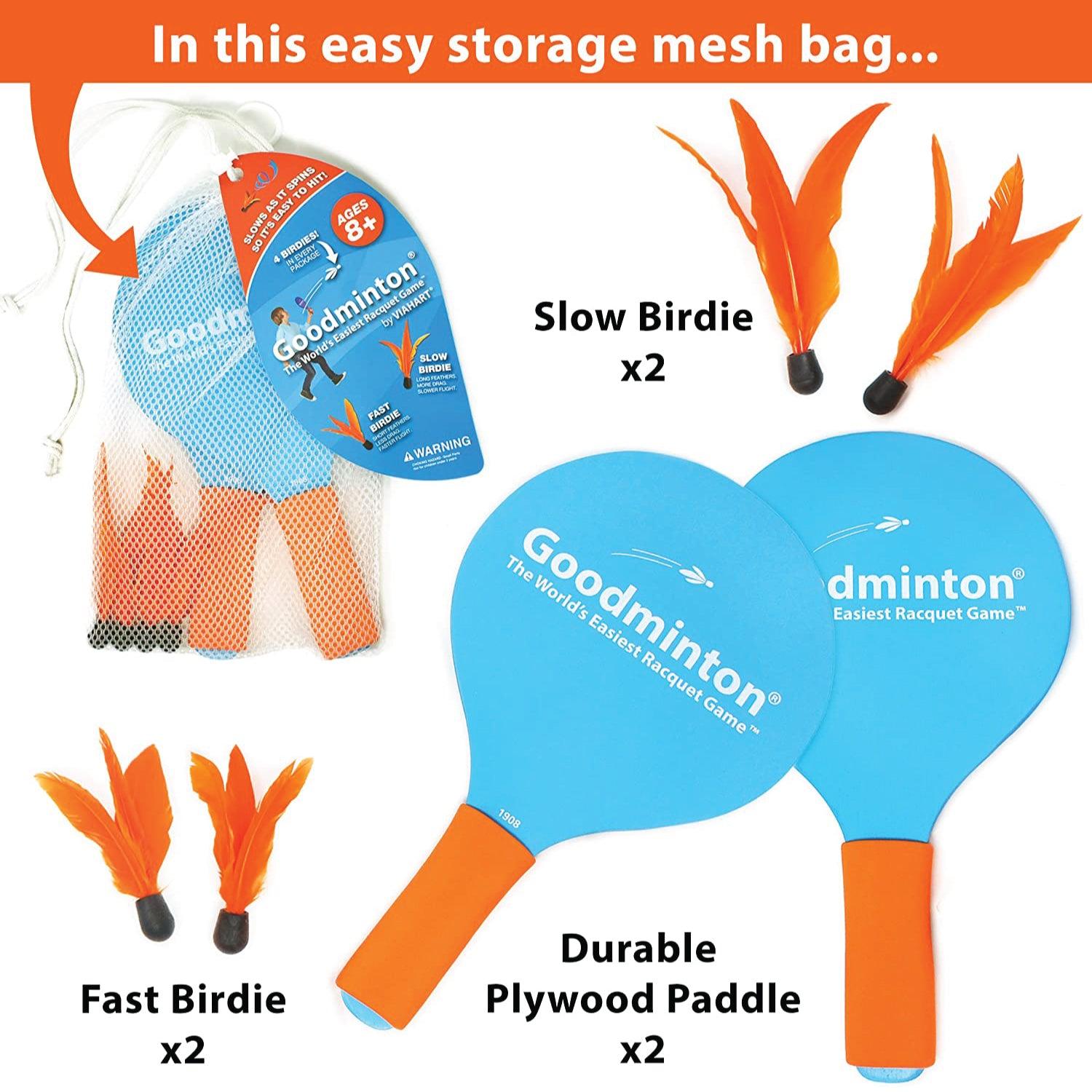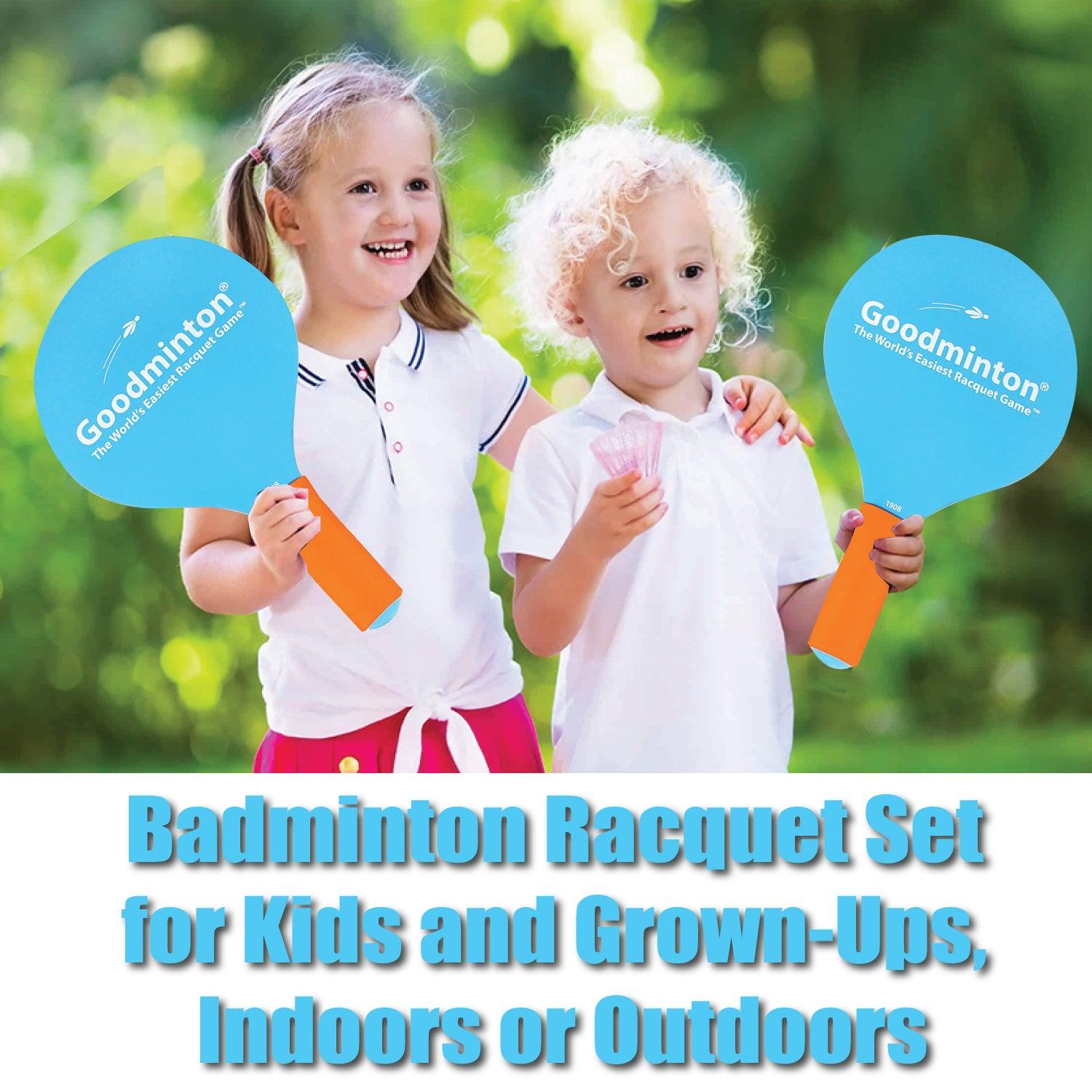 Goodminton Racquet - The Easiest Goodminton Racquet Set for Kids and Grown-ups

About Goodminton Racquet
Goodminton Racquet, The strung region, the head, the throat, the shaft, and the handle are the five main components of a goodminton racket. A frame is a collective term for the racket. The frame's maximum length is 680mm, and its greatest overall width is 230mm.
Wooden Paddle Game:
2 wood beach paddles that are lightweight, strong, and waterproof. Only 6oz (170g) per person! Official 13" long and 7.5" broad. 2 orange balls with a medium bounce and great visibility. 2 orange and 2 yellow premium birds for slow and quick, respectively. Get your set to the beach, including 1 black mesh beach tote bag!

Fantastic indoor game All-season amusement for junior to experienced players of all ages and ability levels. supple foam handles For small children and adults, the birds' leisurely spinning creates a magical racket sports rally! Not recommended in strong winds since the bird's fight may be disturbed.
Beach Bat Ball:
The best way to introduce novices or young people to racquet sports. Play badminton over a net for some friendly competition. a low-impact workout. Simple, simple, and crazily enjoyable.
This beach ball set is better suited for use in windless or breezy circumstances and is more similar to badminton when played with a birdie ball. When using a ball, the game also resembles tennis more closely, making it appropriate for windy circumstances.
Size and Weight of Badminton Rackets for Juniors:
Product Dimensions are 33,1 x 19,1 x 2.6 cm. The product weighs about 0.4 kilograms. The package is not included in the dimensions or weight. To understand more about this product.
Family Garden Game :
Get off the couch and away from the electronics so that you and your children may attend a baseball game. Play, move your body, expend energy, practice hand-eye coordination, and sharpen your reaction speed.
Gift Idea :
Anyone ages 4 and up can enjoy playing wood beach tennis. This wooden paddle toy is particularly appealing to men, women, boys, girls, and people of all ages since it is safe and enjoyable, from schoolchildren to adults. Picnics and Sunday family barbecues will be more enjoyable. Perfect for any occasion and the beach, lawn, family gatherings, and more
You May Check It Out: Football Training Cones


Size One Size
Sport : Goodminton
Material : Wood
Skill level: Advanced
Frame material : Wood

Be Maskura Fit
Our Happy Hoopers
30 Minutes Daily Fun Workout
The smart hula hoop counts your burned calories, tracks how long you work out, and records other vital information.
Easy Installation Process
Our Smart Weighted Hula Hoop has a carefully planned design with 27 knots placed in hoop's circumference.
27 Detachable Knots
Our Smart Weighted Hula Hoop has a carefully planned design with 27 knots placed in hoop's circumference.
Let customers speak for us
This set is the ideal starter kit if you're wanting to introduce someone to badminton. The shuttlecocks are top-notch, and the rackets are lightweight and simple to grip. I've already suggested this set to a number of friends that want to start playing the sport.
Perfect for juniors
I purchased this badminton racket set for my 10-year-old son, and it's been a great investment. The rackets are the perfect size for him, and the set comes with everything we need to play. I'm impressed with the quality and durability of the rackets, especially considering the affordable price.
Fun for the Whole Family!
The Badminton Rackets for Juniors has been a huge hit with my family! We've been playing with them indoors and outdoors, and they've held up well in both settings.
Great Quality and Easy to Use!
They're sturdy and well-made, and the included shuttlecocks are durable and fly well. The rackets are also easy to use, with a comfortable grip and lightweight design that makes them perfect for both kids and adults. Overall, I would highly recommend this set to anyone looking for a high-quality badminton racket set that's easy to use and fun for the whole family.
Perfect for Kids and Adults Alike!
I purchased the Badminton Rackets for Juniors for my kids, but I've been having just as much fun playing with them myself! The rackets are lightweight and easy to handle, making them a great option for both kids and adults.
Shark Shaver Pro - Platinum Electric Skull Shaver For Head & Face
Best Electric Men's Shaver