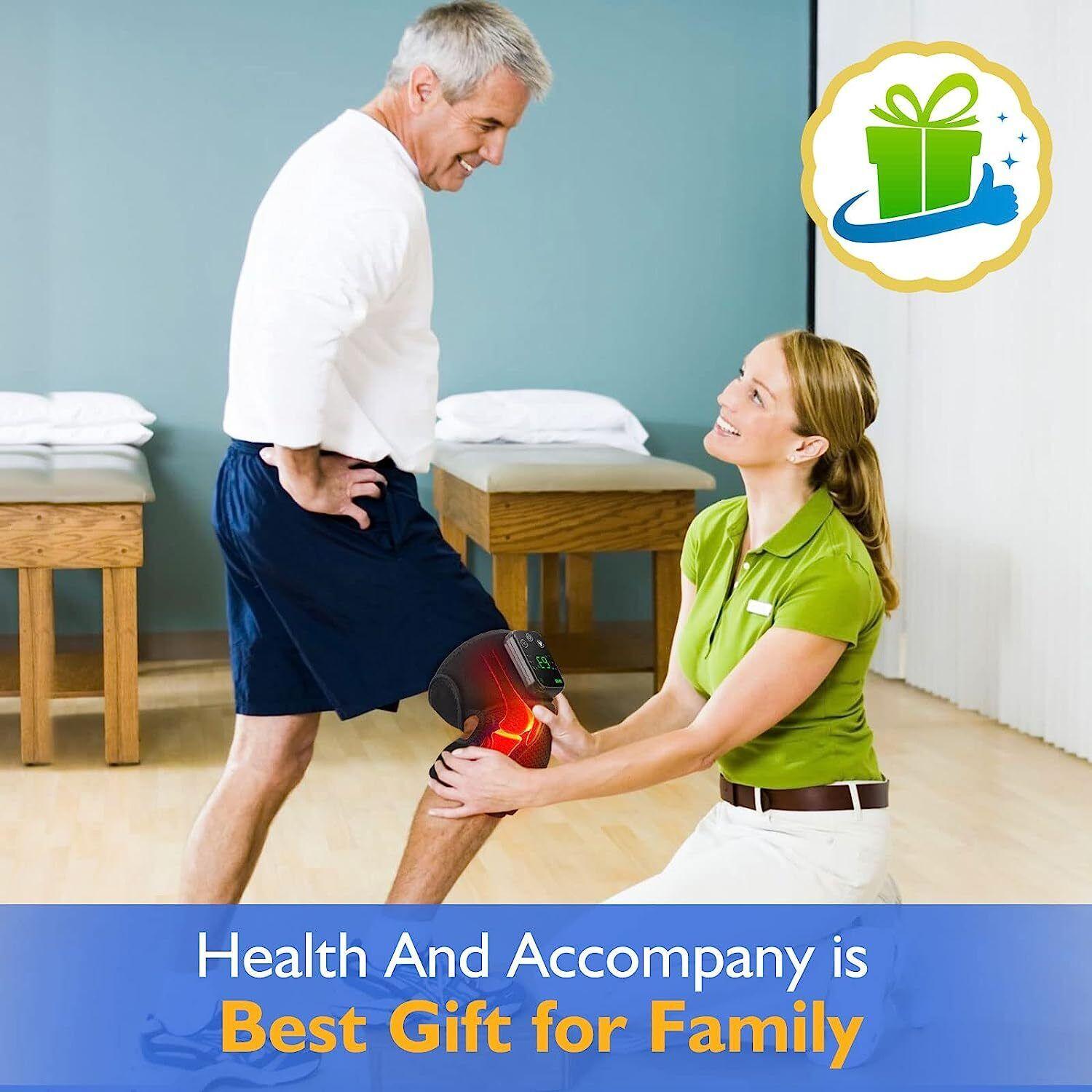 Heat Pads for Knees - Electric Heated Elbow Knee Pads Brace For Arthritis Knee Pain Relief

About Heat Pads for Knees
An innovative and effective treatment option, the Electric heat pads for knees are made to specifically target discomfort, offer warmth, and enhance comfort in the knee region. For those experiencing knee pain, stiffness, or discomfort—whether from cold weather, arthritis, or strained muscles—this product is perfect.
Key Features Heat Pads for Knees
Adjustable Heat Settings: Usually, this knee pad has several heat settings so you may adjust the amount of warmth and comfort to your preference. It may be adjusted to suit different tastes and weather thanks to the heat settings.
Fast Heating: Your knee region will feel warm almost immediately thanks to the knee pad's electric heating element, which heats up rapidly. This is a useful way to reduce stiffness and soreness.
Compression and Support: Numerous types incorporate compression and support elements along with heat therapy. In addition to reducing swelling and enhancing blood circulation, the compression helps stabilize the knee joint.
Easy-to-Use Controller: Typically, the knee pad has an intuitive remote that lets you turn it on and off as well as change the heat levels. The controller is convenient and easy to use.
Targeted Pain Relief: With its unique design, the Electric Heated Knee Pad provides targeted treatment for pain, arthritis, and discomfort by applying heat to the knee area.
Comfortable Design: The knee pad is usually composed of materials that are flexible, breathable, and soft to ensure a comfortable fit and long wear times without causing irritation.
Safety Features:  Automatic shut-off timers and overheat protection are two examples of built-in safety features that assist in guaranteeing safe and worry-free knee pad use.
Versatile Usage: It can be used for a number of purposes, including managing arthritis, relieving pain, relaxing muscles, and even preventing knee discomfort brought on by cold weather.
Rechargeable Battery: Rechargeable batteries, which offer portability and do away with the need for frequent battery changes, are included in certain versions.
For those looking for a quick and relaxing fix for knee pain, stiffness, or discomfort, the Electric Heated Knee Pad is a great option. Its integrated compression, warming, and support functions can be adjusted to enhance comfort and enhance general knee health.
Condition: A brand-new, unused, unopened, and undamaged item
Type: Electric Heated Knee Pad
Body Area: Knee
Main Purpose: Pain Relief, Arthritis, Bursitis, Compression, Arch Support
Size: As shown
Department: Unisex
Features: Adjustable, Self-Heating
Color: Black
Theme: Healthy Care
Item Width: As shown
Item Height: As shown
Item Length: As shown
Model: Knee Braces for Knee Pain
Temperature Settings: 45 degrees -55 degrees -65 degrees
Long strap length: 64cm
Working voltage: 5V
Suitable for: the elderly, office workers, students, athletes, etc.
Other Type: Knee Warmer For the Elderly in Cold Weather
Battery: 4000mAh
Be Maskura Fit
Our Happy Hoopers
30 Minutes Daily Fun Workout
The smart hula hoop counts your burned calories, tracks how long you work out, and records other vital information.
Easy Installation Process
Our Smart Weighted Hula Hoop has a carefully planned design with 27 knots placed in hoop's circumference.
27 Detachable Knots
Our Smart Weighted Hula Hoop has a carefully planned design with 27 knots placed in hoop's circumference.
Let customers speak for us
Awesome!
This product is excellent for the price. Excellent heat and massage or just massage. It has proven quite beneficial to my knee following meniscus surgery.
Shark Shaver Pro - Platinum Electric Skull Shaver For Head & Face
Best Electric Men's Shaver