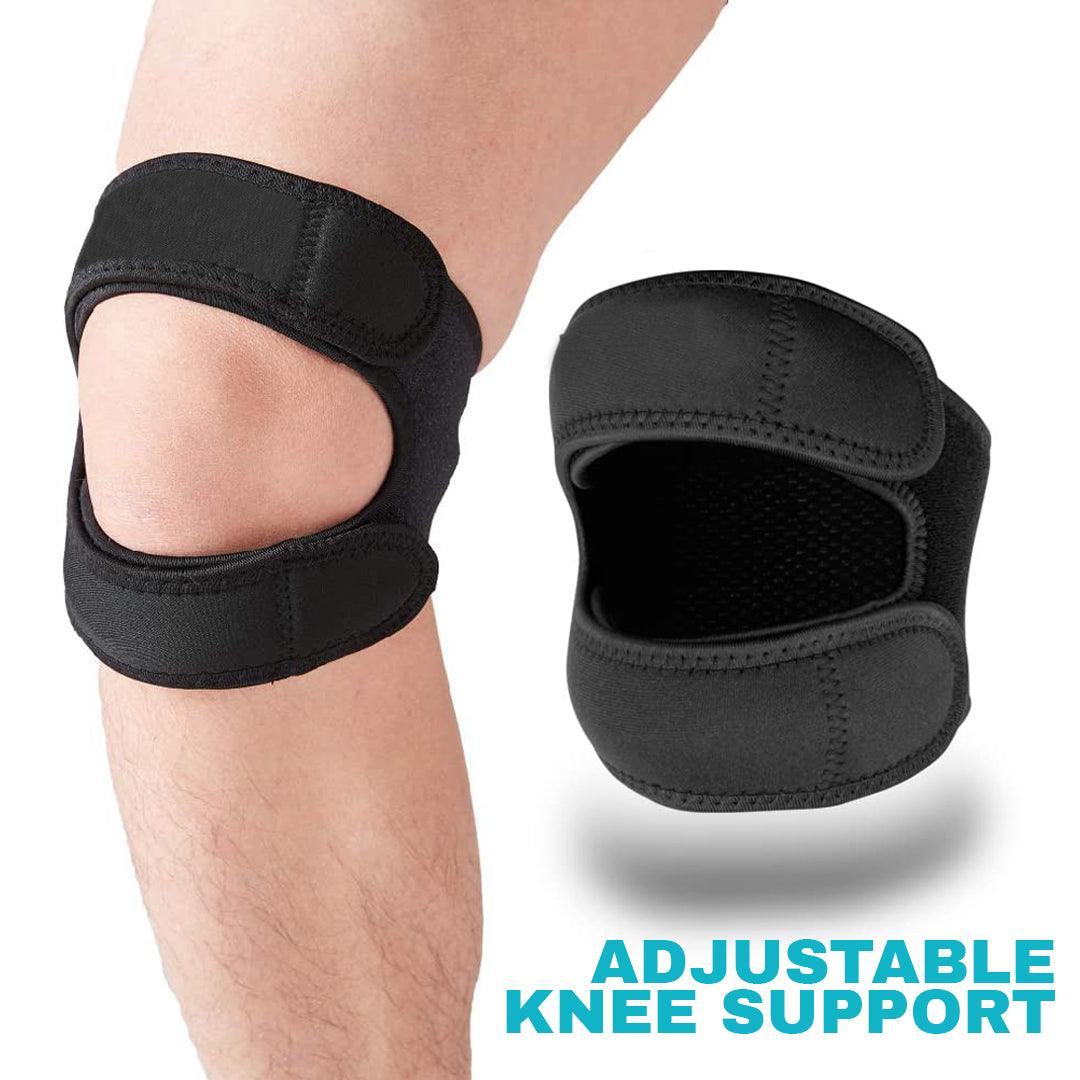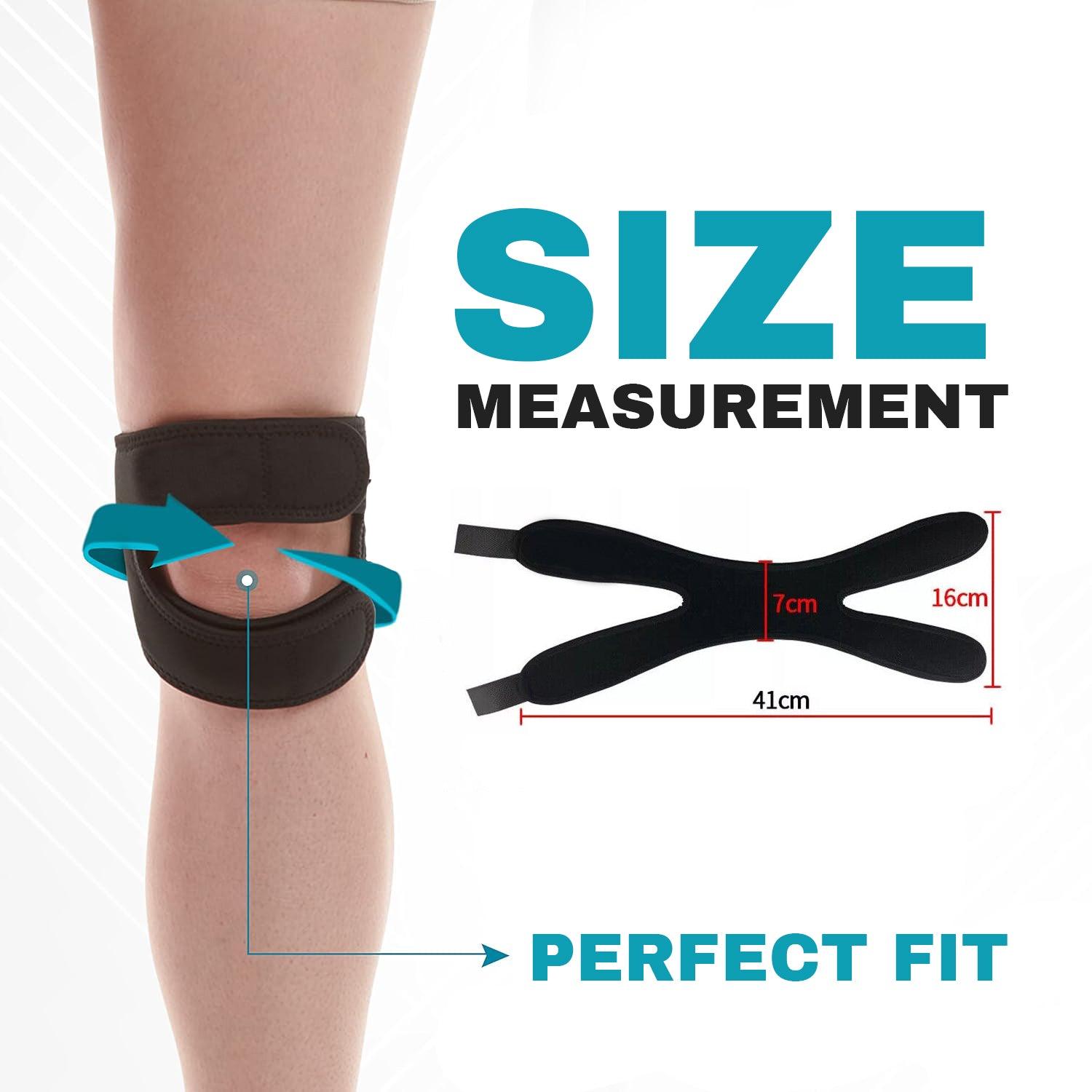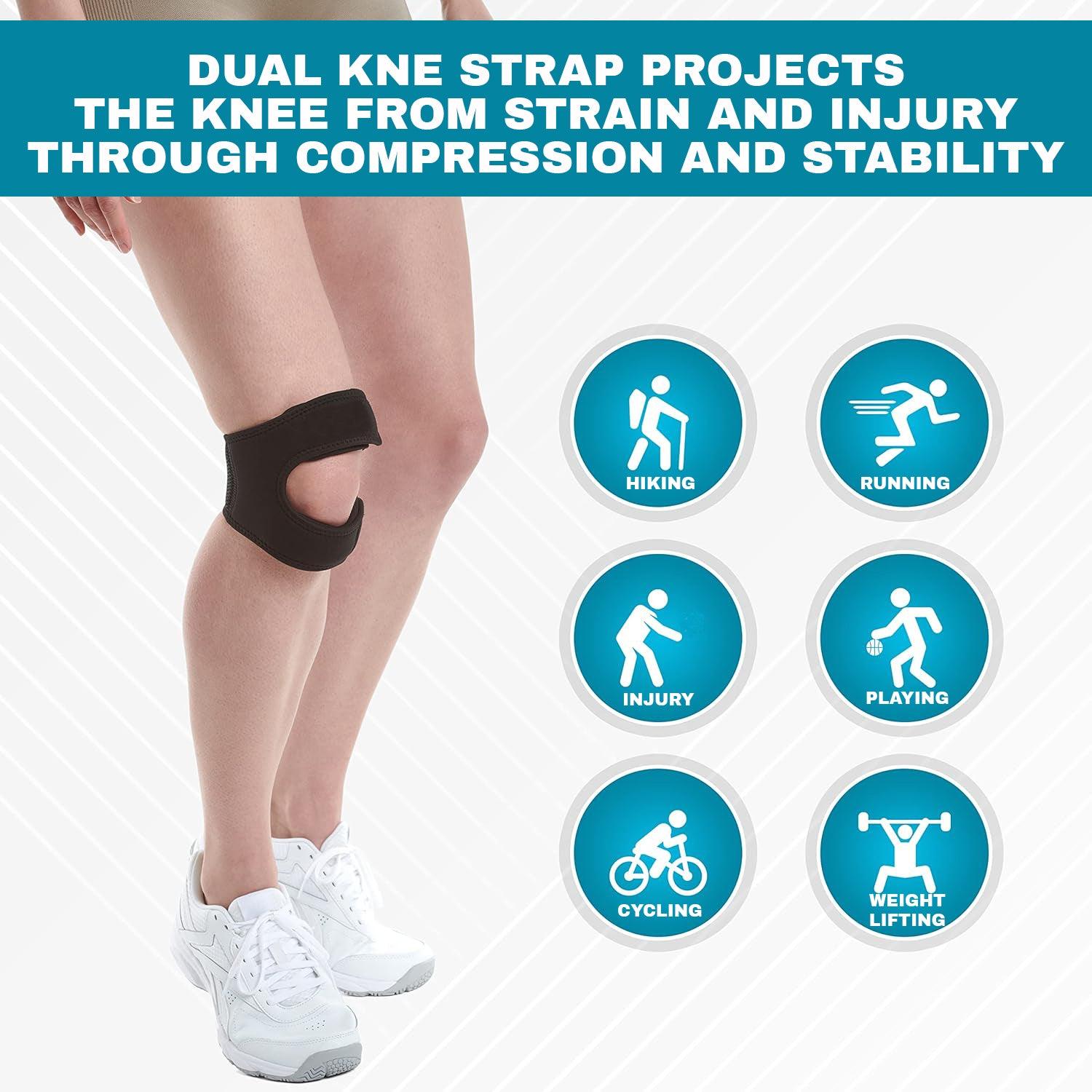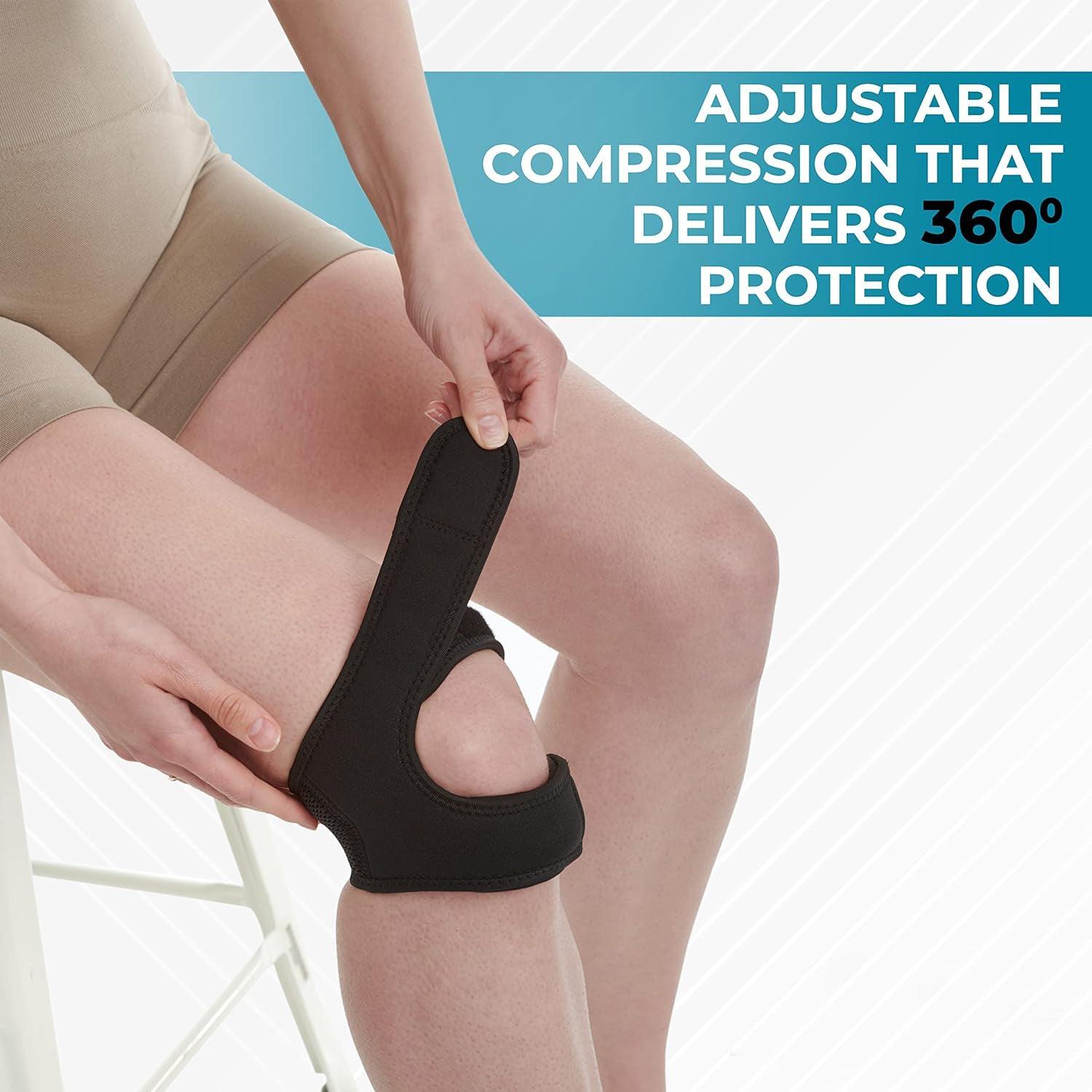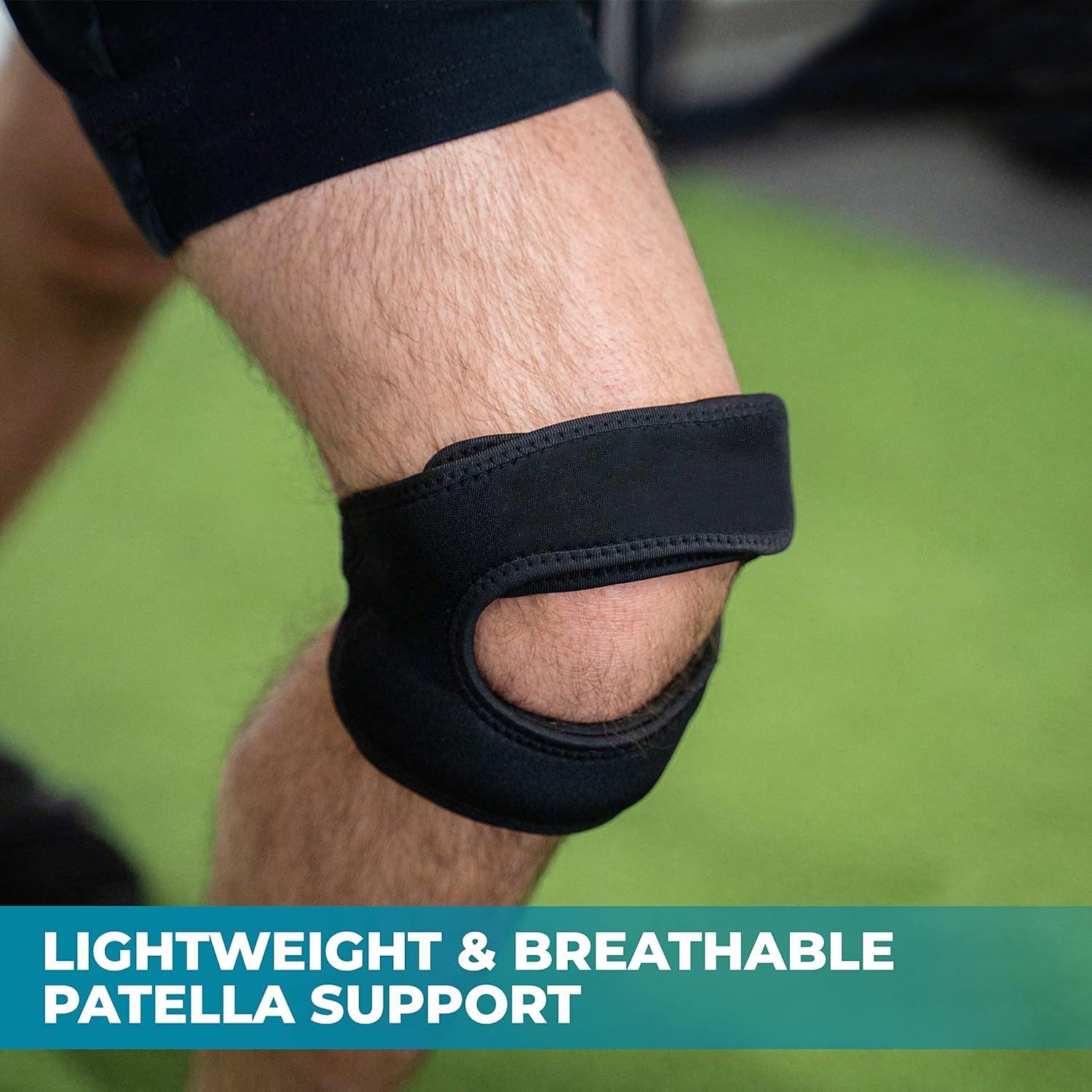 Patella Knee Strap - Tendon Straps Running Sports Pain Neoprene Brace

About The Patella Knee Strap
Presenting our Patella Knee Strap, your dependable go-to source for focused support and alleviation of knee soreness. Whether you're an athlete recuperating from an injury or a person looking for added stability when exercising, our knee straps are made to improve your comfort and range of motion.
Key Features of Patella Knee Strap
Targeted Compression: The patellar tendon is the center of attention in our carefully crafted Patella Knee Support Tendon Straps, which give targeted compression precisely where it's needed. In addition to reducing pain, this focused compression enhances stability when moving.
Fits Adaptably: With the adjustable closures on the straps, you may fine-tune the tightness for a snug and secure fit. This feature makes sure that the support is customized to meet your specific needs for comfort and support.
Sturdy and Airy Material: These knee straps are made from premium, breathable materials that offer comfort and longevity. They are appropriate for prolonged usage throughout a variety of activities because of the breathable fabric, which helps to regulate temperature.
Non-slip Design: Maintain your attention on your tasks without stopping to make adjustments. With the non-slip design of our knee straps, you can avoid slipping while moving and keep the ideal amount of support during your daily routine or workout.
Adaptable Usage: Perfect for jogging, trekking, weightlifting, and other multiple sports. These straps are adaptable enough to match your needs whether you're searching for proactive support or are experiencing knee pain.
Lowered Stress on the Patella: These straps are beneficial for those with conditions like runner's knee, jumper's knee, or patellar tendinitis because they stabilize the patellar tendon and lessen stress on the knee joint.
Benefits of Patella Knee Strap
Pain Relief: Get rid of knee pain brought on by a variety of situations or activities, so you may continue being active and moving around.
Enhanced Stability: The knee joint is given additional stability by the focused compression and adjustable fit, which lowers the risk of injury during physical activity.
Easy to Wear: The knee straps are appropriate for both temporary relief and continuous support because of their breathable material, which guarantees that you may wear them comfortably for extended periods of time.
Versatile Support: Our Patella Knee Support Tendon Straps provide flexible and dependable support for a range of activities, regardless of whether you're an athlete, fitness enthusiast, or struggling with persistent knee problems.
With our Patella Knee Support Tendon Straps, you can invest in the health of your knees and an active lifestyle. Get the support, comfort, and relief you require to boldly engage in your favorite activities.
Condition: A brand-new, unused, unopened and undamaged item
Features: Patella support, Hot/Cold Therapy, Self Heating, Adjustable
Knee Patella support: Department
Unisex: Intended Use
Knee Brace: Modified Item
Labels & Certifications: Store Dry
Size: One Size
Material: Neoprene
Color: Black
Main Colour: Black
Texture: Soft
Main Purpose
Arthritis, Compression, Stabilisation, Immobilisation
Gender: Unisex
Body Area: Knee, Leg
Type: Knee Patella Braces / Supports
Body Part: Knee

Be Maskura Fit
Our Happy Hoopers
30 Minutes Daily Fun Workout
The smart hula hoop counts your burned calories, tracks how long you work out, and records other vital information.
Easy Installation Process
Our Smart Weighted Hula Hoop has a carefully planned design with 27 knots placed in hoop's circumference.
27 Detachable Knots
Our Smart Weighted Hula Hoop has a carefully planned design with 27 knots placed in hoop's circumference.
Let customers speak for us
It helps when bowling
Fit well and works when I need it. Very comfy sometimes forget I am wearing.
Shark Shaver Pro - Platinum Electric Skull Shaver For Head & Face
Best Electric Men's Shaver