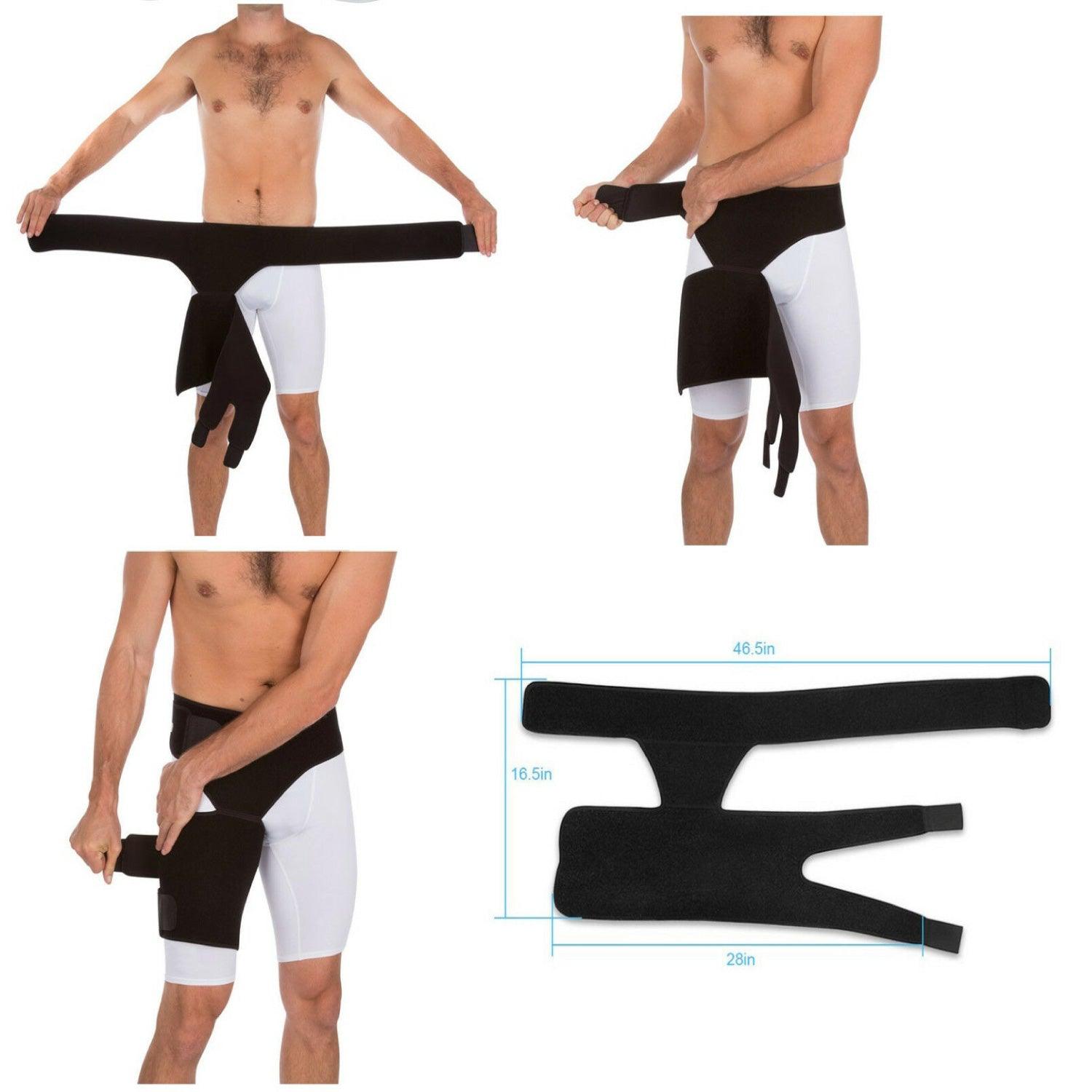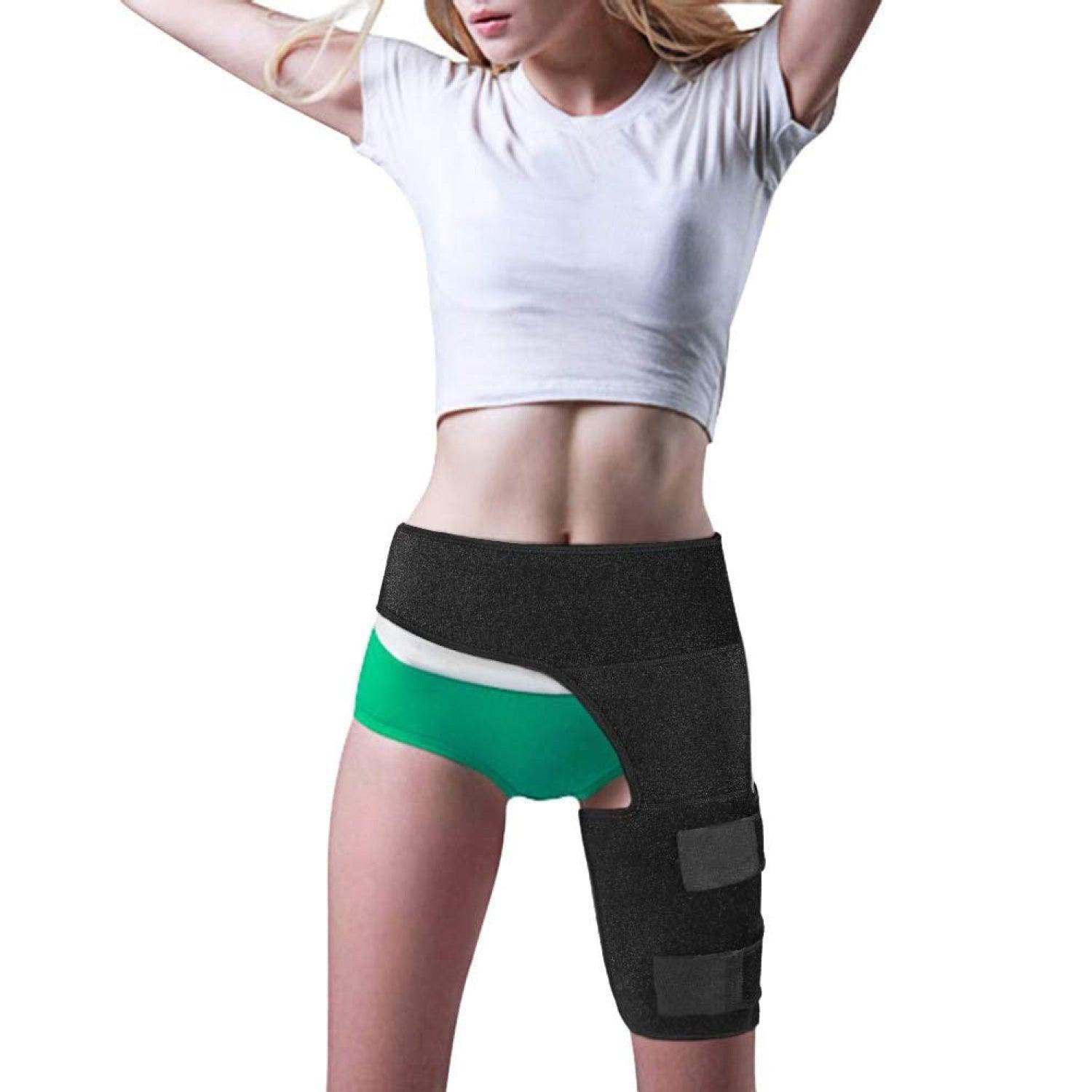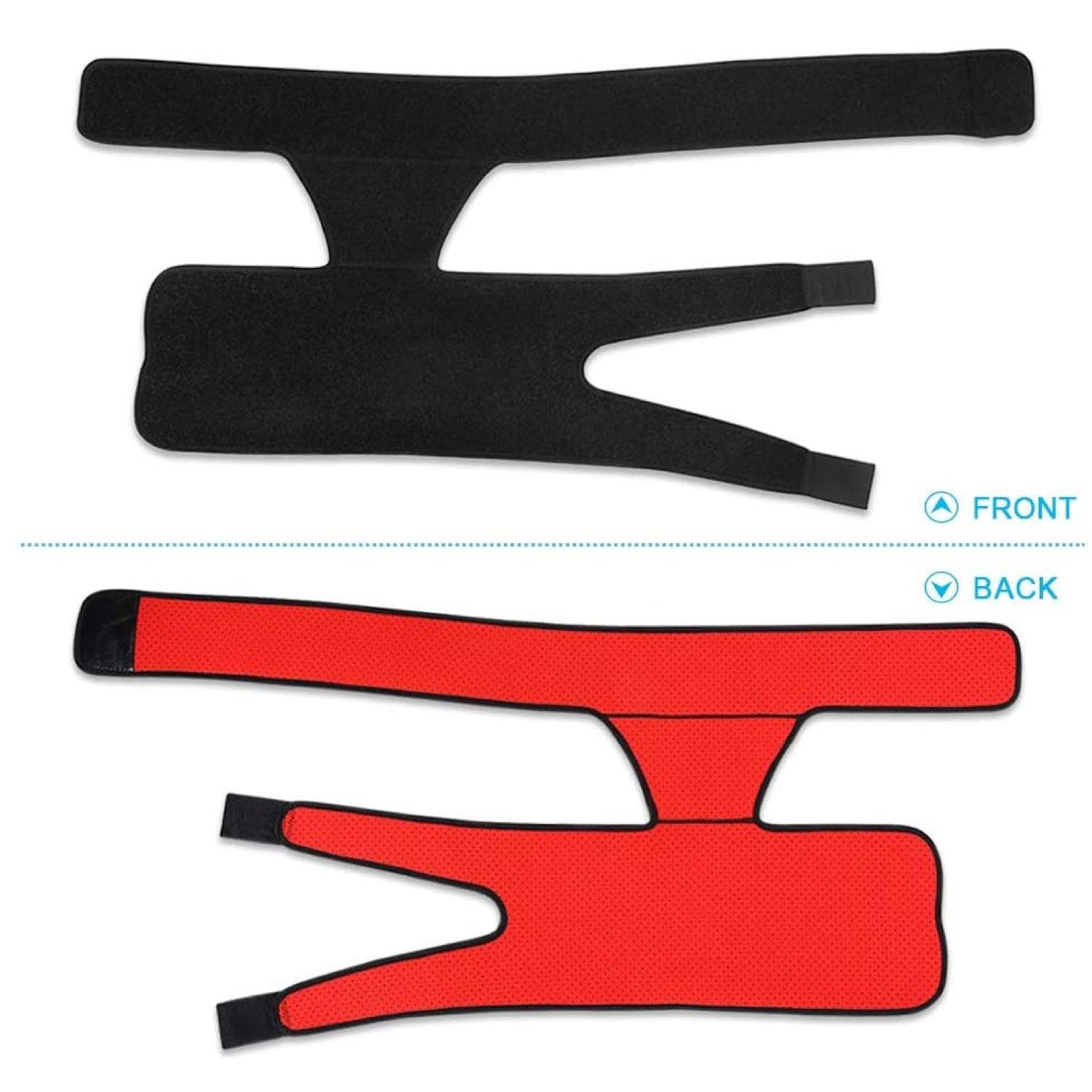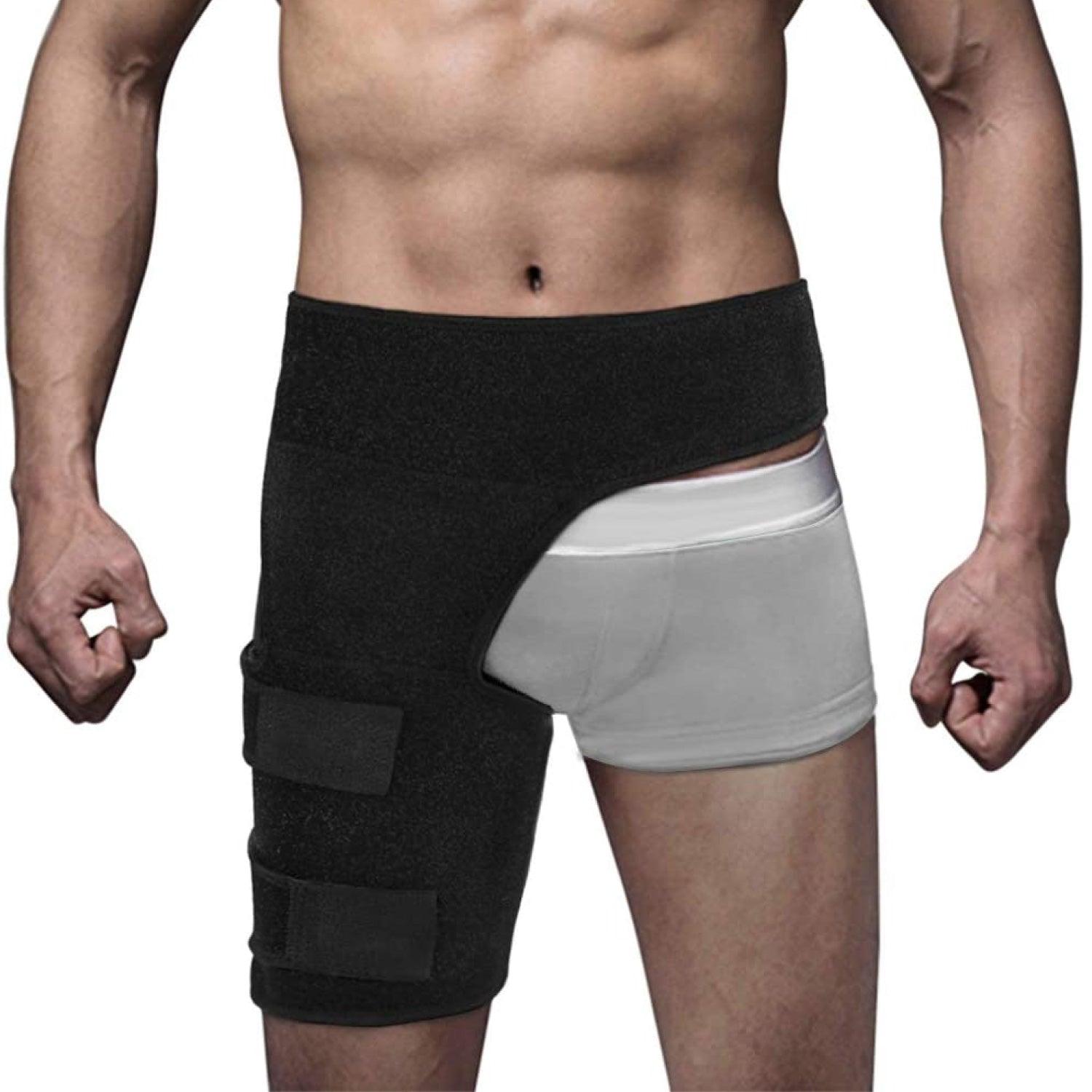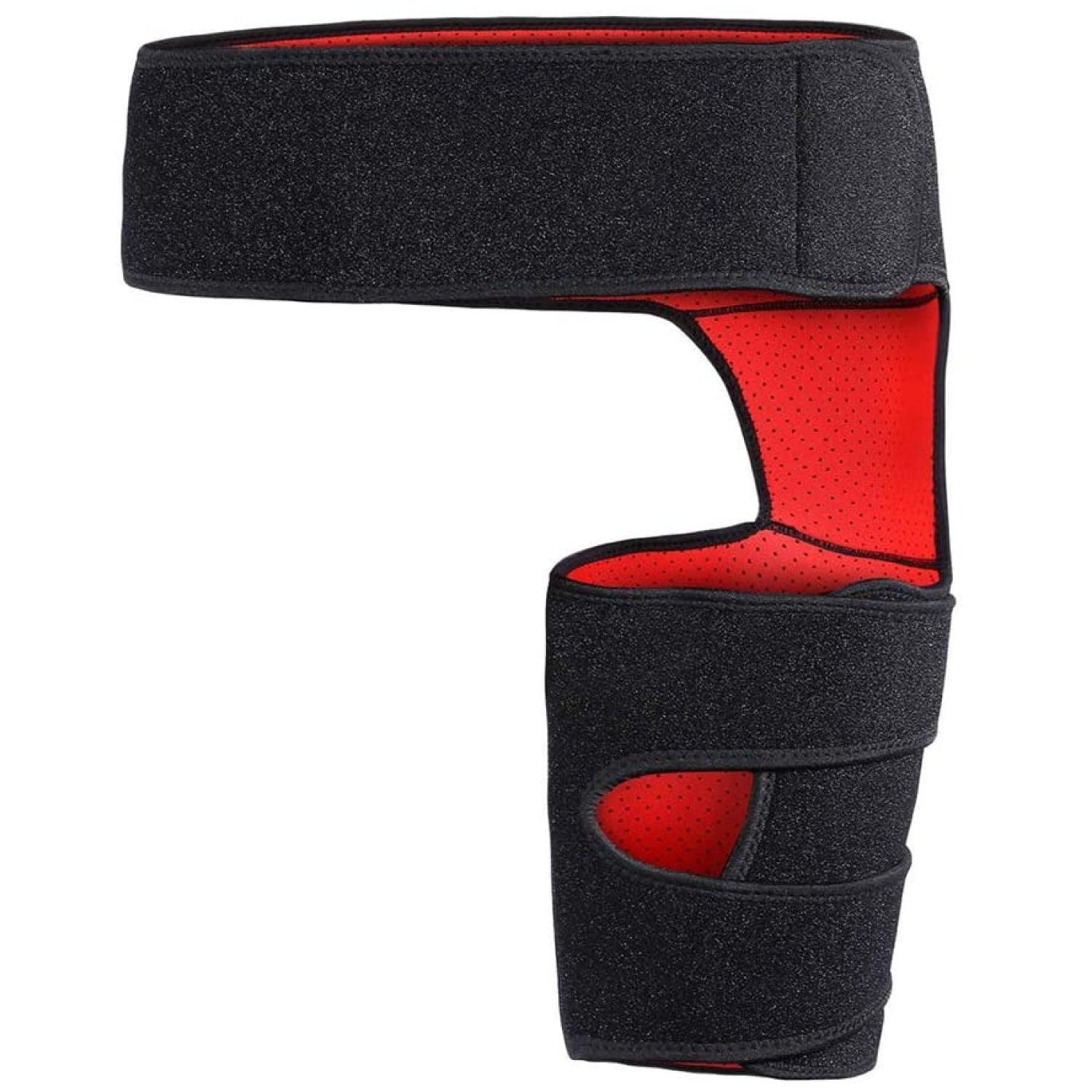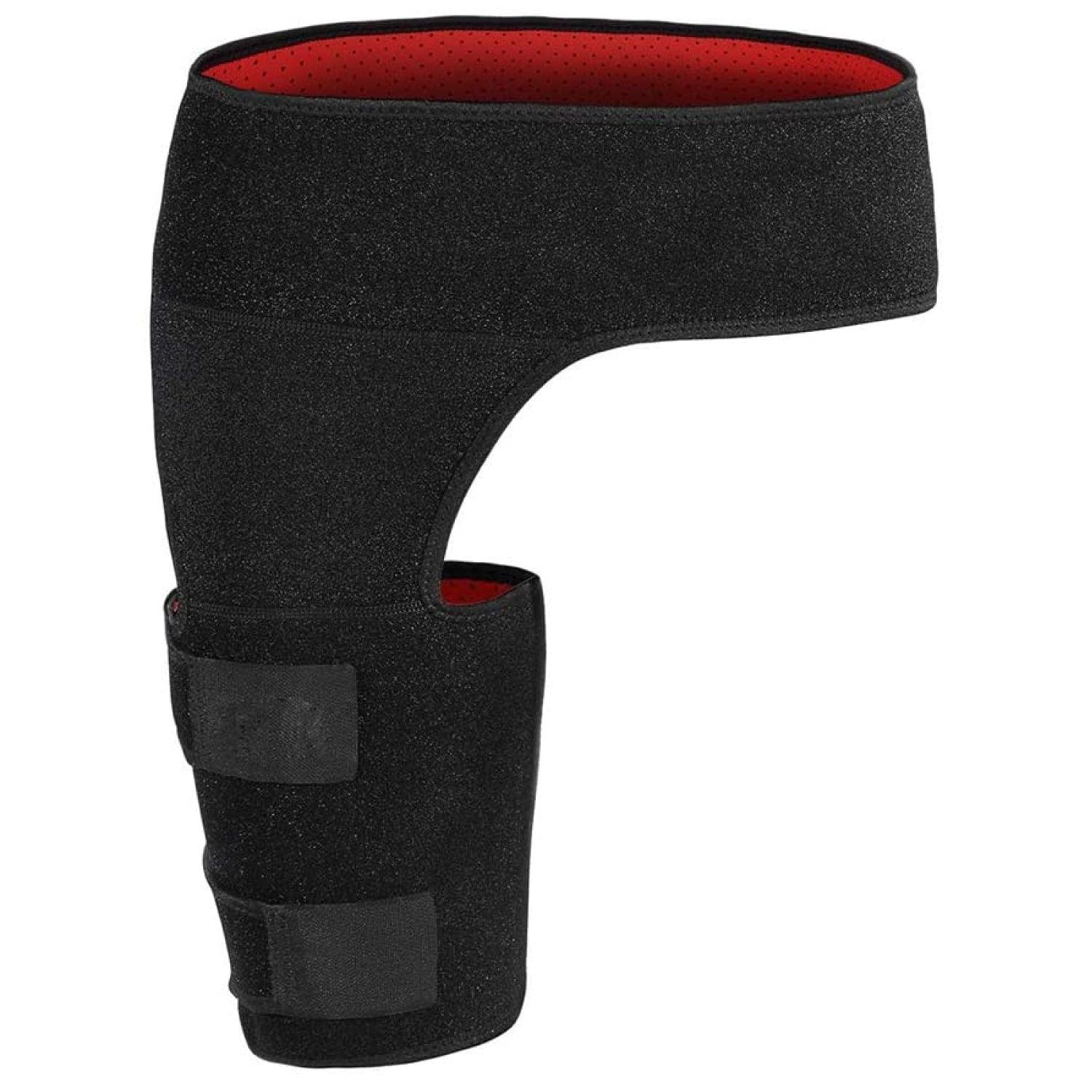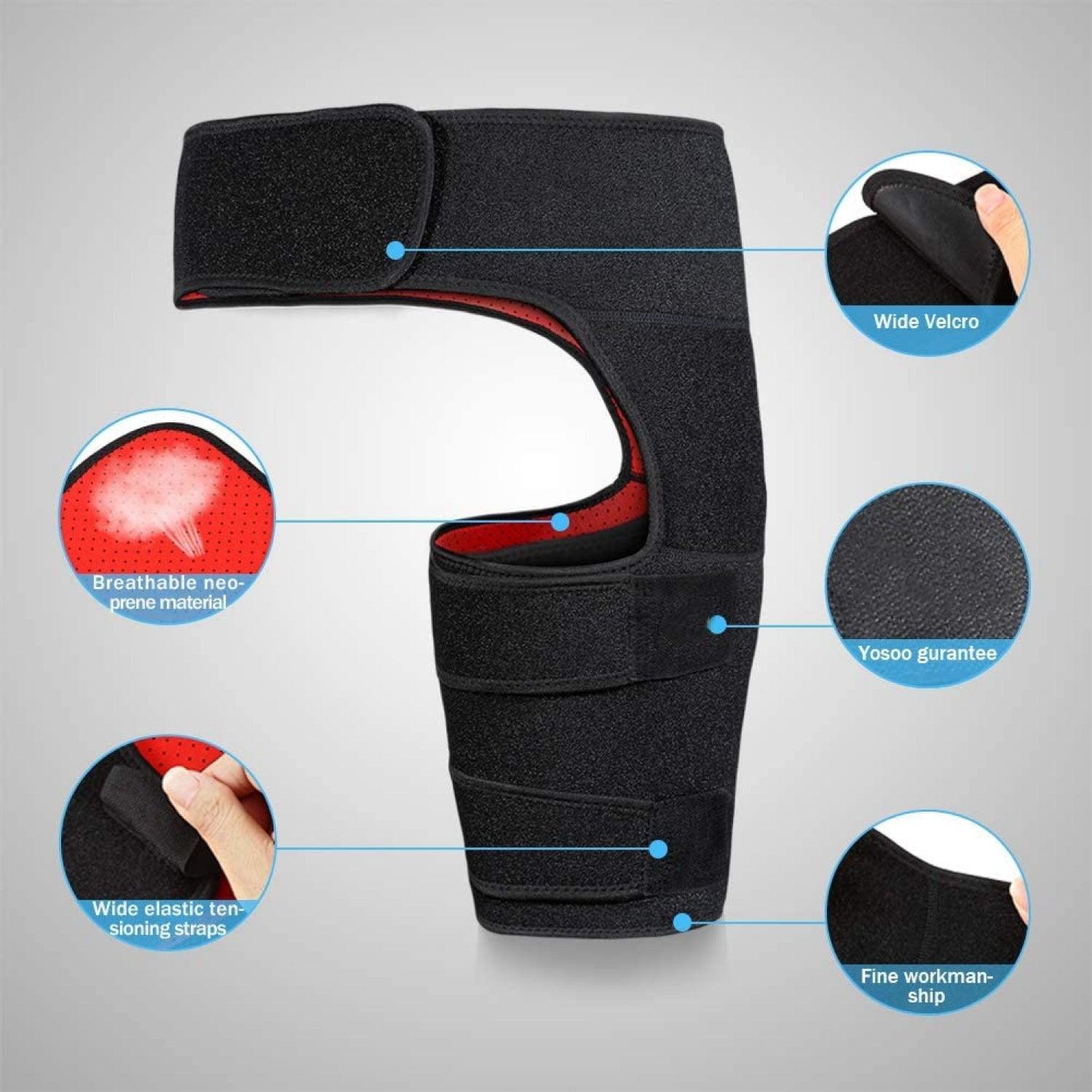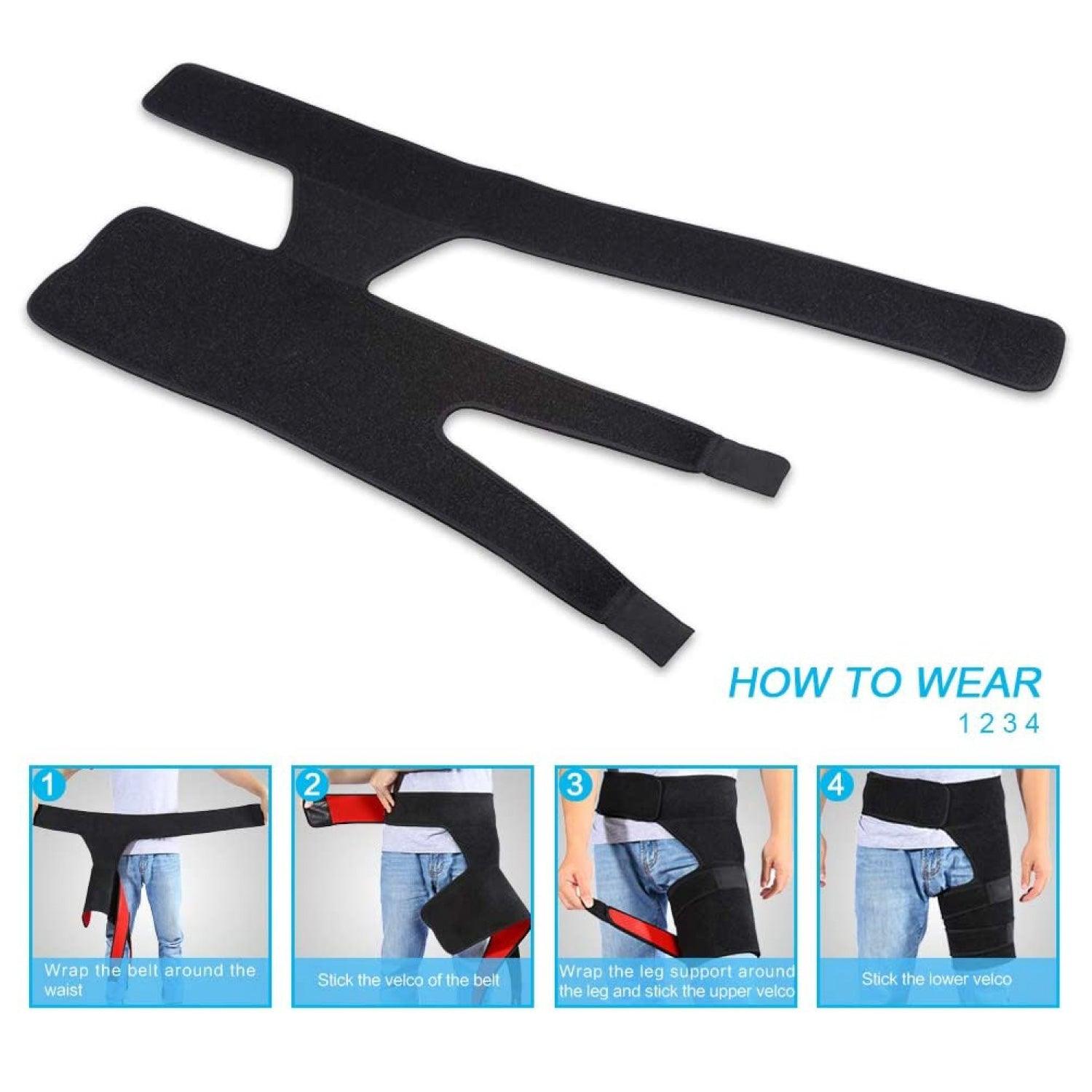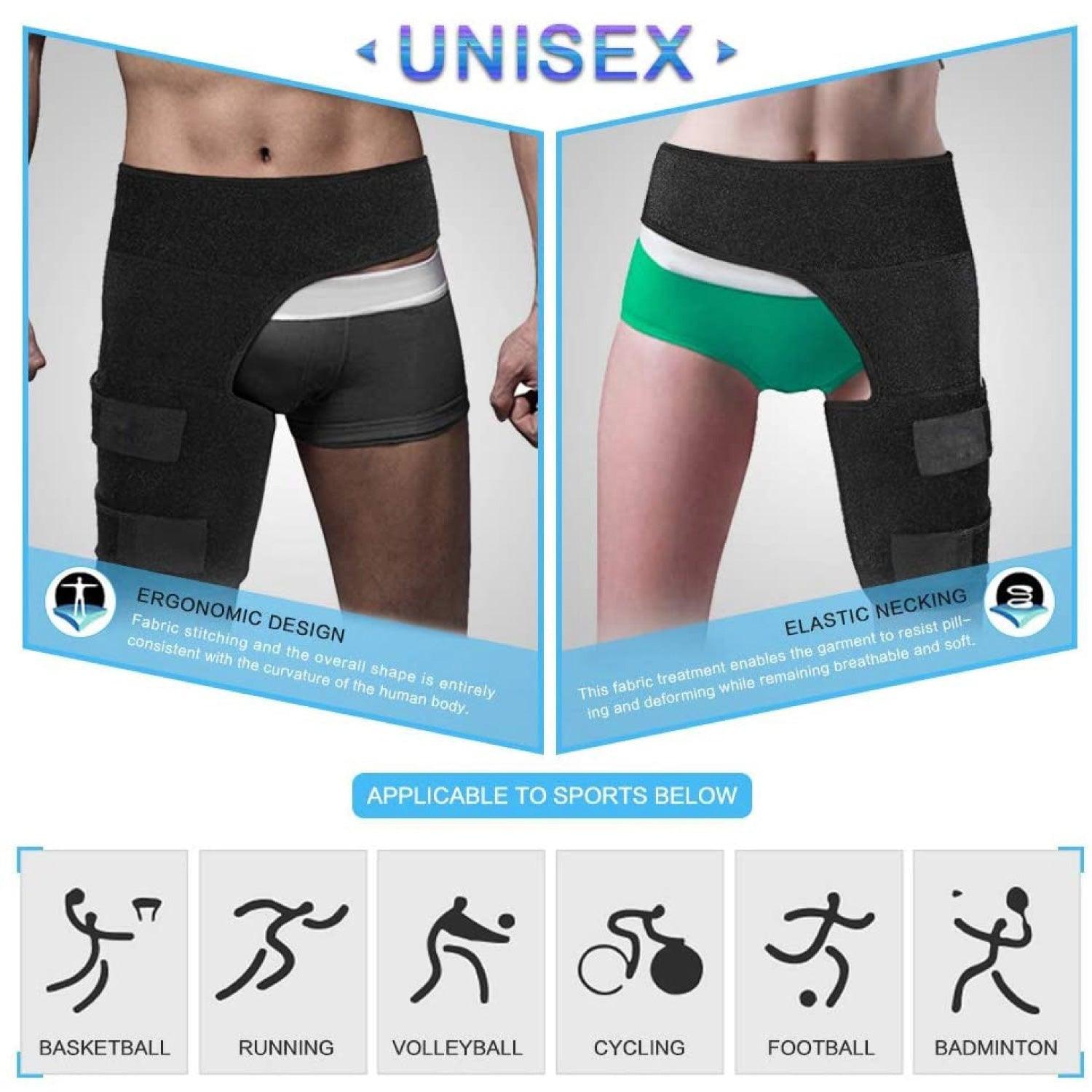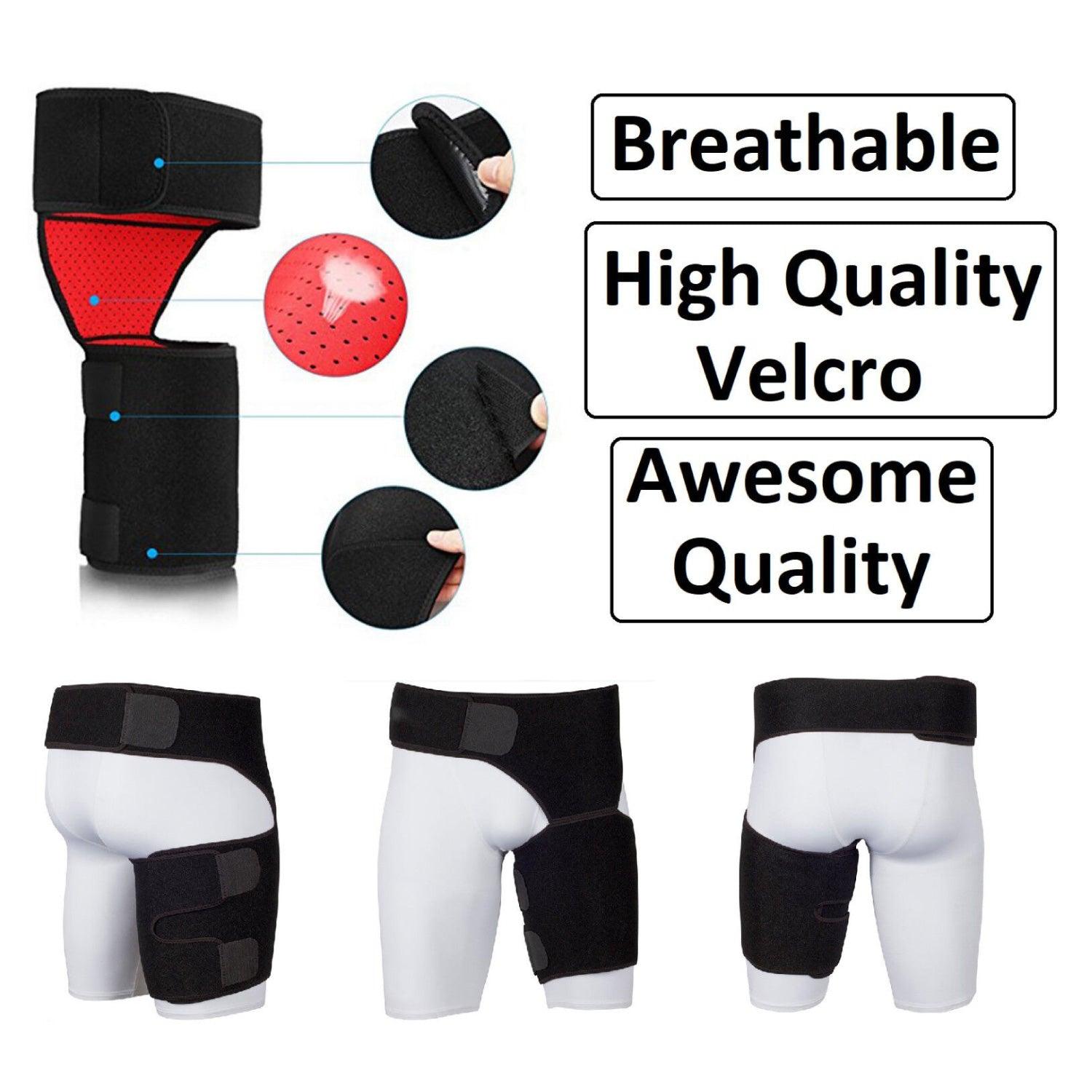 Adjustable Support for Hip - Groin Support Bandage, Adjustable Compression Wrap For Hip, Groin, Hamstring, Thigh, And Sciatic Nerve Pain Relief

About This Item 
Adjustable Support for Hip An ergonomic brace with a professional design is ideal for speeding up the healing process after groin, hip, or hamstring injuries. It reduces recuperation time while improving blood flow and providing smoother compressive relief.
It fits waist up to 46 inches in circumference and thighs with a maximum width of 28 inches. Both the left and right sides can use it.
It was produced by using premium, flexible neoprene material of the highest caliber. It has openings for ventilation, making it cozy to wear.
Adjustable Support for Hip Features :
Groin strains hurt. They may make simple activities like walking a struggle. Because those delicate muscles are essential for regulating the leg in daily tasks, injuries may take some time to heal, depending on their degree. The Groin Wrap will help to compress and stabilize the sore muscles, which will greatly aid in recuperation.
Two straps are preferable to just one! To specifically address sciatica pain, we created a distinctive design and included a second strap that wraps around the waist. Through compression and enhanced blood flow, it will minimize swelling and lessen discomfort when used as a wrap. Additionally, it will help with the healing process by stabilizing the injured region and encouraging healing.
Two extremely elastic straps on the wrap allow you to adjust the fit. Adjust the compression to your injury's demands and desired pressure, whether you have sciatica in your back or a torn muscle in your groin. You may use the wrap on either your left or right leg to get immediate comfort where you need it most. There is a universal size.
It's made of neoprene, which is flexible, breathable, and moisture-wicking, keeping the skin cool and regulating temperature.
Applying pressure to the injured region increases blood flow, relieves pain, lowers swelling, and speeds recovery. The skin will remain dry and Pleasant throughout the healing process. Great for torn quadriceps or hamstrings, hip flexor problems, or sciatica discomfort!
Both men and women can wear it on their left or right leg. The wild sticky tape makes the wrap very easy to fit and put on; there is no slippage, and it delivers good support, easing the burning feeling in your leg.
The adjustable size will allow you to relax or tighten the waist and thighs.
You May Check It Out: Knee Brace Support Stabilizing Belt Strap

Condition: A Brand New
Size: Universal Size
Color: Black
Custom Bundle: No
Material: Neoprene
Type: Belt
Features: Self Heating, Waterproof
Mondeos Not Apply
Gender: Unisex
Modified Item: No
Intended Use: Leg Brace
Non-Domestic Product: No
Body Part: Thigh
Texture: Semi-Soft
Color: Black with Red Inner Lining
Dimension: Approx. 46.5 x 16.5 x 28 inches

Be Maskura Fit
Our Happy Hoopers
30 Minutes Daily Fun Workout
The smart hula hoop counts your burned calories, tracks how long you work out, and records other vital information.
Easy Installation Process
Our Smart Weighted Hula Hoop has a carefully planned design with 27 knots placed in hoop's circumference.
27 Detachable Knots
Our Smart Weighted Hula Hoop has a carefully planned design with 27 knots placed in hoop's circumference.
Let customers speak for us
Good for pain relief
I used it for my hip as I felt a lot of pain in my hip , It really helped to ease my pain. I am still using it.
Worth to purchase this
In particular, I suggest it for hip replacement surgery and hamstring injuries. enables for a simpler transition without the need for strong painkillers and holds everything firmly in place while you heal. I'm five weeks post-op and using this support gadget, I can walk very steadily. I endorse it! The only drawback is that the thigh straps could be a little wider because people with thicker thighs need to tuck the extra fat to support the narrow straps.
Use experience
My ankles have always been tight, but the Yoga Stretching Strap with Loops Ligament Stretch Band has completely changed my life. I can simply change the tension and wrap the strap around my foot using the loops, allowing me to gradually enhance my flexibility without straining too much. Additionally, it has helped me become more stable and balanced in yoga positions.
Amazingly Flexible Hip Support
What a fantastic adjustable hip support! It relieves my hip, groin, and thigh pain, plus it's comfy and simple to adjust.
minimizing discomfort
After having hip surgery, I bought this adjustable hip support, and it has saved my life while I've been recovering. It has given me the ideal combination of stability and compression, enabling me to walk around with confidence and minimize discomfort.
Shark Shaver Pro - Platinum Electric Skull Shaver For Head & Face
Best Electric Men's Shaver