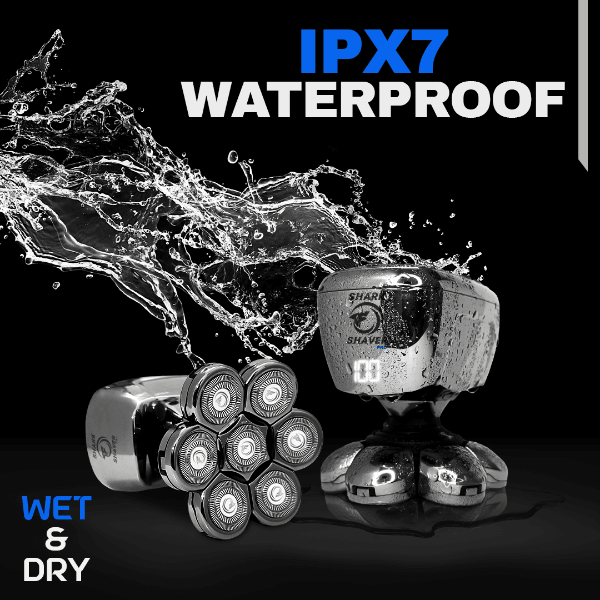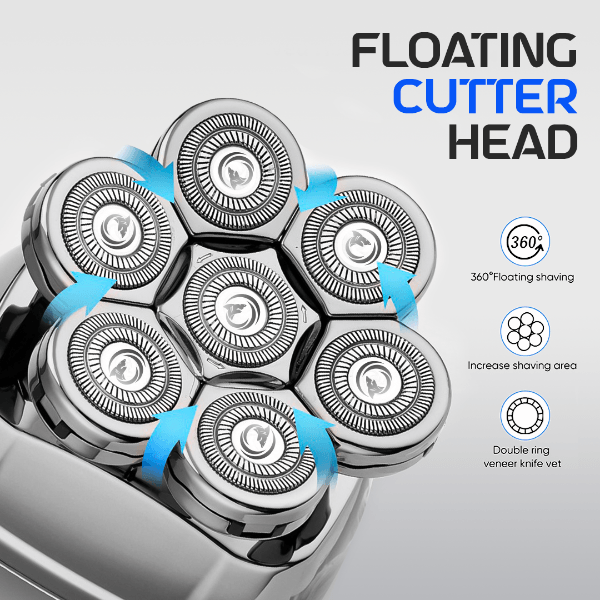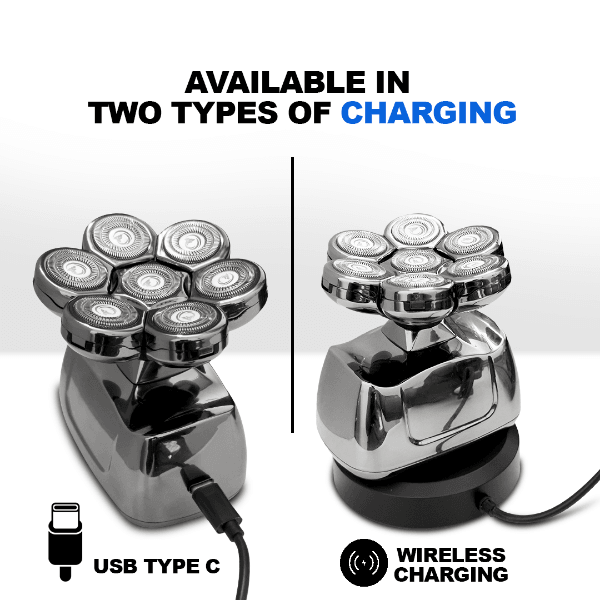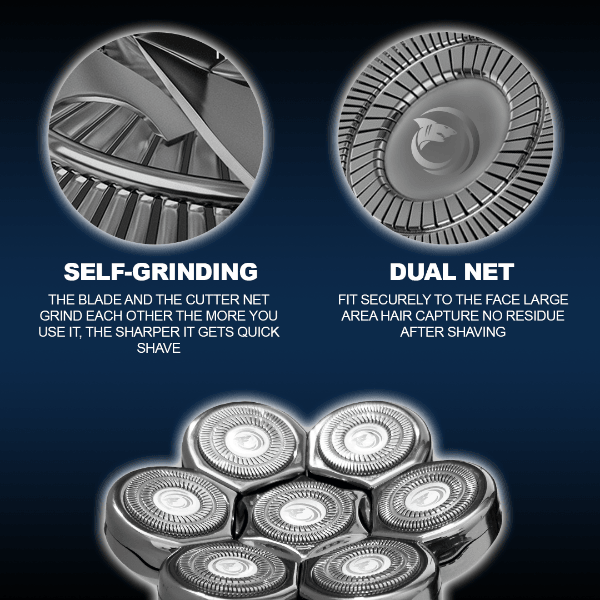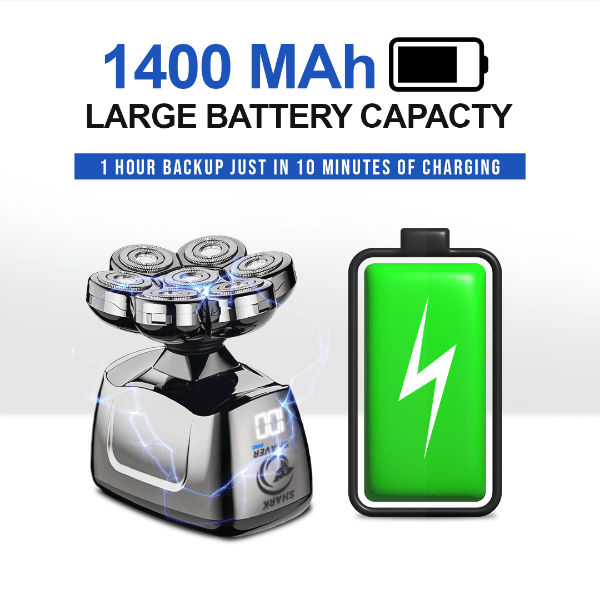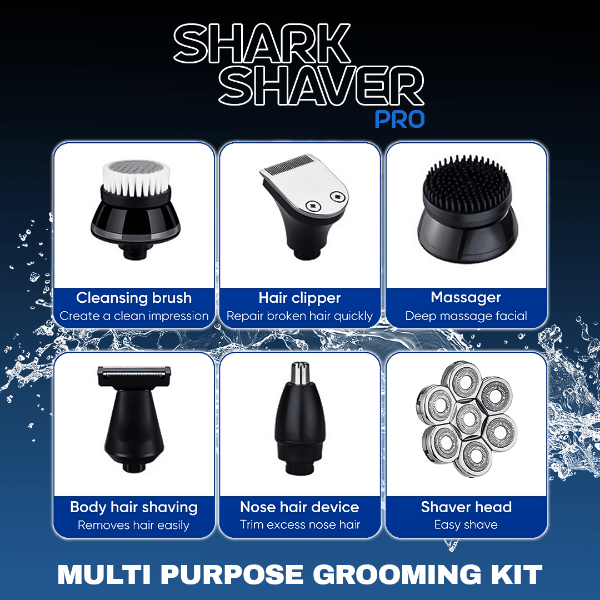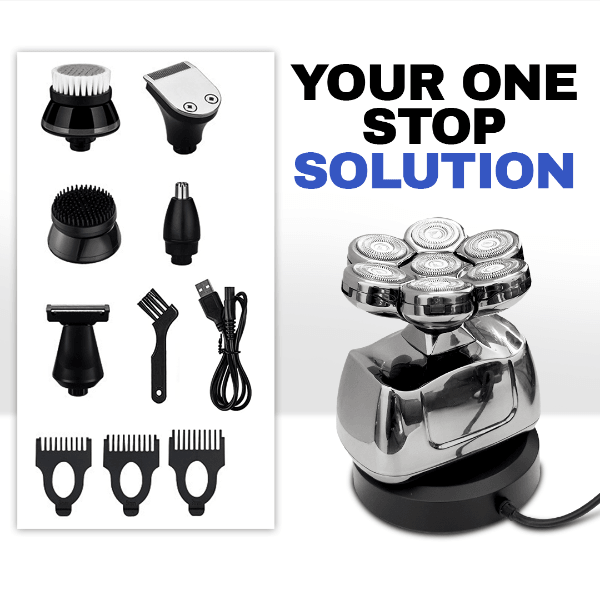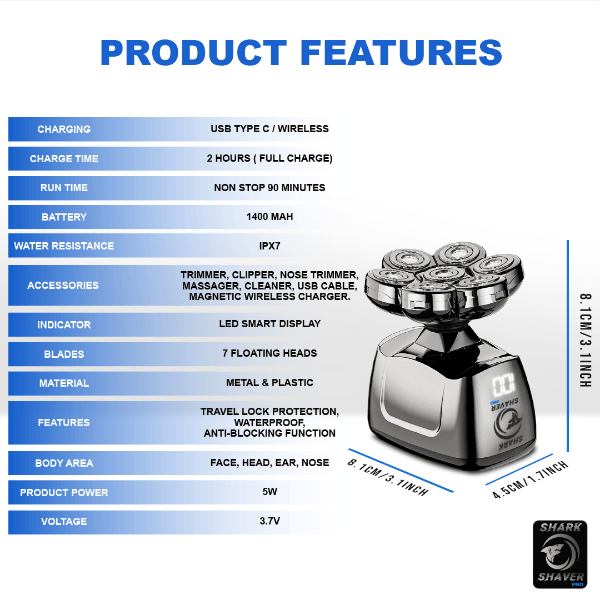 Shark Shaver Pro - Platinum Electric Skull Shaver For Head & Face

Shark Shaver Pro: Platinum Electric Skull Shaver For Head & Face
Shark Shaver Pro is the ideal answer for precise and easy grooming procedure. This adaptable grooming kit is made to cater to the needs of contemporary men who want performance, convenience, and style from their grooming products. Shave, how you want and whenever you want.
With it's precision cut and longer battery life provides you with worry-free skull shaving in minutes.  With its extra features, you can have wet & dry shaving of your head and face.
This electric shaver will be your true companion for your grooming session.  Having Shark Shaver Pro means you have everything for grooming.
Why Do You Need Shark Shaver Pro?
7D Shaving Technology: 
Advanced 7D contouring technology used in this razor enables the shaving head to conform to the specific contours of your head and face. This guarantees a close, comfortable shave even in confined spaces.
Wireless Charging:  
Say goodbye to the hassle of cords and get connected with wireless charging. The shaver is always ready for use thanks to the wireless charging technology, which makes charging simple. This is the best electric shaver for men in uk.
Waterproof Design: 
This shaver is completely waterproof and can be used both wet and dry. For a relaxing and personal grooming experience, use it in the shower or with your preferred shaving cream .
With its IPX7 feature, the device is able to protect itself from water. Consequently, all you need to do after grooming is shave, rinse, and store it. By following these simple steps, you can ensure the longevity and performance of the device. Moreover, this straightforward routine will enable you to stay chilled and confident, knowing that your grooming needs are taken care of.
6-in-1 Grooming Kit
Shark Shaver Pro comes with a variety of attachments to meet all of your grooming requirements. As it can be said as your one-stop solution to your grooming session.
All the attachments are delicate and precise which meet your needs and demands for grooming. All you need to use it once and you will be in awe of Shark Shaver Pro.
Shaver Head:
For a close, smooth shave, use the 7 floating heads shaver. Sharp & precise edge, quick shave, desired result in one go. This is the best featured electric shaver men need for their  head & face.
Precision Trimmer:
Perfect for precise work on your beard or sideburns is a precision trimmer.
Hair Clipper & Sideburns Trimmer:
You can design your haircut & sides with this clipper. It has an additional three clipping accessories to meet your demand. 

Nose and Ear Trimmer:
Gently removes unwanted hair from sensitive regions.
Facial Massager:
After grooming you need a deep massage before cleansing to have the best experience. Keeping it in mind we added a deep massager tool with the grooming kit.
Facial Cleansing Brush:
 Use a facial cleansing brush to keep your skin clear and healthy.
 21st Century Design: 
The shaver has a stylish, modern design that will upgrade your grooming experience. Its ergonomic grip guarantees a secure hold while in use.  Type C and Magnetic Charging ports both are available for charging to meet any kind of situation and requirement.
There are a lot of men's electric shavers but not all of them had such smart dual charging facilities like shark shaver pro. Best part is, it's blade and equipment quality. Totally worth value and  long life featured device.
Long Battery Life Shark Shaver Pro:
The best feature is you can use it for a long with minimal charging. The device's strong and durable battery allows you to enjoy numerous grooming sessions on a single charge, ensuring simplicity and dependability.  It has a fast charging formula that benefits you to have your job done early in the morning before leaving for work.
LED Display Shark Shaver Pro:
The built-in LED display shows battery status information to help you remember when to recharge.
Travel-friendly Shark Shaver Pro:
The shaver's small size and portability make it the perfect travel companion for keeping up your grooming practice when you are traveling or on vacation away from home.
The dry feature will help you to groom when there is less water and no water at all. you will have 1 hour of usage with just five minutes of charge as it has a smart feature of longer battery life.
Easy Clean: 
Once you finish grooming your head and face simply wash this waterproof device with water without worrying. Just rinse it off.  You can lock this electric shaver with a 3s hold. Just follow the manual and you are all set. There is also a brush provided for dry cleaning. Believe in Shark Shaver Pro and you will get the best.
Easy Installation: 
Some devices are difficult to set up before use. Sometimes the setup process becomes so troublesome that it kills the mood of the user. That's why we brought Shark Shaver Pro. Easy to install. Easy to Use. 
Our Shark Shaver Pro provides everything you need, whether you just need a quick touch-up or a thorough grooming session. You may effortlessly and stylishly get the perfect look with its modern attributes and versatility.
Experience the comfort and accuracy of this modern grooming kit today to upgrade your grooming plan. For today's man who prioritizes convenience and flair in his daily grooming session, it is the ideal tool.
Believe In It, Order It, and Use the Best Experience. Try it now!!
Trust Shark Shaver Pro, and Redefine your confidence. It's not just a shaver, it's a  wholesome lifestyle upgrade and one of the best electric shavers.
 If you use it once, you will recommend others and that's a guarantee. 
You May Check It Out: Skull Shaver Pitbull 
Features: Travel lock protection, Waterproof, Anti-blocking function
Charge time: 2 Hours ( Full Charge)
Run Time: Non-stop 90 Minutes
Battery: 1400 mAh
Water Resistance: IPX7
Accessories: Trimmer, Clipper, Nose Trimmer, Massager, Cleaner, USB Cable, Magnetic Wireless Charger
Indicator: LED Smart Display
Blades: 7 Floating Heads
Material: Metal & Plastic
Body Area: Face, Head, Ear, Nose
Product power: 5W
Voltage: 3.7V
Brand: Maskura

Package:
Shark Shaver Pro Body x 1
7 Floating Head x 1
Nose hair trimmer head x 1
Sideburn cutter head x 1
Massage Head x 1
Cleansing brush x 1
USB charging cable x 1
3 limit combs (3/5/7mm)
Blade protection cover x 1
Small black brush x 1
English manual x 1
Magnetic Wireless Charger x 1

Be Maskura Fit
Our Happy Hoopers
30 Minutes Daily Fun Workout
The smart hula hoop counts your burned calories, tracks how long you work out, and records other vital information.
Easy Installation Process
Our Smart Weighted Hula Hoop has a carefully planned design with 27 knots placed in hoop's circumference.
27 Detachable Knots
Our Smart Weighted Hula Hoop has a carefully planned design with 27 knots placed in hoop's circumference.
Let customers speak for us
Really liked how precise the trimmer and shaver is. Sharp and does the work so smoothly. Impressed with the battery longevity. Worth value. Recommending for sure
Easy way to maintain a bald head.
it was a gift and the person was very happy with the performance of the machine
Extremely quick and efficient—a head shave in under four minutes—close, simple to clean, strong autonomy, and induction charging...
Can I just wash it off?
The blades are really good, did the job amazingly but is it really that easy to wash. The answer is absolutely yes. Shave, open the heads and rinse it off. Thats it. Perfect for my head. the massager brush is so soothing.
Shark Shaver Pro - Platinum Electric Skull Shaver For Head & Face
Best Electric Men's Shaver