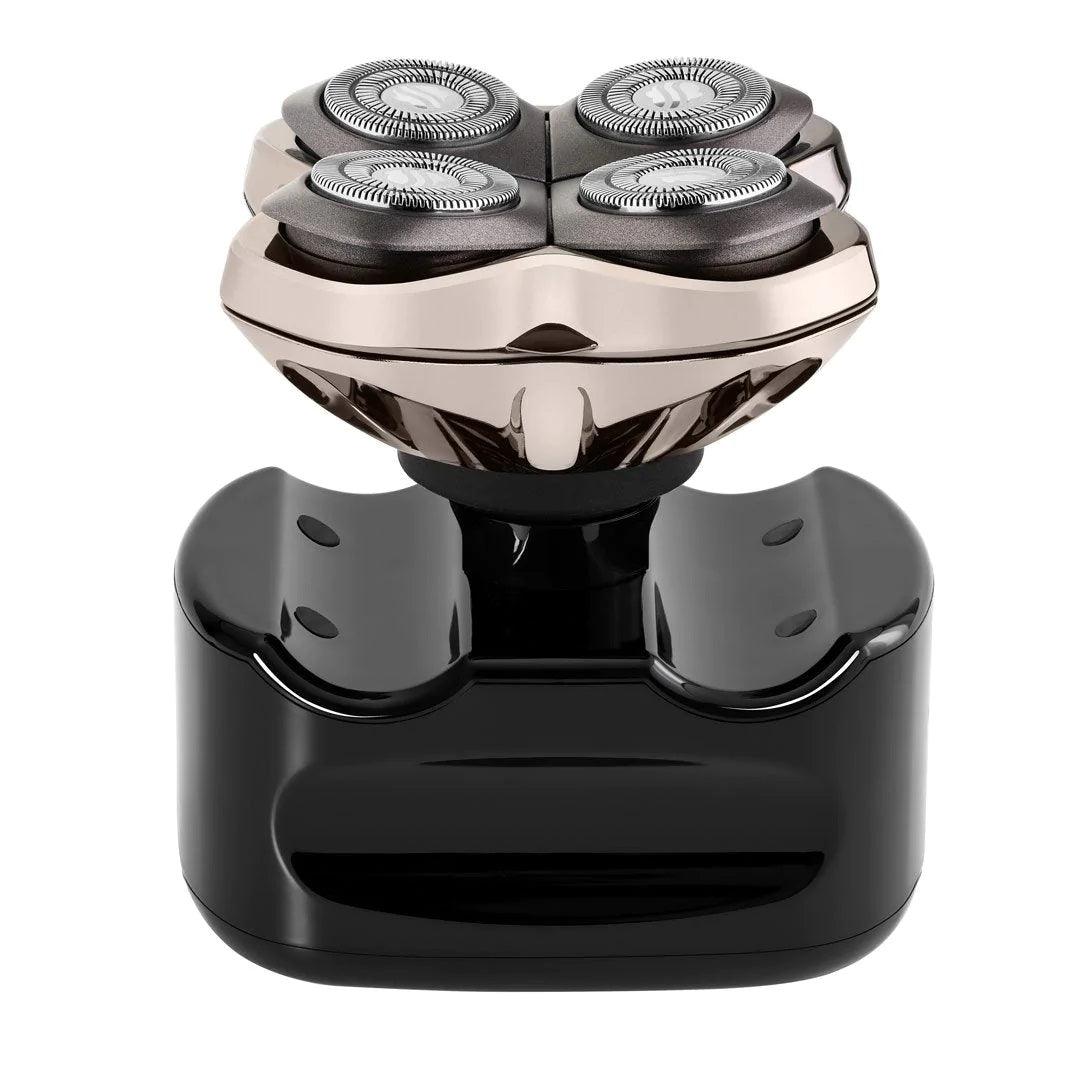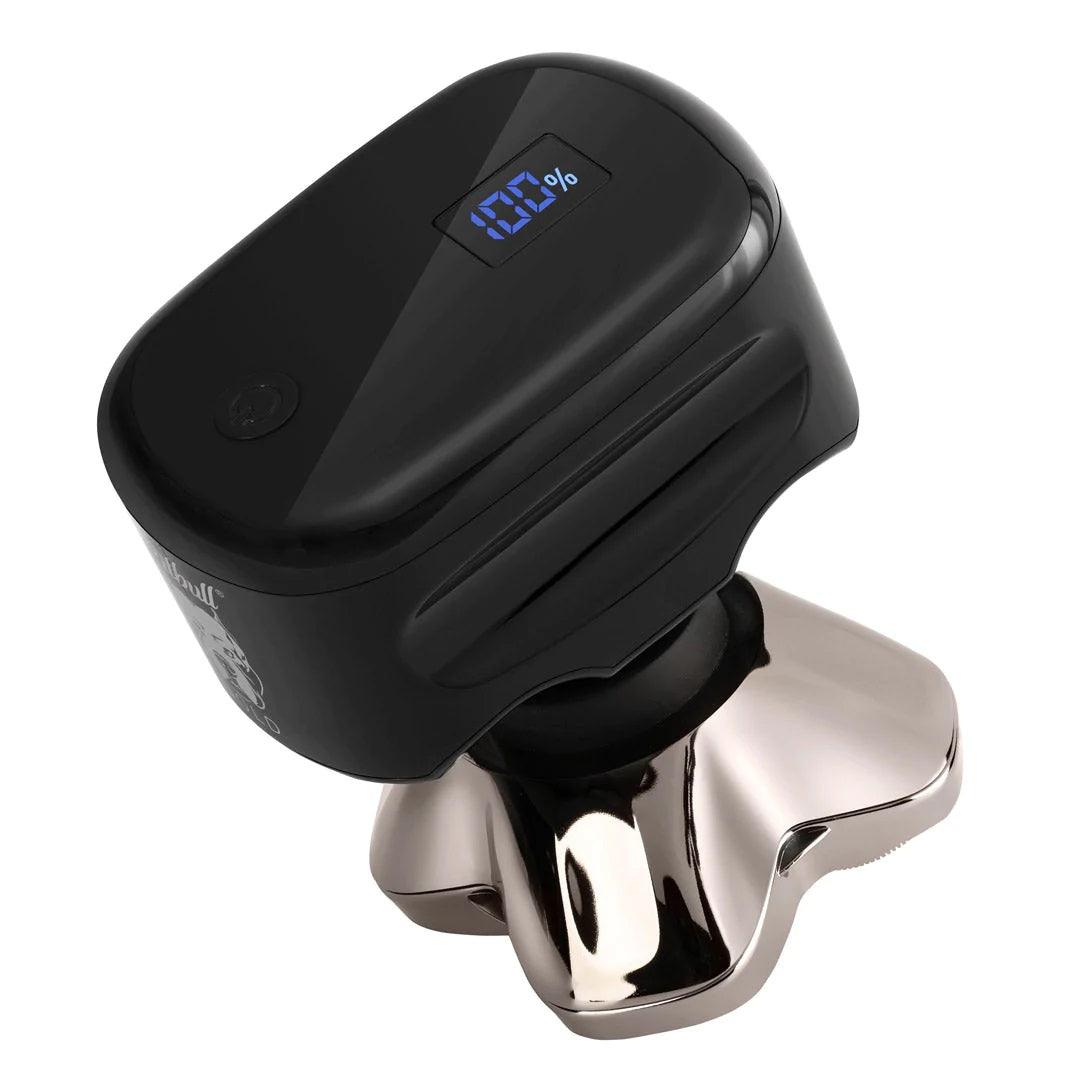 Skull Shaver Pitbull - Skull Shaver Gold PRO Head and Face Shaver, Palm and Fierce Shavers

About Skull Shaver Pitbull
The redesigned and distinctive design of the skull shaver pitbull Silver PRO men's shaver, together with its use of premium materials, provides unusual comfort when shaving. Pitbull Silver PRO has our patented creative ergonomic handle, which is our trademark and offers a pleasant grip and precisely fits your hand for a comfortable and simple shave of your head and face.
The Pitbull Silver: The PRO version delivers unorthodox comfort while shaving thanks to its original, patented ergonomic handle design, which is easy to hold and perfectly sized to match your hand for a comfortable, simple shaving experience. It takes just 90 seconds to access those difficult-to-reach regions with ease and perfect outcomes.
Water Resistant: The Pitbull Silver PRO electric head and face shaver has IPX5-certified 100% water-resistant technology, allowing you to quickly rinse your shaver under running water and enjoy the freedom and convenience of shaving in the shower. These razors are also excellently suited for dry shaving, providing a very close shave and excellent results. You can choose how you want to shave with Pitbull Silver PRO. Whether wet or dry, with or without shaving foam, The outcomes are consistently flawless.

Function of battery and charging: Pitbull Silver PRO electric shavers have powerful integrated lithium-ion batteries (1400 mAh) that enable speedy charging and cordless operation for 30 minutes. This gives you the flexibility to shave whenever and wherever it suits you, making this shaver a necessity for travelers who frequently require a quick shave on the fly. In case you forgot to charge it, Pitbull Gold PRO also functions well in plug-and-shave mode, which is a terrific backup plan.

LCD Display: The inbuilt LED-lit LCD display clearly displays the battery level in percentages to make daily usage of your shaver even more practical. This way, you'll know exactly when your shaver needs to be charged. The razor's performance holds up until it is entirely discharged.
Technological advances: The 4-head Carver PRO blade is ideal for shaving both the head and the face. Thanks to the redesigned Carver PRO blades, constructed of superior Japanese stainless steel to assure immaculate results, enjoy an incredibly close and safe shave. No stinging cuts, uncomfortable nicks, or elevated scars that are constantly getting nicked.
Shaving That is Flexible and Smooth
With Skull Shaver PRO blades, you can shave more quickly than with our earlier models. With rotary shaving heads, you can shave in any direction than with our earlier models. With rotary shaving heads, you can shave in any direction. Shave however it seems most comfortable for you—up, down, left, or right. We advise shaving in small circular strokes for the greatest results. Compared to our previous generation of blades, Skull Shaver PRO blades have more blades per shaving head, providing 20% more cutting action per revolution. With all of this, you can shave more quickly and move on with your life.
You May Check It Out: Best Head Shaver UK 
Condition: A brand-new
Power Source: Battery
Custom Bundle: No
Color: Black
Brand: Skull shaver
Department: Men
Type: Cleaning Brushes
Model: Skull shaver silver
Body Area: Face, Neck
Features: Cleaning System, Cordless, LED Display, Low Battery Indicator,
Head Type: 4 Head Rotary

Be Maskura Fit
Our Happy Hoopers
30 Minutes Daily Fun Workout
The smart hula hoop counts your burned calories, tracks how long you work out, and records other vital information.
Easy Installation Process
Our Smart Weighted Hula Hoop has a carefully planned design with 27 knots placed in hoop's circumference.
27 Detachable Knots
Our Smart Weighted Hula Hoop has a carefully planned design with 27 knots placed in hoop's circumference.
Let customers speak for us
Great for quick shaves
I got it as easy to use and provides a close shave without any irritation.
Great shaver
Extremely close shave. I love it. I would give it 5 stars but I only had it for 2 months so I don't know how durable it is.
An excellent product indeed
For my son-in-law, I bought this, and he enjoys it. He uses it every day, and every day, it only needs to be cleaned for a few minutes.
It really works great
I've been shaving the dome for five years, and every single time I nick my scalp enough to be really inconvenient. Those times are over thanks to the Skull Shaver Pitbull Silver shaver. Since I've been using this razor for more than three weeks, I don't have to worry about obtaining a close shave or cutting myself. About every other day, I use it in the shower, and rinsing is simple—just pop the blade system off the base attachment. Would suggest to anyone looking for a quick, close shave!
Highly recommended
I bought this for my spouse, who enjoys using it on his head every day. It really makes me happy to purchase. 
Shark Shaver Pro - Platinum Electric Skull Shaver For Head & Face
Best Electric Men's Shaver