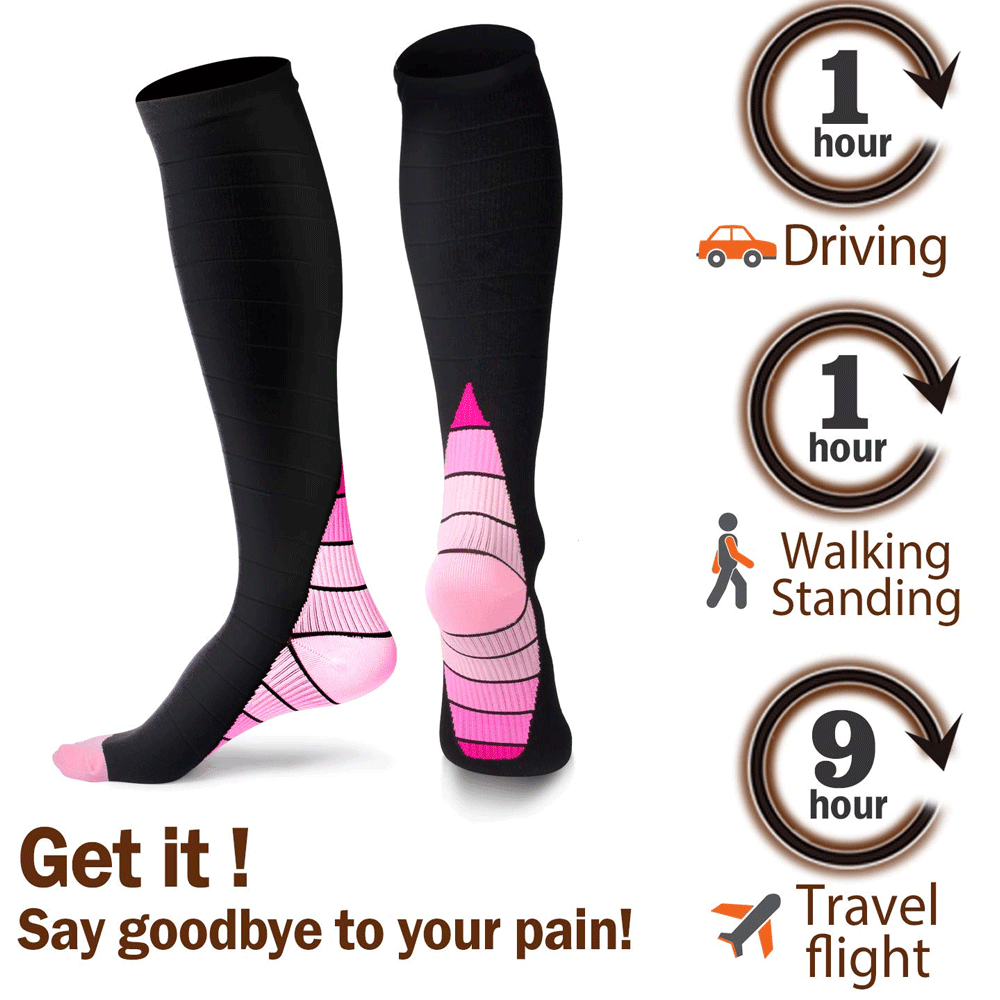 Long Compression Socks - Unisex Anti-Fatigue Compression Socks

About Long Compression Socks
Unisex Anti-tiredness Long Compression Socks are a useful and fashionable solution created to reduce leg tiredness, enhance circulation, and offer comfort all day long. Both men and women can wear these compression socks, which provide a number of advantages to enhance your general leg health and well-being.
The compression of the socks is normally graded, meaning that it is strongest at the ankle and gradually lessens towards the toes. This aids in promoting blood flow and avoiding blood pooling in the legs.
Anti-fatigue Long Compression Socks are Beneficial For - 
Long lengths of time spent standing or sitting

Have oedema or varicose veins

Experiencing restless legs syndrome

Take part in sports or other forms of physical activity

Pregnant women, Nurses, and doctors

 Royal Mail workers

Athletes and others engaging in physical activity sports, hiking, biking, and jogging

Those who frequently fly or those who take lengthy flights

Teaching professionals and those in the warehouse, packing, or delivery industries

Business people who spend a lot of time sitting at their desks

Chefs, queue workers and construction labourers. Moreover, restaurant servers
Benefits of Long Compression Socks
Improved circulation is achieved by using compression stockings, which tighten the muscles in the legs and force the blood back up towards the heart. Blood clots can be avoided and circulation can be improved.
Swelling can be reduced by wearing compression socks, especially in the legs and feet. This is due to the fact that they aid in preventing fluid buildup in the lower extremities.

Compression socks can aid in reducing leg and foot weariness. As a result of increased circulation and decreased swelling, the legs may feel lighter and more energised.

Compression socks can assist in providing relief for the pain and suffering brought on by plantar fasciitis or other foot disorders by supporting the arches of the feet.

By lowering fatigue and enhancing circulation, compression socks can enhance athletic performance. Athletes may be able to perform at their peak as a result.
Additional Features of Long Compression Socks

Heal More Quickly, Feel Better, Go Further, and Look Amazing.
Choices for unrelated colour combinations

85% Nylon has 360 degrees of elasticity and flexibility, is a superior material, and is thin, but durable.

Unrivalled comfort is provided with heel and toe support.

Air permeability, comfort, and material that wicks away sweat and fights bacteria

Increased comfort thanks to the broader top band cuff and ankle support.

A fantastic way to demonstrate your caring is with a gift
A practical and cosy approach to reducing leg fatigue, enhancing circulation, and supporting general leg health is to wear a pair of unisex anti-fatigue compression socks. These socks may be easily incorporated into your everyday routine thanks to their fashionable alternatives and progressive compression construction. These compression socks give you the support you need to feel at ease and energized whether you're at work, travelling, working out, or just going about your day. Always remember to pick the proper compression level and size, and if you have any concerns about using compression socks for your particular needs, talk to a healthcare expert.
Condition: New: A brand-new, unused, unopened, undamaged item (
Main Purpose: Compression
Department: Adult, Men, Unisex, Women
Type: Compression Socks
Material: Nylon
Features: Compression Socks, Yoga Socks, Weight Lifting Socks,Flight Socks, Running Socks

SHOE SIZE
S-M 4-9
L-XL 8-14

Ankle (A) & Calf (C)
Circumference Measurements:
S-M: A=6.5\"-8.5\" C=10.5\" -14\"
L-XL: A=8\"-9.5\" C=11.5\"-15\"

Be Maskura Fit
Our Happy Hoopers
30 Minutes Daily Fun Workout
The smart hula hoop counts your burned calories, tracks how long you work out, and records other vital information.
Easy Installation Process
Our Smart Weighted Hula Hoop has a carefully planned design with 27 knots placed in hoop's circumference.
27 Detachable Knots
Our Smart Weighted Hula Hoop has a carefully planned design with 27 knots placed in hoop's circumference.
Let customers speak for us
Amazed
I didn't expect much, yet they get a 7/10 for comfort, a 10/10 for color and pattern options, and a 10/10 for size. Overall, I enjoy these socks and want to purchase more. I'll give them to my pals as well. If you are prone to exercise-induced vasculitis, this is an excellent choice for Disney. It has just enough compression to keep swelling at bay. If you, like me, require compression for a spinal injury, you may require a different brand if you are sitting for an extended period of time. These are my go-to socks in a pinch. I have extras in both my car and my purse.
Shark Shaver Pro - Platinum Electric Skull Shaver For Head & Face
Best Electric Men's Shaver