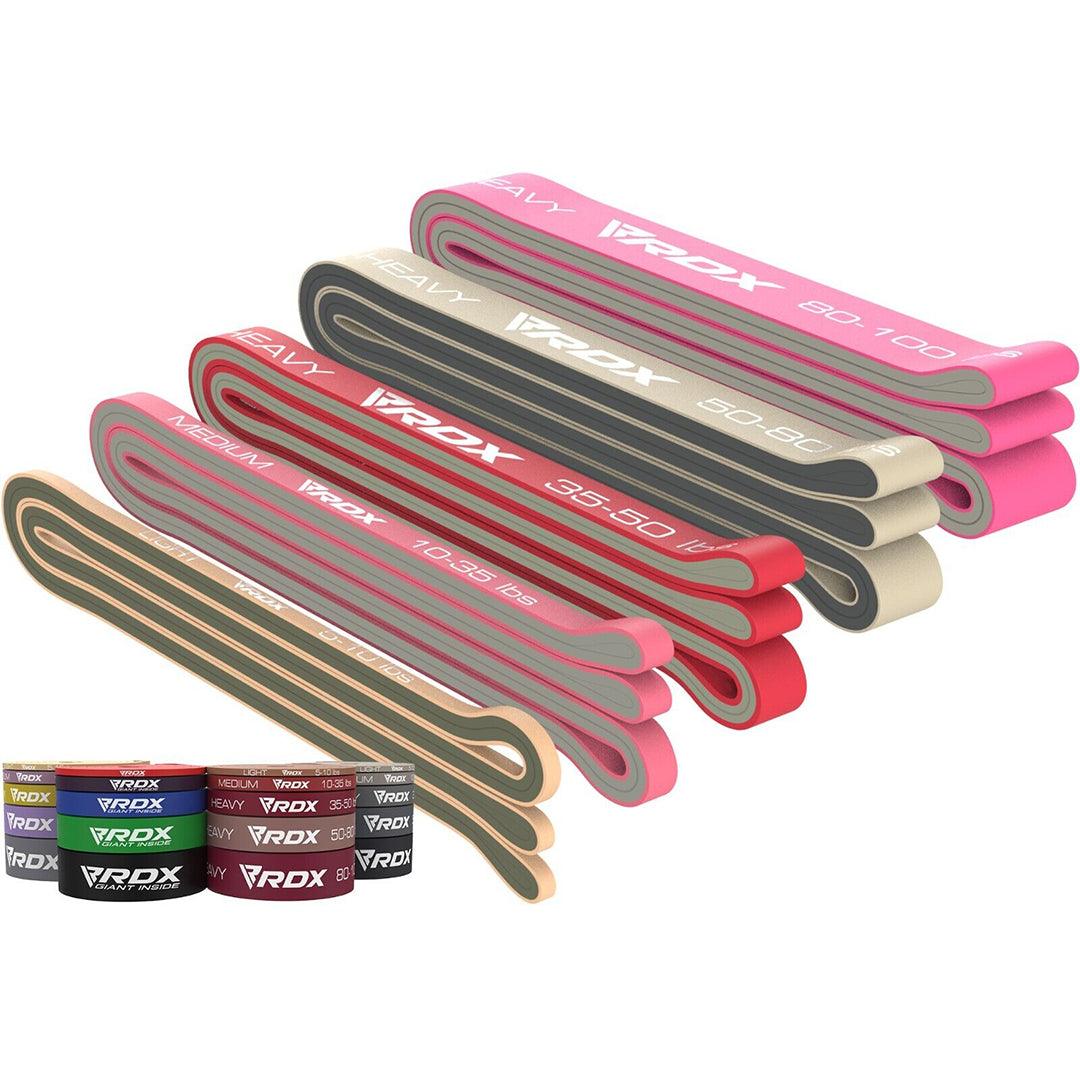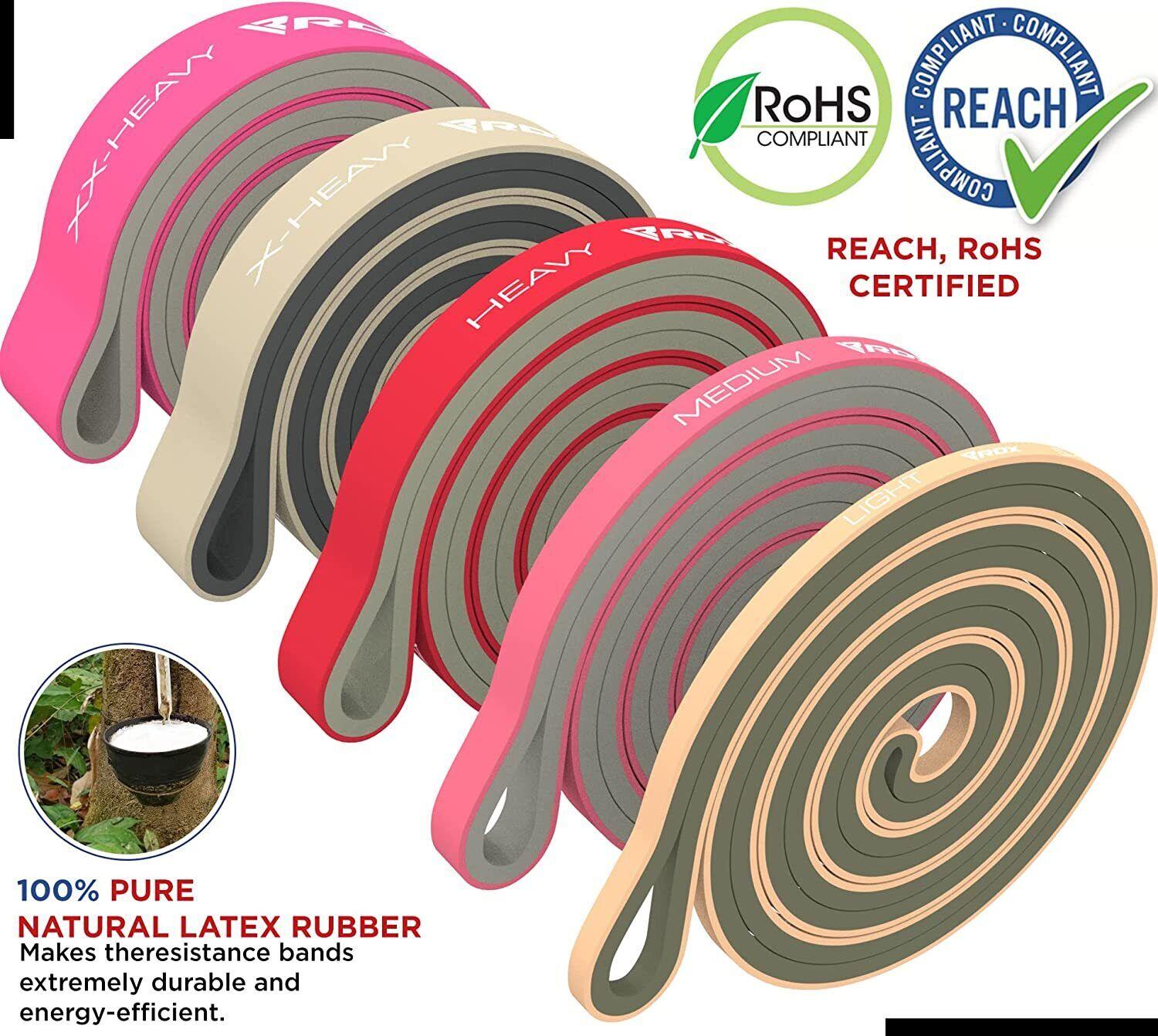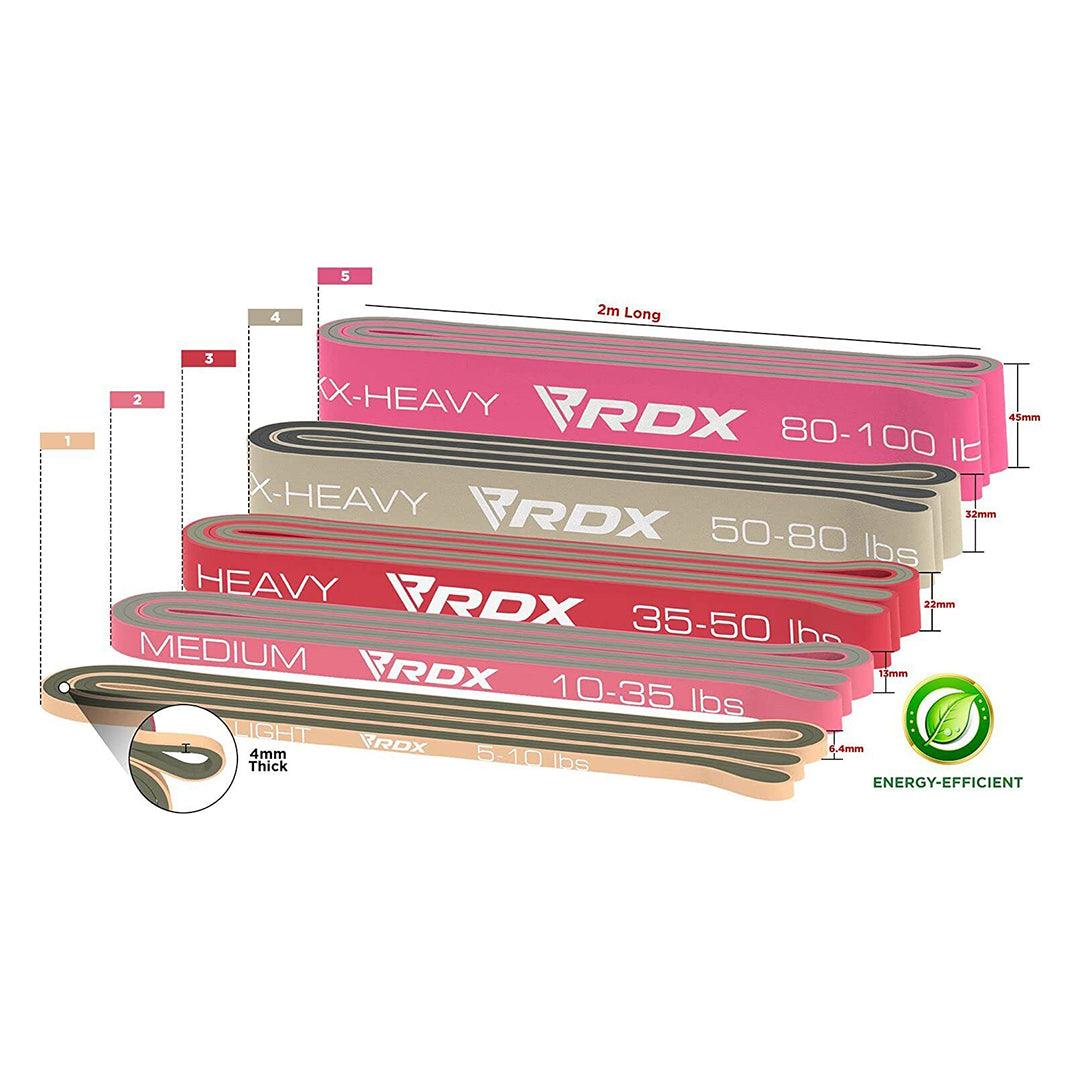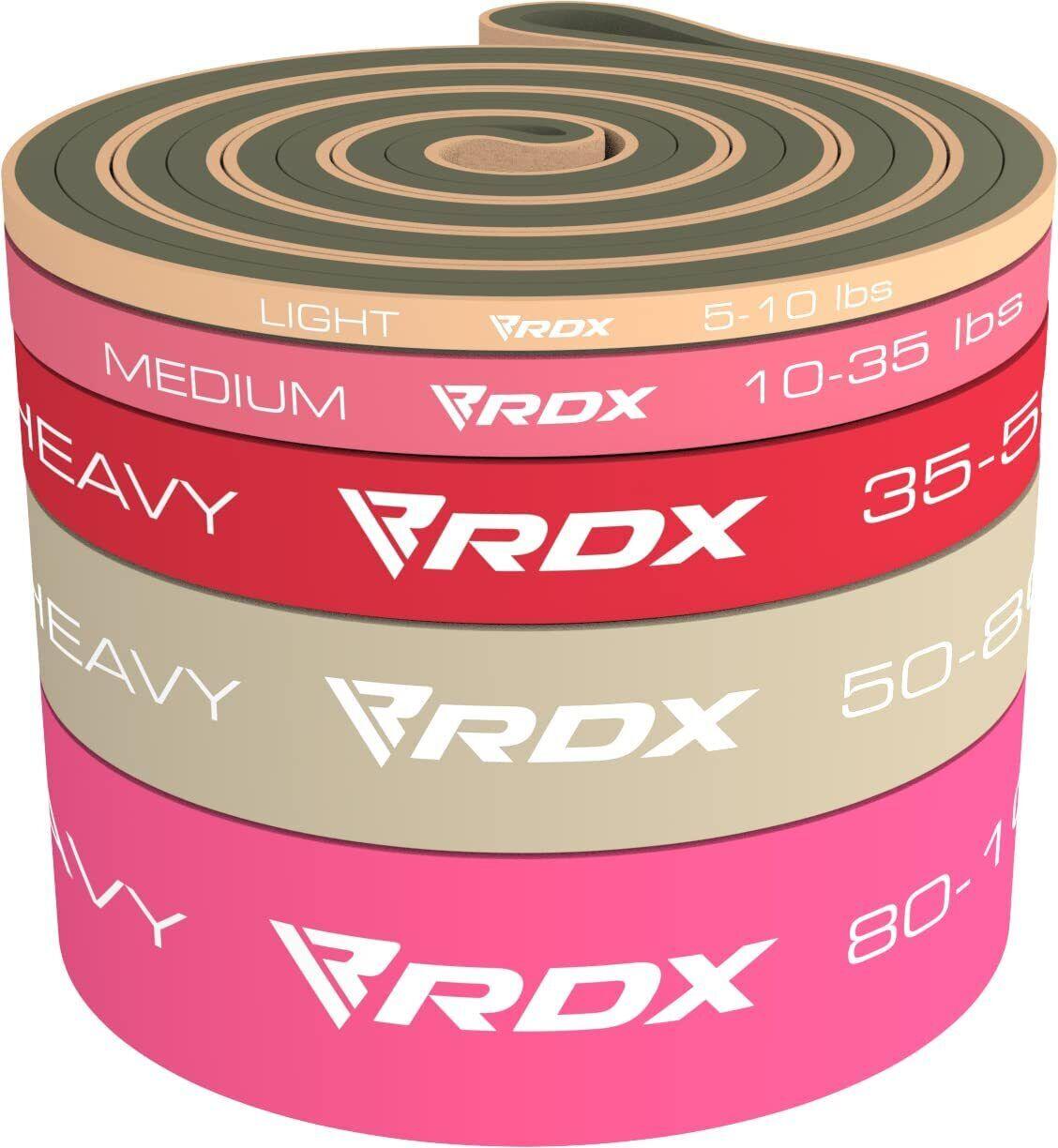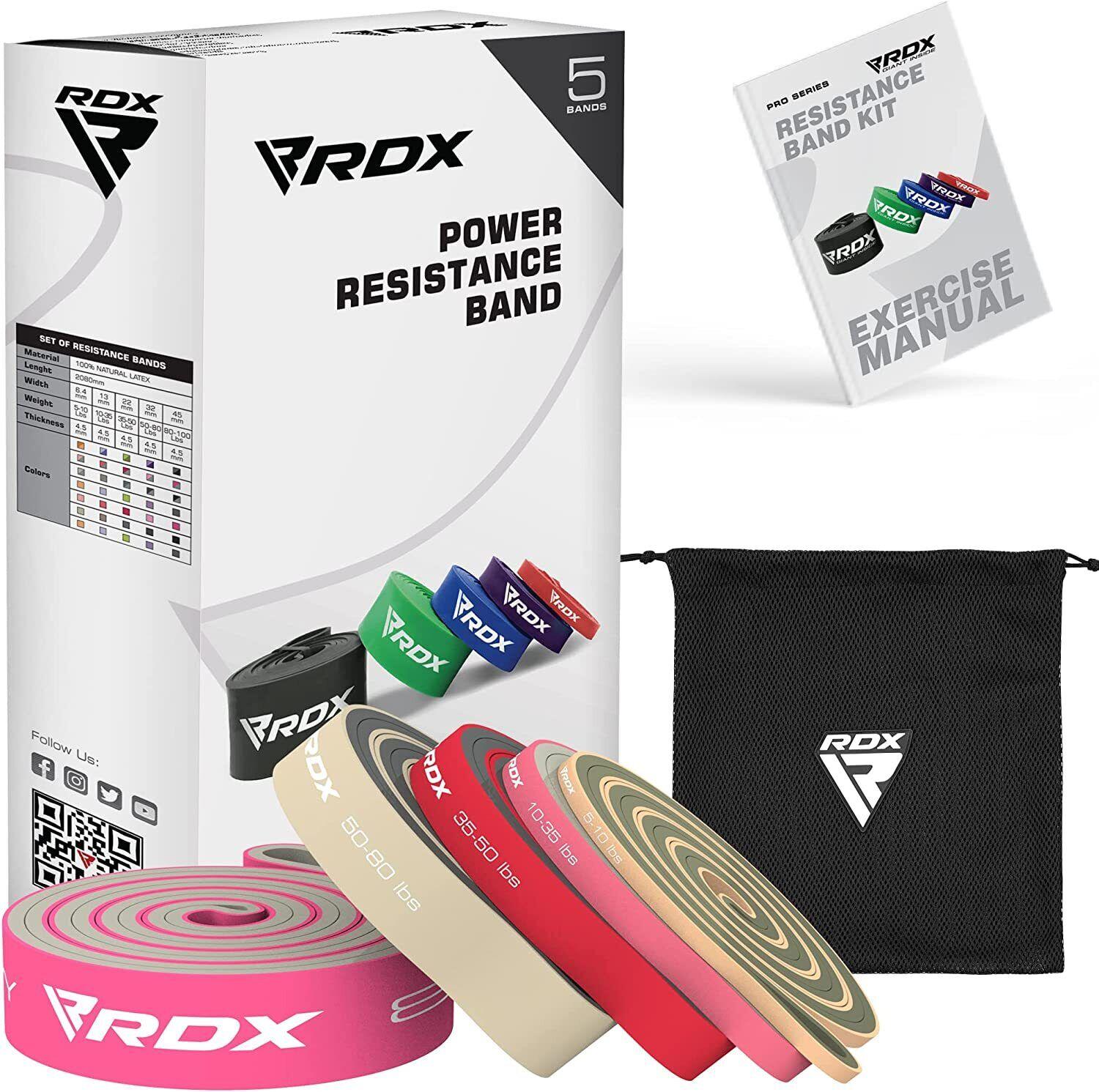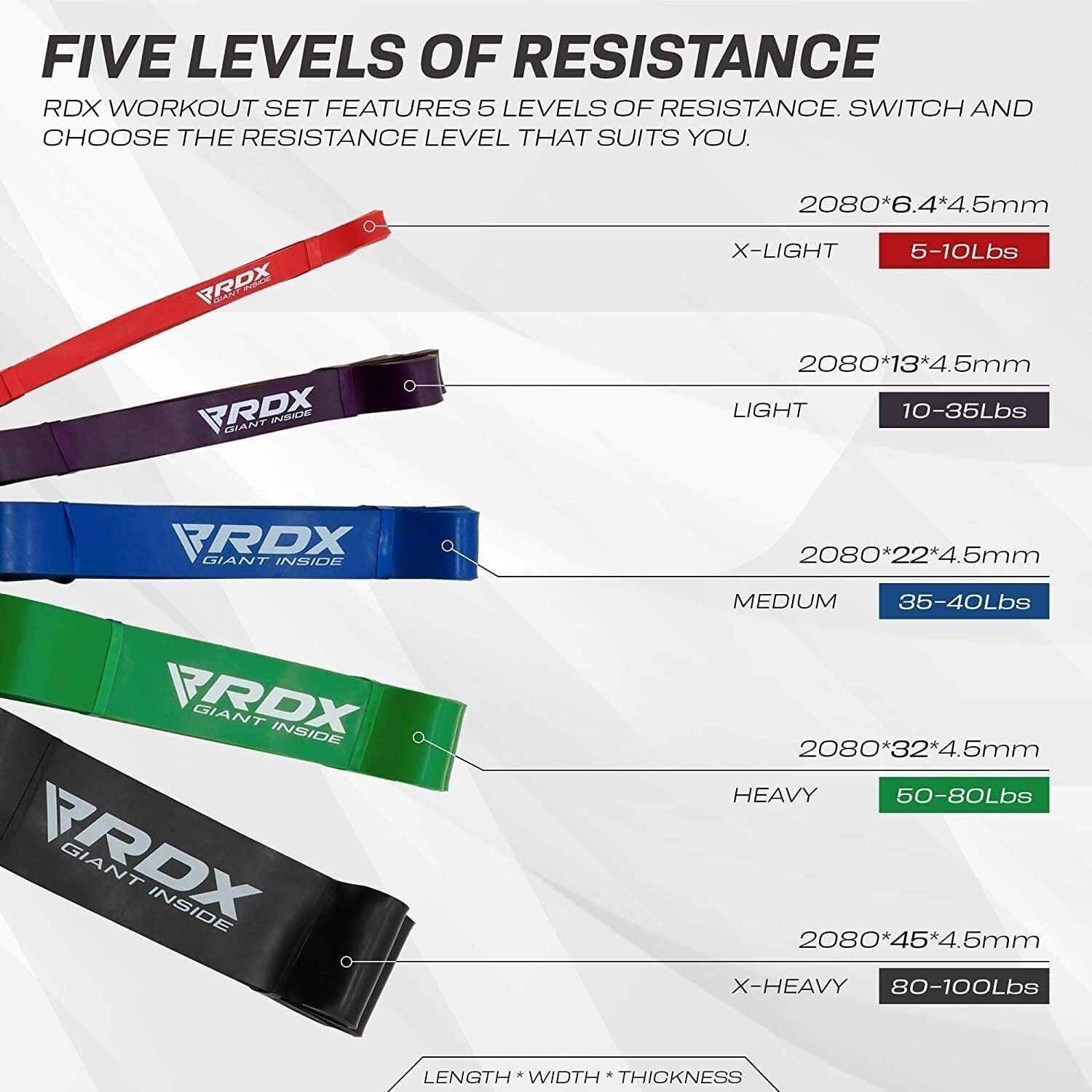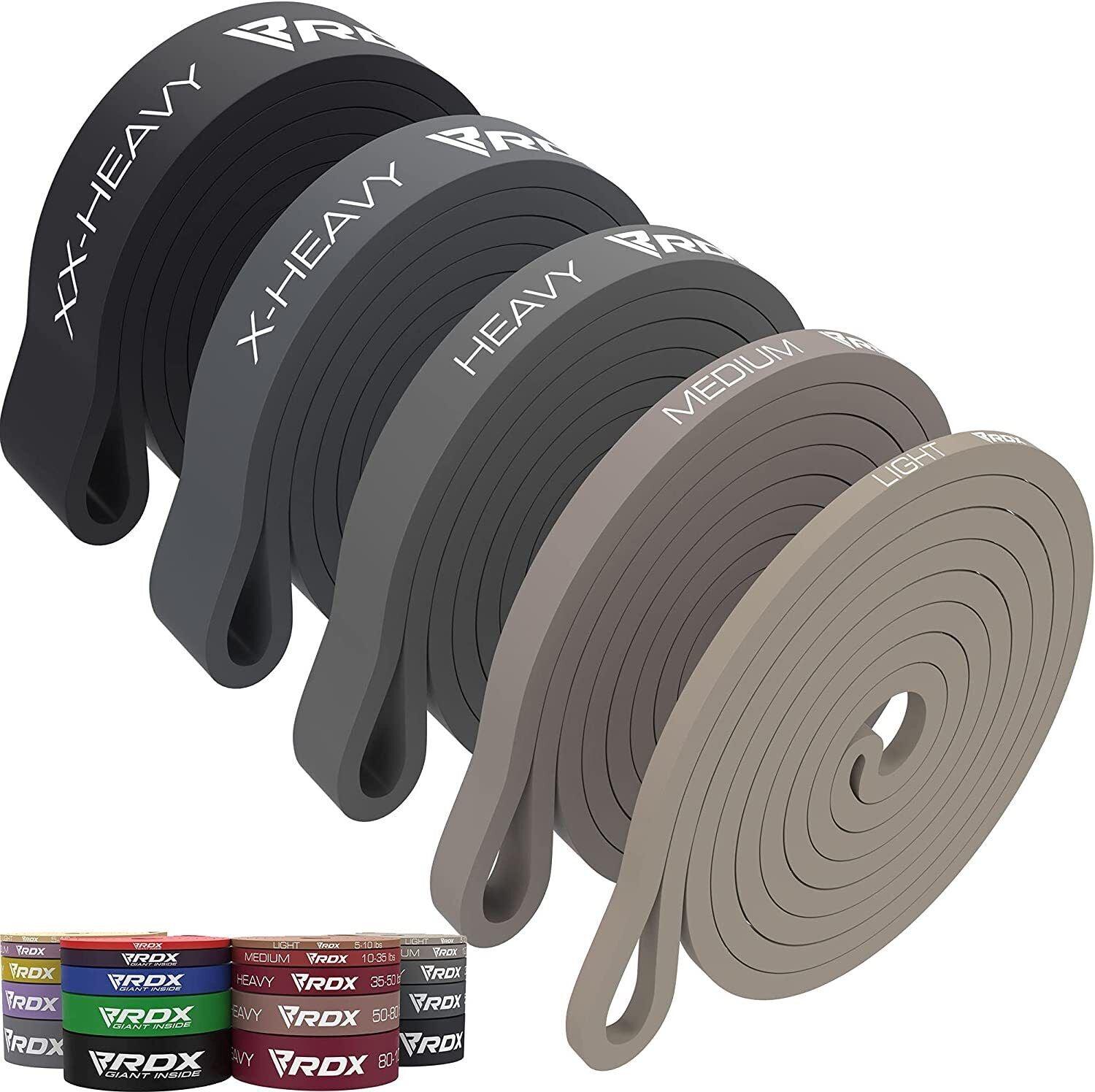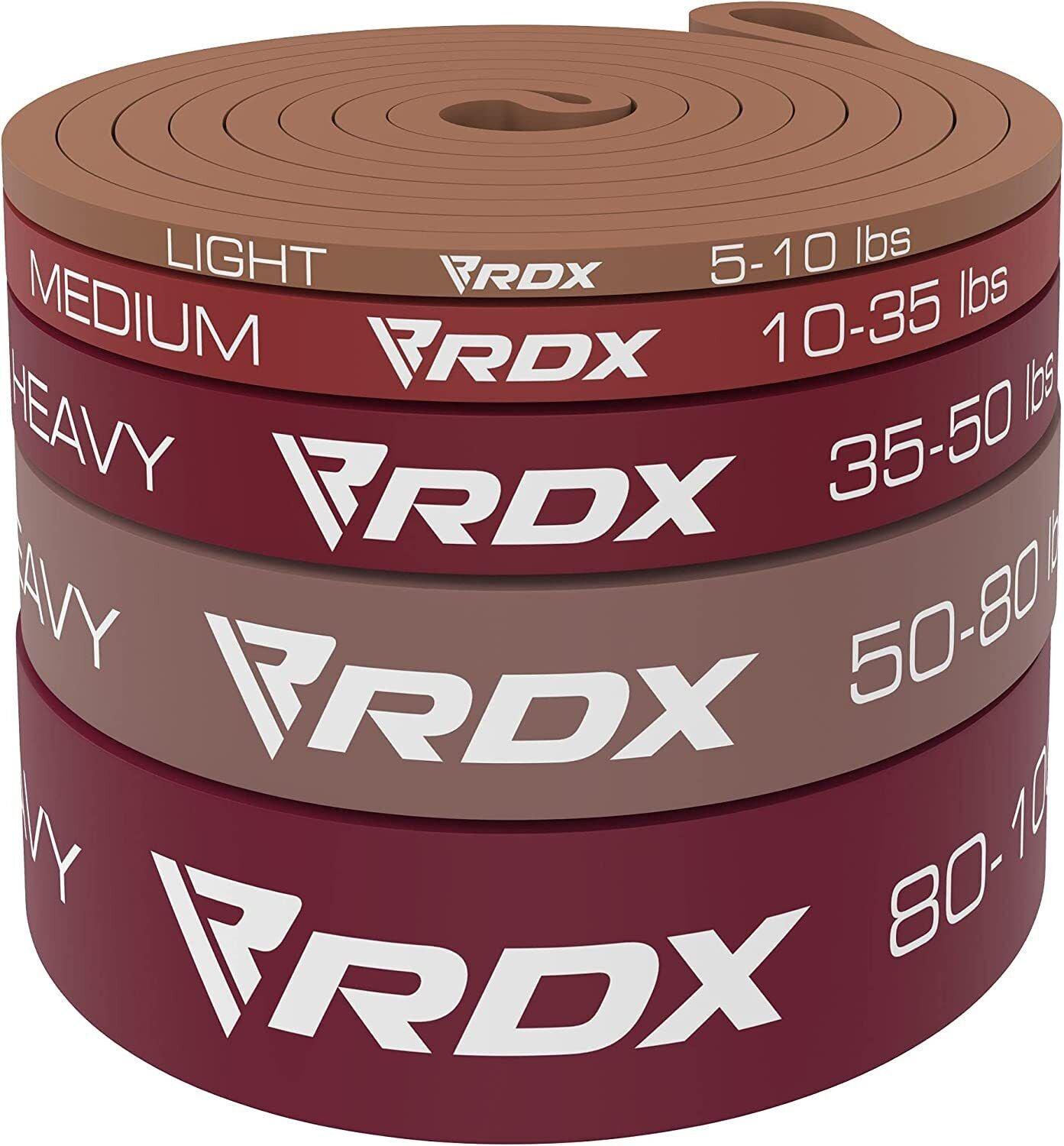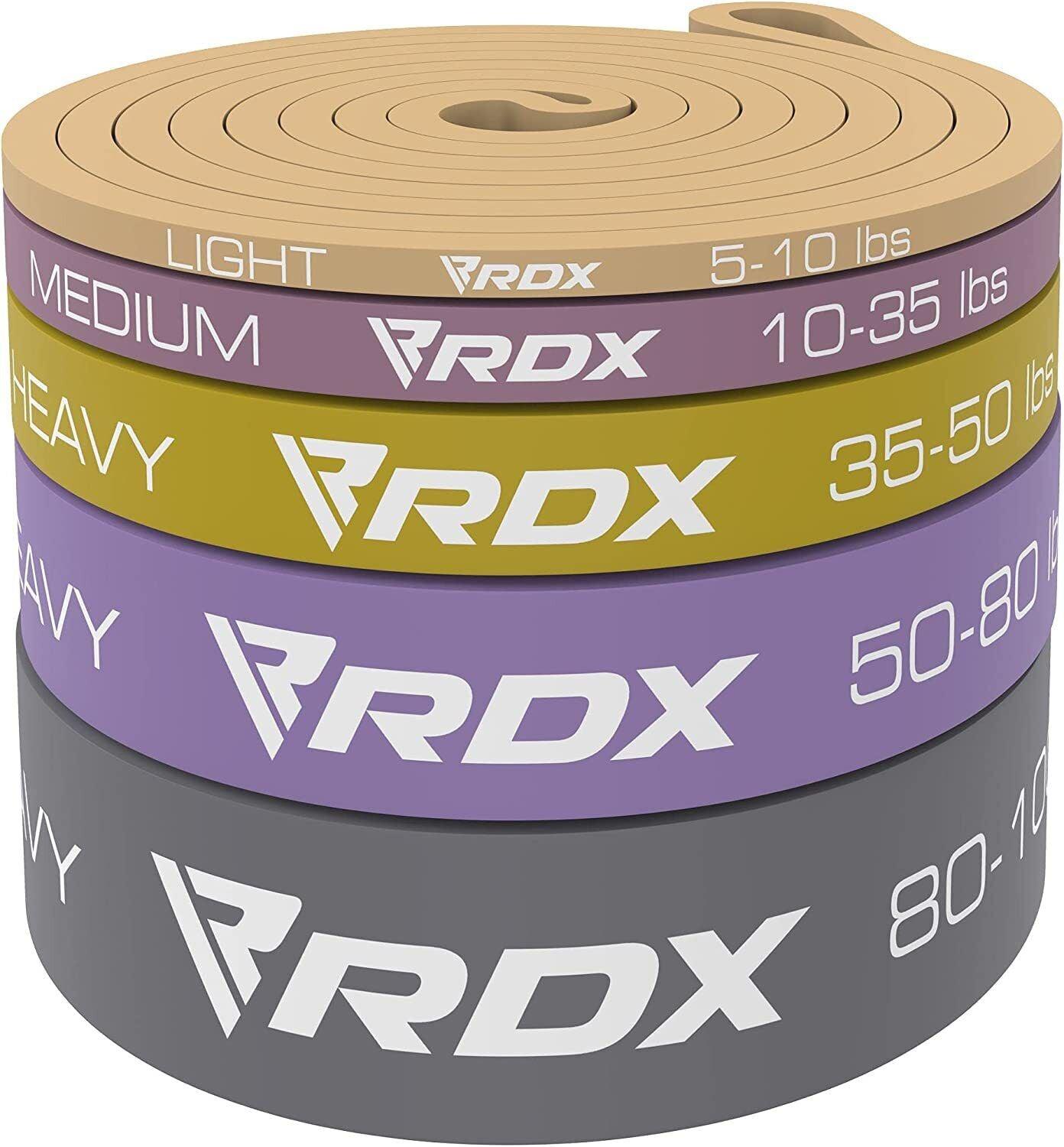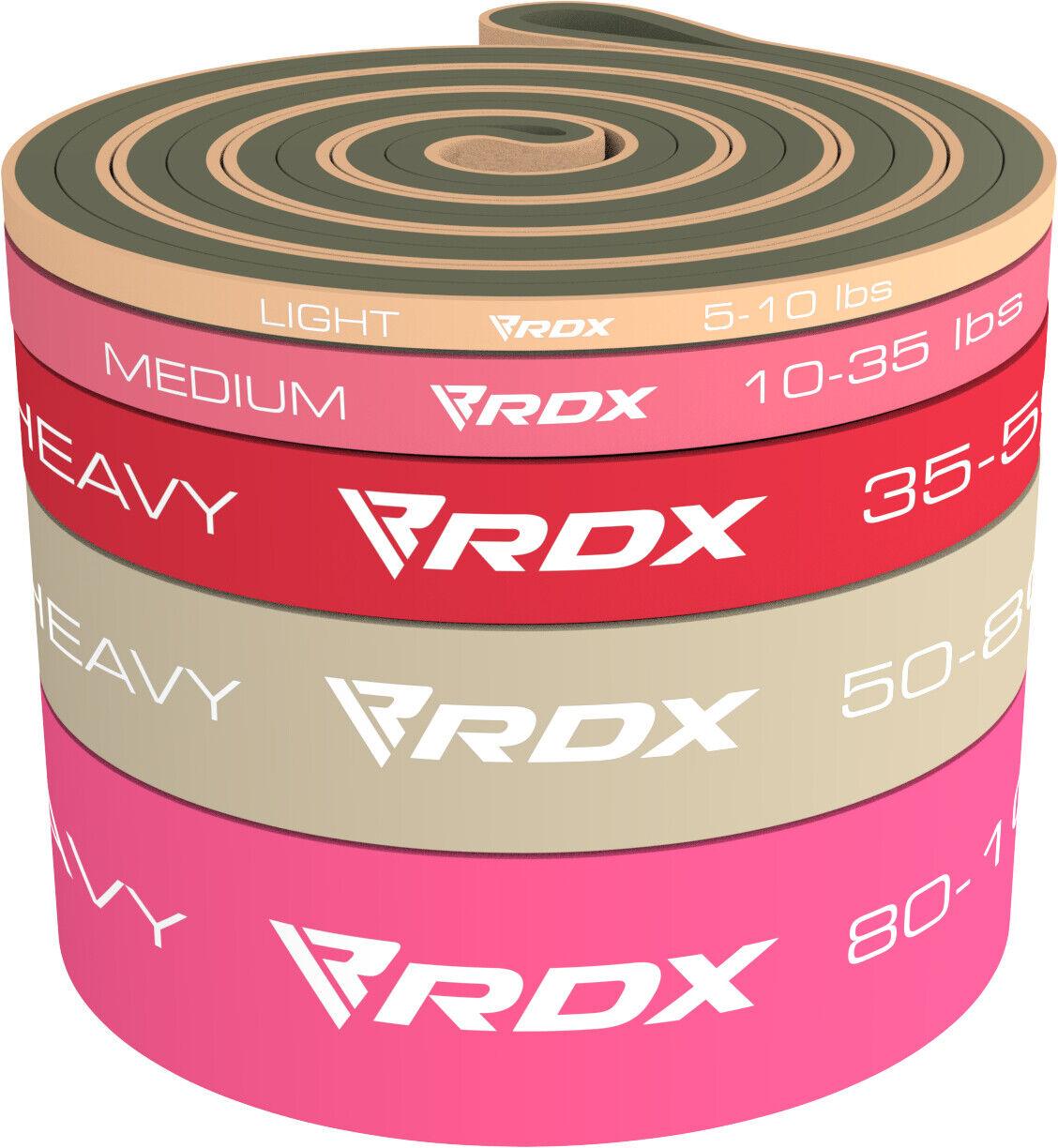 Sets of Resistance Bands - Resistance Bands Exercise by RDX, Stretching Loop, Stretch Bands, Gym bands

 About Sets of Resistance Bands
100% Pure Organic Latex Rubber:
This sets of resistance bands 2080mm in length makes them highly durable and eco-friendly. These bands are available at five different resistance levels, ranging from 5 pounds to 100 pounds. With full confidence, perform bicep curls, overhead shoulder presses, squats, and other exercises.
The Package Includes the Sets of Resistance Bands:
X-Light weighs 5–10 pounds and has a thickness of 4.5mm.

Light has a thickness of 4.5mm and a resistance of 10–35 lbs.

Medium, having a thickness of 4.5mm and a resistance of 35–40 lbs.

Heavy, with a thickness of 4.5mm and a resistance of 50–80 pounds.

While X Heavy has a thickness of 4.5mm and a strength of 80-100 lbs.
Different Use of Sets of Resistance Bands:
People most commonly use pull-up bands for resistance training. You can use them for Pilates, weightlifting, yoga, stretching, gymnastics, and other sports. Ideal workout tool for daily use.
Skin Friendly:
The latex is gentle on the skin and has no strong odor. Even most muscular rehabilitation uses heavy-duty resistance bands.
Included is an Instruction Book:
To precisely guide you through the use of stretching is no longer limited to the confines of a room or a gym workout.

Integrates With Any Fitness:
The six-foot straight band and durable loop resistance bands can be used for general exercise, stretching, strength training, or as part of a fitness program. P90x, Insanity, Crossfit, Beach Body, Yoga, Pilates, and rehabilitative activities can all be made more effective.
Resistance Levels: 
The five micro-loop bands each have a separate resistance level ranging from extra light to extra heavy, while the accompanying straight band has a mild resistance level for a variety of activities. Combine bands to build your own resistance levels.
Muscle Strengthening, Stabilization, and Toning:
Heavy-duty resistance bands work to strengthen, stabilize, and tone muscles at home, in the gym, or in the office. These resistance bands, which are ideal for physical therapy and injury rehabilitation, allow for progressive training with five resistance levels and different combinations.
Condition: A brand-new, unused, unopened, undamaged item in its original packaging
Usage: Semi-Commercial Use, Commercial Use
Type: Resistance Band
Muscle Group: Full Body
Features: Flexible
Material: Elastikon
Sport/Activity: Gym & Training

Be Maskura Fit
Our Happy Hoopers
30 Minutes Daily Fun Workout
The smart hula hoop counts your burned calories, tracks how long you work out, and records other vital information.
Easy Installation Process
Our Smart Weighted Hula Hoop has a carefully planned design with 27 knots placed in hoop's circumference.
27 Detachable Knots
Our Smart Weighted Hula Hoop has a carefully planned design with 27 knots placed in hoop's circumference.
Let customers speak for us
Perfectv
I bought this set to practice upper body strength workouts after suffering from locked shoulder for a year! It was necessary to begin with some light exercises. This is identical to what I used to use in the physical therapy office where I went. This is great for seated rows. These will also come in handy when I travel!!
Shark Shaver Pro - Platinum Electric Skull Shaver For Head & Face
Best Electric Men's Shaver