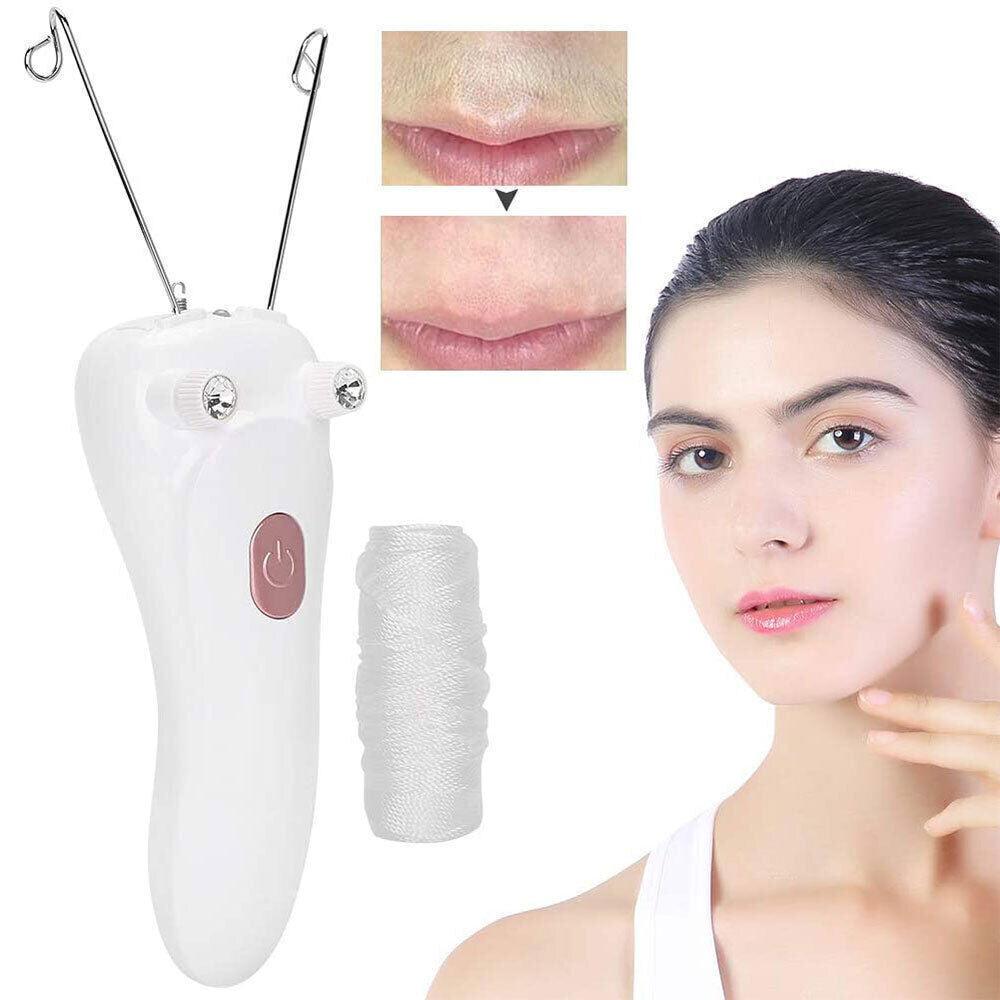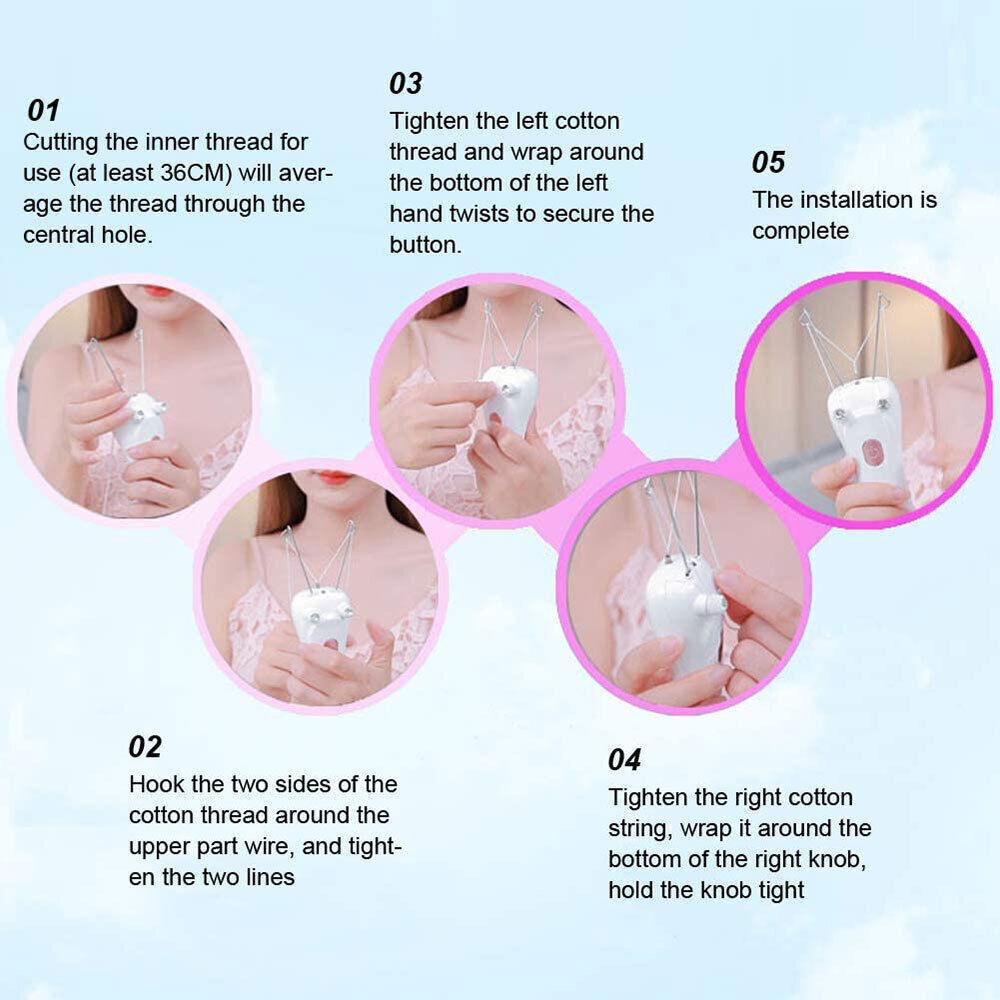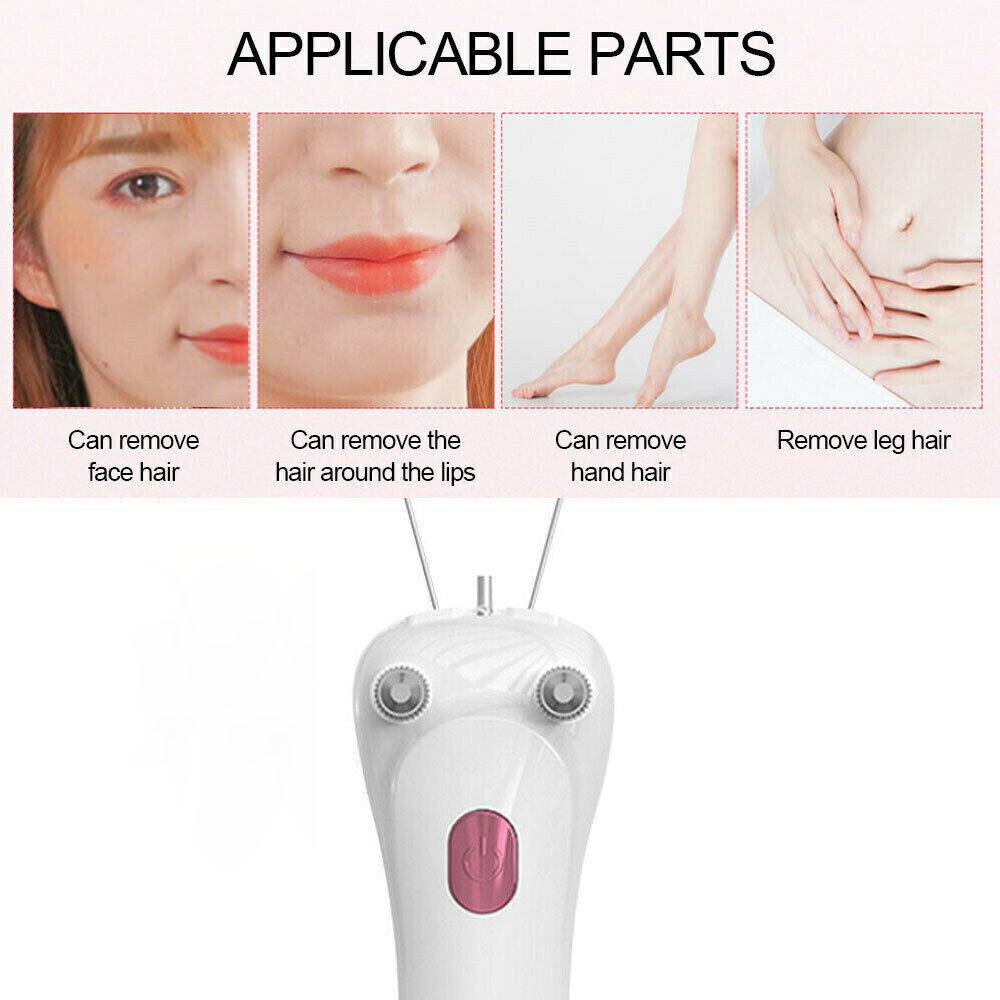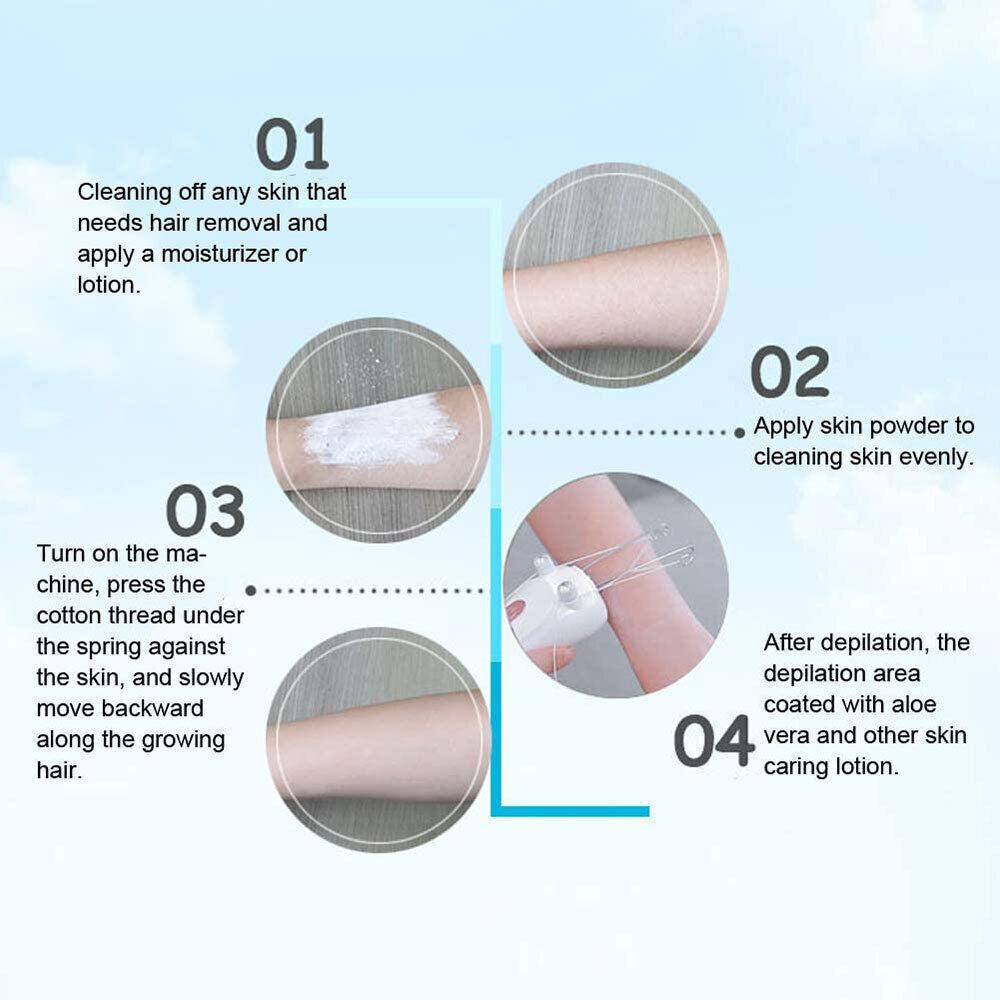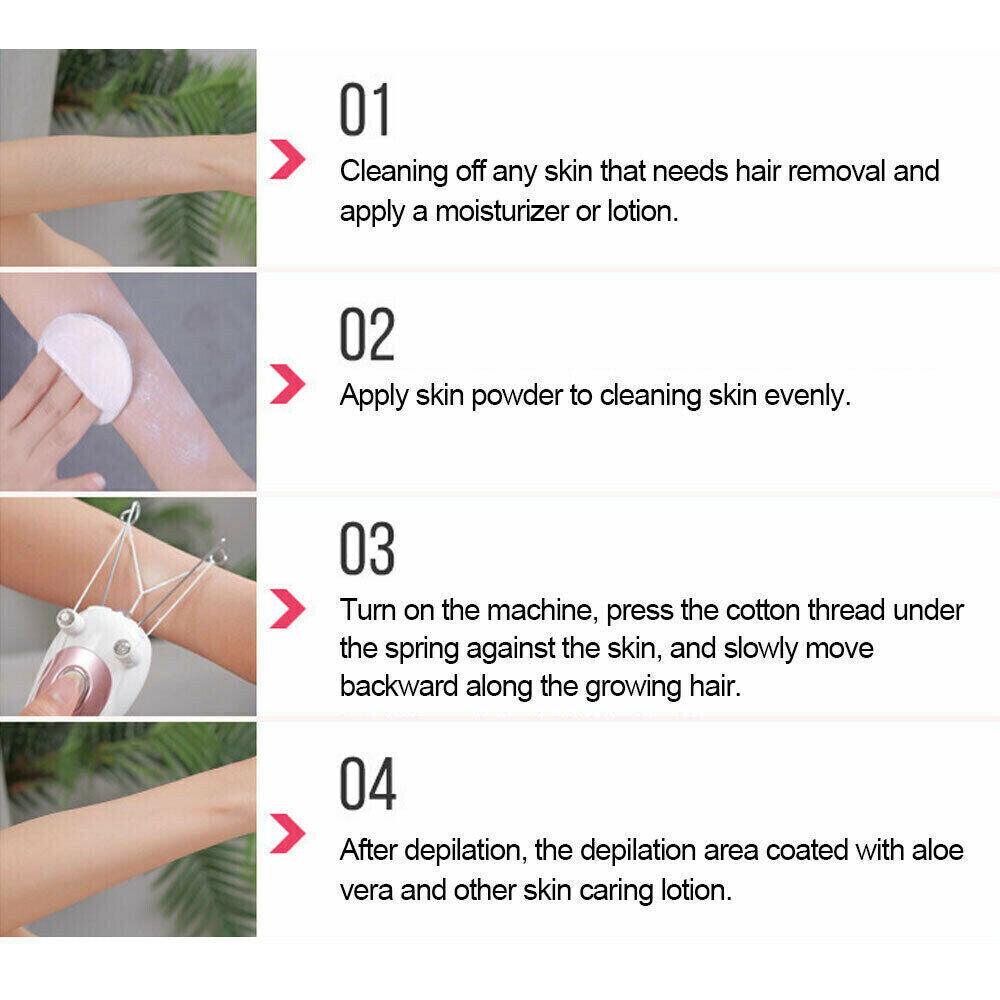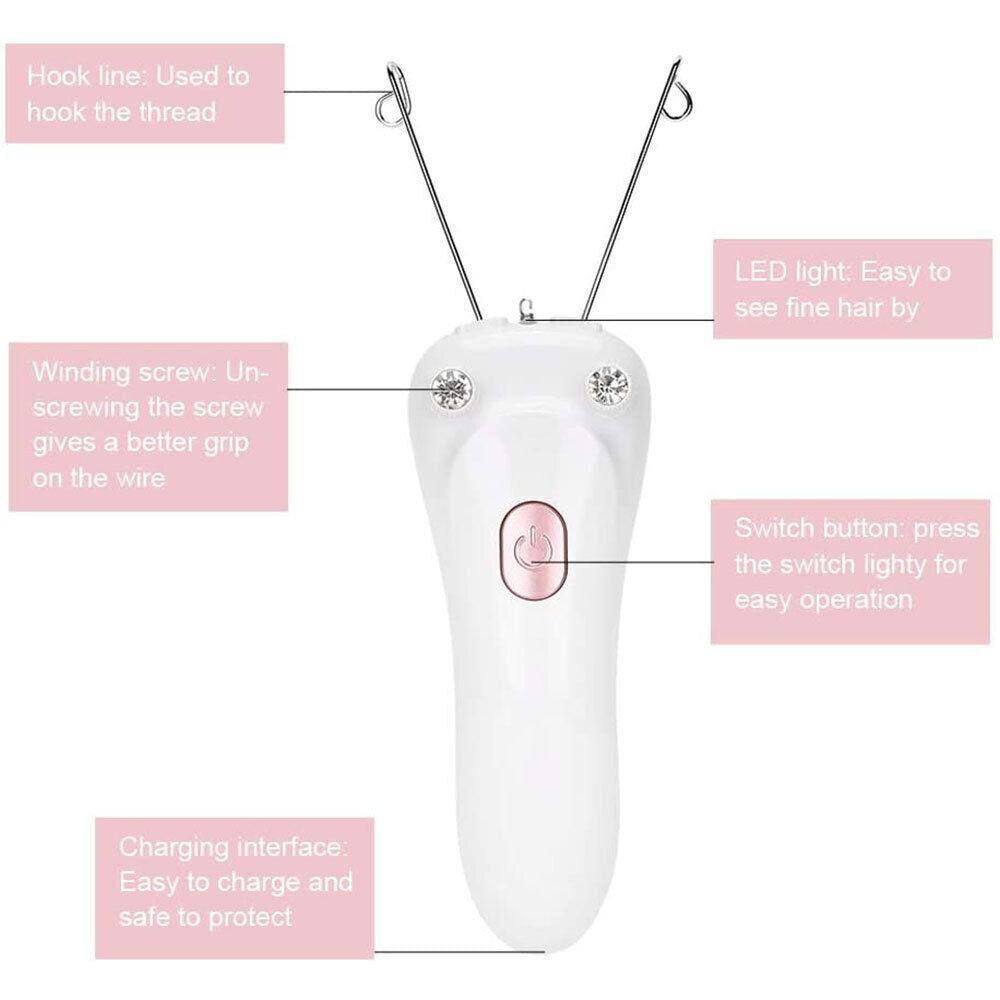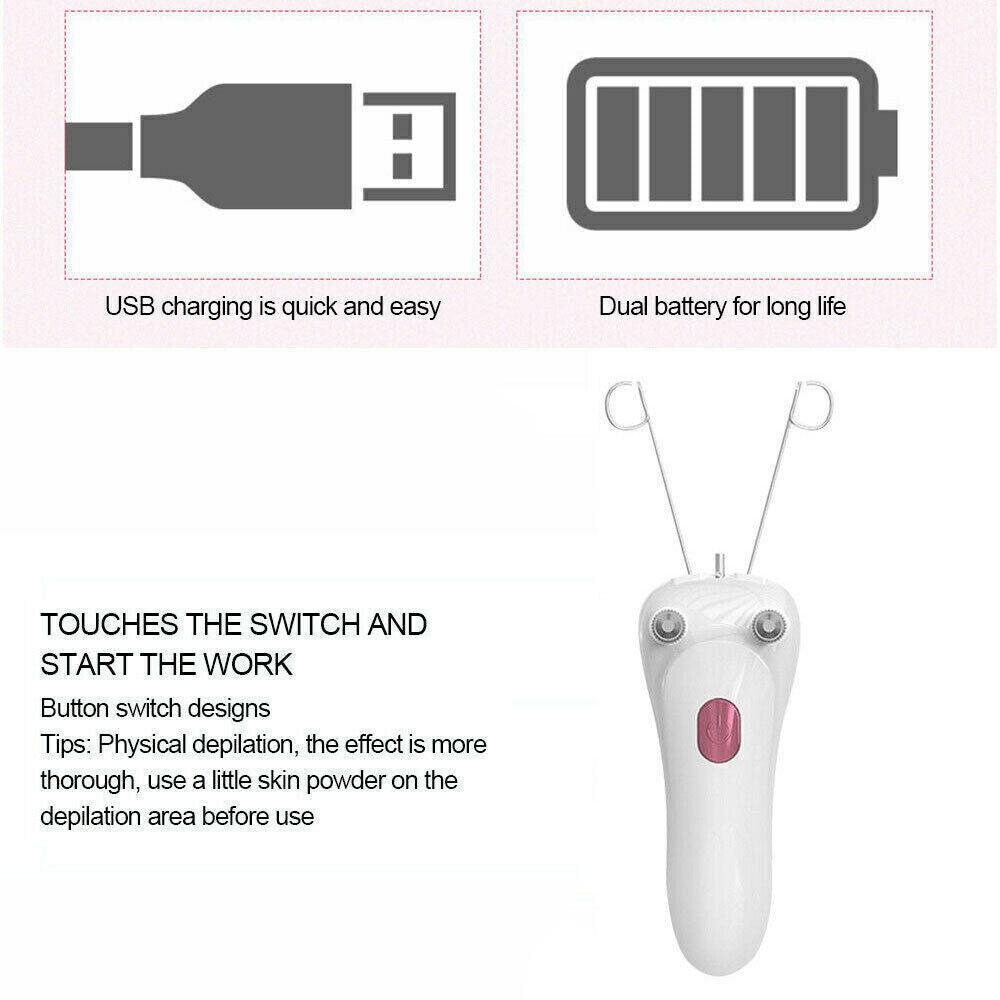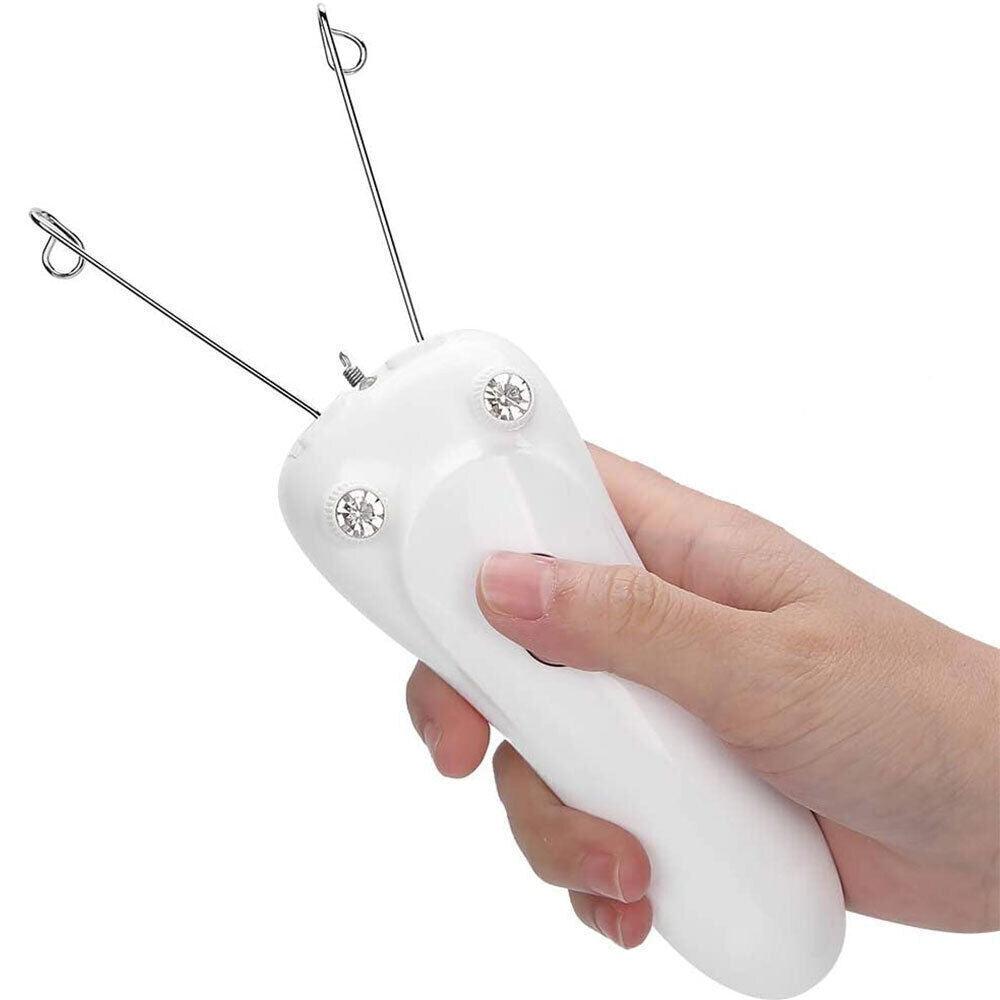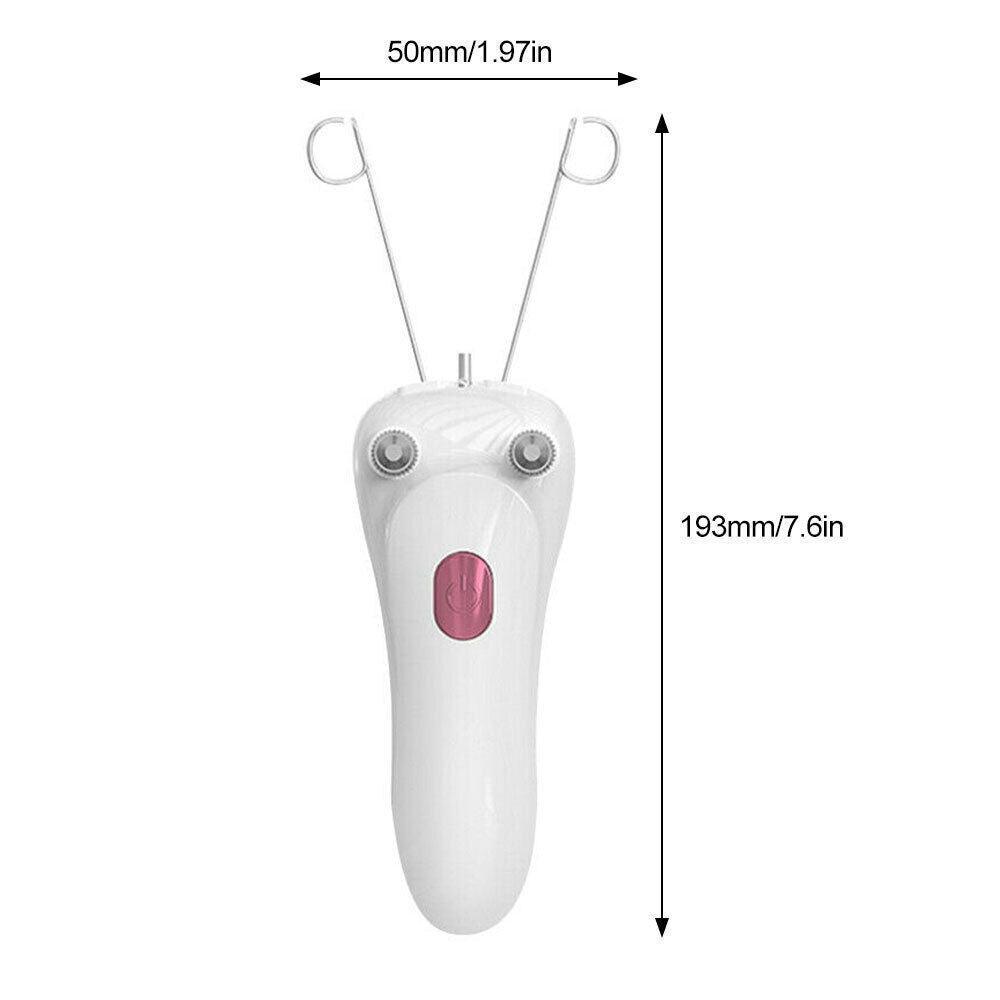 Epilator for Facial Hair - Electric Facial Threading Hair Removal Epilators for Women Face Thread Epilator Facial Body Hair Removal Machine

About Epilator for Facial Hair
Epilator for Facial Hair - Face Thread Epilator Facial Body Hair Removal Machine Device Hair Remover for Face & Chin USB Rechargeable Electric Facial Threading Hair Removal Epilators for Women. 
This epilator for women was created with beauty in mind. With this epilator, you can quickly, effortlessly, and safely eliminate extra body hair, leaving your skin smooth and delicate.
Threaded epilators, as opposed to electric epilators, IPL epilators, waxing, or depilatory treatments, can physically remove hair with easy steps, making you more attractive. This is a high-quality epilator that is valuable to own.
Epilation on Various Areas:
This threading hair shaver can be used to eliminate unwanted hair on the upper lips, neck, chin, forehead, arms, and other body parts, in addition to shaving faces and removing peach fuzz (vellus hair). (Note: We do not advise using green hands to shape eyebrows skillfully.)
Safe:
Our threading epilator uses an exclusive customized 100 percent natural cotton thread (included in the package) without any chemicals, in contrast to other epilators that use epilating metal discs, IPL epilators, waxing, or depilatory creams. As a result, threading is unlikely to irritate the skin and is suitable for all skin types, including sensitive skin.
Cordless & Rechargeable:
It has a 400mAh built-in rechargeable battery, making it cordless, portable, practical, and simple. (Note: Only a USB charging cable is included; a USB power converter is not. Normally, you may charge it with any 5V mobile phone charger.)
How to Use Epilator for Facial Hair :
Wash the skin that has to be hair-free, then moisturize or use lotion.

After cleansing the skin, evenly apply toilet powder or lotion.

After turning on the hair removal device, steadily travel along the opposing direction of the developing hair while pressing the thread under the spring near the skin.

After shaving, moisturize the area with aloe and other ethanol-free skin care products.
Caution & Warnings of Epilator for Facial Hair:
When charging, avoid using the threading device. In case it is damaged, do not use it.

Without first seeing your doctor, avoid using the device on inflamed skin with varicose veins, rashes, spots, moles (with hairs), or wounds. Consult your doctor if you have a compromised immune system, diabetes mellitus, hemophilia, or an immune system disorder.

The first few times you use the epilator, your skin could get red and irritated. This occurrence is typical and passes fast. As you employ the threading tool more frequently, your skin becomes accustomed to epilation, irritation of the skin declines, and regrowth thins and softens. We recommend seeing a doctor if the itchiness does not disappear in three days.

Keep the running device away from clothing, eyelashes, threads, wires, brushes, etc., to avoid damage and injuries.

One should supervise Children to ensure they do not play with the threading device.  
Colour: Gold
Power source: Corded Electric, Battery Powered
Item weight : 240 Grams
Unit count : 1.00 count
Item Type: Thread Epilator
Material: ABS
Power: 5W
Machine Size: Approx. 193 x 50mm / 7.6 x 2in
Be Maskura Fit
Our Happy Hoopers
30 Minutes Daily Fun Workout
The smart hula hoop counts your burned calories, tracks how long you work out, and records other vital information.
Easy Installation Process
Our Smart Weighted Hula Hoop has a carefully planned design with 27 knots placed in hoop's circumference.
27 Detachable Knots
Our Smart Weighted Hula Hoop has a carefully planned design with 27 knots placed in hoop's circumference.
Let customers speak for us
Because my girlfriend used to get her eyebrows threaded at the salon, I got it for her as a gift. With this threading tool, she is quite pleased. fantastic acquisition
As someone who's tried threading in the past, I can confidently say that this epilator is a much better solution for facial hair removal. It's quick, painless, and provides a cleaner finish. I love how easy it is to use and how it doesn't require any special skills or techniques. I highly recommend this product to anyone looking for a fuss-free facial hair removal solution.
Better than threading
This epilator for facial hair has saved me so much time and money! I no longer have to go to the salon for expensive hair removal treatments. This product is so easy to use and provides a professional-grade hair removal solution. I would highly recommend this product to anyone looking for a cost-effective and convenient facial hair removal solution.
A must-have for flawless facial hair removal
It's so easy to use and provides a clean and smooth finish every time. I love how gentle it is on my skin and how it removes even the tiniest hairs. Highly recommend.
Overall its a good device to buy
I bought this device about a month ago and so far I am happy with this purchase . you need to be a little bit more careful to get control over it for some parts like top of the eyebrow.
Shark Shaver Pro - Platinum Electric Skull Shaver For Head & Face
Best Electric Men's Shaver