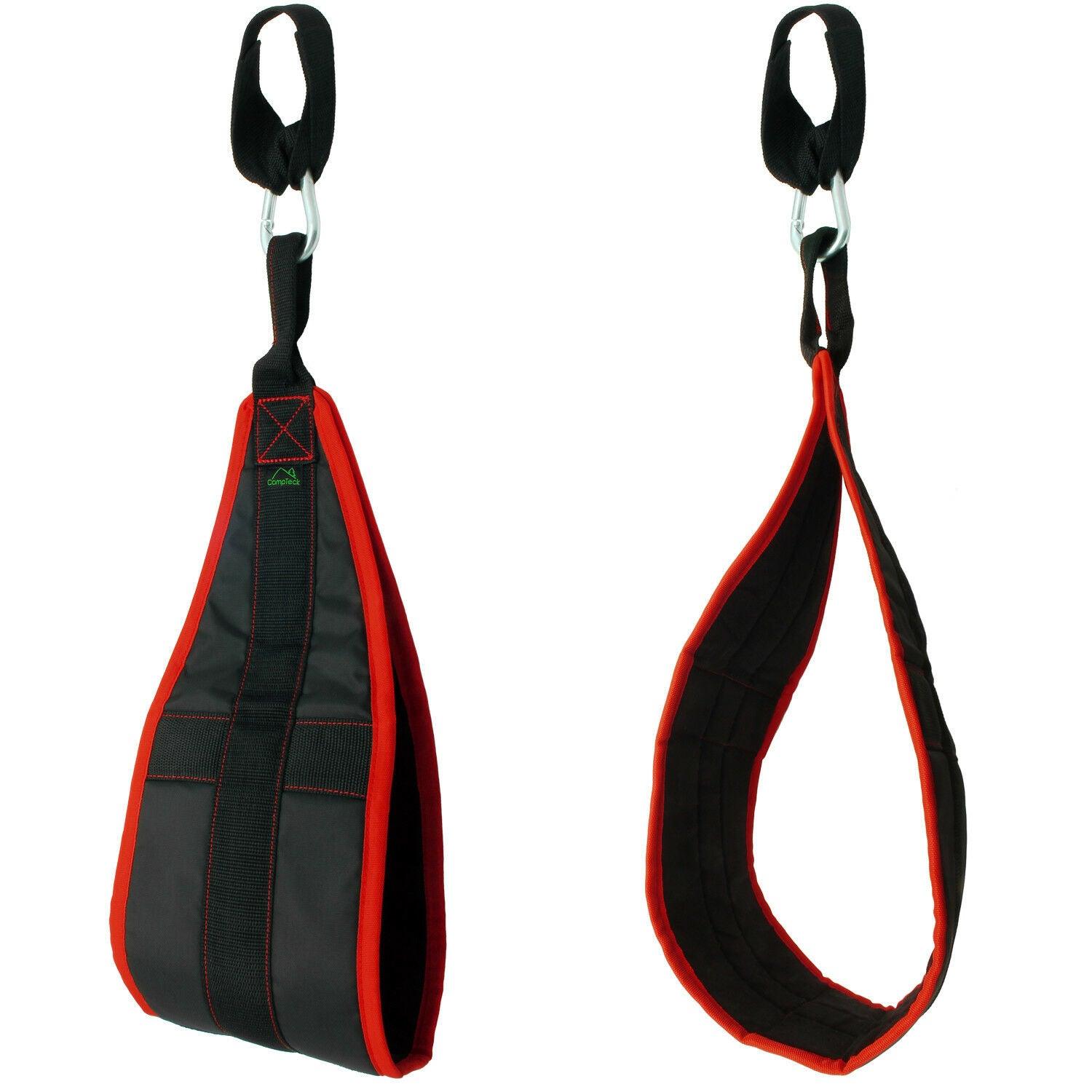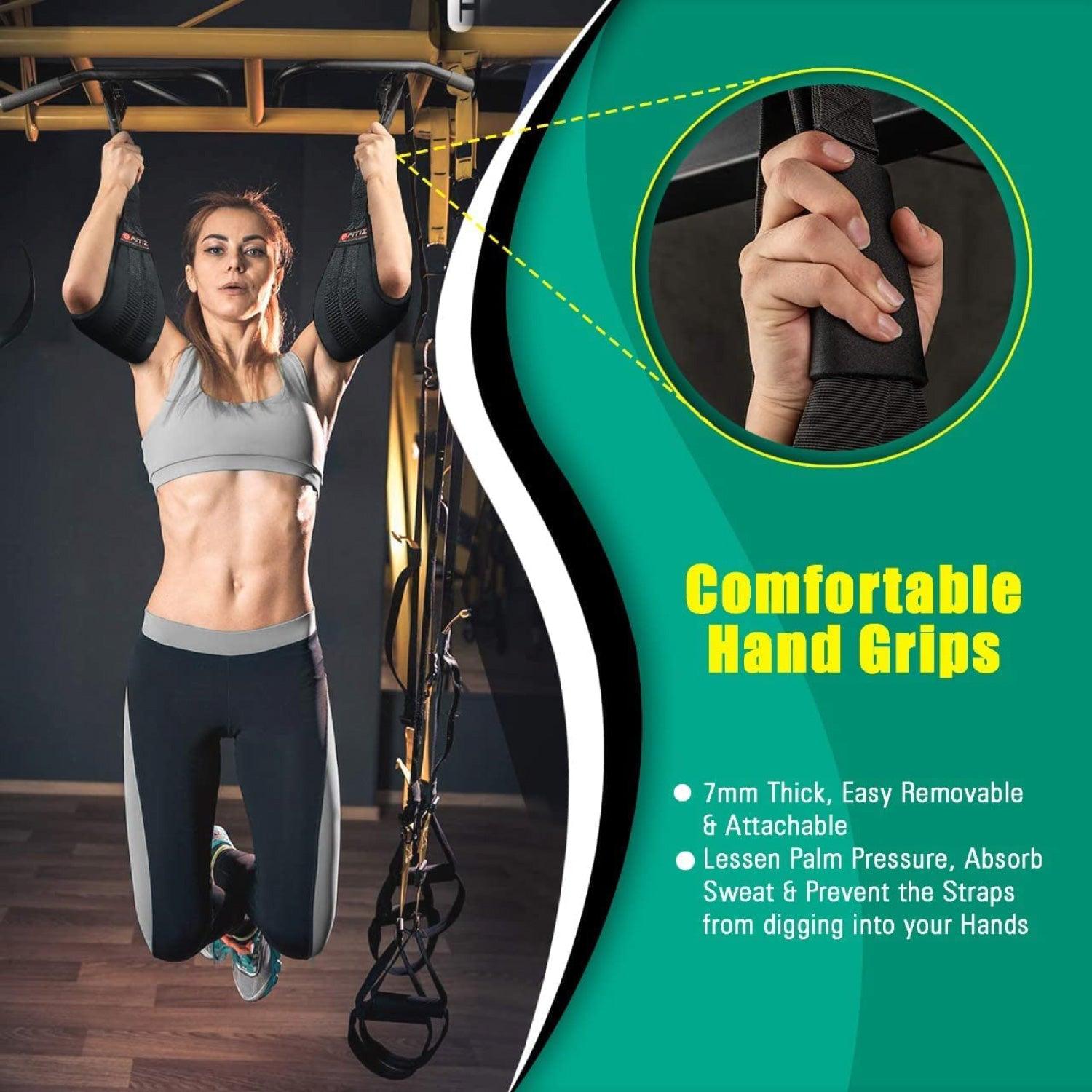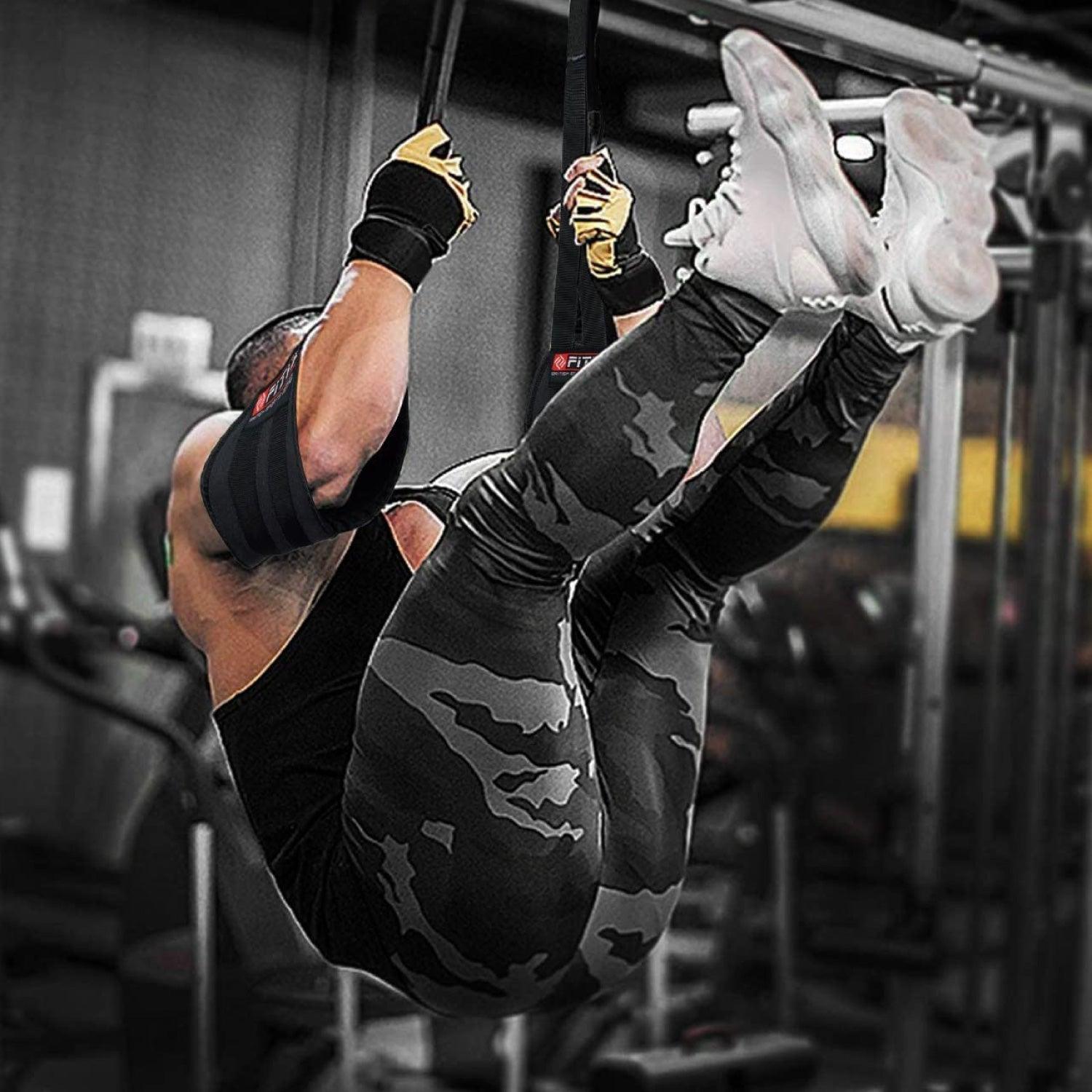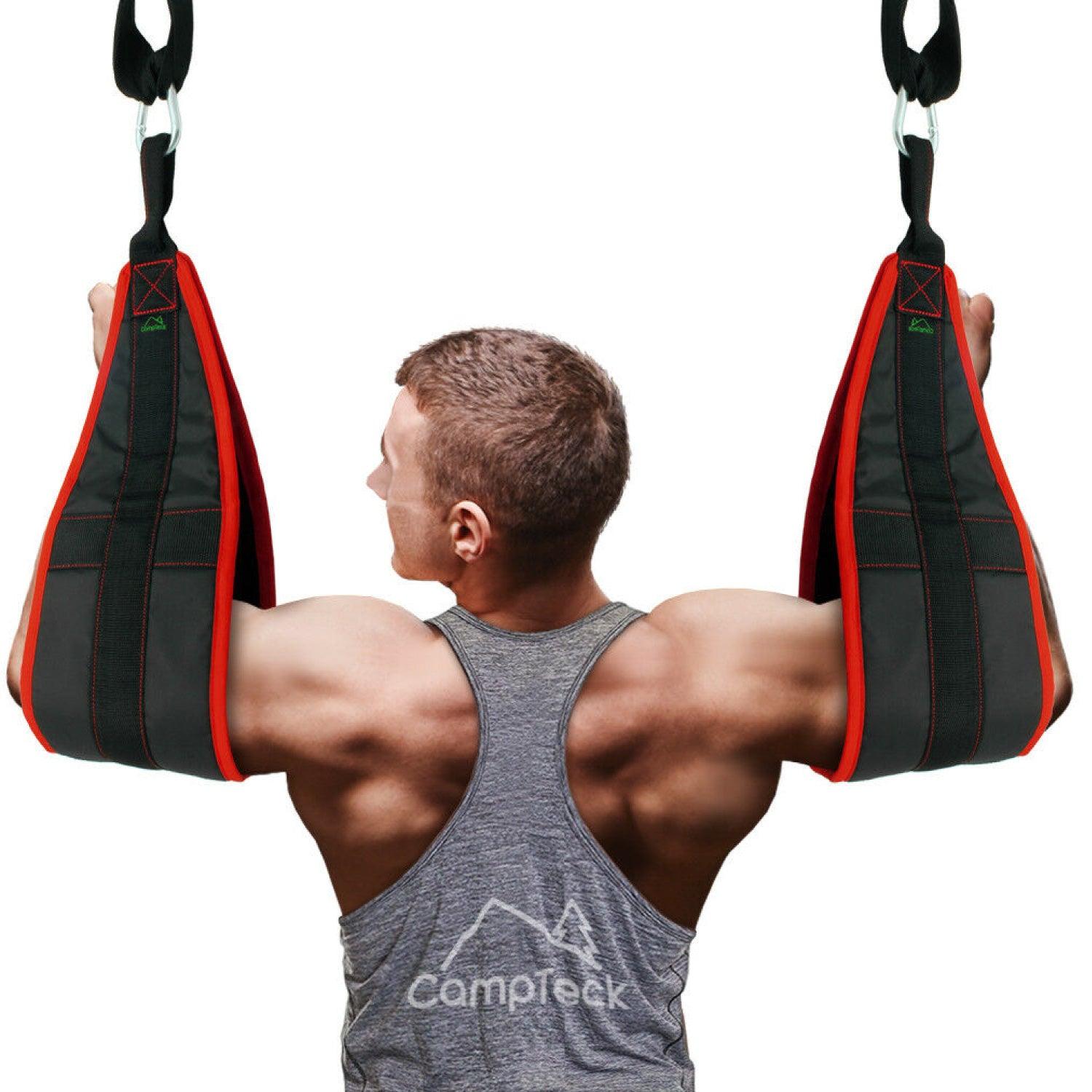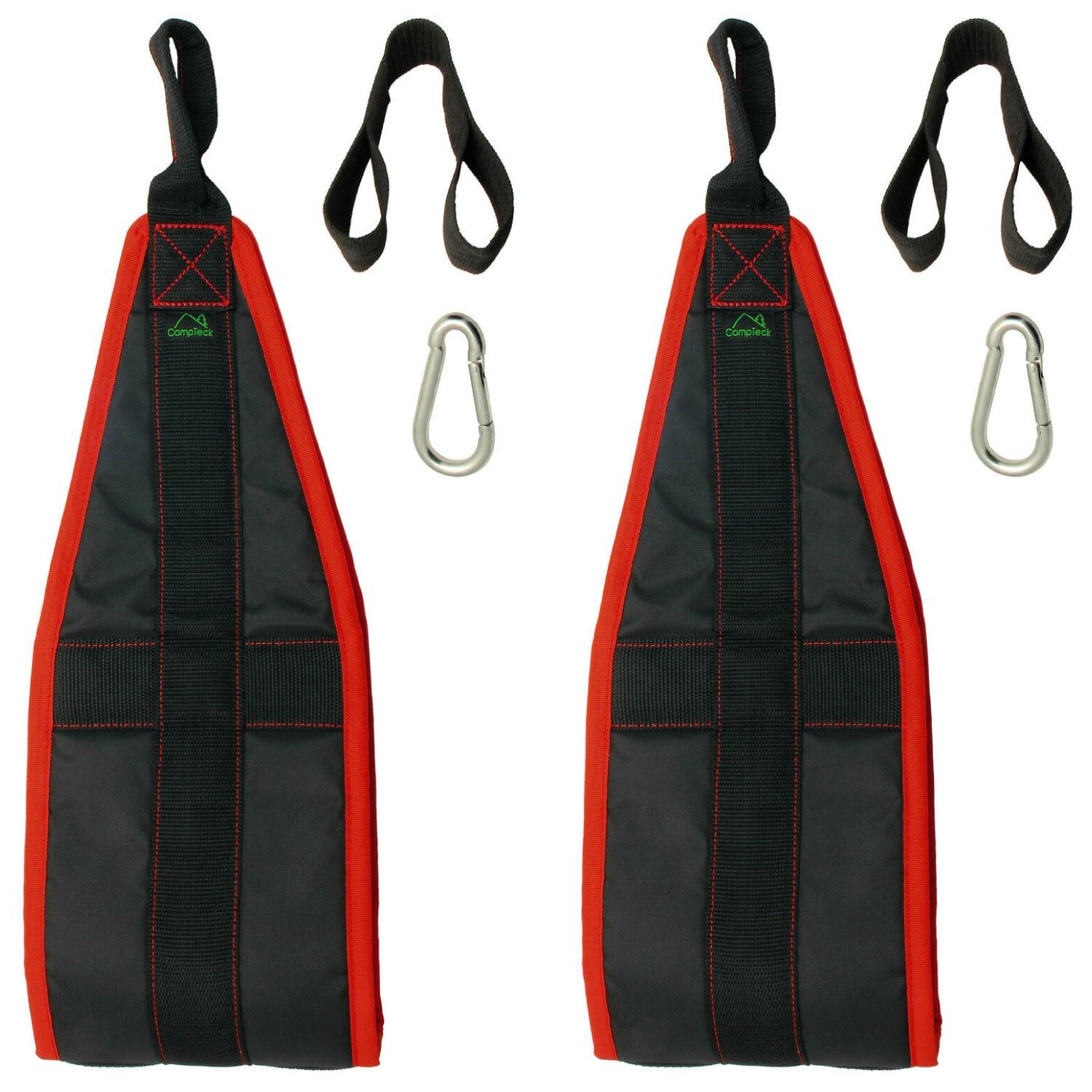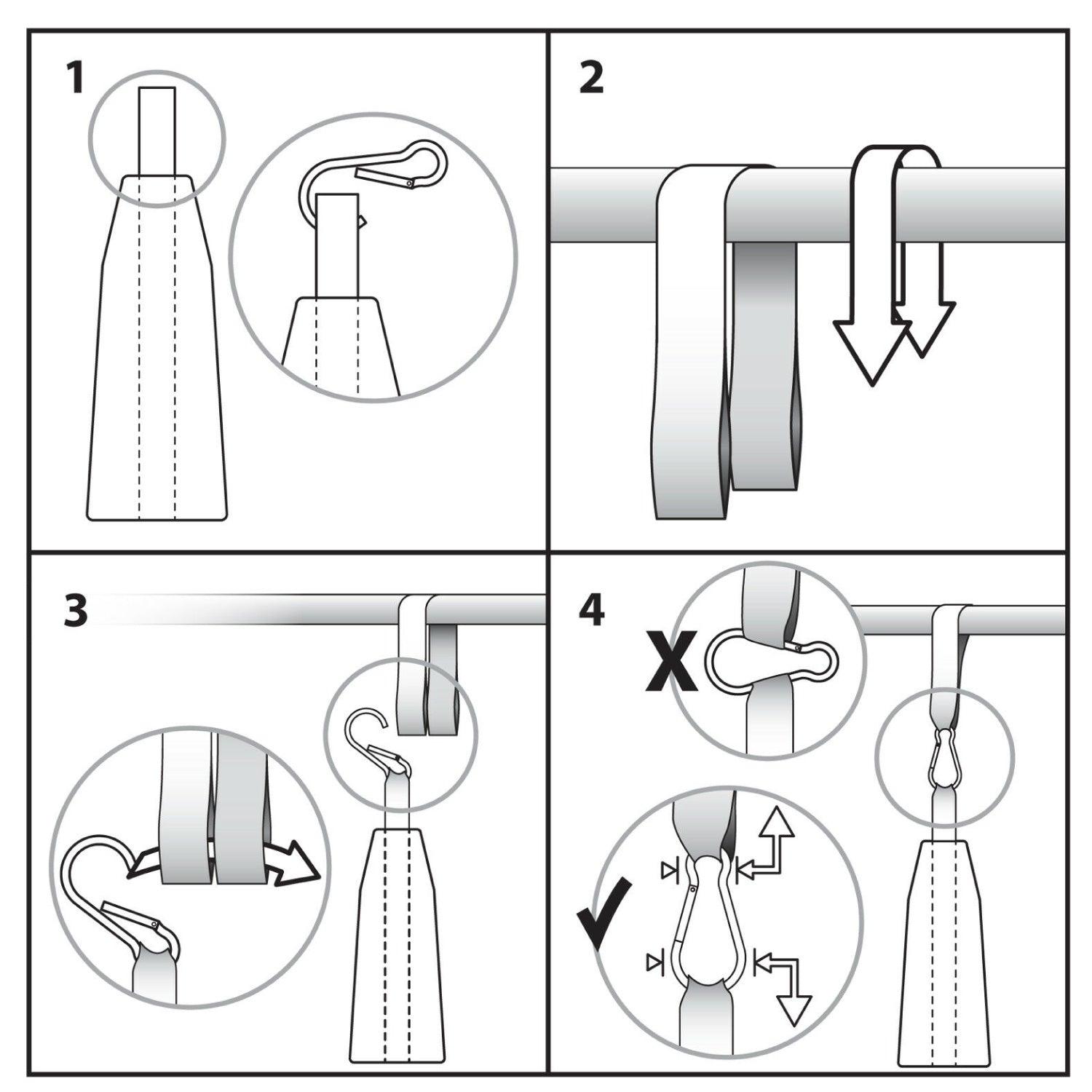 Hanging Ab Straps - Ab Slings Straps - Rip Resistant Heavy Duty Pair for Pull Up Bar Hanging Leg Raiser Fitness with Big D-ring Steel Quick

Premium Quality Hanging Ab Straps:
Hanging Ab Straps are comfortable, reliable, and can be attached to almost anything. Our pull-up straps are made of highly padded elbow sleeves, sturdy steel carabiners, and heavy-duty woven nylon that is rip-resistant and can handle 300 lbs. Our workout straps provide double support, ensuring risk-free stability for your core exercises, unlike other ab straps that are short, start ripping, and pinch due to excessive body weight.
Strengthen Abs & Core Muscles :
These pull-up bar ab straps give you an excellent exercise that targets your abs and gives them a more defined, sculpted appearance. They boost core strength in addition to giving your abs a celebrity-like appearance. You may strengthen your abdominal muscles with the ab strap of your choice and liking.
One Size Fits All :
This arm exercise equipment fits all gym training bars perfectly. It enables you to quickly attach to the pull-up bars without worrying about their size or modification so that you can concentrate only on getting rid of that belly fat and building up your ab muscles.
Zero Pressure on the Spine :
The hanging leg raises strap guarantees that you are performing particular exercises with the correct technique. To obtain excellent results, you may target particular muscles while applying no pressure to your back.
Lifetime Satisfaction Hanging Ab Straps:
Legend Legacy's staff is committed to producing dependable and long-lasting fitness items. So you can buy with confidence. As a result, all of our items provide a complete refund or replacement in the event of a negative experience. Consequently, "BUY WITH CONFIDENCE."
A strong metal carabiner and a sturdy nylon strap are included to hang from any chin-up bar.

It can handle a maximum load of 264 pounds and is sturdy and durable while lightweight and portable.

Ideal for various fitness activities, including crunches, obliques, and hanging leg lifts.

The abs sling helps you strengthen your abdominal muscles while supporting the weight of your upper body.

Leg raises and hanging ab crunches are only two of the ab exercises made possible by the extra-wide ab slings straps'. It provides comfortable support for the elbows.

Gym abs straps are composed of durable polyester that is torn- and wear-resistant and have pleasant cushioning. It strengthens your abdominal muscles without putting undue strain on your lower back. This attaches to any standard pull-up bar or multi-gym. It is sold in pairs. 
Activity: Bodybuilding, Gym & Training, Weight Lifting
Size: AB strap: 61cm/ 24" (L) x 19cm/ 7.4" (W)
Material: Nylon hanging strap
Battery: No
Type: Gym
Weight: Light
Be Maskura Fit
Our Happy Hoopers
30 Minutes Daily Fun Workout
The smart hula hoop counts your burned calories, tracks how long you work out, and records other vital information.
Easy Installation Process
Our Smart Weighted Hula Hoop has a carefully planned design with 27 knots placed in hoop's circumference.
27 Detachable Knots
Our Smart Weighted Hula Hoop has a carefully planned design with 27 knots placed in hoop's circumference.
Let customers speak for us
Hanging leg raises on steroids
These suspension strap trainers have taken my traditional hanging leg raises and ab workouts to another level. The wide, rip-resistant material evenly distributes my bodyweight to minimize pressure on joints while allowing for full range of motion exercises.
Core strengthening secret weapon
These suspension trainer straps have transformed my core workouts! Using them for hanging leg raises, knee raises and oblique twists activate my abdominal muscles in ways that standard crunches simply can't match.
a great way to strengthen the hip flexor
To develop the lower core and obliques, utilize these straps. My fitness has been greatly enhanced. Exercises cannot be made simpler by fitness assistance. It's intended to be harder because of this, making it more potent. This is a fantastic product that every dedicated athlete who cares about their fitness should have in their training bag.
Well Built
The locking sleeve is so strongly made. There is hardly any chance to fall off. It will stick you in the bar so properly. The straps are also showing their quality. I am giving a 5-star rating to the product and the website also. Their behave and response have pleased me immediately.
Great Value for the Price
I purchased these hanging ab straps for my home gym, and they're a great value for the price. The rip-resistant material and heavy-duty construction make them durable and long-lasting, and the big D-ring steel adds extra support.
Shark Shaver Pro - Platinum Electric Skull Shaver For Head & Face
Best Electric Men's Shaver