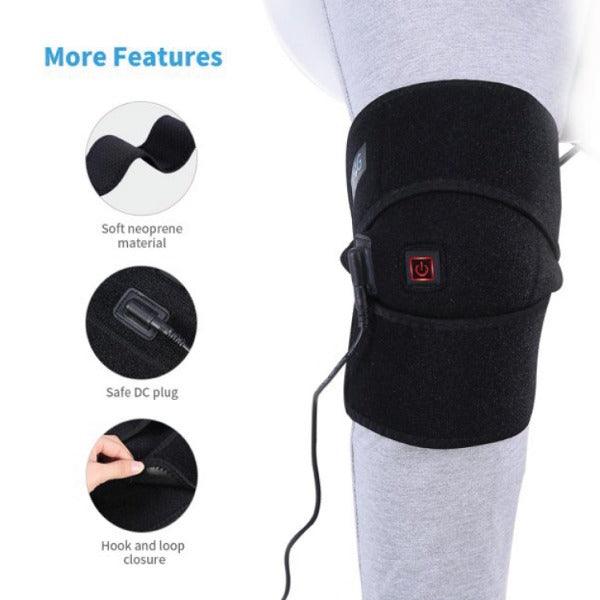 Heated Knee Brace - Heated Knee Brace Wrap Support/Electric Therapeutic Heating Pad W/Rechargable 7.4V 2600Mah Battery for Joint Pain, Pain Relief

About Heated Knee Brace 
Rapid Heating:
For this, carbon fiber Heated Knee Brace wire is used. It offers support and heat therapy, which lessens knee discomfort and helps to ease knee arthritis pain. Muscle cramps and tightness can also be relieved by massaging the thighs, arms, and shins.

Three temperature settings are controlled by a single button. The temperature and duration of the heating are completely in your control. A short stroke of the button changes the other temperature settings.
Various Situations
It is appropriate for indoor or outdoor use. It can be used as a functional automobile or USB port by plugging it into a power socket. It cannot be charged because it has no built-in battery.
Safety and Comfort
The strap is long enough to fit a knee that is no higher than 2 cm. The cable enables you to experience complete heat treatment comfort whether you are standing, sitting, or lying down. Neoprene, which is safer and softer than other heating materials, is combined with carbon fiber to create heated knee pads.
Simple to Use
The heated knee brace may be washed right away. The sturdy T-type hook magic paste won't scuff up your garments. More practical to use and harder to slide. 
When to Use Heated Knee Brace
It is used to treat arthritis, meniscus, osteoarthritis, bursitis, ACL PCL MCL tears, and other joint and muscle symptoms brought on by overuse, strains, and sprains. Additionally, it's ideal for outdoor campaigns, including motorcycles, etc.
Heated Knee Brace Specifications 
Heated Knee Pad

Three Temperature Mode Adjustable

Color: Black

Voltage: 5V

Material: Diving Cloth

Power Cable Length: 50cm/19.6inches

Size: 59x21.8cm
Included in the package are a heating knee pad and a charging cable.
Note: Please note that the power cable is just 50 cm long. It is compatible with both power banks and power socket extenders. Please read it first before making a purchase. 
When using it, a 5V/2A power outlet must be connected to it. Please allow a small variation for the measurement data, as there is no lithium battery in the knee heating pad. Please contact us if you have any questions; we appreciate it.
You Mau Check It Out: Knee Brace Support Stabilizing Belt Strap

Type: Heating Knee Pad
Body Area: Knee
Color: Black



Be Maskura Fit
Our Happy Hoopers
30 Minutes Daily Fun Workout
The smart hula hoop counts your burned calories, tracks how long you work out, and records other vital information.
Easy Installation Process
Our Smart Weighted Hula Hoop has a carefully planned design with 27 knots placed in hoop's circumference.
27 Detachable Knots
Our Smart Weighted Hula Hoop has a carefully planned design with 27 knots placed in hoop's circumference.
Let customers speak for us
Wouldn't buy again
Very poor product. Can hardly feel any warmth from the knee band - the plug heats up a lot though !
Takes Some Getting Used To
The fabric can be more comfortable. Other than that, it is a good knee brace wrap to use.
Great for Post-Workout Pain
I have found that using the Heated Knee Brace after a workout helps with my post-workout pain and speeds up my recovery time.
Love the Rechargeable Battery
I appreciate how convenient and easy it is to use this electric therapeutic heating pad, and the rechargeable battery is a great feature that makes it even more user-friendly.
Decent Product for the Price
While the knee brace wrap does provide some relief for my knee pain, I did find that the fabric was not as durable as I expected, so I would recommend being careful with it to ensure it lasts as long as possible.
Shark Shaver Pro - Platinum Electric Skull Shaver For Head & Face
Best Electric Men's Shaver