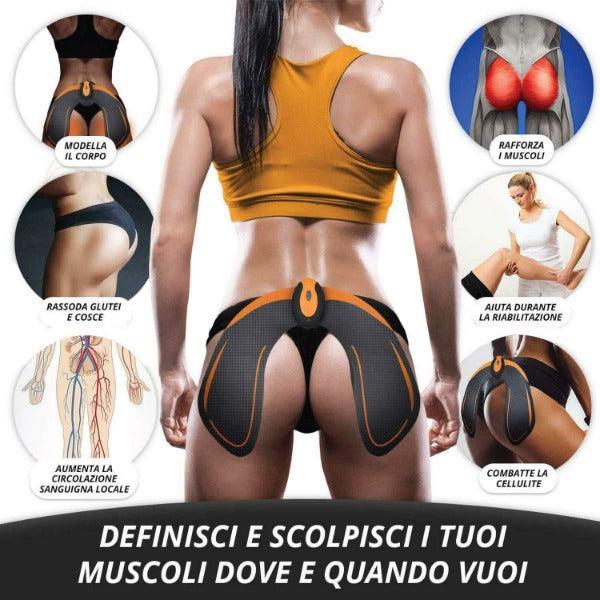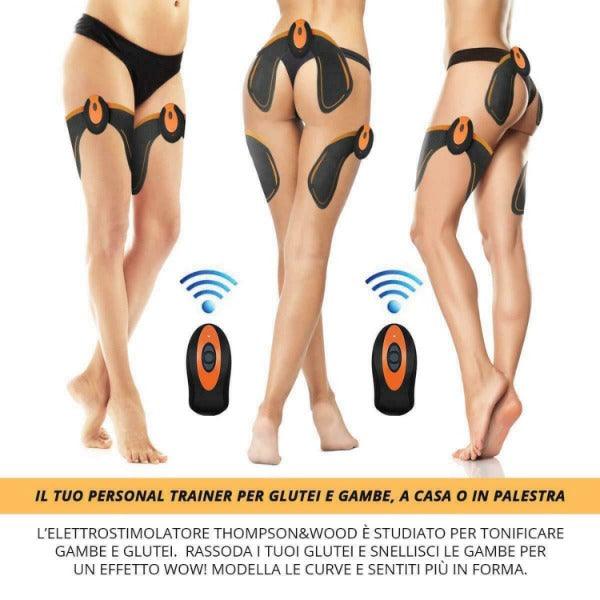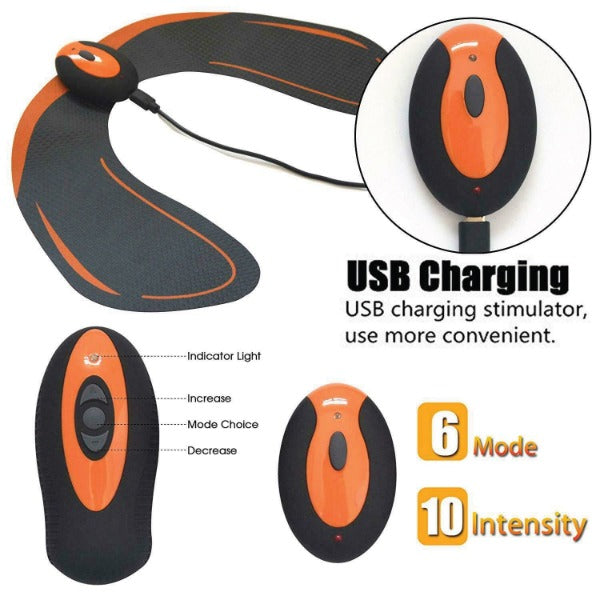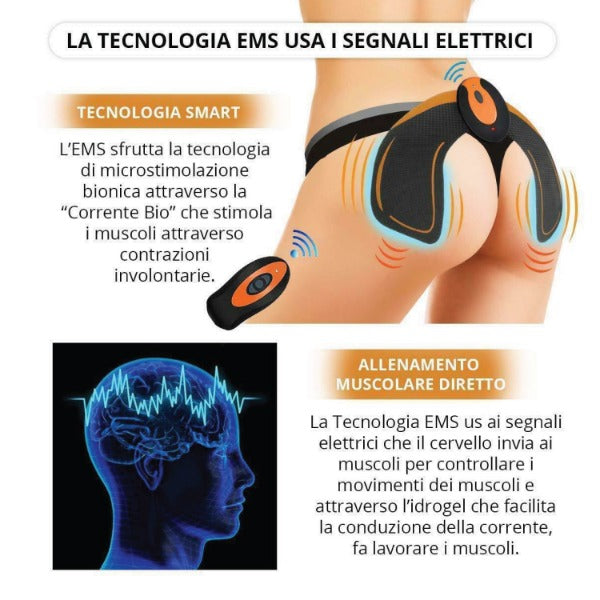 Hip Trainer Butt Lift Stimulator - hip trainer, hip trainer butt trainer gluteus muscle trainer buttock stimulator Bum Push Up Massager Toner

EMS Hip Trainer Butt Lift Stimulator

The EMS Hip Trainer Butt Lift Stimulator transmits signals directly to muscles and encourages movement. It is used for weight reduction and muscle building, assisting in fat burning and muscle growth, and working your muscles while reducing weight. The EMS Hips Trainer may assist in regulating, tightening, and toning the buttocks to contour the hips and produce the ideal figure!

EMS technology uses electrical stimulation to transfer impulses to the muscles directly and encourages muscular activity to simulate lifting and pushing. To feel more confident, raise the hips' natural curve and create a lovely shape.
Ingenious Design:
The updated remote control is more user-friendly and adaptable. High-end technology, conductive electrical pulses, powerful forces, sensitivity, and no tingling are all features of the controller. a skin-friendly hydrogel that is durable and won't break down over time.
Easy to Use Hip Trainer Butt Lift Stimulator:
It can be worn over clothes and is ideal for muscle conditioning while reading, watching a movie, doing housework, or even traveling for work or play. It is extremely thin, lightweight, and portable.
Adjustable Mode Hip Trainer Butt Lift Stimulator:
There are six models and 15-intensity settings to help you burn fat and build muscle. Using a remote control, you can quickly modify the setting to meet your physical demands and make adjustments as needed.
Simple to Use and Safe Hip Trainer Butt Lift Stimulator:
The Bum training device Our bum toner equipment is non-toxic, pleasant on the skin, more secure, and long-lasting. Its ergonomic U-shaped pad design allows for excellent hip adhesion and a perfect fit for the buttocks. This hip trainer is portable and lightweight due to its tiny size.
You can work out whenever you choose, whether at home, in the gym, or in the workplace. To begin the exercise, just secure the pads around your body and push the button.

In order to assure you that we are offering you the highest standard of muscle toning that you can experience at home or on the go, our electronic Hip Muscle Trainer bears a CE certification of quality. We try to deliver the best workout quality with our modern muscle stimulator machine.
Give Your Loved Ones This Home Exercise Equipment:
We take pleasure in producing exercise equipment that is simple to use in the comfort of your own home. Our pelvic muscle trainer, with its cutting-edge technology, is a wonderful gift for your loved ones. Both men and women may use this bum trainer, which is perfect for office workers, gym attendees, new mothers, long-haul drivers, and housewives, to mention a few.
You May Check It Out: Thigh Bands for Workout 
Type: Buttock Muscle Trainer
Muscle Group: Buttock
Features: Non-Slip, Remote Control
Sport/Activity: Gym & Training, Running & Jogging, Weight Lifting, Yoga
Usage: Home Use, Semi-Commercial Use
Material: PU (polyurethane) Leather
Item Weight: 100/170G
Item Width: 18.8cm/x7.4"
Color: Black
Indoor/Outdoor: Indoor
Custom Bundle: No
Item Length: 26cm/10.2"
Sticker size: 26x18.8cm/10.2"x7.4"
Controller size: 7.8x6x2.1cm/3"x2.36"x0.82"
Intensity: 10 classes
Frequency:1-100Hz
Working Time: 15 Minutes(Per installation time)
Output: Max. 9.8mA
Controller Power Supply: 2 x AAA Battery ( not Included )
Product Name: Hip Trainer
Be Maskura Fit
Our Happy Hoopers
30 Minutes Daily Fun Workout
The smart hula hoop counts your burned calories, tracks how long you work out, and records other vital information.
Easy Installation Process
Our Smart Weighted Hula Hoop has a carefully planned design with 27 knots placed in hoop's circumference.
27 Detachable Knots
Our Smart Weighted Hula Hoop has a carefully planned design with 27 knots placed in hoop's circumference.
Let customers speak for us
Requires Additional Effort
it can provide some toning and lifting benefits, it is not a substitute for regular exercise, and additional effort is still required to see significant results.
Portable and Lightweight
The Bum Push Up Massager Toner is portable and lightweight, making it a great travel companion for those who don't want to skip their glute workout while on the go.
Great for Sensitive Skin
I have sensitive skin, and I appreciate how comfortable and non-invasive this buttock stimulator is, making it a great choice for those with similar skin types.
Great for Busy Schedules
I appreciate how affordable and convenient this hip trainer is, and it allows me to work on my glutes even when I have a busy schedule.
Effective and Easy to Use
The Hip Trainer Butt Lift Stimulator is a fantastic product that has helped me tone and lift my glutes with ease, and I love the results I've seen so far.
Shark Shaver Pro - Platinum Electric Skull Shaver For Head & Face
Best Electric Men's Shaver