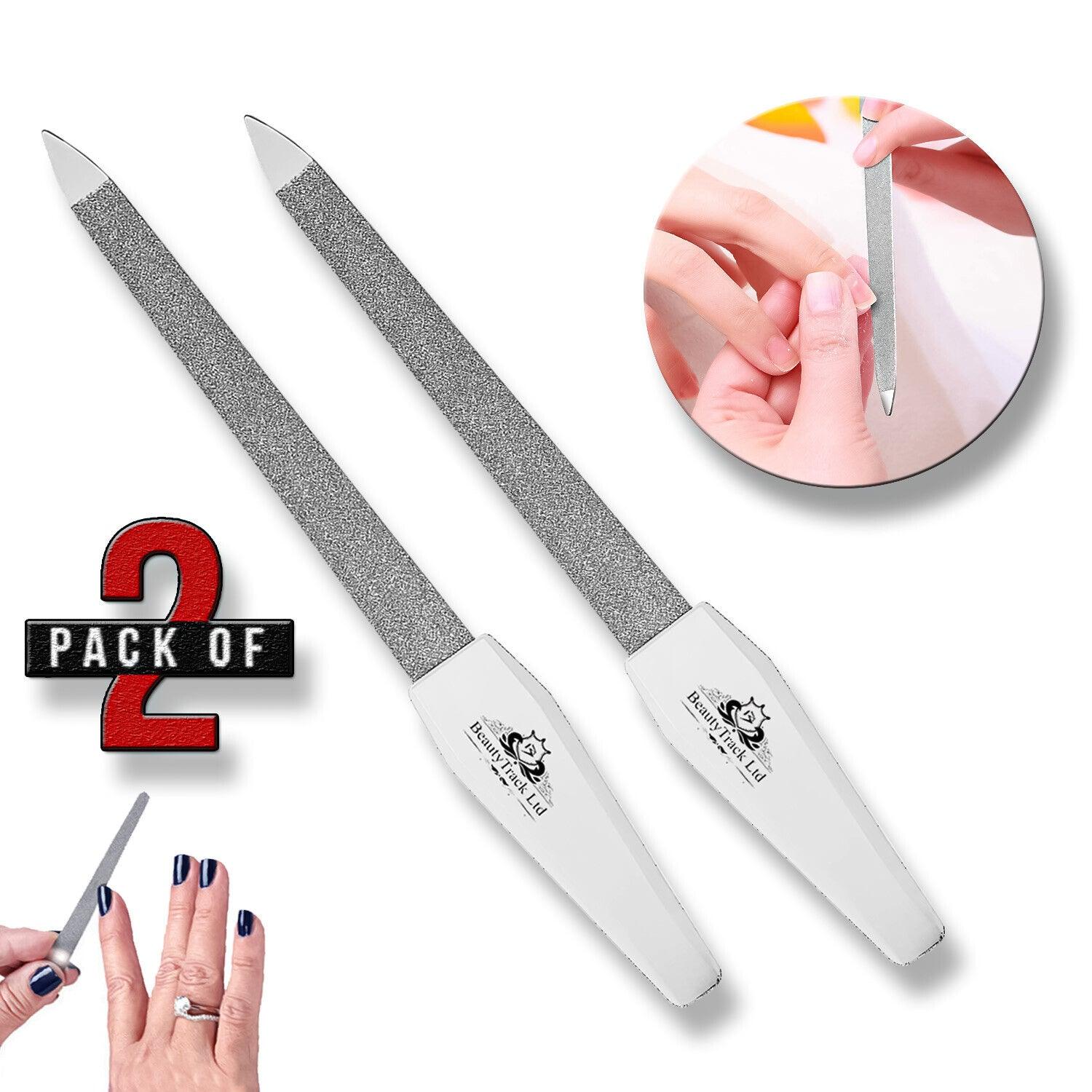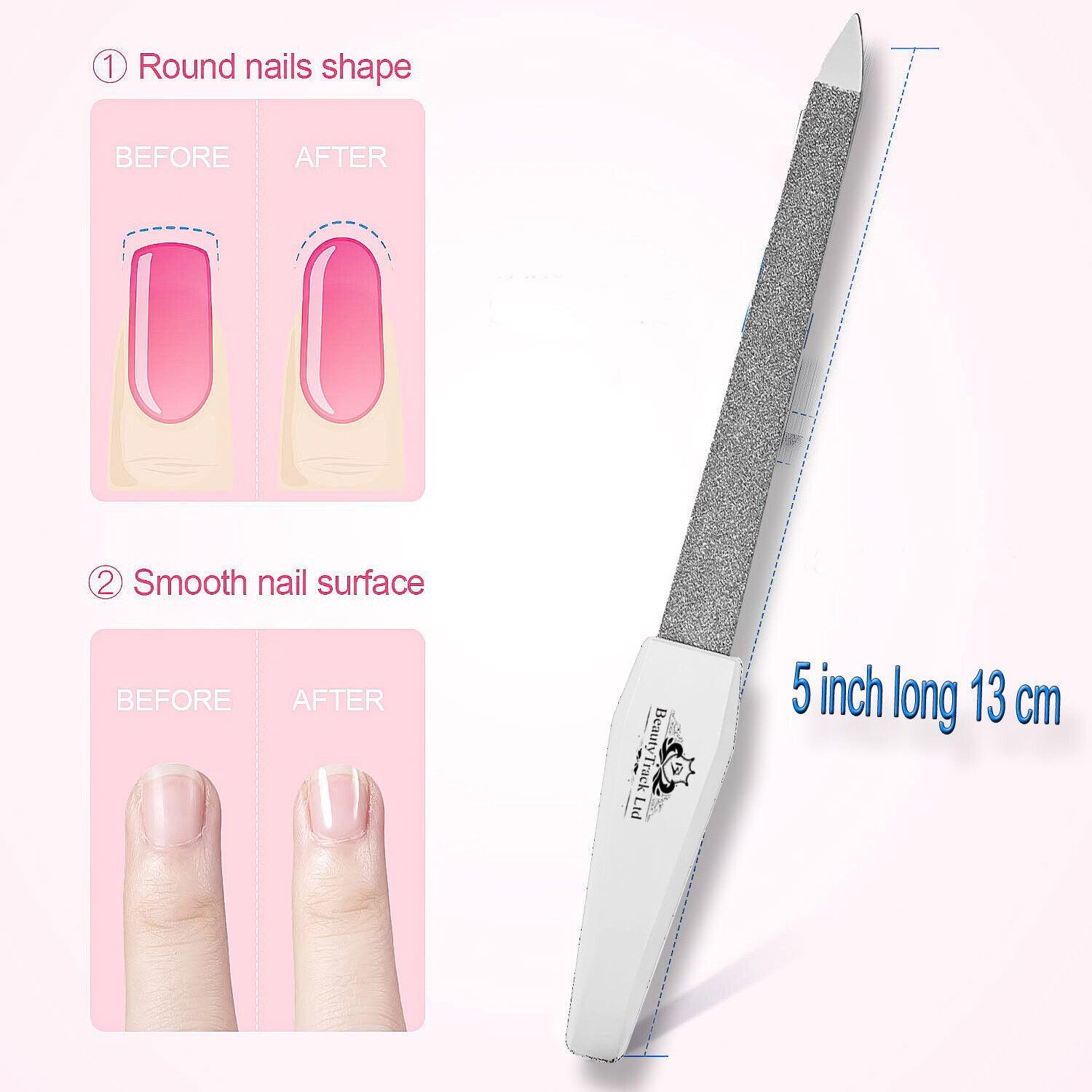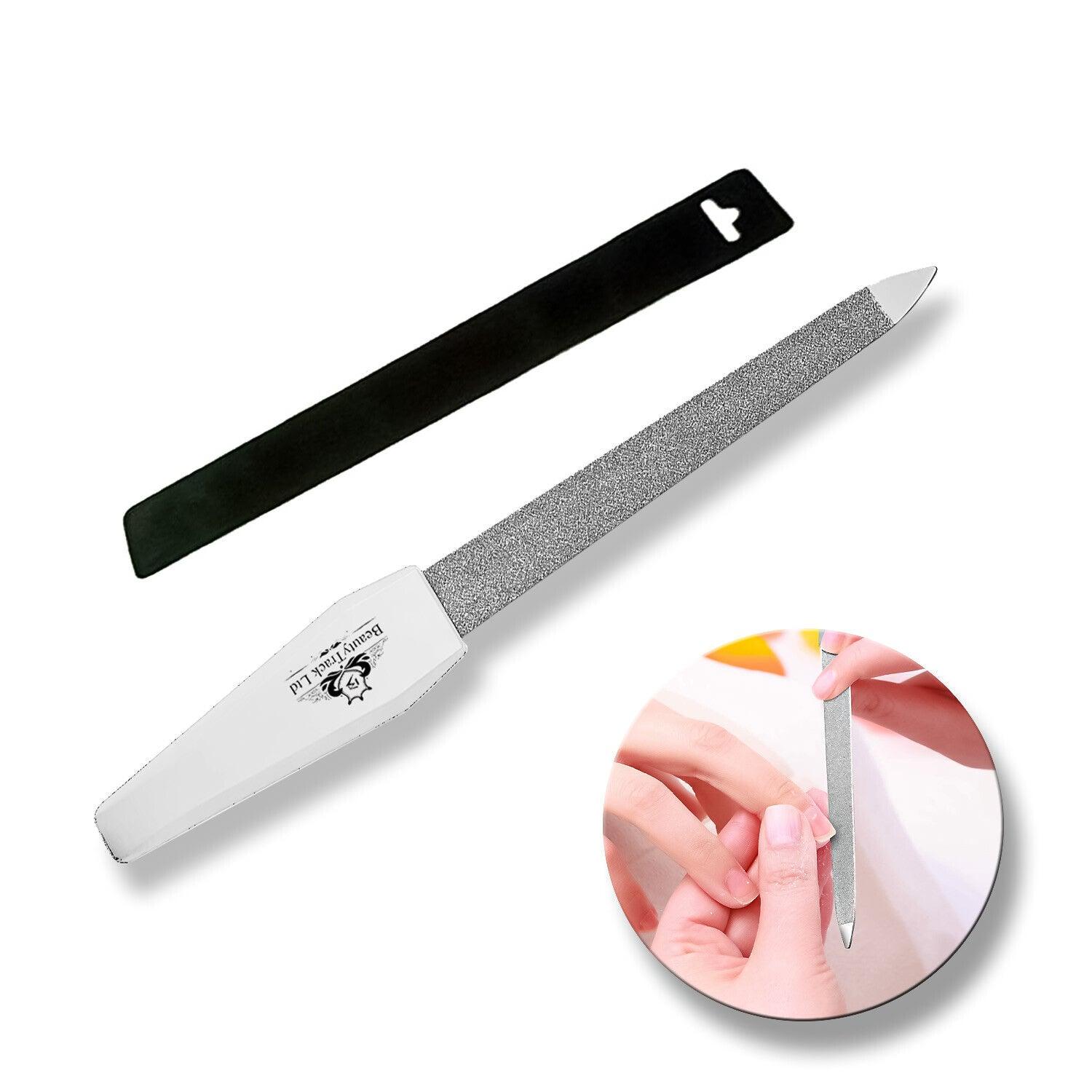 Metal File for Nails - 5" Diamond Dusted Coarse Nail Files Manicure Pedicure Tool

About Metal File for Nails
A multipurpose and necessary manicure and pedicure tool, the small metal file for nails is made to assist you in getting flawlessly manicured nails. For keeping your nails on your hands and feet looking healthy and beautiful, this portable and sturdy nail file is a necessity.
Features of Metal File for Nails
High Quality: Durable, high-quality metal was used in the construction of this nail file. It is made to last, so you may use it with confidence for all of your nail care requirements.
Compact Size: The nail file's 5-inch length makes it easily transportable. It may conveniently fit in your handbag, travel box, or purse so that you always have access to it for quick nail touch-ups.
Design with Two Sides: The file normally has two sides, each with a distinct amount of roughness. Your nails should be shaped and cut down on length on one side, then smoothed out and finished on the other.
Versatile Use: This nail file can be used for pedicures and manicures alike. You can use it to preserve a polished appearance by using it to smooth and shape the nails on your fingers and toes.
Ergonomic Design: The ergonomic design of the nail file ensures a secure grasp and accurate control while filing the nails. Your manicure and pedicure sessions become more effective and fun.
Durable and Long-lasting: The nail file is durable and long-lasting because of its metal structure, which makes it a long-lasting addition to your nail care supplies.
Hygienic and Easy to Clean: A disinfectant or nail file brush can be used to wipe the metal nail file clean after use, making it hygienic and simple to clean. This guarantees clean nail care.
Professional Results: The file enables you to obtain salon-caliber outcomes while relaxing in your home. Both newcomers and seasoned nail enthusiasts can use it.
You May Check It Out: Manicure and Pedicure Set
Anyone who values having well-groomed nails should own a small metal nail file. It is a useful addition to your manicure and pedicure regimen due to its small size, strength, and dual-sided construction. With this adaptable metal nail file, you can easily obtain professional results whether you need to shape, smooth, or finish your nails.
Condition: A brand-new, unused, unopened, and undamaged item.
Model: BeautyTrack Nail Files
Colour: White
Nail Buffer, Professional Nail Files, Stainless Steel Nail Files, Diamond Nail File, Diamond Deb Nail File, Diamond Dust Nail Files
Power: Diamond Dust Nail Files
Material: Diamond, Metal, Plastic
Set Includes: Nail Buffer, Nail File
Power Source
Diamond Nail File Metal
Type: Nail File
Features: Mini Nail File, Pack Of 2, Reusable, Durable, Easy To Clean, Rough Surface, Double-Sided, Waterproof


Be Maskura Fit
Our Happy Hoopers
30 Minutes Daily Fun Workout
The smart hula hoop counts your burned calories, tracks how long you work out, and records other vital information.
Easy Installation Process
Our Smart Weighted Hula Hoop has a carefully planned design with 27 knots placed in hoop's circumference.
27 Detachable Knots
Our Smart Weighted Hula Hoop has a carefully planned design with 27 knots placed in hoop's circumference.
Let customers speak for us
Shark Shaver Pro - Platinum Electric Skull Shaver For Head & Face
Best Electric Men's Shaver