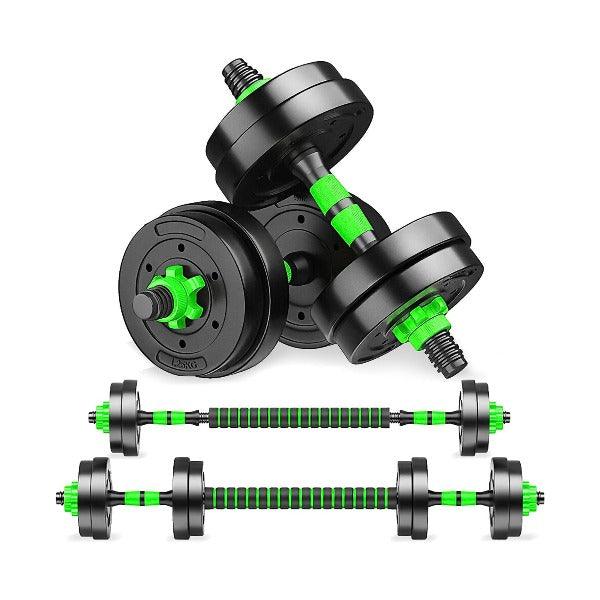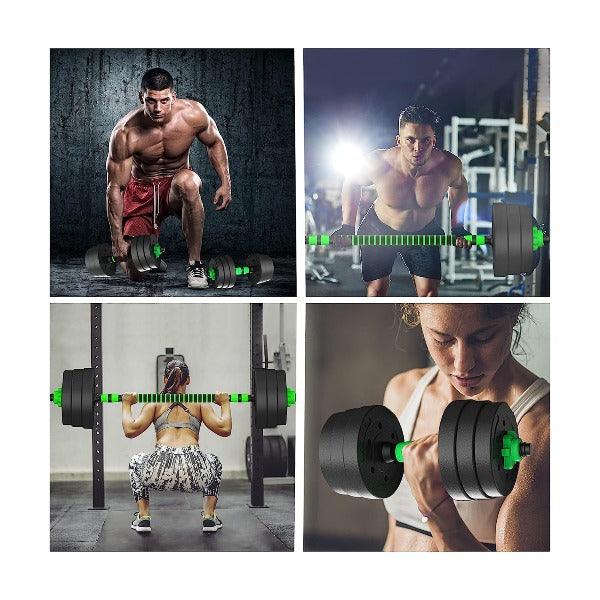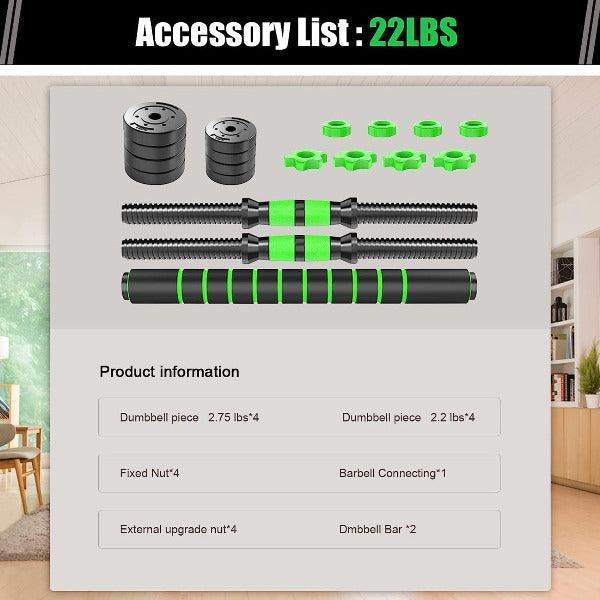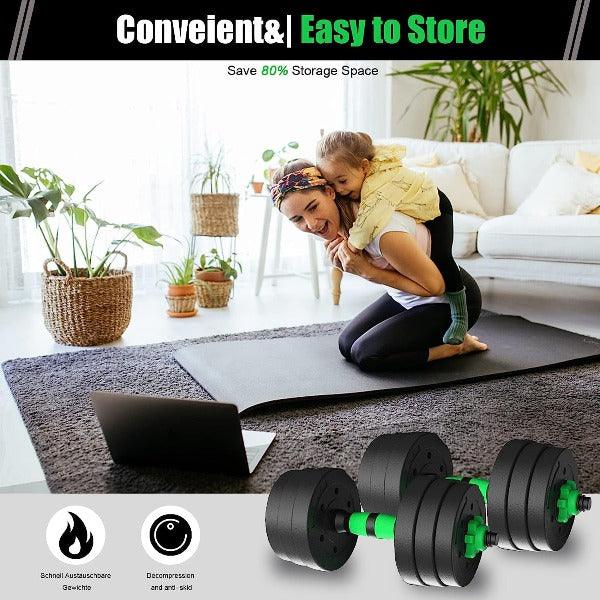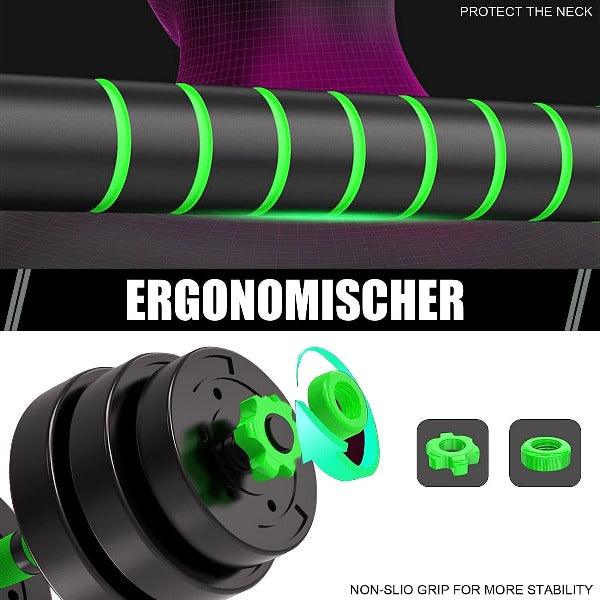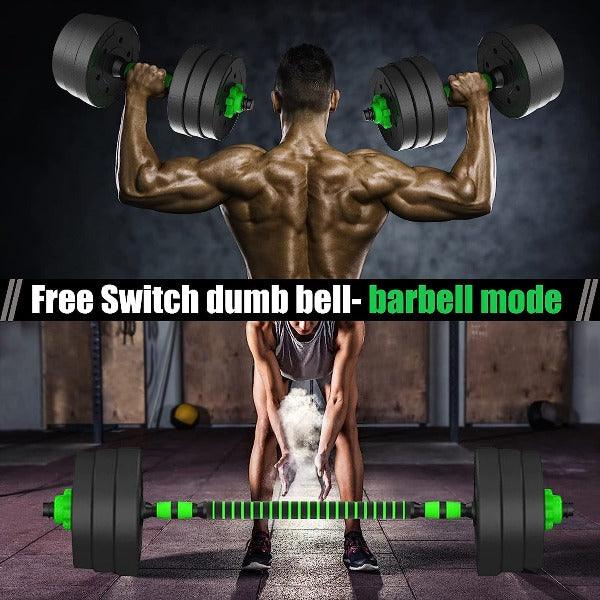 20 Kg Adjustable Dumbbells Set - 20kg Gym Weights Dumbbells and Barbel Set Adjustable Weights Indoor/outdoor, Best Option for Home Gyms

This 100% authentic 20 kg adjustable dumbbells set is ideal for general fitness.
Which is made of high-quality steel with a pleasant grip for your hands and weights that can be adjusted.
About 20 Kg Adjustable Dumbbells Set
Sturdy Vinyl Construction - The Phoenix Fitness 20kg Weight Set is composed of sturdy vinyl, which can assist minimize noise while also protecting the floors around your workout area.
2 in 1 Barbell Link - The dumbbells can be linked to one huge barbell for a wider range of exercises and to target specific muscle groups in your training.
Upper Body Exercise - Complete Weight Set provides a full-body exercise for your deltoids, pecs, triceps, biceps, and trapezius. 
 Room Saving - The weight discs may be stacked together for a sleek and compact design that saves room and is easy to store when finished.
2-in-1 Dumbbell & Barbell Set for an All-In-One Home Gym & Workout Solution
Fitness & Exercise Set that Saves Time for Busy People
The 40cm Barbell Link enables saving space.
Variable free weights aid in the promotion of safe and consistent strength and training progression.
Vinyl-coated weight plates aid in the Protection of Flooring During droppages.
Cambered rubber handles improve grip while minimizing slippage.
Condition: Brand-new
Department: Unisex Adults
Type: Set
Features: Adjustable Weight
Sport/Activity: Gym & Training
Item Weight: 20 Kg
Material: Steel covered with Vinyl

Package:
20 Kg Set includes:

2 41cm dumbbell bars

1 40cm bar joiner (joins dumbbells to make 1 long bar/barbell)

4 2kg weight plates

4 1.5kg weight plates

4 1.25kg weight plates

8 Connector
Be Maskura Fit
Our Happy Hoopers
30 Minutes Daily Fun Workout
The smart hula hoop counts your burned calories, tracks how long you work out, and records other vital information.
Easy Installation Process
Our Smart Weighted Hula Hoop has a carefully planned design with 27 knots placed in hoop's circumference.
27 Detachable Knots
Our Smart Weighted Hula Hoop has a carefully planned design with 27 knots placed in hoop's circumference.
Let customers speak for us
great value
Does the job. Just had my tendons stitched back on a torn rotator cuff and bicep surgery. Now my physio has got to the point where I need weights. Doing front straight arm raises from 1 kg, then 2, now I am up to 2.5 KG. One thing would be nice is some 500G weights to compliment the others to make a better combination. as I can not get a even 3kg for my next step. I'm being picky however as I am still 100% happy with these weights. I'll find some smaller weights and add them to the set, as they look to be universal.
The plastic nut that holds the weights in place occasionally comes loose naturally, but it still functions perfectly! Not able to grumble about the cost
These are fantastic, and I appreciate how you can switch between bar and dumbbells and different weights.
Shark Shaver Pro - Platinum Electric Skull Shaver For Head & Face
Best Electric Men's Shaver