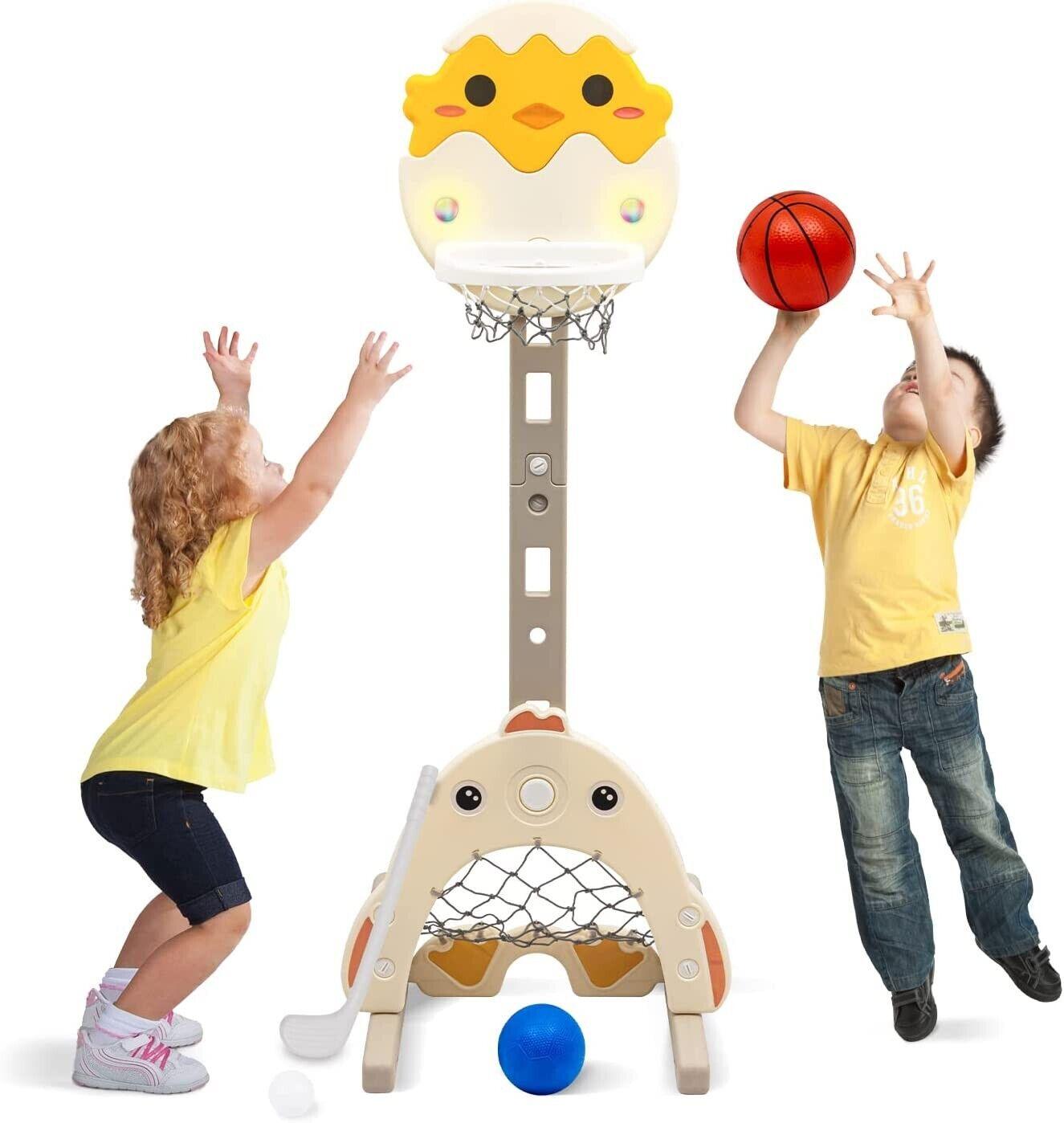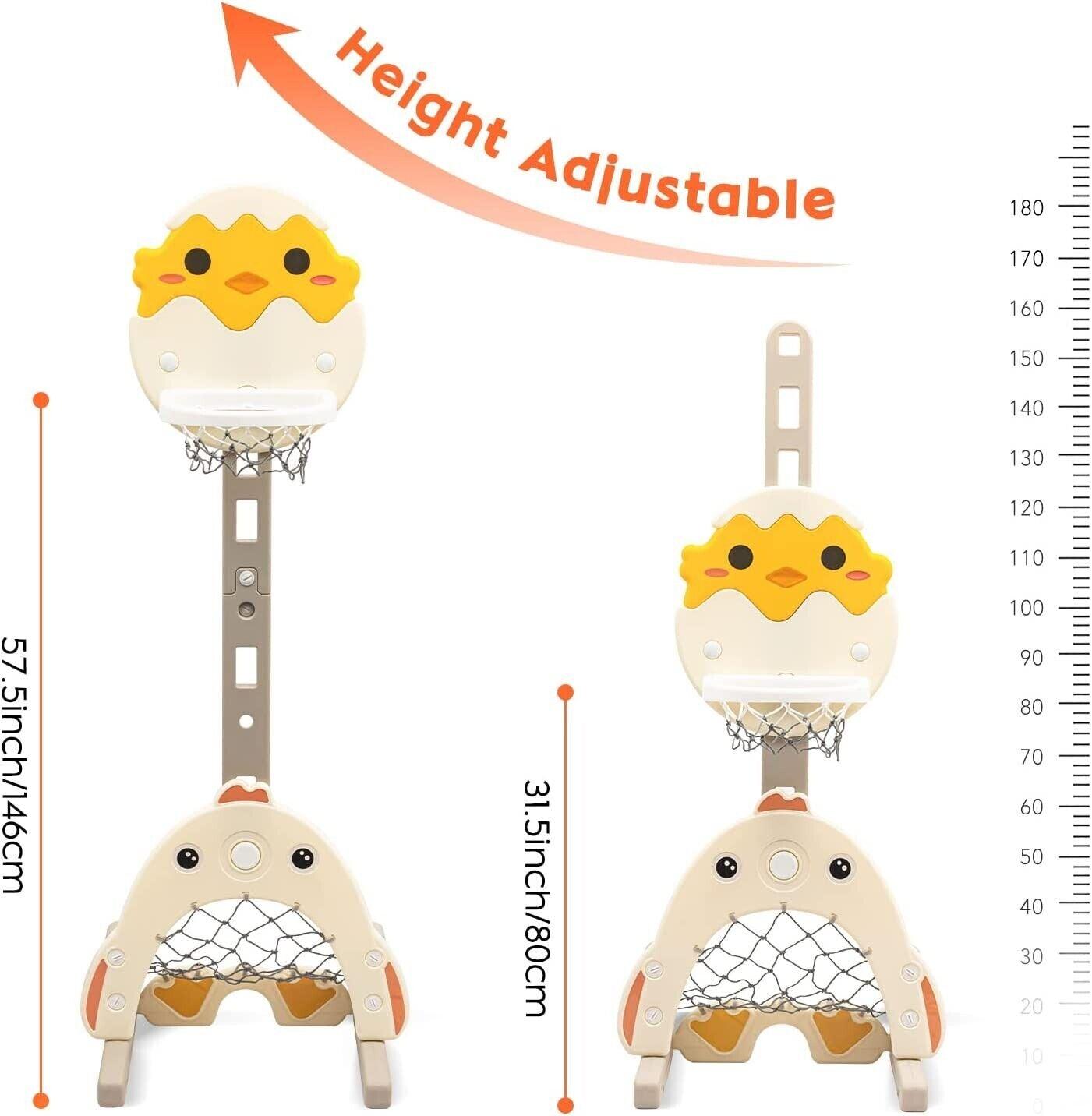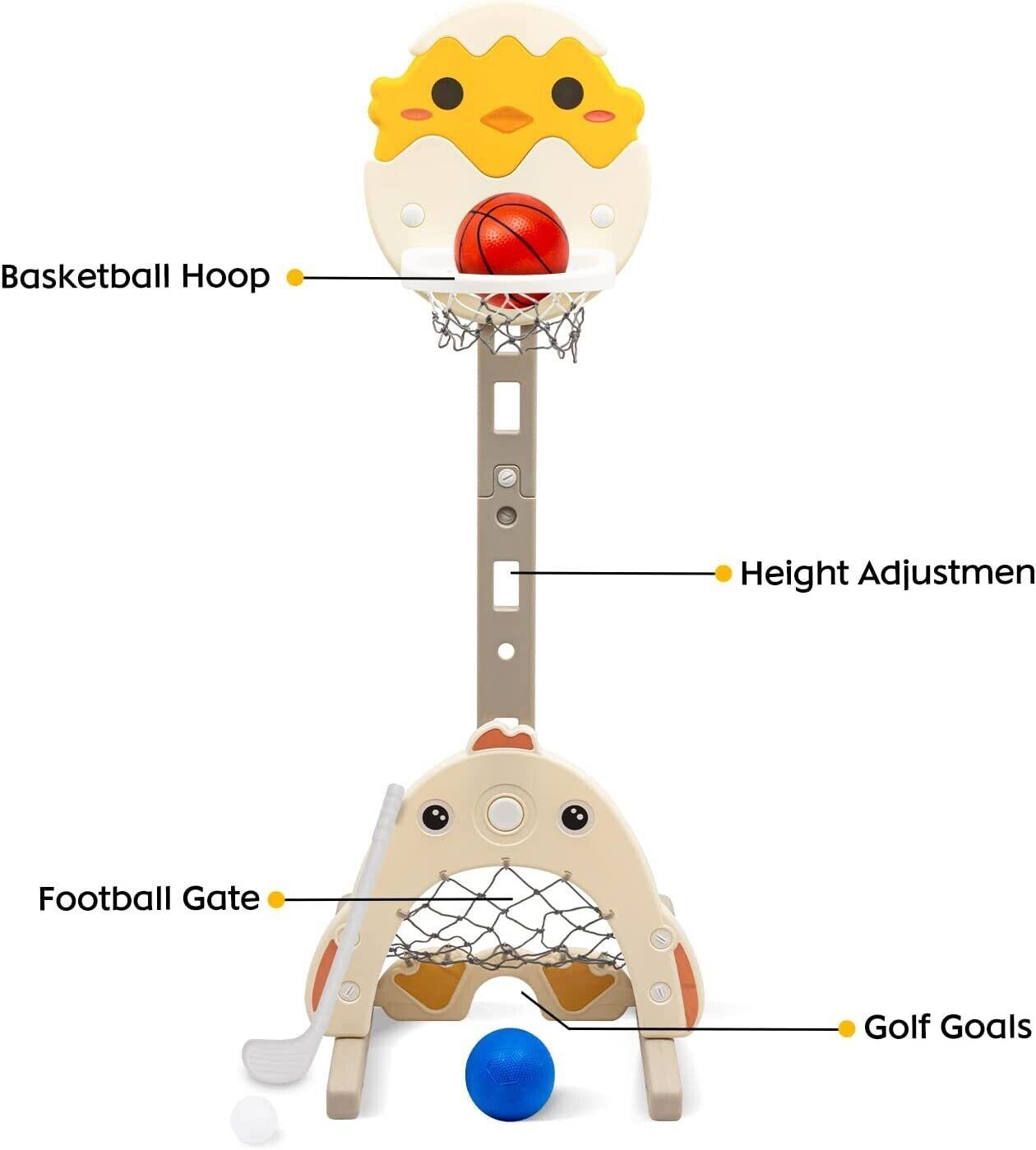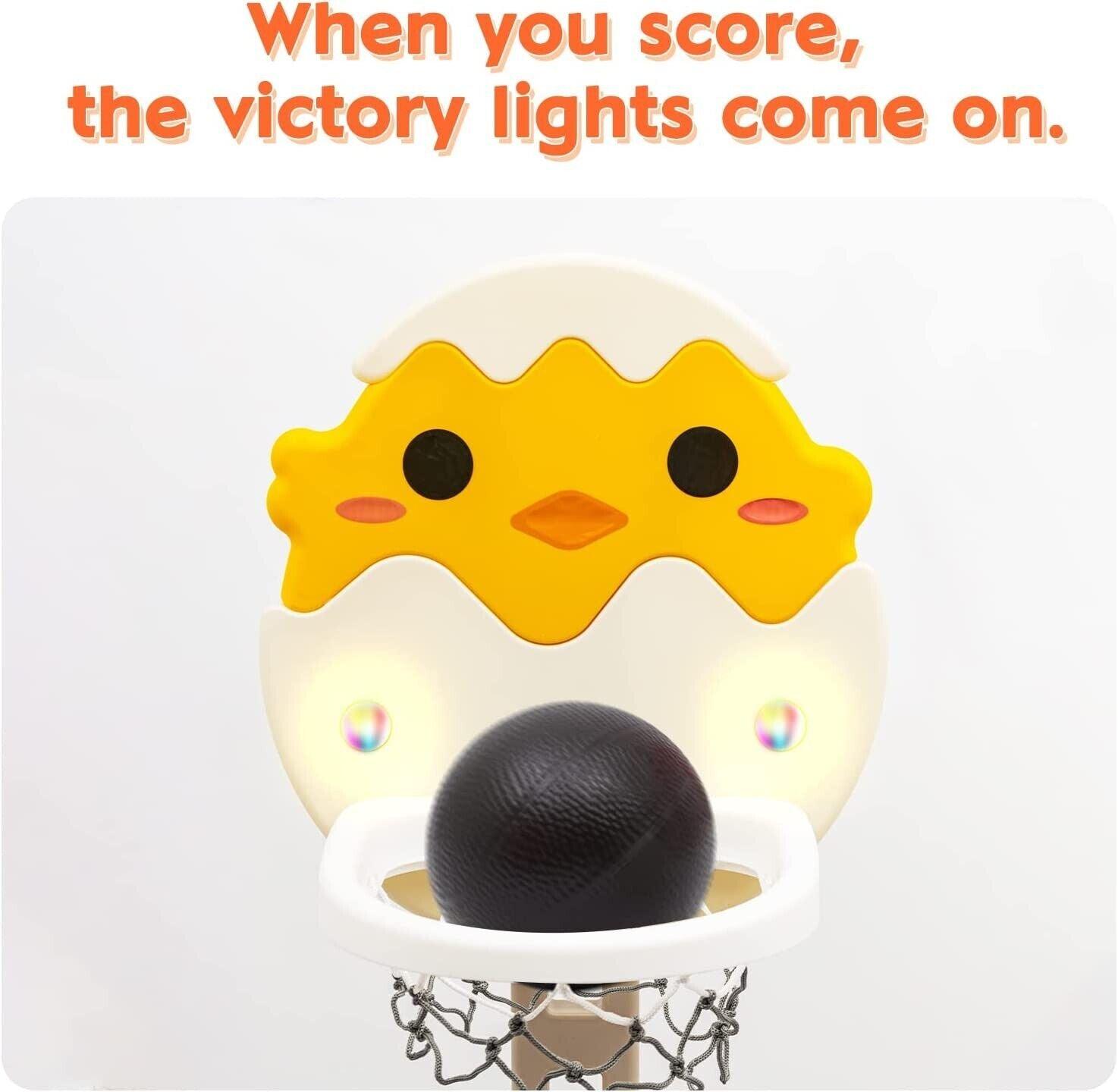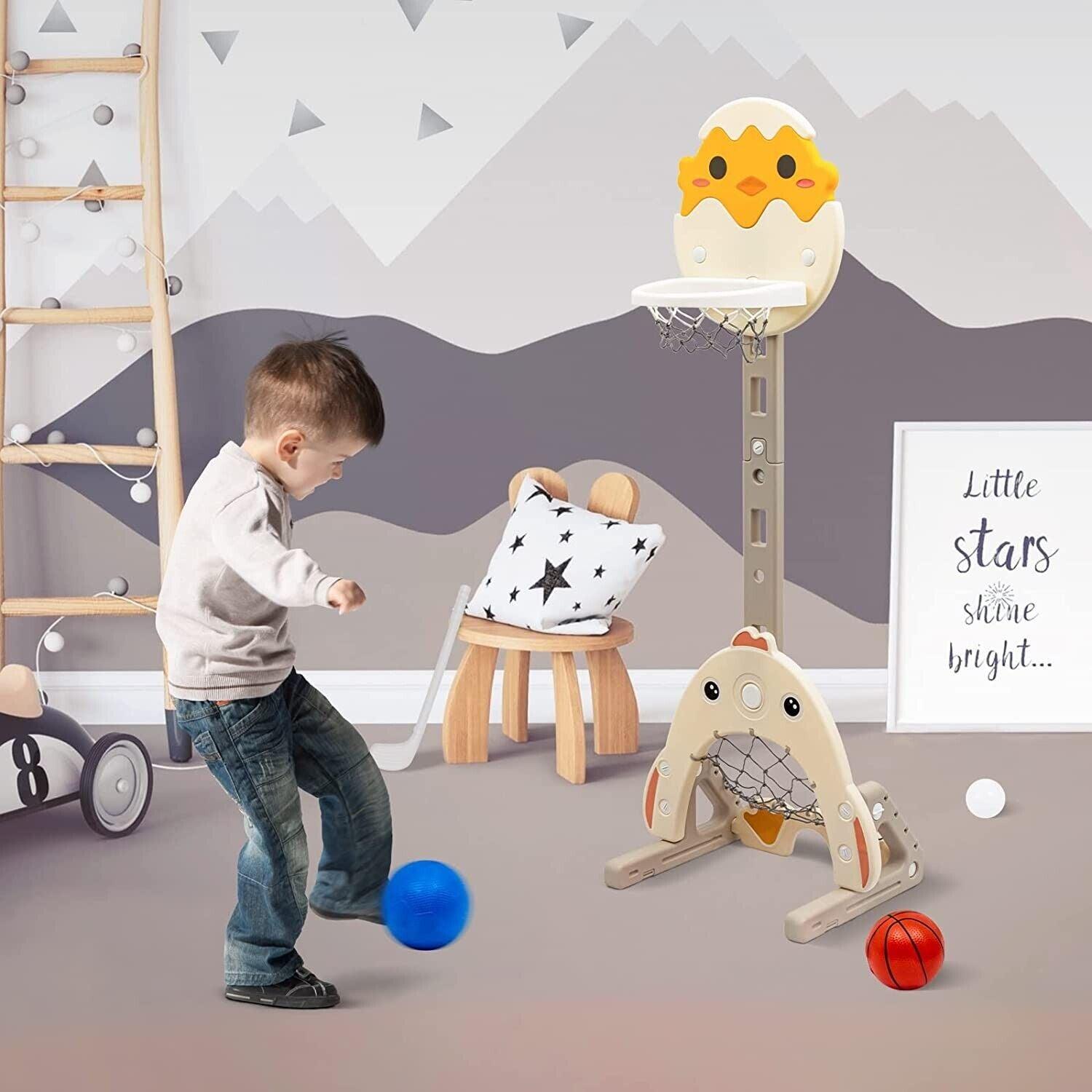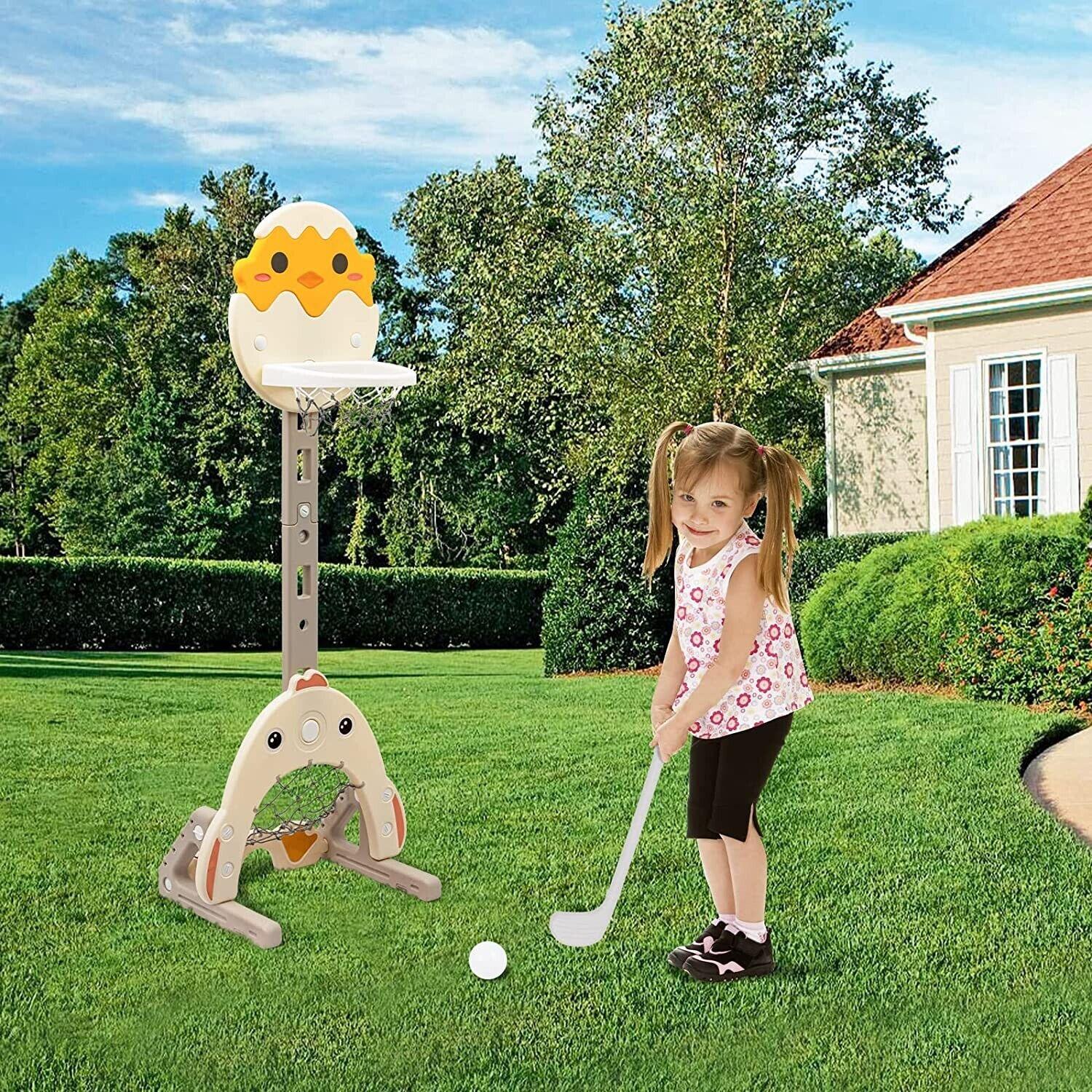 Basketball Hoop for Kids - Large Basketball Hoop Set for Kids 3-in-1 Kids Flashing Basketball Stand

About Basketball Hoop for Kids
Large Basketball Hoop for Kids - A Complete Fun for games activity.
Introducing the Basketball Hoop for Kids, a fun and adaptable structure. That allows your kids to enjoy the sports of basketball, soccer, and golf. This adaptable toy set is made to provide hours of physical activity. While encouraging children to grow in a fun and interesting way in terms of their motor abilities, coordination, and sportsmanship. 
Kids can be active and have fun with this huge basketball hoop kit. It has an adjustable height so that it may develop with your child, and it includes several extras like a basketball, pump, and ball holder.
The basketball hoop is simple to install and composed of sturdy materials. You can use it both indoors and outdoors, making it a fantastic way to get kids moving and aid in the development of their hand-eye coordination.
The addition of a flashing LED hoop in this set enhances the entertainment value of the game. When the ball goes through the hoop, it flashes red, which makes the game more thrilling for kids to play.
Benefits of Large Basketball Hoop for Kids
Basketball is a terrific sport for kids to do that will get them moving and keep them healthy.

Good hand-eye coordination is necessary for shooting a basketball, and it may be developed with practice.

Playing basketball with others can teach kids the value of cooperation and working as a team.

Problem-solving abilities are developed because they are necessary for making a basket and can be useful in other aspects of life.

Basketball is an enjoyable sport for kids to play, therefore it provides amusement.
If you are looking for a fun and educational way to keep your child active, then this large basketball hoop set is a great option.
Features Basketball Hoop for Kids
Adjustable Height:
You can change the height of the basketball hoop from 3 feet to 7 feet. Enabling it to grow and develop alongside your child. This basketball stand has 5 height-adjustable options, so it may grow with your child. To cater to children of diverse ages, heights, and skill levels, you can easily adjust the height of the kid between 40.5'' and 60'' to match the child's height.
Durable Materials:
We construct the basketball hoop from strong materials that ensure it can withstand repeated use without compromising its durability.
Easy to Assemble:
You can transport the basketball hoop conveniently when you travel because it is simple to put together and take apart.
Variety of Accessories: 
A basketball, pump, and ball holder are among the many extras that come with the basketball hoop.
Flashing LED 
Basketball Hoop for Kids:
When the ball passes through it, the hoop adds to the entertainment of the game by flashing red.
This basketball stand may develop with your youngster thanks to its five height-adjustable options. Children of different ages, heights, and ability levels can easily adjust the height of the stand from 40.5 inches to 60 inches to suit their specific needs.
Condition: A brand-new, unused, unopened, undamaged item in its original packaging
Material: Plastic
Age Level:3+
Feature: Flashing Basketball Stand
Vintage: Yes
Color: Yellow
Type: Portable Hoop
Assembly Required: Yes
Item Height: 71-137 cm
Theme: Puppy
Features: Adjustable
Multi-functional Activity Center: 3 in 1 - Basketball/Football/Golf
Experience Level: Beginner
Sport/Activity: Basketball
Finish: Plastic
Item Weight: 3.24kg

Be Maskura Fit
Our Happy Hoopers
30 Minutes Daily Fun Workout
The smart hula hoop counts your burned calories, tracks how long you work out, and records other vital information.
Easy Installation Process
Our Smart Weighted Hula Hoop has a carefully planned design with 27 knots placed in hoop's circumference.
27 Detachable Knots
Our Smart Weighted Hula Hoop has a carefully planned design with 27 knots placed in hoop's circumference.
Let customers speak for us
Great toy
It is so well made and sturdy took abit of putting
Together but I am 63 lol but my niece loves it
Shark Shaver Pro - Platinum Electric Skull Shaver For Head & Face
Best Electric Men's Shaver