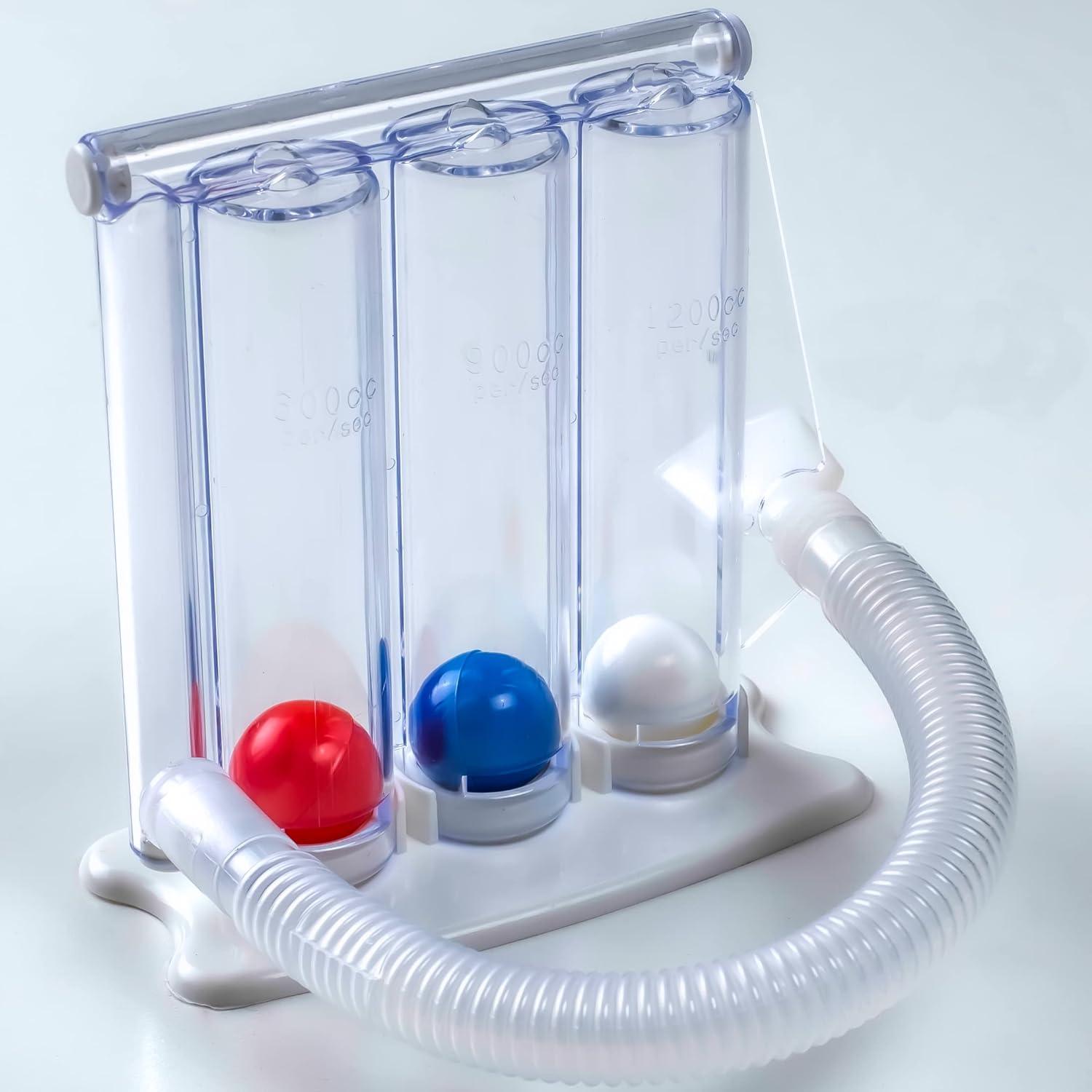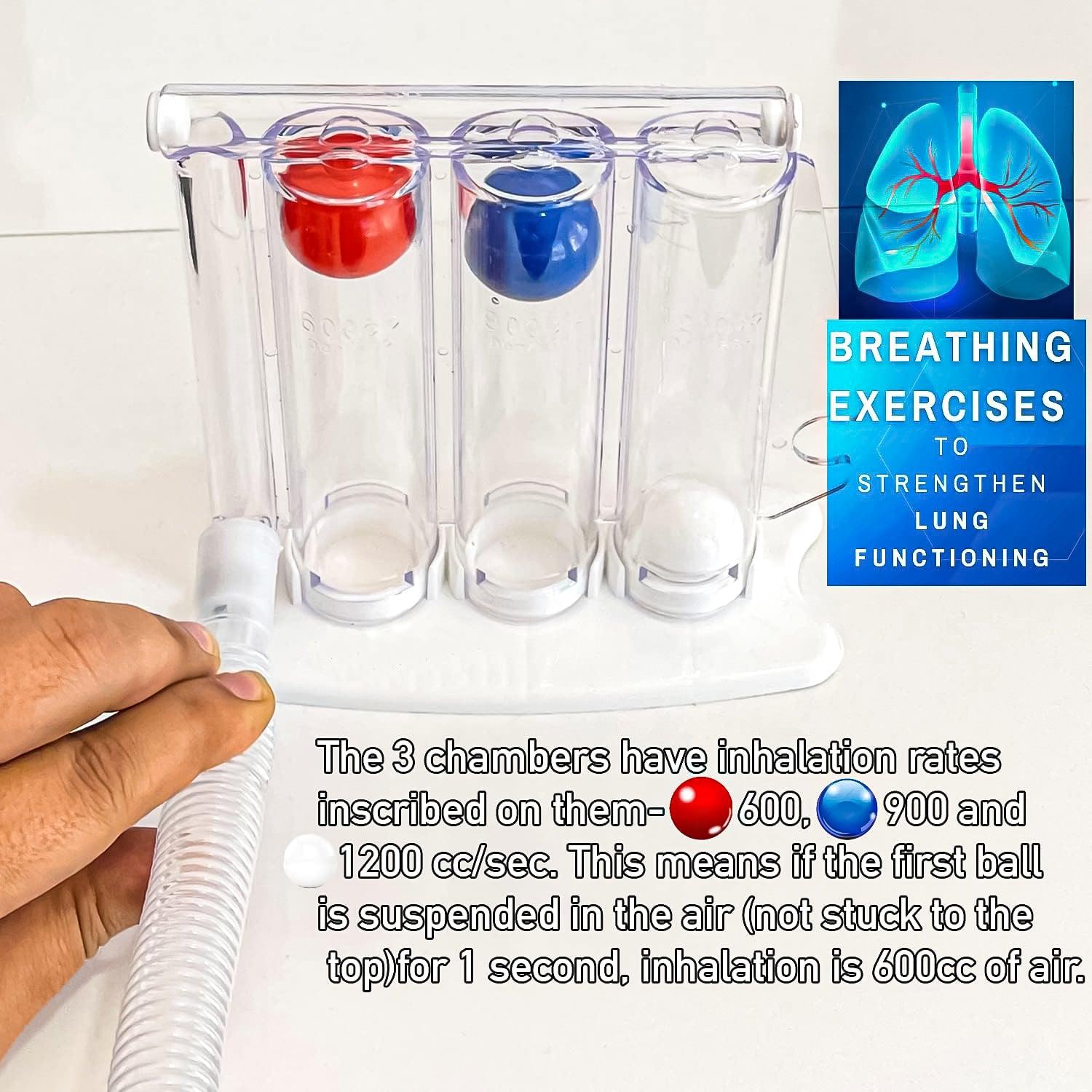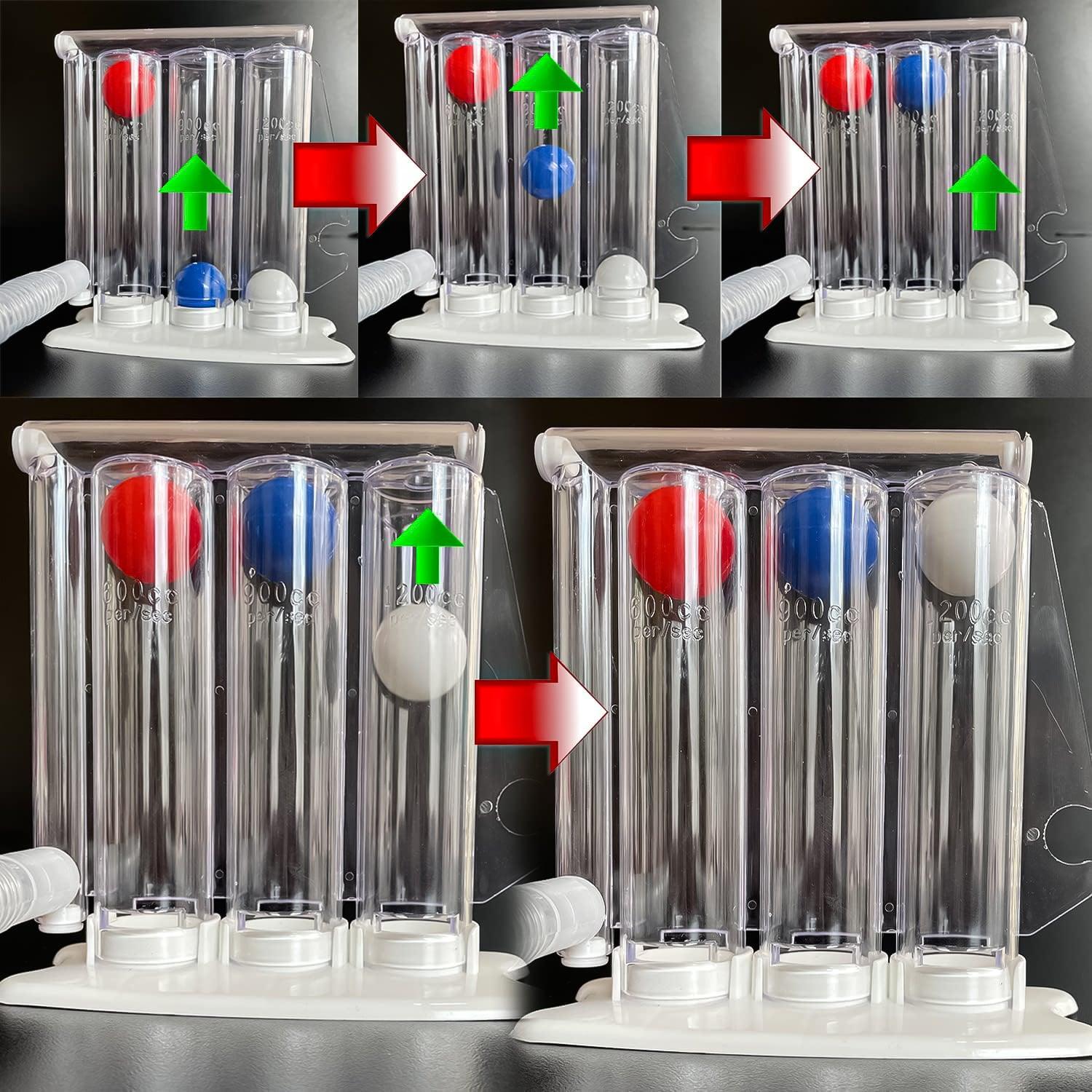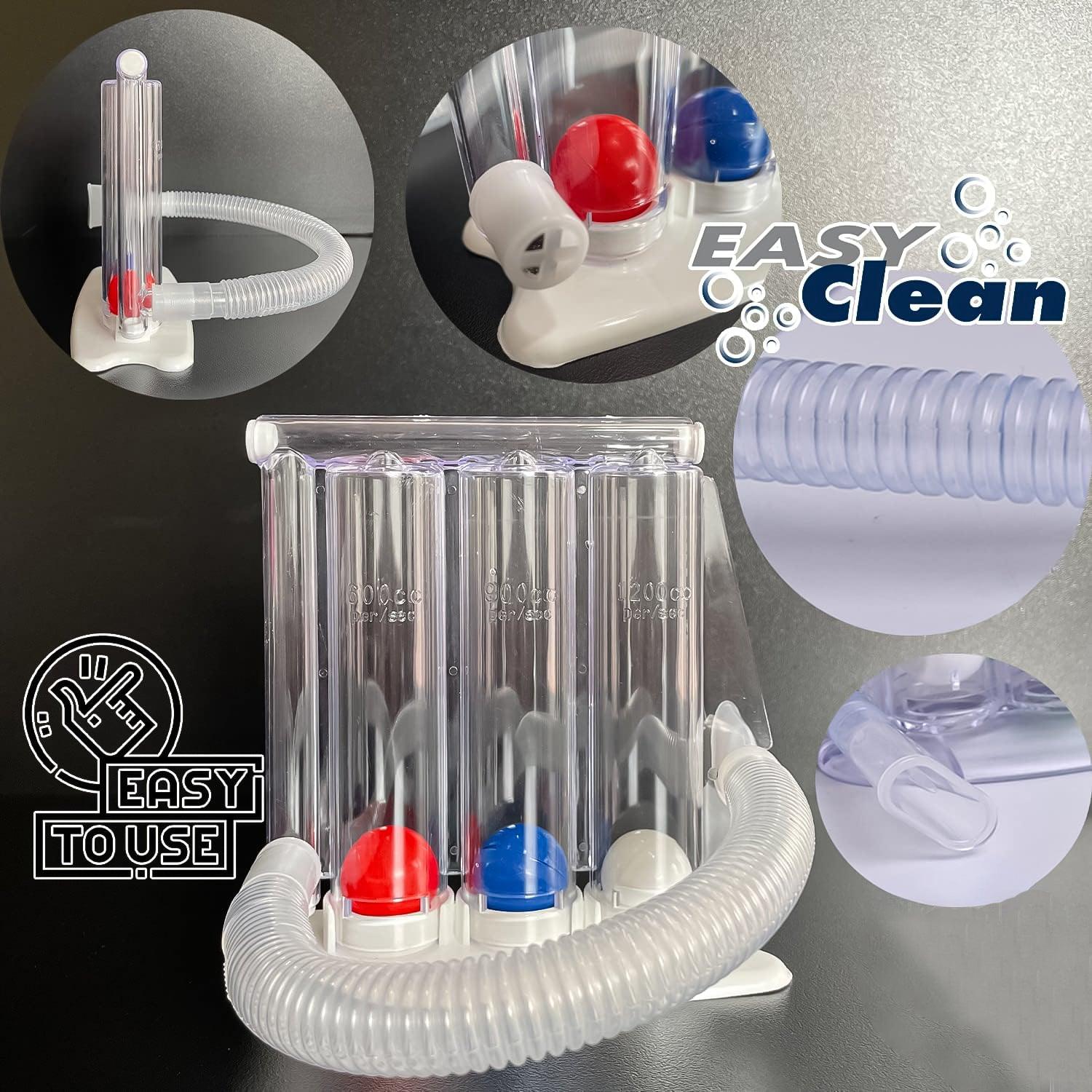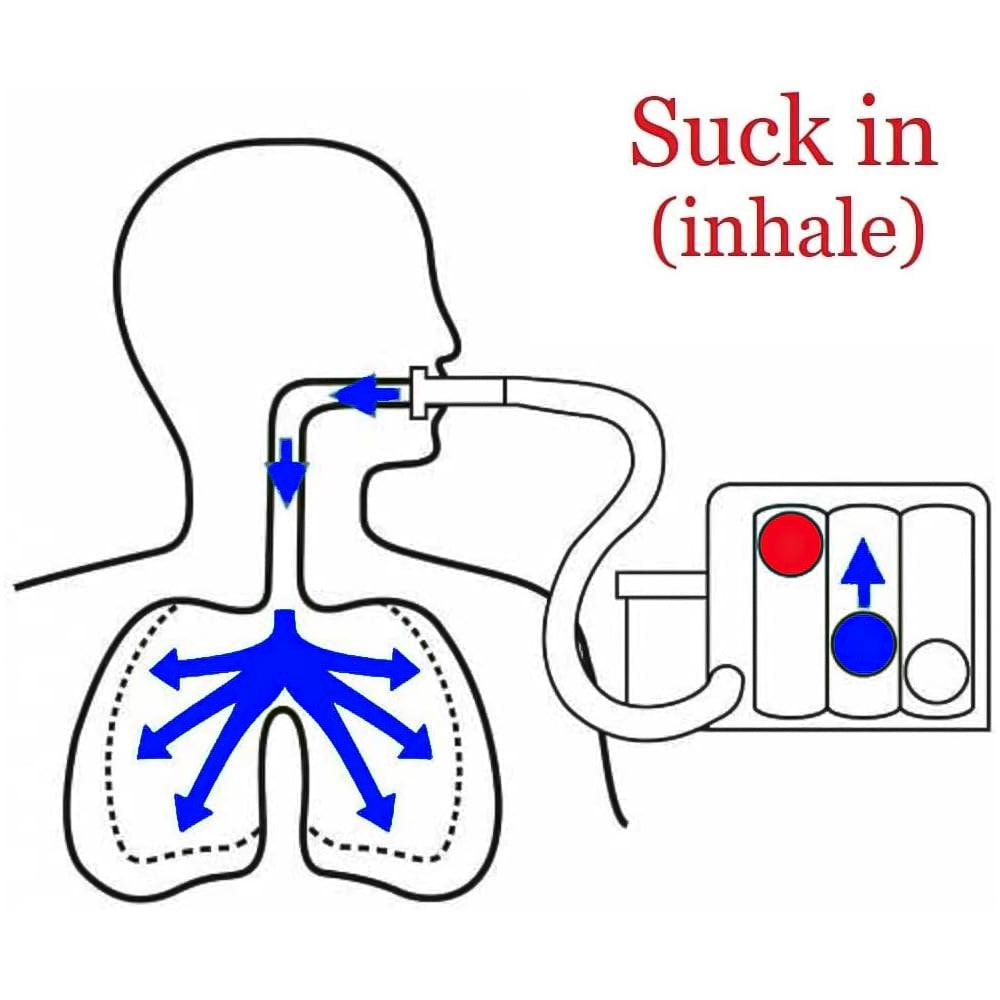 Best Lung Exercise Device - Three-ball Breathing Trainer Lung Respiratory Exerciser

About Best Lung Exercise Device 
Introducing your indispensable partner for optimum respiratory health: the three-ball best lung exercise device. This cutting-edge apparatus is intended to assist general respiratory health, encourage deep breathing, and increase lung capacity. Our Three-Ball Breathing Trainer is the ideal choice if you're looking to strengthen your lungs, recovering from surgery, or managing a respiratory disease.
Key Features Of Best Lung Exercise Device
Triple-ball Structure: Three vibrant balls that rise and fall in response to breath and exhale are part of our exclusive design. You can easily monitor your breathing progress with this visual feedback, which also motivates you to take deeper, more deliberate breaths.
Adjustable Resistance: Customise your breathing exercises to meet your own requirements. You can tailor the intensity of your exercise to fit different levels of respiratory recuperation or training thanks to the adjustable resistance settings.
Small and Transportable: Carry your lunges with you everywhere you go. Our Three-Ball Breathing Trainer is portable and lightweight, making it easy to use at home, in the hospital, or while traveling.
Sturdy Construction: Our respiratory exerciser is long-lasting and reliable because it is constructed from premium materials. Its durable design makes it resistant to frequent use, giving you a dependable instrument for continuous respiratory treatment.
Easily Utilisable: Our Three-Ball Breathing Trainer is simple to use and intuitive, making it ideal for both individuals utilizing it at home or healthcare professionals assisting patients through rehabilitation. Just pay attention to the visual clues to get the most out of your breathing.
Adaptable Utilisation: Ideal for a broad spectrum of users, such as those recovering from surgery, people with respiratory disorders like COPD or asthma, athletes trying to increase their stamina, and anybody wishing to expand their lung capacity.
Benefits Of Best Lung Exercise Device
Improved Lung Capacity: Consistent usage of the Three-Ball Breathing Trainer improves respiratory health by expanding lung capacity.
Enhanced Oxygenation: Deep breathing helps the body get more oxygen, which speeds up healing and enhances well-being.
Rehabilitation Following Surgery: Perfect for people recovering from surgery that could affect lung function, as it speeds up healing and helps avoid complications.
Control of Respiratory Conditions: An important resource for those with respiratory disorders, offering a way for continuous at-home treatment.
With our Three-Ball Breathing Trainer Incentive Spirometer Lung Respiratory Exerciser, you can assist your lungs and improve your daily breathing while also making a fun investment in your respiratory health.
Main Color: transparent
Material: PE
Suitable for: Elderly, Children, Athletes, etc.

Package Included:
1 Breathing exerciser
1 Serpentine tube
1 Mouthpiece
1 User manual


Be Maskura Fit
Our Happy Hoopers
30 Minutes Daily Fun Workout
The smart hula hoop counts your burned calories, tracks how long you work out, and records other vital information.
Easy Installation Process
Our Smart Weighted Hula Hoop has a carefully planned design with 27 knots placed in hoop's circumference.
27 Detachable Knots
Our Smart Weighted Hula Hoop has a carefully planned design with 27 knots placed in hoop's circumference.
Let customers speak for us
Simple but seemingly very effective.
Quick, efficient and safe delivery was provided
for this equipment and it works very well for the client.
Shark Shaver Pro - Platinum Electric Skull Shaver For Head & Face
Best Electric Men's Shaver