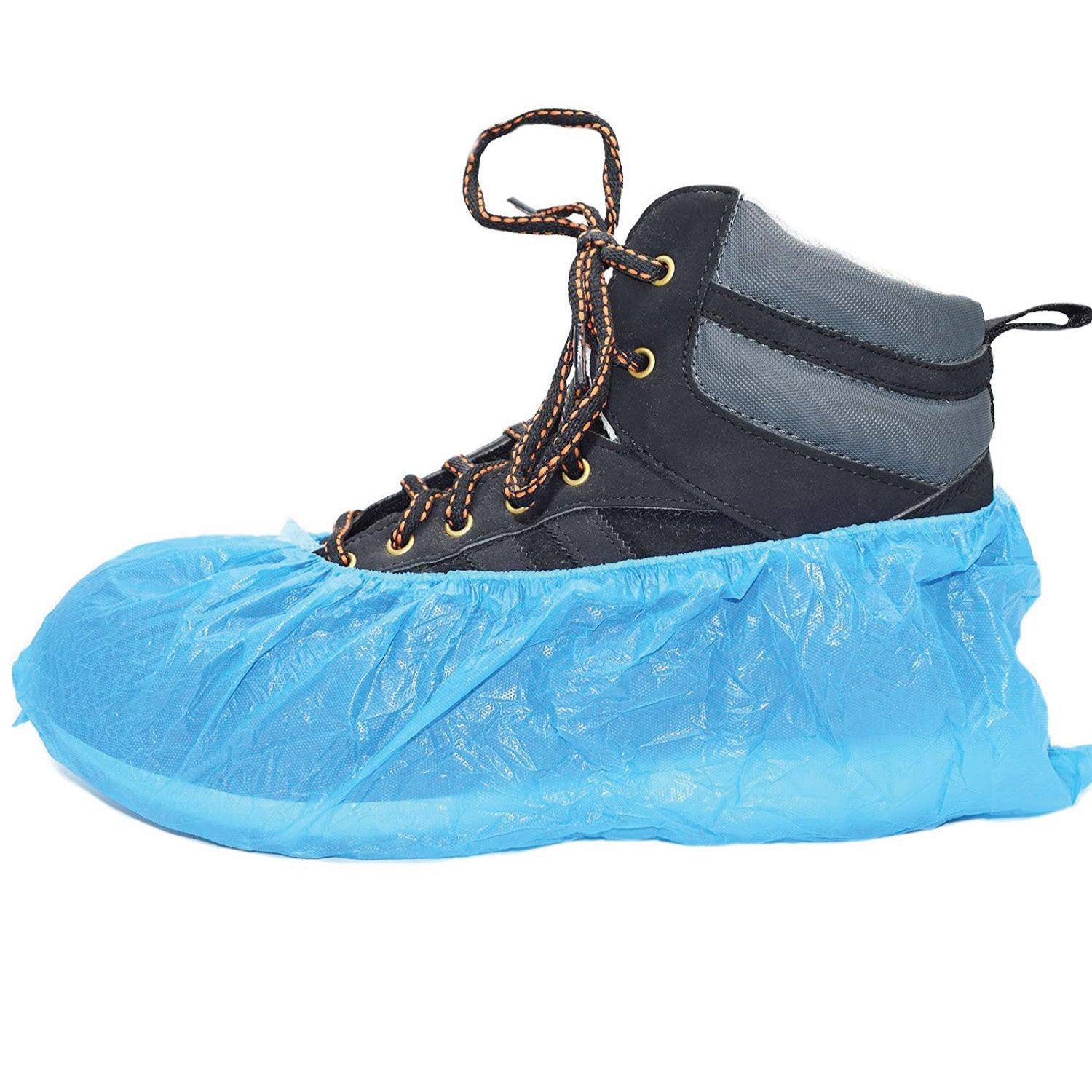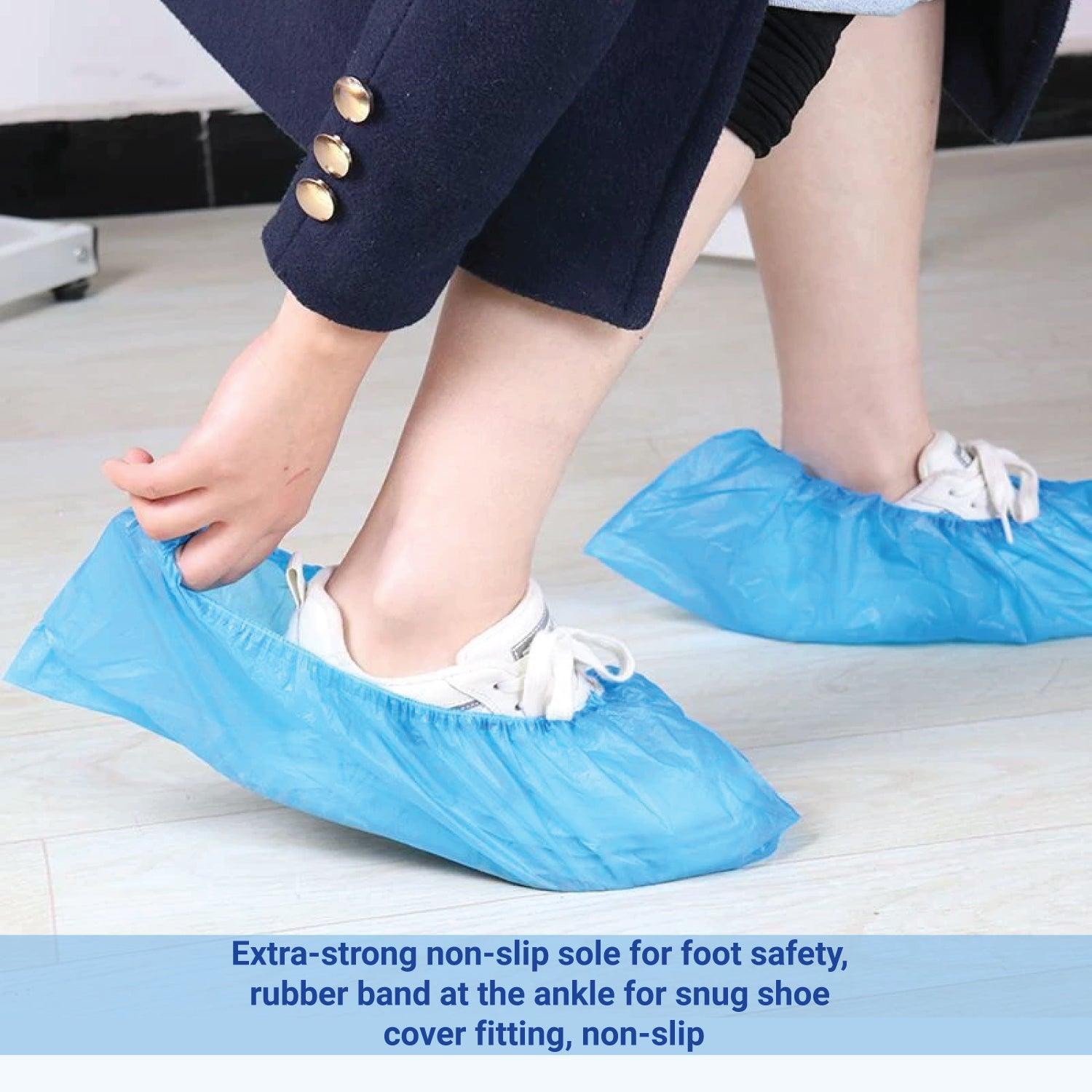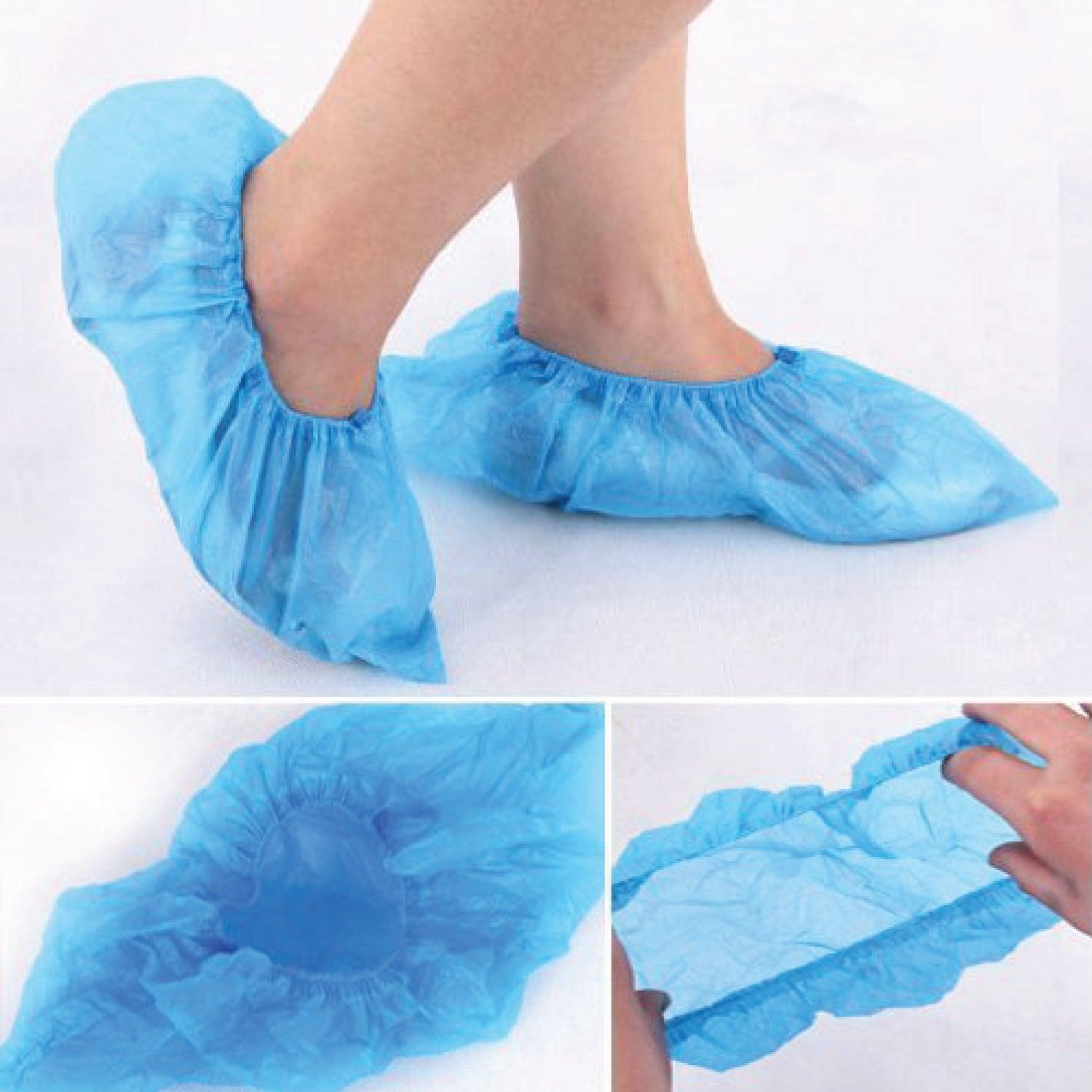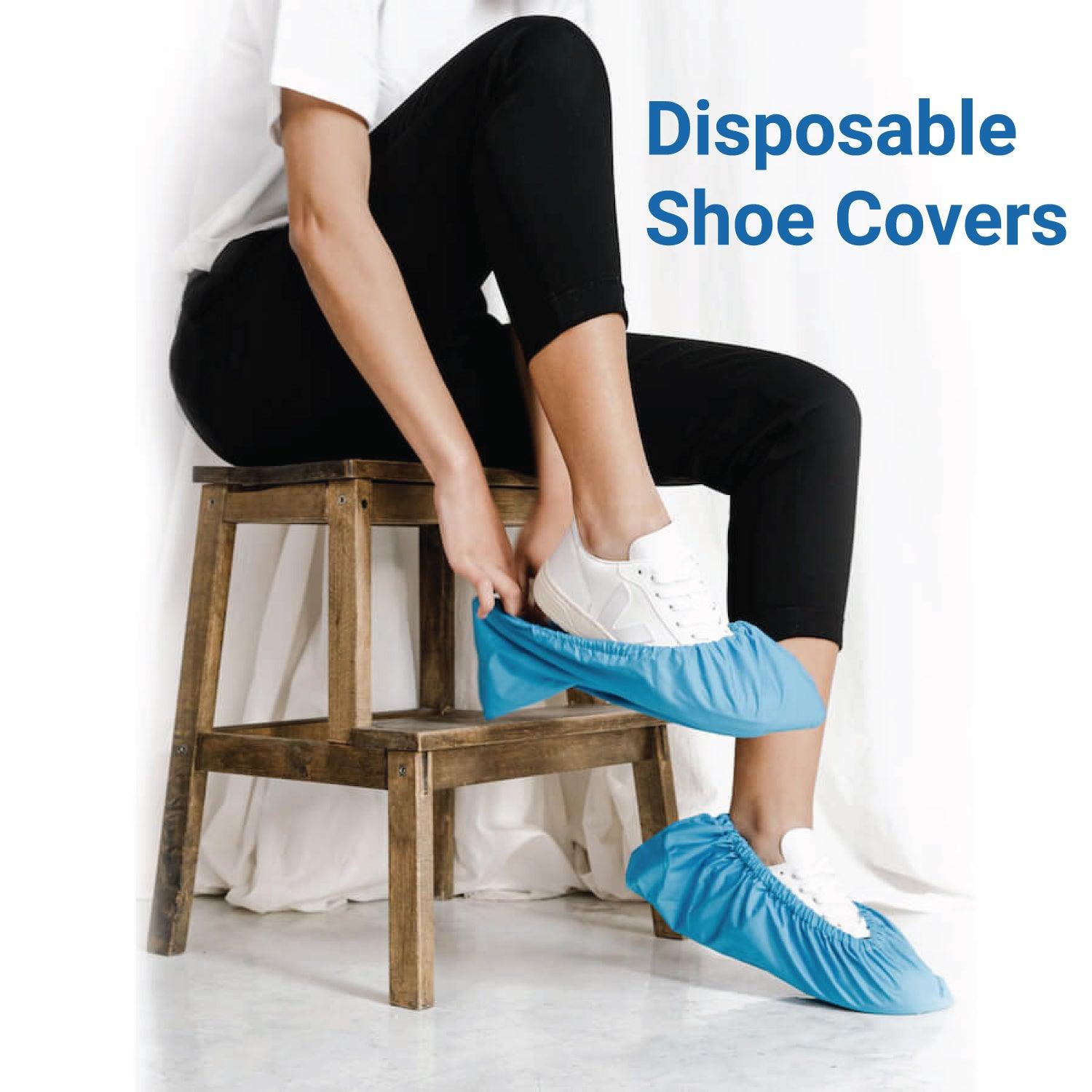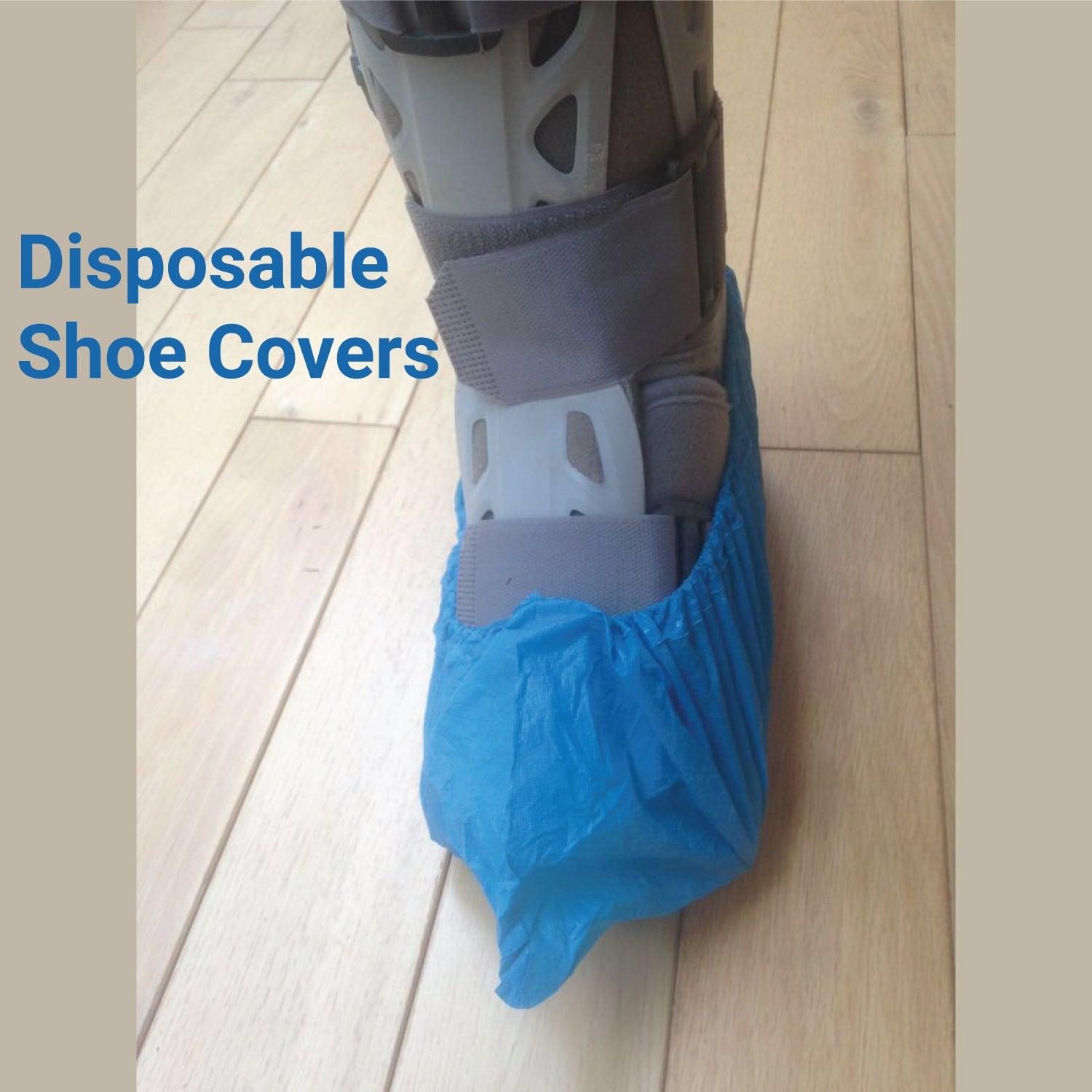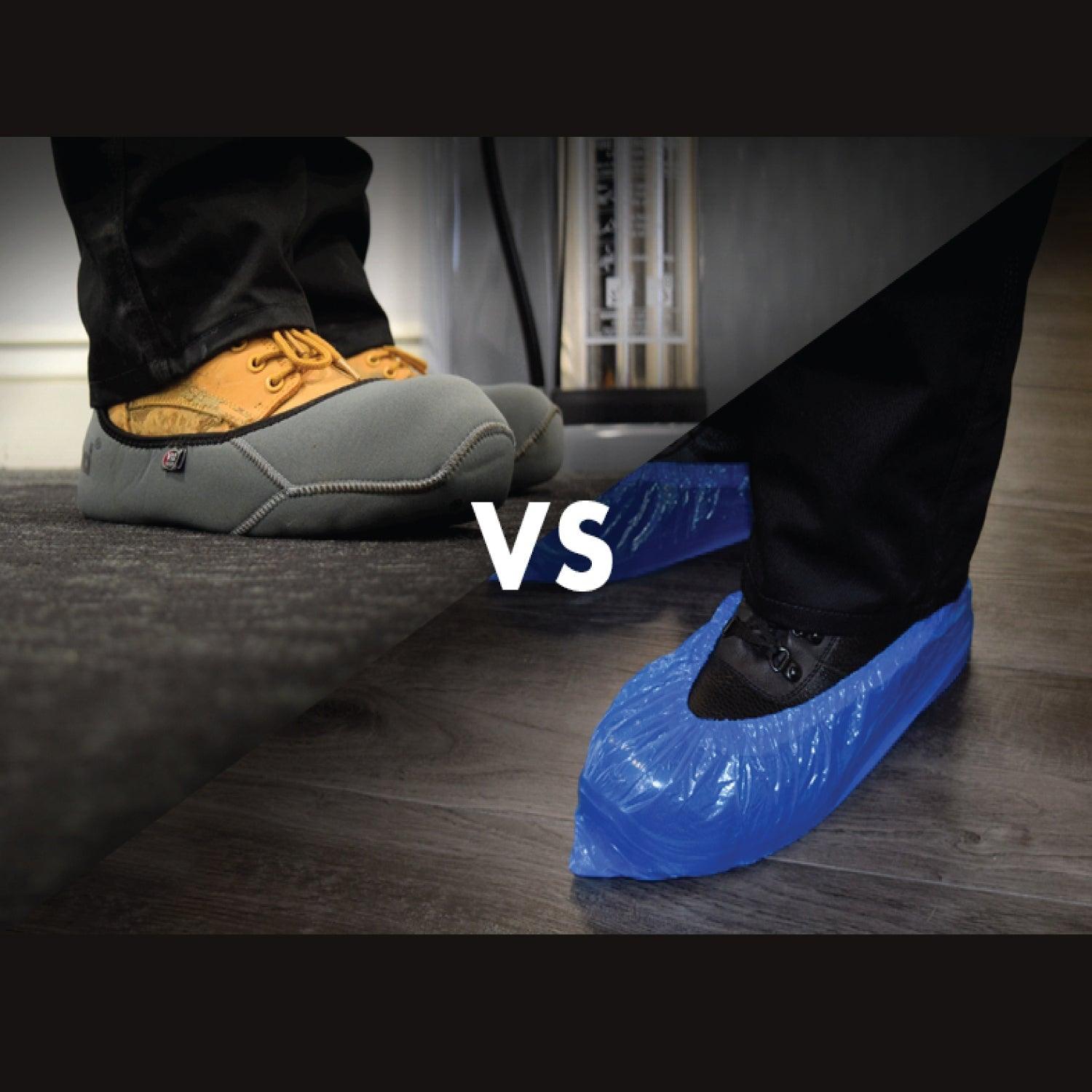 Disposable Shoe Covers - Simply Direct Standard Disposable Shoe Covers/Overshoes. Floor, Carpet, Shoe Protectors CPE 3.5g

About Disposable Shoe Covers
Disposable Shoe Covers slip-on clothing items, known as shoe covers are designed to fit snugly over various shoe styles and sizes. They shield the bottom of a person's shoes from potentially dangerous substances, such as organic and chemical particles.
Extra-strong non-slip sole for foot safety, rubber band at the ankle for snug shoe cover fitting, non-slip
High-Quality Disposable Shoe Covers
Emblazoned PE coating, a liquid-impermeable - waterproof, robust, strong material (9 g per overshoe), the commercial professional product can also be used as a disposable shoe in workshops, laboratories, cars, building sites, compliance with hygiene standards, and protection of flooring.
Frustration-free :
Double stitching avoids tearing, especially while putting it on, and increases hold. It is also sturdy, tear-resistant, does not disintegrate, and has a good service life and long life.
Durable Construction :
Anti-slip, Protects and maintains your shoes and boots from dirt, dust, liquid, or other impurities thanks to its thick and sturdy waterproof design and long-lasting CPE material. Industrial-grade Shoe covers that can be used at home or at the office.
Reliable Protection :
Our booties will always protect your shoes and floors, so you can depend on them; dependable and durable material for use either inside or outside; they are ideal for industrial, medicinal, or hospital use; Use for daily use, cleaning, moving, construction, estate agent house viewings, and shoe protection; Shoe covers that are dust- and water-proof.
You May Check It Out: Waterproof Cast Cover Leg 
Multiple Applications :
Our Disposable Shoe Covers are fantastic for a lot of different uses; Keep your shoes clean and protected from outside toxins and undesirable visitors during these uncertain times; Avoid bringing mud, water, dirt, and grime inside your home or place of business, and keep it outside where it belongs; Suitable for usage in medical settings such as hospitals and healthcare centers
Excellent Disposable Shoe Covers :
When shoes or floors need to be protected from contamination, spills, and splashes, they provide an efficient barrier against dirt and low-risk pathogens for hygiene requirements in medical facilities or food manufacturing.
One Size: 
Both men and women can wear it; All shoe sizes can be accommodated by elastic with a wide foot hole; simple to slip over boots and shoes; easily fits shoes up to size 12, including work boots; Protect your feet with our premium boots and shoes. 
Condition: Brand New
Type: Shoes cover.
Color: Blue
Material: PE plastic.
Features: Disposable, Size 11, Embossed, Elasticated, Light-Medium Use, Lightweight, Waterproof
Be Maskura Fit
Our Happy Hoopers
30 Minutes Daily Fun Workout
The smart hula hoop counts your burned calories, tracks how long you work out, and records other vital information.
Easy Installation Process
Our Smart Weighted Hula Hoop has a carefully planned design with 27 knots placed in hoop's circumference.
27 Detachable Knots
Our Smart Weighted Hula Hoop has a carefully planned design with 27 knots placed in hoop's circumference.
Let customers speak for us
These disposable shoe covers make cleaning my house which I detest a little less overwhelming. They are simple to put on and take off, and they help me to keep my carpets and floors clean as I clean. Additionally, I don't have to bother about washing them after every usage because they are disposable.
Great for Home Repairs!
I love to DIY, therefore I'm constantly working on house renovations. These reusable shoe covers have saved my floors and carpets from mud and other messes. They are simple to put on and take off, and they are strong enough to withstand repeated applications. For anyone performing home repairs, I heartily suggest them.
Great for Home Repairs!
As a DIY enthusiast, I'm always working on home projects. These disposable shoe covers have been a lifesaver, protecting my floors and carpets from dirt and debris. They're easy to put on and take off, and they're durable enough to last through multiple uses. Highly recommend them for anyone doing home repairs.
Good value for money
They fit very nicely over my size 7 shoes and also bigger ones. Comfortable to wear.
It last all day
Covers shoes well up to size 11-12.
Able to wear all day with particle rain.
Shark Shaver Pro - Platinum Electric Skull Shaver For Head & Face
Best Electric Men's Shaver