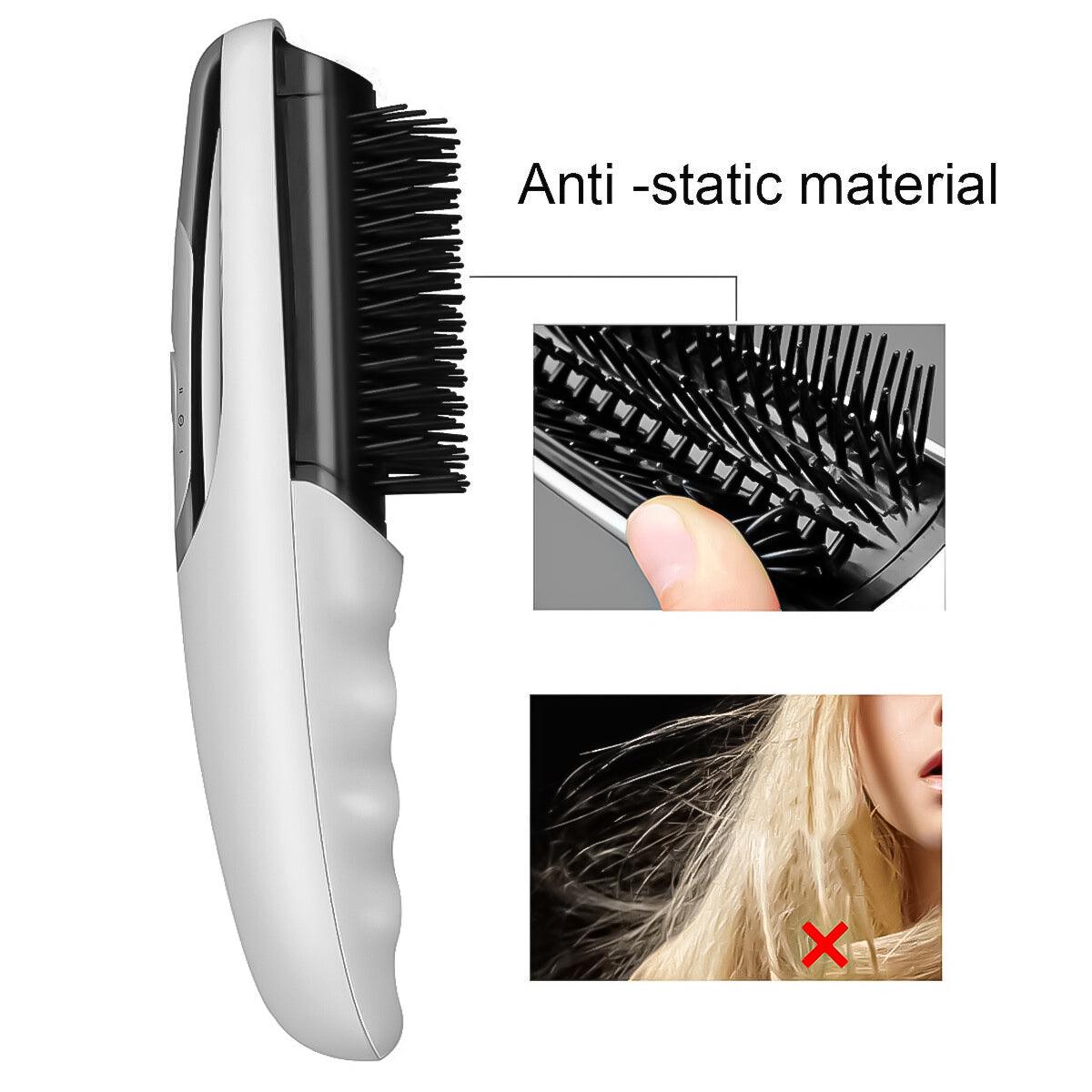 Electric Scalp Massager for Hair Growth - Infrared Laser Hair Growth Head Scalp Vibrating Massager Comb Brush

About Electric Scalp Massager for Hair Growth 
Introducing the Electric Scalp Massager for Hair Growth, a state-of-the-art tool made to encourage hair growth, improve scalp health, and offer a restorative massage. This cutting-edge massager uses low-level laser treatment, infrared technology, and moderate vibrations to foster a healthier scalp environment, increase blood circulation, and stimulate hair follicles.
Features of an Electric Scalp Massager for Hair Growth 
Hair Growth Stimulation: The Electric Infrared Laser Hair Growth Massager is made to stimulate the scalp's hair follicles, possibly resulting in increased hair thickness and growth. To target follicles, it combines low-level laser therapy and infrared technologies.
Infrared Technology: Infrared light is frequently used to permeate the scalp and increase blood flow. By improving circulation, one can help nourish hair follicles and foster a favorable environment for hair development.
(LLLT) Therapy: The system makes use of low-level laser therapy, which is said to benefit hair follicles. It is believed to increase cellular activity and improve the health of cells that produce hair.
Vibrating Massage: The massager uses a soft vibrating massage technique that promotes relaxation, eases stress in the scalp, and helps blood flow to the scalp.
Compact Design: The tool's ergonomic shape enables comfortable holding and simple maneuverability while massaging your scalp.
User-friendly: The massager usually has easy-to-use controls that let you change settings, regulate vibration intensity, and control the laser therapy.
Rechargeable: You can receive routine hair and scalp treatments anywhere you go due to their portable and rechargeable nature.
Special Features of Electric Scalp Massager for Hair Growth 
Red light combined with high-frequency vibrations efficiently relaxes scalp tissue and strengthens hair roots.

Circulating low-frequency vibration massage, which is relaxing for the body and mind as well as the head

Because it's portable and lightweight, you can comb anytime you like.

Non-odor, fluffy hair, anti-static substance, and no hair-pulling

To ensure a soothing massage, the circular comb teeth guard against nicking the scalp. The comb teeth are resilient and sturdy, and they are difficult to tear.
Things to keep in mind:
Use the massager daily for 10 to 15 minutes.

Start off with a low setting on the massager and then gradually raise it as necessary.

If you have any open wounds on your scalp, avoid using the massager.

Stop using the massager right away if you feel any pain or discomfort.
Notes: 
Before using the massager, speak with a doctor or dermatologist, especially if you have any issues or worries about your scalp.
It may take time to see measurable changes in hair growth after using the massager, therefore, patience is advised.
For those looking for a high-tech method to enhance hair health and promote hair growth, consider the Electric Infrared Laser Hair Growth Head Scalp Vibrating Massager. This device offers a thorough method for increasing scalp health and potentially stimulating hair growth by combining infrared technology, low-level laser therapy, and vibrating massage. While individual outcomes may vary, adding this massager to your hair care regimen may eventually help to improve hair thickness and create a healthy environment on the scalp.
Condition: A brand-new, unused, unopened, undamaged item
Type: Hair Massager Comb Brush
Material: Metal, Plastic
Hair Type: All Hair Types
Features: Heat Retaining
Department: Adult
Size: 21* 4* 6 cm
Color: White

Be Maskura Fit
Our Happy Hoopers
30 Minutes Daily Fun Workout
The smart hula hoop counts your burned calories, tracks how long you work out, and records other vital information.
Easy Installation Process
Our Smart Weighted Hula Hoop has a carefully planned design with 27 knots placed in hoop's circumference.
27 Detachable Knots
Our Smart Weighted Hula Hoop has a carefully planned design with 27 knots placed in hoop's circumference.
Let customers speak for us
Shark Shaver Pro - Platinum Electric Skull Shaver For Head & Face
Best Electric Men's Shaver